Time To Grab Your Favorite Brews And Some German Grub At Common House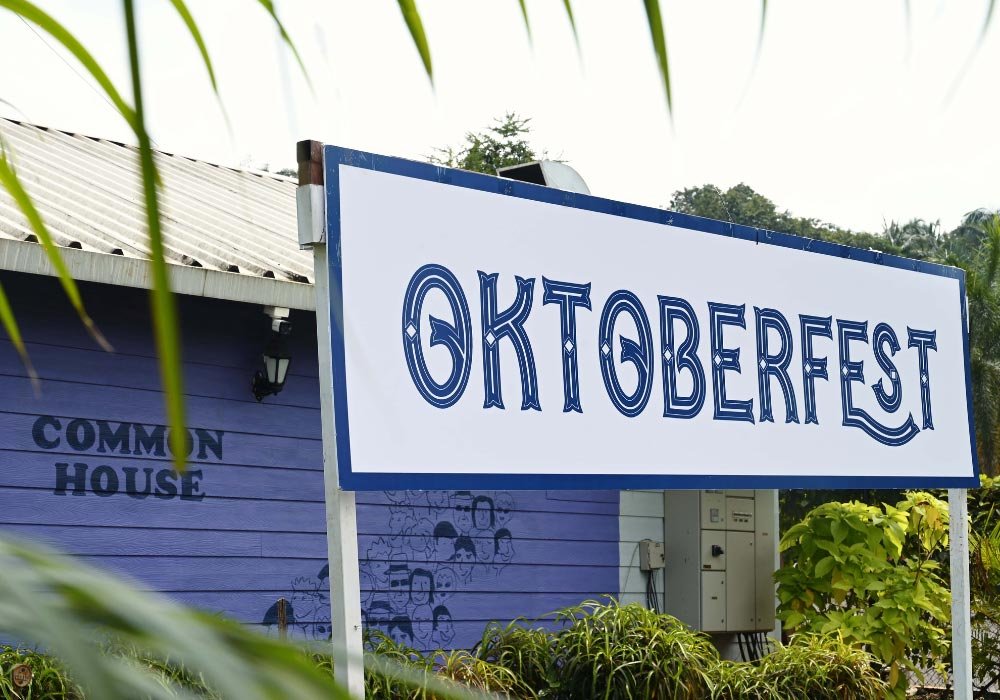 After successfully launching Saltt, a multi-cuisine restaurant perched upon the 170-acre Oleander Farms, Common House the newest microbrewery/beer garden gap in the space that also houses a petting zoo, an antique car gallery, and lush green lawns. With an intention to foster the pre-pandemic feeling of community and shared interaction, Common House brings people together over freshly brewed beers, delicious plates, interactive games (read: giant Jenga), and lively events.
Common House is all set to launch their 1st Oktoberfest with 16 beers and 9 breweries. With 8 in house specials and 1 beer from different breweries from Maharashtra. Also, don't miss out on the special Beer Garden happening on 15th and 16th October with live music with 3 different artists till sundowner, pop up shops for souvenirs, merchandise etc. Expect beer games, trivia and a lot more fun this Oktoberfest at Common House, Karjat.
The Line-up at Common House
'The Oktoberfest Brew' – Rauchbier – It's a German-style lager brewed with rauch (smoked) malt. A medium bodied beer with the smoothness of good lager character all carried by moderate to somewhat high carbonation. High astringency and harshness is inappropriate for this style.
'Farmers Lager' – Rice Lager (brewed with the rice grown at oleander farms)
'The Shelbys' – Smoked lager
'German Summer' – Hefeweizen
'The Grapefruit IPA'
'Kokum Gosé'
'The Dark Knight' – Coffee stout
'Apple Cider'
Guest Taplist
2 Down Beer Co. – Basil blonde, An American Blonde Ale not bitter but light, mild, refreshing and highly sessionable.
Effingut – Berry Berry Cider – This beer is made with various berries to give little sweet, tart and crisp flavors on the palate.
Gateway Brewing Co. – Smoked Pineapple Wit – It has the magic of traditional smoking methods, pineapple and herbaceous basils with robust malt.
Igloo Craft Beers – 'Ludwig's Party' Festbier – It started as a wedding party for crown Prince Ludwig. Light, malty, toffee characteristics to keep you drinking by the liter.
Crafters Craft Beer – 'The Marzen' Oktoberfest Lager – This beer is rich in malt with a balance of clean, hop bitterness with a medium body, it has a rich toasty feel and a dry finish.
Doolally Craft Beers – Flanders Red Ale is a style of sour ale originally found in West Flanders, Belgium.
Bombay Duck Brewing – 'Smooth Operator' American Style Wit – Low on ABV and Big on flavor. This American Wheat Beer uses equal parts of malted wheat and barley in the grain bill. It fermented low and slow with a neutral ale yeast over a period of 2 weeks and used new age American hops that impart subtle aromas of tropical fruit.
Great State Aleworks – 'Even Flow' Dark lager – A special Dark Lager from Great State Aleworks
Oktoberfest Food Specials
Try Oktoberfest Specials like Salted Pretzel served with chives sour cream, german ale sauce and ranch dip. Corn Riblets , Sriracha rubbed whole corn ribs with chili sour cream dip. Chicken Schnitzel Burger, crumbed chicken with parmesan bread served with sauerkraut, warm potato salad. Fiery Fish Pops, beer battered fish served with chili remoulade. End your meal with Baked House Pie, pie stuffed with mutton, chorizo, roasted garlic mashed potato and lamb jus.
What – Oktoberfest at Common House, Karjat
When – uptil 30th October 2022
Where – Common House at Oleander Farms, Karjat