Tettnanger Hop Growers Association Introduces Aurum, A New Aroma Hop Variety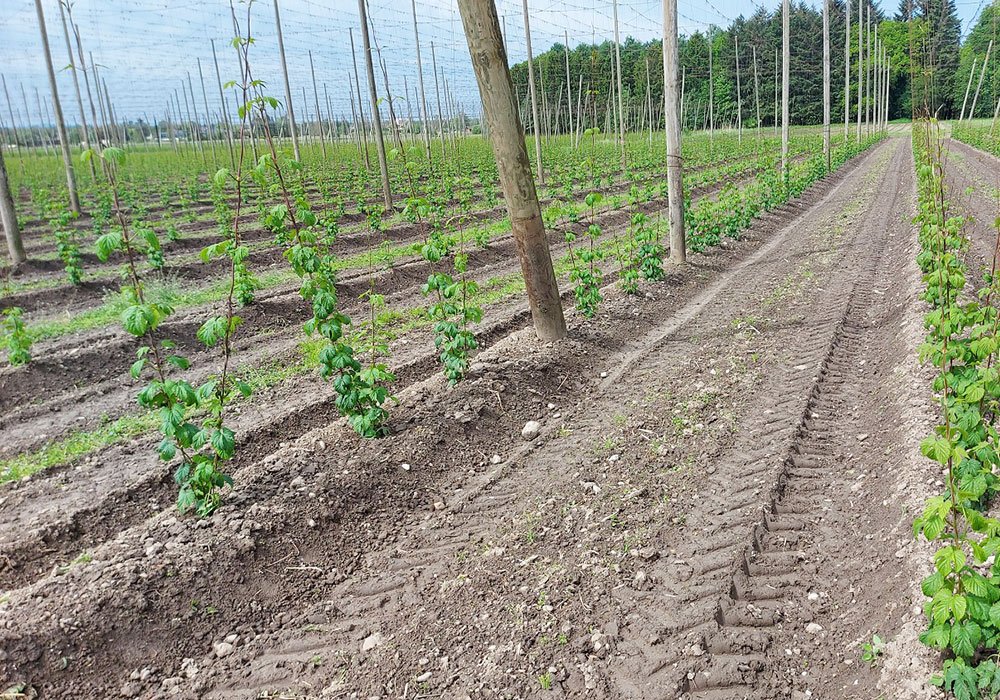 The Hop Planter Association Tettnang e.V. is a registered association based in Tettnang. The purpose of the hop planter association Tettnang is to promote hop cultivation in the Tettnang cultivation area and to protect the hop cultivation interests of the members. Tettnanger Hopfen offers a wide range of hop products for various applications in the brewery.
The fine aroma variety hop, Tettnanger, with over 60% of the cultivated area remains the core competence of the Tettnang hop growers. Backed by the Hüller breeding, these hop varieties have been cultivated since 2012. The Tettnang hop growers will continue to maintain close cooperation with loyal and long-standing customers, as well as seek contact for new, interested and creative brewers, whether at trade fairs and at the breweries externally or here in the local cultivation area.

New Hop Variety – Aurum
Aurum is a very fine aroma variety hop recently bred by the Hop Research Center in Hüll, Germany. It exhibits excellent plant health and a strong agronomic performance. A descendant of the Tettnanger variety, Aurum was approved in 2020. The delicately spicy hop aroma, medium intensity and harmonious bitterness make Tettnanger hops ideally suited for premium-quality pilsner beers.
Aurum has exceptionally fine and delicate classic hop aromas with spicy-herbal notes and depending on the timing of its addition — fresh citrus aromas. It is especially suited for traditional, hop-accented beers that are harmoniously balanced for high drinkability. Typically, Aurum hops are frequently chosen for the last hop addition in the brewhouse.
Aroma Impressions Of Raw Hops
Aroma In Beer
Based on its high total oil content, Aurum has a strong aroma potential. Depending on the timing and quantity of its addition, it contributes a broad spectrum of aromas to beer ranging from classic hoppy spiciness to fresh and delicate citrus notes. The bitterness characteristics of the hop remain consistently fine and pleasantly mild throughout.
Analytical Values
Due to their low alpha acids, Aurum hops are often used at the end of a boil/whirlpool and are very much suitable for brewing lighter beer styles such as lagers or pilsners.
[table id=27 /]
More Cultivated Area, More Varieties, More Conversion Area To Organic And Much More Cultivation According To Defined Sustainability Criteria
After the climatically favorable, best harvest years of 2019 (2,909.75 tons) and 2020 (2,850.82 tons), the hop growers in the second largest, contiguous cultivation area in Germany started the new season positively and optimistically.
The spring of 2021 has so far been very cool, rainy and with delayed vegetation of approx. 2-3 weeks, but this does not yet allow conclusions to be drawn about the harvest result. All hop shoots are now on the climbing wire and have started their growth phase at a final height of 7-8 m. All spring work could be carried out well, albeit with a delay. After 2020, extensive specifications according to Regulation regarding Distance and hygiene measures, testing, entry, quarantine, accommodation…of seasonal employees from Romania and Poland due to Covid19 can be observed and implemented. This caused considerable additional effort and costs for the companies, but contributed significantly to the safety and health maintenance of employers and employees. As a rule, sufficient seasonal employees were available.
According to statistical surveys, the number of manufacturing companies remains constant at 125. The cultivated area increases from 1,479 ha to 1,494 ha (+ 1 %). Whereas 23 different varieties have been cultivated in the Tettnang cultivation area so far, this number increases to 25. Largest single variety with 682 ha (minus 37 ha) remains the eponymous and region-defining country town of Tettnanger. Greatest increases record pearl (+ 24 ha), Hall. Tradition (+14 ha) and Hercules (+12 ha). Previously, a farm has grown hops according to ecological principles, further farms and land are now in the three-year conversion phase. If around 50% of the area and quantities have already been sustainably produced in accordance with the SAI (SAI = Sustainable Agriculture Initiative) standards, this proportion is expected to increase to an estimated 70% in 2021. 
A large part of the nationally and internationally required sustainability criteria, currently 113 requirements, are regulated in Germany via existing laws and specialist law. 26 other, partly hop-specific criteria of economics, ecology and social sustainability, are evaluated, documented and tested by the NH self-check. The German Hop construction thus meets customer requirements and socially demanded changes.
If the second and third corona waves have led to a calming of demand, the view is now more optimistic with declining incidence numbers in the brewing industry, gastronomy and hops worldwide. The further development of the hop year 2021 in cultivation and sales remains to be seen.