Delving Deep Into The Story Of Other Desi Beer Co. With Founder Ravi Patel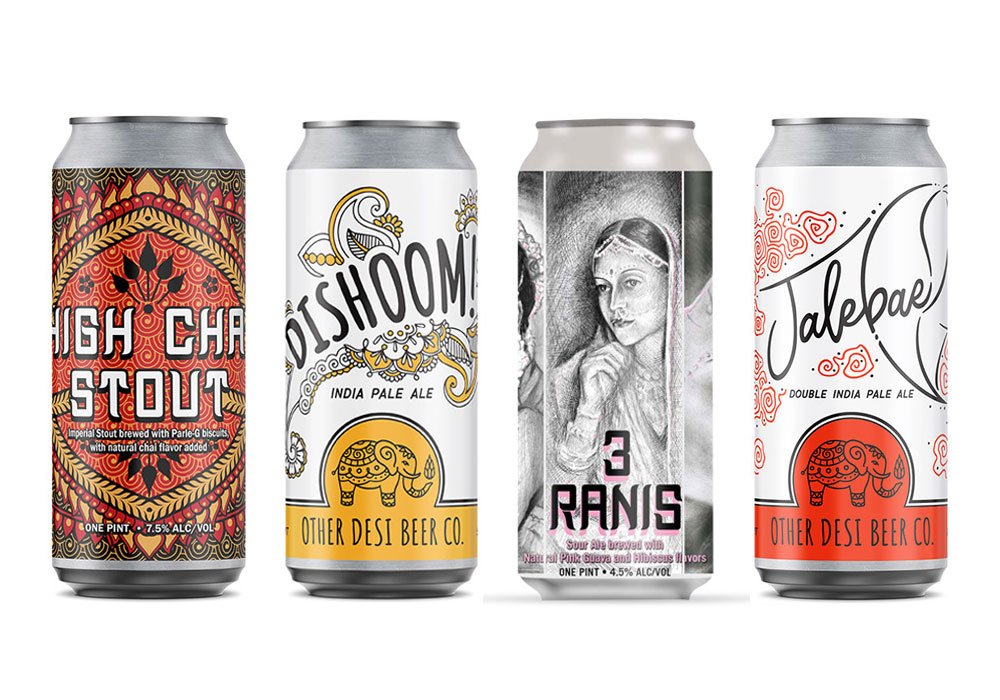 To find a way for sharing his culture and experiences with other people and to give it back to his community, Ravi Patel, an American born South Asian, has started Other Desi Beer Company.
Prior to starting Other Desi Beer Company, Ravi worked at the liquor store with his dad to learn more about the products, what they were, how they were made and how the ingredients impacted the final product. We interviewed Ravi to know more about the story behind Other Desi Beer Co. and of course, the brand's incredibly fun line of beers, which are reminiscent of the Indian flavours from his childhood but with an American twist!
What was the first beer you had which made you discover your passion for craft beer?
It was definitely Willimantic Brewing Company's Certified Gold, which is their clean crisp blonde ale. I literally stopped there by accident, not even knowing a brewery was down the street from the college I was attending. This is their flagship beer made right behind the bar. The owner, David Wollner, recommended the beer, telling me about how this was the first beer they brewed there. I later came to learn a lot from David about brewing, and his passion for craft beers grew on me.
What are your earliest fondest memories of beer?
Some of my earliest memories of beer include being side-by-side with my parents, who own a local liquor store. Even growing up in the 1990s and early 2000s, it was amazing to see the variety of craft beer back then.
What key takeaways do you have, growing up amidst the American craft beer revolution?
It's an ever-evolving industry. Just when I think I've seen it all, another brewery comes up with something innovative and interesting. It's awesome.
What is your take on Indian craft brewing scene and consumer palate?
I have recently been following the Indian craft brewing scene and I am falling in love with it, especially the spirit of diversity that the community is encouraging from breweries. A big shout out to White Owl Brewery in Mumbai – I love their branding, and their beers look great!
What's the story behind the name Other Desi Beer Company?
When I was young, people would always ask what kind of Indian I was and I'd always have to say, "I'm the other 'Indian' you're thinking of, from India." From that came the "Other Desi". As I grew up though, and learned more about our culture, I realized the words "Indian" and "Desi" resonate with more than just people from India.
You mentioned that all of Other Desi Beer Company's beers are representative of you and reminiscent of the Indian flavours from your childhood but with an American twist. Please elaborate.
Most of my beers either were inspired by my childhood, something I ate, watched, or talked about with friends and family. Each beer has a theme or flavor to represent those memories. By far the best example of this is my High Chai Stout, brewed with chai and Parle-G biscuits, two things I love to drink and snack on to this day.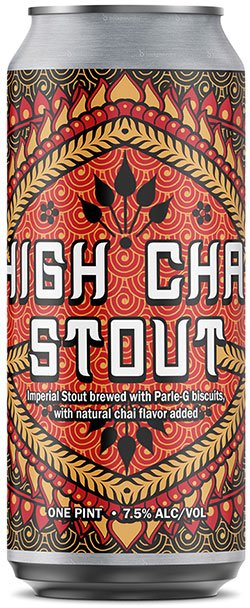 We're curious to know about the team behind the exquisite label designs for these beers. How did Other Desi Beer Co. come up with the theme for each design?
It takes a while to come up with a name that fits my brand, but once we have a name set, we start to work on how to build a label around it.
The first three beers I had produced were designed by a close friend of mine and tattoo artist Doug Fortin.
3 Ranis was a special label created by three different artists using mediums of their choice and inspired by images of my mother and two aunts from their wedding days. I wanted a way to recognize them and say thank you for all the hard work they put in when they came to the U.S. This was a specialty brew with profits donated toward breast cancer research.
We currently have redesigned my labels so they're much cleaner and streamlined, which wouldn't have been possible without local artist Jessica Battista.
What are some of the best things about being a part of the craft beer community?
There's a tremendous level of camaraderie, and everyone supports each other. I have met so many people in this industry who are willing to help if I ever need it, and I am willing to do the same for them. I've made some great friends building my company.
What are some of the challenges faced by smaller craft breweries in the US?
It's a growing market that is already saturated with amazing breweries and unique beers. Finding a way to get your name out there can be a bit daunting.
For two consecutive years, Other Desi Beer Co. has given it back to the community in various ways, from donating to Kid-U-Not to supporting the Breast Cancer Alliance and the CT Restaurant Association. It is evident you are a strong believer that business and philanthropy go hand in hand. Do you think the craft beer community believes in this as well? 
Yes! I do think that a great example was the "All Together Now" and the "Black is Beautiful" collaborations. Both had breweries across the U.S. producing beers for different and very important causes. While these are just two examples that have had a national impact, there are several breweries in Connecticut alone that give back to local organizations.
What is the current line-up of beers at Other Desi Beer Co. and which one is the most preferred by the locals?
Currently, at Other Desi Beer Co., there are two beers available: Dishoom! and Jalebae.
Dishoom! is a 5.5% ABV New England IPA. It's light and crisp with notes of melon and tropical fruit.

Jalebae is a New England style Double IPA which has notes of citrus rind, tangerine and pepper along with a malty backbone. It clocks in at 8% ABV.

Does the brewery serve any Indian food which can pair well with the beers? Or According to you, which of your beers pair well with Indian Cuisine?
Currently, I contract brew out of a larger brewery (Thimble Island Brewing Company in Branford, Connecticut), but I would like to be able to one day.
Out of the two listed above, Dishoom! would pair perfectly with Indian cuisine. It's light and slightly fruity, pairs well with heavily spiced foods or curries to cleanse the palate without overpowering.
Last but not least, what is the one piece of advice you would give to a fellow Indian craft beer lover with a dream, looking for business opportunities in a new country?
Go for it! If you have an idea, don't be afraid to try it out, you'll regret not trying when you had the chance.