MUFG Bank, Ltd. Invests $10 Million in Bira 91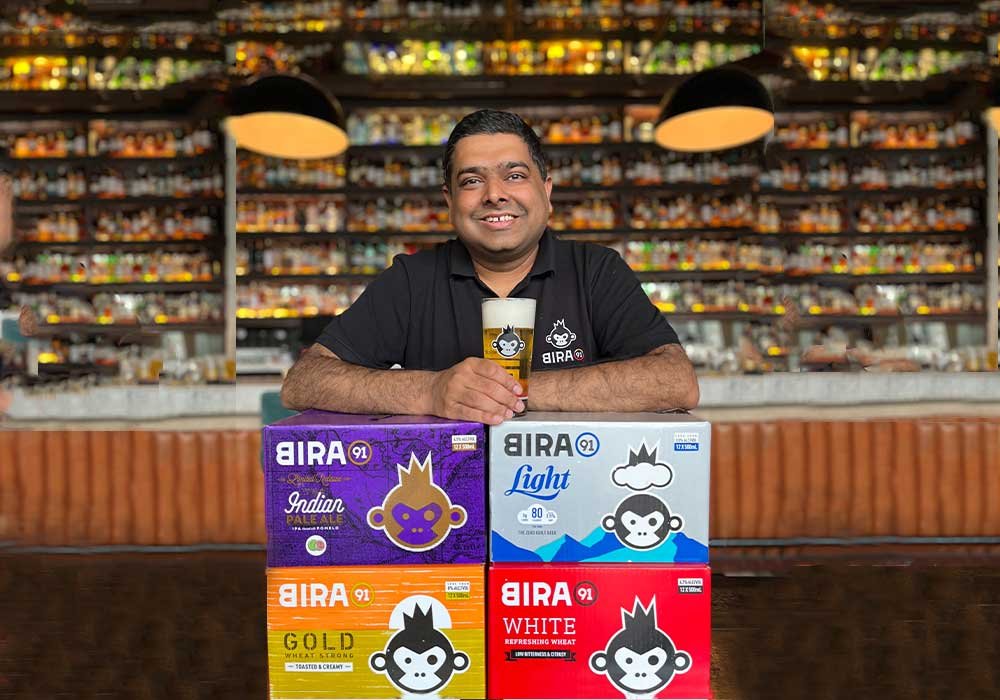 Bira 91, the world's fastest-growing premium beer company, has raised $10 Million from MUFG Bank, Ltd. (MUFG Bank), Japan's largest bank and one of the  world's largest banks. This is investment showcases a strong belief in Bira 91 and its growth potential. The beer brand continues to grow at a rapid pace, tripling its market share from pre-covid levels. 
The investment comes after the company recently raised $70 million in Series-D funding round, led by Japanese beer company Kirin Holdings Co. With this investment, Bira 91 will continue to ramp up its production, bolster supply chain and enhance innovation capabilities. As one of the fastest growing brands in the world, the company has built a diverse portfolio of award-winning beers and aims to drive the global shift in beer towards more color and flavor.
Commenting on the announcement, Yasuhide Hayashi, Executive Officer, MUFG Bank, said, "MUFG Bank has consistently invested in the India growth story. The Indian beer market is booming, owing to factors such as changing lifestyle of consumers, a growing preference for the alcoholic beverage and rising brand consciousness regarding imported and premium beers. We are proud to collaborate with Bira 91, the world's fastest growing premium beer brand. With this partnership, we are eager to work with the Bira 91 team to further their growth story and enhance their footprint n India as well as across the globe. We are exciting to support the company's Make in India growth story as it expands its manufacturing footprint in the country". 
Commenting on the funding, Ankur Jain, CEO, Bira 91, said, "We are truly excited to partner with MUFG Bank. As Japan's largest bank with an extremely strong footprint, we believe that this partnership can help Bira 91 tap into global pools of capital as it continues on its growth journey." 
As the fourth-largest beer company in the country, Bira 91 holds a market share of 5% across key markets in India, tripling its pre-covid numbers. With 5 manufacturing facilities in the country, Bira 91 holds a combined manufacturing footprint of about 2.5 million hectolitres along with a strong presence across 550 towns and 18 countries worldwide. 
About Bira 91: 
A refreshingly modern beer brand imagined in India, Bira 91 aspires to bring flavorful beers to the new world. As one of the fastest-growing brands in the world, Bira 91 has built a diverse portfolio of award-winning beers, one for every occasion, and aims to drive the global shift in beer towards more color and flavor. Bira 91 is now enjoyed in over 550 towns and cities spread across 18 countries and brews its beers across four breweries in India. Bira 91 has its flagship taproom in Bengaluru, where it releases one new experimental beer every week, paired with its curry-shop menu. Bira 91 also offers branded merchandise across categories such as glassware, apparel, and gifts, to make every day a lot more playful. Established in 2015, Bira 91 is driven by a dynamic team of over 600 passionate beer lovers and is backed by Sequoia Capital India, Sofina of Belgium, and Kirin Holding of Japan.    
Learn more at www.bira91.com and follow us on Twitter, Instagram, LinkedIn, and Facebook.  
About MUFG Bank
MUFG Bank, Ltd. is Japan's premier bank, with a global network spanning around 50 countries. Outside of Japan, the bank offers an extensive scope of commercial and investment banking products and services to businesses, governments and individuals worldwide. MUFG Bank's parent, Mitsubishi UFJ Financial Group, Inc. (MUFG) is one of the world's leading financial groups. Headquartered in Tokyo and with over 360 years of history, MUFG has a global network with approximately 2,100 locations in more than 50 countries. The Group has about 160,000 employees and offers services including commercial banking, trust banking, securities, credit cards, consumer finance, asset management, and leasing. The Group aims to "be the world's most trusted financial group" through close collaboration among our operating companies and flexibly respond to all of the financial needs of our customers, serving society, and fostering shared and sustainable growth for a better world. MUFG's shares trade on the Tokyo, Nagoya, and New York stock exchanges. For more information, visit https://www.mufg.jp/english.