Bira 91 Raises $70 Million In Series D Funding From Leading Japanese Beer Company Kirin Holdings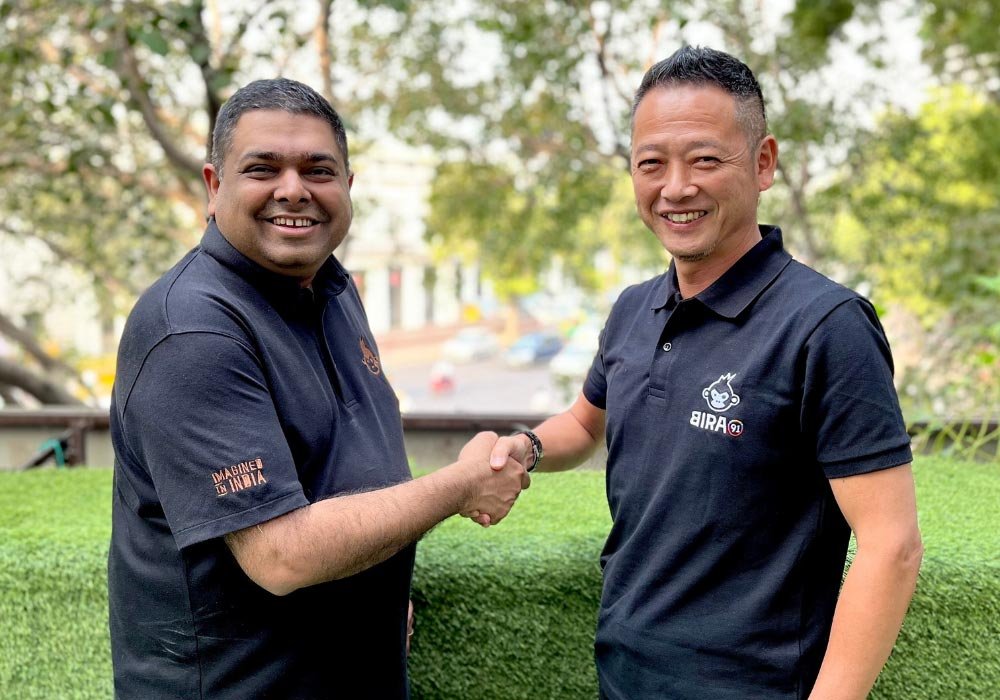 The capital will be deployed to strengthen Bira 91's market share, expand production capacity and drive innovation
---
Bira 91 today announced that it has raised $70 million in Series D funding, in a round led by leading Japanese beer company – Kirin Holdings. The investment from Kirin Holdings comes at a time when the demand for beer is witnessing a massive surge and the company continues to strengthen its national & global presence as it aims to cement its leadership position in the premium beer market.
The funds will be deployed to expand production capacity by commissioning new breweries and expanding its existing facilities. The capital will also be utilized to increase the company's distribution footprint across the country and internationally, and further bolster Bira 91's product development and innovation capabilities.
Sharing his perspective, Hiromasa Honda, Managing Director, Kirin Holdings Singapore, said, "India has embarked on its Golden Decade of growth. As the fifth largest economy in the world, with increasing digitalization, and a stable, growth-oriented government, we are very excited to invest further in the "Make in India" journey for the country. We believe that Bira 91 has the potential to premiumize Indian beer through innovation by brewing the highest quality products for the country's consumers. We also believe that over the long term, Bira 91 has the potential to break out internationally as a global brand."
On the experience of working with Bira 91 till now, he further added, "Over the last year, Kirin Holdings has worked with the management team of Bira 91 across some of the key aspects of business, especially in areas of manufacturing capability and sustainability. We are delighted to see the growth Bira 91 has witnessed post the pandemic and we strongly believe that Bira 91 has tremendous potential in this growing market. The partnership with Bira 91 could be a great model for accelerated success in emerging markets, by driving localized manufacturing and innovation combined with a focus on sustainability."
Bira 91 recently announced its goal to become the country's first carbon-neutral beer company and has formed the B9-Kirin Center for Sustainable Growth based out of its New Delhi headquarters, where technical and strategy experts from Kirin are helping the Indian company with its Net Zero goal.
Commenting on the announcement, Ankur Jain, CEO, and Founder of B9 Beverages said, "We are delighted to see Kirin Holdings doubling down on India and our company. We have forged a special partnership with Kirin that goes beyond capital and is driven by our long-term purpose – our purpose to drive the shift in beer towards more flavor, our purpose to become global leaders in innovation and sustainability. Our intent to create a brand "Imagined in India, for the world", with a strong, world-class manufacturing base in India has accelerated tremendously because of our partnership with Kirin. As we look forward to driving strong growth in revenue, market share, and profitability over the next few decades, we are excited to deepen this long-term partnership further."
In the last few years, Bira 91 has witnessed tremendous growth. As one of the youngest players in the market, the brand has secured a double-digit share in several key markets and emerged as the fourth-largest beer company in India. The company launched in 2015, has a portfolio of 10 diverse flavors in its portfolio, along with many seasonal beers released in its tap rooms. The company recently announced an acquisition of the largest beer-pub chain in the country – The Beer Café. The company has a presence across 550 towns in 18 countries across the globe.
---
About Bira 91
A refreshingly modern beer brand imagined in India, Bira 91 aspires to bring flavorful beers to the new world. As one of the fastest growing brands in the world, Bira 91 has built a diverse portfolio of award-winning beers, one for every occasion, and aims to drive the global shift in beer towards more color and flavor. Bira 91 is now enjoyed in over 550 towns and cities spread across 18 countries and brews its beers across four breweries in India. Bira 91 has its flagship taproom in Bengaluru, where it releases one new experimental beer every week, paired with its curry-shop menu. Bira 91 also offers branded merchandise across categories such as glassware, apparel, and gifts, to make every day a lot more playful. Established in 2015, Bira 91 is driven by a dynamic team of over 600 passionate beer lovers and is backed by Sequoia Capital India, Sofina of Belgium, and Kirin Holding of Japan.
About Kirin Holdings
Kirin Holdings Company, Limited is an international company that operates in the Food & Beverages domain (Food & Beverages businesses), Pharmaceuticals domain (Pharmaceuticals businesses), and Health Science domain (Health Science business), both in Japan and across the globe.
Kirin Holdings can trace its roots to Japan Brewery which was established in 1885. Japan Brewery became Kirin Brewery in 1907. Since then, the company expanded its business with fermentation and biotechnology as its core technologies, and entered the pharmaceutical business in the 1980s, all of which continue to be global growth centers. In 2007, Kirin Holdings was established as a pure holding company and is currently focusing on boosting its Health Science domain.
Under the Kirin Group Vision 2027 (KV 2027), a long-term management plan launched in 2019, the Kirin Group aims to become "A global leader in CSV*, creating value across our world of Food & Beverages to Pharmaceuticals." Going forward, the Kirin Group will continue to leverage its strengths to create both social and economic value through its businesses, with the aim of achieving sustainable growth in corporate value.