Passionate Brewer, Social Advocate & Fashion Tastemaker: CBMAs' 2020 Craft Beer 'Woman/Person of the Year' Megan Stone Dons Many Hats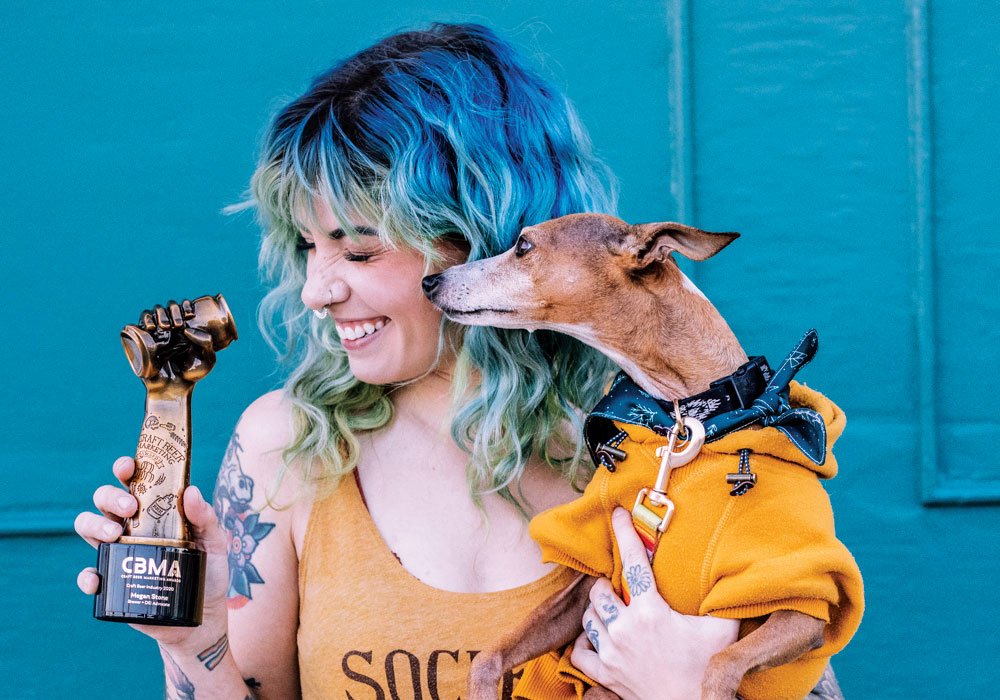 It was at the age of 14 when Megan Stone took her first-ever sip of beer: a skunked Natty Ice. At 19, she tried her first independent craft beer – a beer named Natty Boh-National Bohemian which she describes as "a basic hometown lager" that was "cheap and easy to throwback".
"When a friend started replacing the Bohs in my hand with Brooklyn Lager, Dogfish Head 60 Minute, Sierra Nevada Pale Ale, I was instantly intrigued," recollects Megan. "I didn't know beer had so many styles and possibilities flavour-wise. From there on, I began my deep dive into the craft beer world."
Today, San Diegan-based brewer Megan Stone whose pronouns are both she/her and they/them, has worked with the who's who of the U.S. craft beer landscape – starting from Dogfish Head Brewing and Mispillion River Brewing to Mikkeller and DuClaw Brewing Co. to her current brewing home ground, Societe Brewing Company. She is also a member of the reputed San Diego Brewers Guild Inclusion Committee and a social media influencer with over 34,000 followers who successfully launched a multi-year brewing apprenticeship programme titled One for All to give the traditionally underrepresented in the brewing industry an opportunity to work in this space. It's no wonder she was named the Craft Beer Marketing Awards' (CBMAs) first-ever 2020 Woman/Person of the Year!
Intrigued, Brewer World Editorial decided to hit Megan up and uncover the story behind this powerful, influential name in America's craft beer space who is disrupting social norms, pushing limits and of course, dishing out some great beers while she's at it too!
On her experience in the craft beer industry space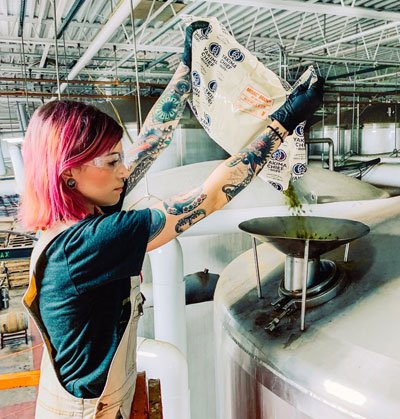 Megan didn't always want to be a brewer. Originally from Baltimore, Maryland, where she lived until the age of 23, Megan saw dreams of working in film as a special effects make-up artist. She even started off doing hair for a while.
It wasn't until she moved to Delaware in early 2015 and worked for Dogfish Head that Megan decided she was interested in learning about brewing. "I joined as a seasonal server at their original brewpub in Rehoboth Beach. My orientation was a brewery tour. I was mesmerized by all of the equipment, ingredients, and the process," she recounts. "I picked up several brewing books and read them on the patio during slow shifts. I joined a DFH brewing competition team with my coworkers. I was hooked. Then I got a job at a small local brewery called Mispillion River as an unpaid intern, one day a week. I called them every single day I was off from DFH to come in and work/learn. Looking back, I had a lot of incredibly supportive and inspiring mentors at Dogfish and Mispillion. I am also a pretty resilient and a "prove you wrong" type of person, so when I did start receiving unwelcoming and discriminatory treatment on the West coast, it wasn't something I took lightly. There were definitely tears, but I wasn't going to give up that easily!"
On some of the best beers she has brewed
Megan is currently based in San Diego, one of America's hottest destinations for freshly crafted beers. What's the craft beer culture there like?
"I think San Diego became a beer destination because a lot of the bigger breweries set up here many years ago during the first wave- Karl Strauss, Green Flash, Stone, etc. and everyone sort of followed suit," Megan says. "IPAs have always dominated the tap lists at San Diego breweries. Several years ago it was West Coast IPAs, but as of recently it's mostly NE IPAs." Megan predicts seeing a lot more lagers and West Coast IPAs making a comeback on tap lists at San Diego's local tap lists along with a resurgence of more "traditional" styles.
But does Megan have any favourites amongst the beers she has brewed so far? The answer, to our delight, was an immediate "yes"!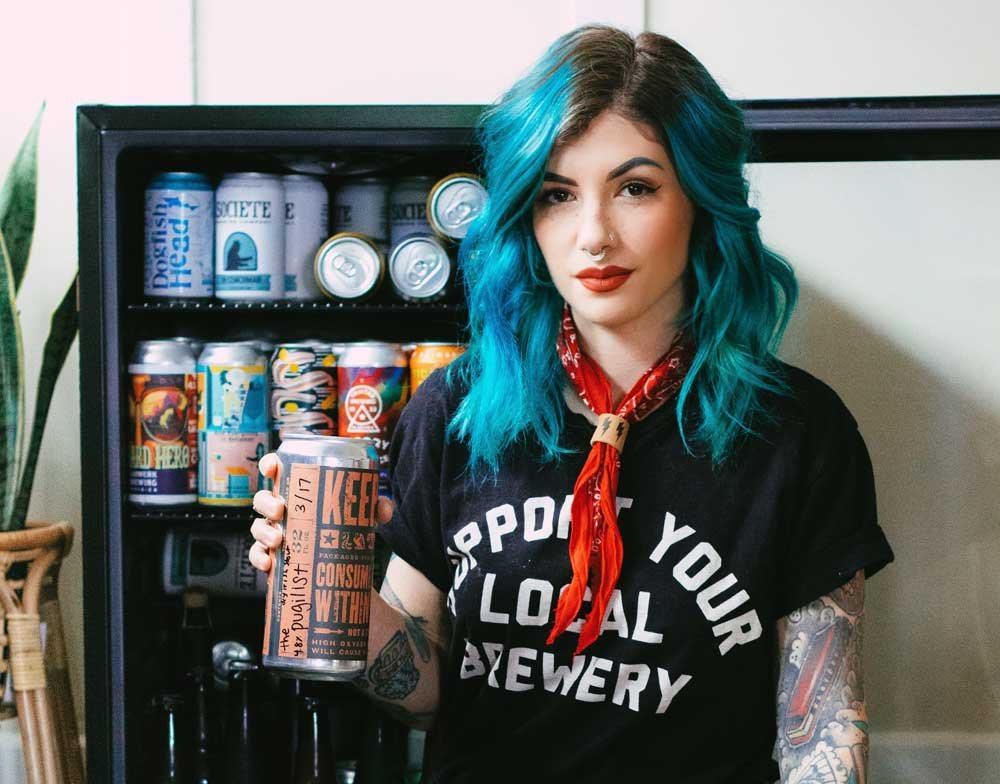 "The best beers I've brewed are the ones that are the most meaningful to me," says Megan. "I have most of the bottles or cans on a shelf in my home. The first beer I ever brewed commercially (Queen of Wands, Belgian Quad, Mispillion River), a beer I collaborated on with a good friend of mine (Southern Carbs, a kumquat and sage Kviek beer, with Alyssa from Jagged Mountain), the main beer for the DEI (Diversity, Equality & Inclusion) initiative and apprenticeship that I led with Laine Brew Co in the UK (All for One, Hazy IPA)."
Her favourite beer and food combo of all time? "A Grisette with Indian food. Just try it," replies Megan without a second thought.
On the importance of representation for everyone in the beer & brewing industry
According to Megan, Diversity, Equality and Inclusion (DEI) wasn't on people's radar until about a year ago. "Even before then, they were mainly interested in diversity and didn't understand that inclusion and equity were different things that didn't automatically come along with diversifying," she explains. "It seems like currently, people are scrambling to hire to diversify their staff without first doing a company culture audit to ensure the space they're hiring into is welcoming, and safe. I also see a good deal of tokenism happening. I'm not saying there aren't people doing a great job and making genuine efforts- just that there is a lot more work to do. Most of the work right now is being done by people of marginalized groups. I honestly don't understand why someone wouldn't want diversity. People from different walks of life have so many varying experiences, opinions, and perspectives to share that fuel innovation and lead to growth."
"Every human being deserves to feel safe, welcome, and be treated with the same level of respect when it comes to uncontrollable individual differences- race, gender, sexual orientation, age, disabilities (visible and "invisible"), etc. Every person deserves a seat at the table where their voices can be heard." – Megan Stone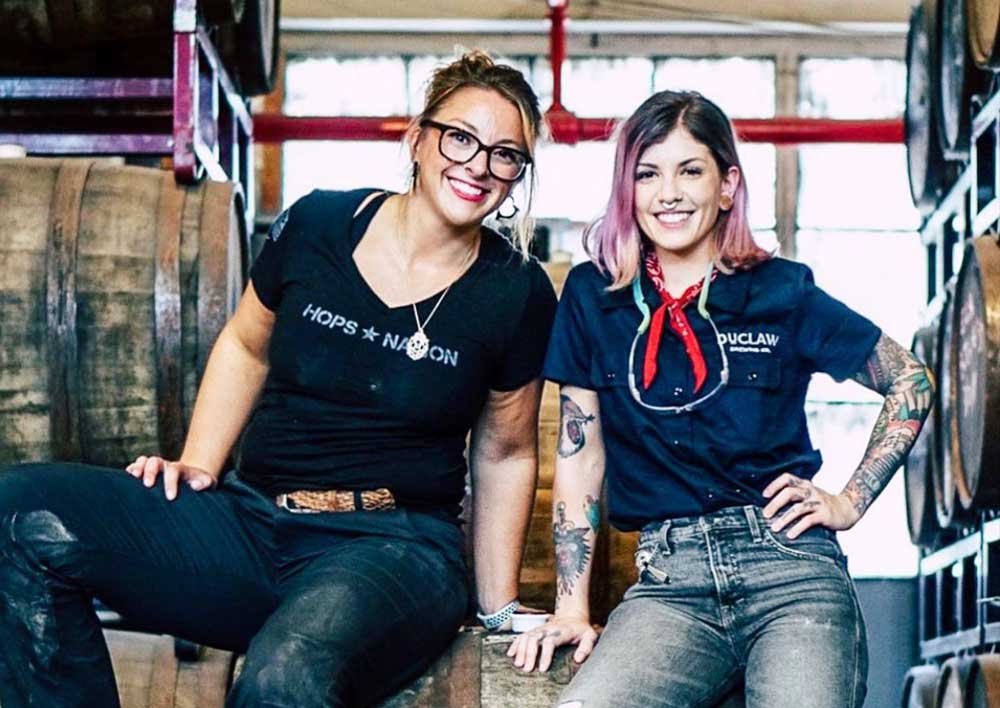 In 2020, Megan Stone was named 2020'S 'Woman of the Year' by Craft Beer Marketing Awards, a competition developed to recognise and award outstanding marketing efforts in the craft beer and beverage industry space. "It's really humbling to be recognized and feel so supported by my peers in regards to DEI. A lot of the time people aren't so kind when it comes to trying to encourage inclusivity and equality," she acknowledges.
How does one educate oneself on learning to be a better advocate of acceptance without discrimination?
"Pay attention to what's going on in the world- and from credible sources," comes Megan's prompt answer. "Listen to people who are a part of marginalized groups. Be aware of your own implicit bias. Learn to be receptive to people educating you on a mistake you made."
On her work as a social media influencer
When Megan kicked off her Instagram page under the handle @isbeeracarb she was still pretty new to Southern California and the brewing field. So the goal was never to become an influencer or gaining followers.
Instead, Megan wanted to harness the powers of social media to connect and network with other production workers and also as a way to share recipes, processes and information. "I was fortunate enough to participate in a lot of interesting brewery tasks- picking fresh fruit directly from trees, barrel work, handy work like installing glycol lines, etc. Between that and being an anomaly in beer, my account kind of took off," she recounts.
Today, Megan uses her social media profiles as a platform to address anything and everything about beer – from the importance of using the right equipment to serve great-quality beer to amplifying collabs to championing the cause of diversity, equality and inclusion. Yet, she firmly refuses to call herself an influencer – and prefers to simply stick to the terms 'brewer' and 'DEI advocate'.
On industry misconceptions
Megan is strongly against a brewery getting a free pass just because it is independent and craft. What she really means by that is most craft beer drinkers look at 'big beer' and think of them as the bad guys (due to ethical reasons) – which isn't always right. "The smaller breweries can be just as guilty," Megan argues. "And some of them are the well-loved, hyped breweries people frequently drink at or purchase from. Stop being lazy, do your research and be more aware of what's really going on. The information is all out there."
On making your brewing experience count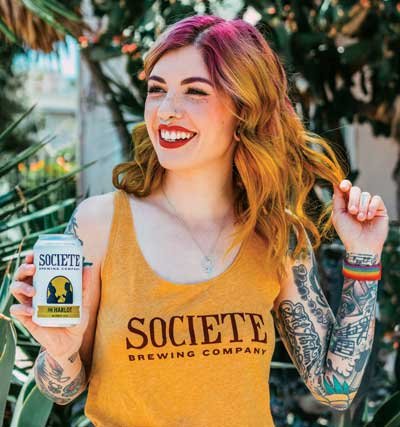 Is brewing more scientific or creative? To Megan, it's important to be a brewer who can encompass both skill sets.
"You can be a creative brewer, but without the scientific knowledge, your beer will always fall short. From an artistic culinary perspective, you are experimenting with flavours and ingredients…but you're doing just that – experimenting. The data you record and analyse over time is vital to creating better beer." – Megan Stone
To all aspiring brewers hoping to tread a similar career path, Megan's advice is both simple and straightforward: "Be humble. Never be above any brewery task. Brewers aren't cooler or more important than any other role in a brewery. You're never too good to wash kegs."
Brewer World Exclusive