Hitting The Reset Button During A Crisis: Manu Gulati, Founder of Effingut Breweries Demonstrates How Its Done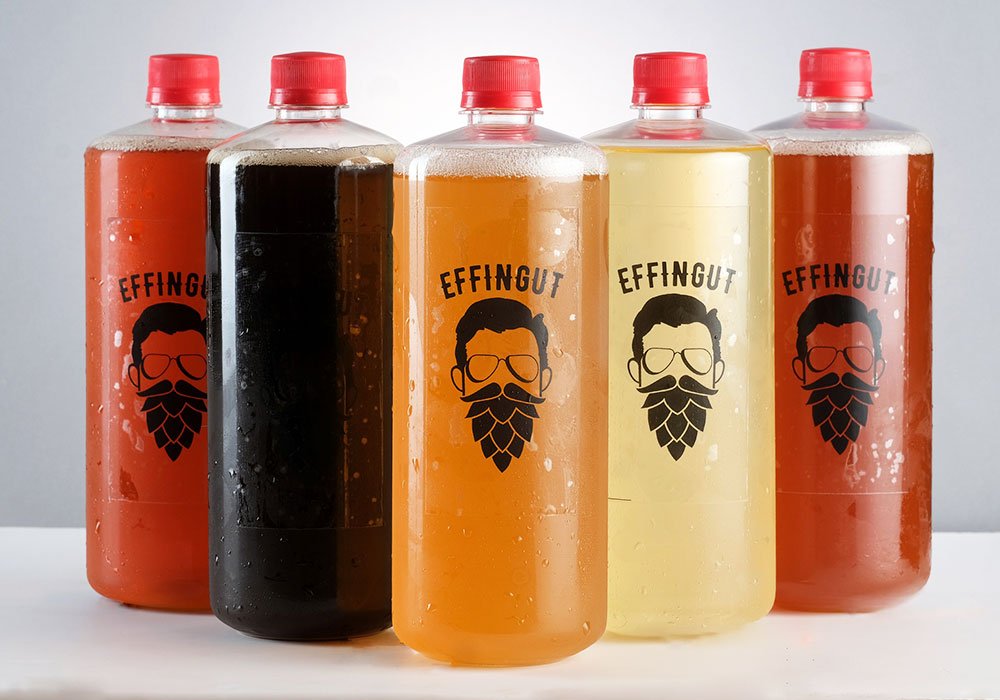 Every year, craft breweries look forward to brewing better beer experiences for their consumers to stay on top of their game. Clearly, 2020 wasn't the year for that.
With multiple lockdowns bringing operations to a complete halt and social events being a complete no-no, the pandemic continues to pose as an existential threat to several craft beer brands and microbreweries – one that could jeopardise not just the place they hold in the industry but also their long-term dreams of brewing beer.
But not for Manu Gulati.
A man with an effervescent sense of humour and unshakeable faith in his passion for beer making, one will often hear Manu laughing about how his first-ever batch of beer – which was an IPA, took 6 months to sell. Today, the same man is the founder and owner of Effingut Breweries, one of India's most beloved brand of microbreweries, based out of Maharashtra. He has also taken the country by storm with the launch of his latest venture – India's first retail craft beer chain christened Effingut 2 Go with not one, but three outlets.
Out of adversity comes opportunity, and no one proves this better than Manu. Read on to know more about the Effingut ethos and what to expect from Effingut 2 Go!
1. 2020 is about to draw to a close. Looking back, please share with us what the year has been like for you not just as a beer businessman, but also as a passionate craft brewer and enthusiast.
The year hasn't been kind to a majority of the businessmen, including myself, while also adversely affecting the craft beer industry as a whole. However, we all got some time to re-assess who we are as craft brewers and to work on what we stand for. Fortunately, the support of our patrons and demand for craft beer enabled us to come up with a unique solution to provide our patrons with the Effingut experience from the comfort of their home in such drastic times.
2. The term 'retail pourhouse' is such a unique concept in India! Please tell us how you came up with it and how long it took for the Effingut team to put this together.
Our industry has faced a series of challenges since the lockdown that initially restricted us from doing what we do best – make people experience Effingut. The demand for our craft beer, however, outfought the quarantine. With COVID – 19 and its repercussions hitting us, we had to get creative and unique in terms of how we were going to continue providing craft beer lovers with our beers. The pressure to re-invent was high, and the industry was bleeding. We had to rethink a business model that would be asset-light yet high on a consumer's satisfaction index, whilst keeping their safety as our priority. The idea to come up with a retail chain store was always in the works but with the virus's consequences, we were able to materialise that idea in about 3 months' time to create retail pourhouses or as we call them, growler stations.

3. What are the beers available currently? Apart from the beers, what else can customers enjoy from Effingut 2 Go? How can they order the same?
At any given time, we've got in the region of 13-14 brews on tap which include beers, ciders and meads. We've got the Effingut classics which include firm favourites like the Hefeweizen and the Dunkelweizen. We've got complex and unique beers, one current example of which is our Sorachi Ace Saison made with Japanese hops.
An Effingut 2 Go store is not just a beer shop. Keeping in mind every aspect of a patron's journey, the entire Effingut 2 Go concept revolves around condensing the Effingut experience that we are known for into a 15-minute time frame while also ensuring extended, dynamic safety protocols for social distancing. The stores also provide Effingut's star dishes as easy to consume microwaveable meals (entirely made in-house) along with unique snacks that go well with beers, a diverse range of imported glassware and a brand new line of Effingut merchandise.
The key is to allow our patrons to live the Effingut experience in the comfort of their homes. This is achieved by timely deliveries, beer and food collaborations with other conscientious craft producers and a whole new Entertainment 2 Go online concept that makes you feel Effingut even outside our brewpubs.

4. Tell us about the technology and the intricate process that goes into filling bottles to-go for consumers that keeps the signature Effingut taste and quality intact, even hours later.
We have custom-designed proprietary growler fillers using the 'counter-pressure filling technique' to ensure full automation once the bottle is placed into a machine. The machine infuses each bottle with beer gas to remove all oxygen – while filling each pour in a closed, pressurized and highly sanitized environment. Our high-caliber proprietary infrastructure thus allows for a minimum of 14  taps that can fill growlers both quickly and hygienically, in a matter of minutes, increasing the beer's shelf life to a minimum of 7 days if kept unopened. This means that your Effingut beer stays fresh for longer, remains carbonated for longer and you get the best out of each beer.

5. Whether one is looking at the beers to-go or the easy-to-consume microwavable gourmet meals. Please tell us how you achieved this.
Our first and foremost priority has always been the satisfaction of our patrons. Their experience and our focus on quality have always been two sides of the same coin. Whenever we devise new plans, strategies, or solutions we always ensure that our patrons are being provided with the best quality achievable or put simply the Effingut quality. In the ongoing situation where hygiene is of the utmost importance, we've arrived at solutions to provide our customers with quality and safety. We have always done this by reaching out to the community and listening to what they have to say. I am really blessed to have a very passionate team of people who work day in and night out to provide the best to our customers.
6. Despite the pandemic, Effingut has shown remarkable resilience and has emerged as an innovative craft beer brand. What do you attribute this to?
Much like the wider F&B industry, craft beer has been significantly affected by the current pandemic. With our brewpubs completely locked down for months, our priority shifted to ensuring the health and safe passage of our staff as they went back to their hometowns. With support from the government, we first started home delivery of food, followed by the unique opportunity to not only offer consumers growlers from our own brewpubs but also set up our own retail stores. With dine-in restarting, the road to normalcy will be long and arduous but we do have a future to look forward to.
Through all this, one has to be thankful to the evolving palate of our discerning consumers. It is this thirst for a better, natural, chemical, and preservative-free alternative to macro lagers that has led the unabated growth of demand for craft beer in India. After all, craft beer is everything that commercial beer is not – it is inclusive, community-led, and relationship-driven.
7. Effingut not only supports and contributes to the beer industry but also extends an arm of support to everything craft and local. Please elaborate.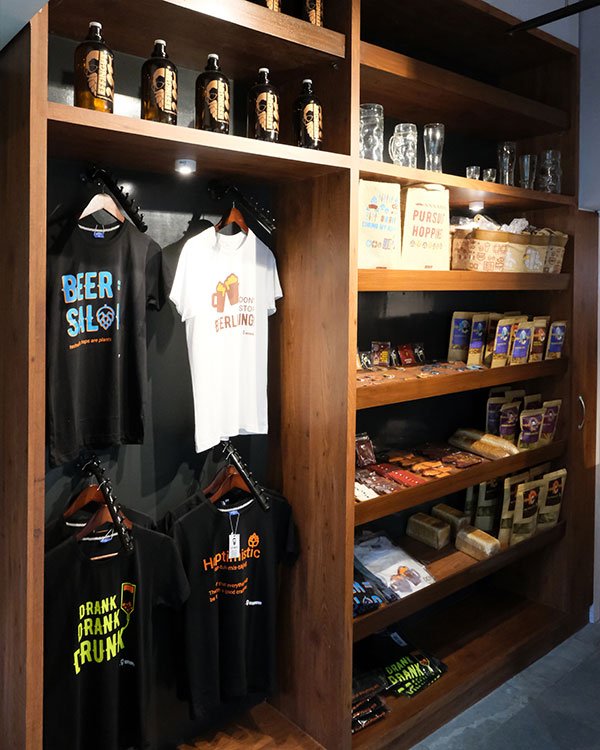 The entire craft beer industry is primarily about brotherhood and camaraderie and with times being extremely critical it's only imperative that we stand together, stronger than ever.  An Effingut 2 Go store is not just a beer shop, but a hub for all things craft. We are in the process of lending shelf space to wineries, meaderies, and new age ciders from other craft alcobev producers because Effingut 2 Go is in itself, a platform that helps showcase artisanal craft and small-batch alcobev. An extensive plan to go Vocal For Local & collaborate with friends in the industry is, therefore, in place. Our plan also extends beyond collaborating with craft alcobev brands by also highlighting local artisans who focus on the true essence of craft. To this end, our first collaboration is with Crumble – a local home chef who specializes in delicious baked goodies. Multiple collaborations with a variety of other conscientious producers are in the pipeline.
Effingut 2 Go also follows our brewpub's philosophy of sustainability and zero wastage by introducing spent grain beer bread across outlets. Our vision to an environmental circular economy also rewards people for doing their bit by offering INR 10 off for each recyclable PET bottle upon return and INR 25 off per Litre, in perpetuity, whenever they refill their sustainable glass growlers.
All this is available to patrons who walk into an Effingut 2 Go store in Kothrud and Wanowrie (Pune), as well as Bandra and Andheri (Mumbai). They can also order online via www.effingut.com/order
We believe that these small incentives are the first active steps in the industry towards being truly sustainable, a goal that is one of the main drivers for our retail business.
8. Are we to see an Effingut 2 Go soon in Bangalore? What other cities and states will you be expanding to in the next few years?
We have plans to further invest INR 100 million to aggressively expand Effingut 2 Go in Maharashtra. This move will reinforce our status as India's first retail craft beer chain, with plans to immediately open 12 outlets across Mumbai and Pune in the next 6 months.
Moving forward, our offerings will distinctly be placed in two categories: the larger full-service brewpubs with a more diverse offering and the retail-oriented Effingut 2 Go experience for when patrons just want to have a good pint and a quick meal at home. As phase 2, key markets will include Nashik, Kolhapur, and Ahmednagar followed by other geographies, targeting a total of 40 stores by 2022. Our first step towards being a national brand is the launch of another full-service brewpub in Kolkata by January 2021, post which the plans to take our craft to Bangalore might come into effect. We're always keenly watching legislative updates and would love to bring Effingut 2 Go to Karnataka too once the legal allowances are in place!
9. As a passionate beer enthusiast, brewer and businessman who hasn't let the pandemic stop his dream, what word of advice would you give to your fellow brewers and microbrewery owners?
 It may be the most difficult thing to do right now but we all have to be resilient. Dig your heels in because as the flag bearers of the craft revolution, we aren't going anywhere! One must also take this time to look inside themselves, soul search and evaluate who they are as a craft brewer. This will help design the roadmap of what you want to achieve coming out of this pandemic and in the next 5 years. The silver lining around this cloud is also the fact that we have been driven to think about consumer convenience in a modern setting. The key is to make our beers more accessible to our patrons and this convenience and accessibility can be achieved with technology. The pandemic has helped speed up the integration of technology into the larger F&B experience for both craft brewers and our patrons. Advancements in in-house dining such as digital menus and contactless payments might just replace the age-old traditions of physical menus and bill folders. The time to experiment is now!
Article source:
Brewer World Exclusive Interview