Love at first taste… Namma IPA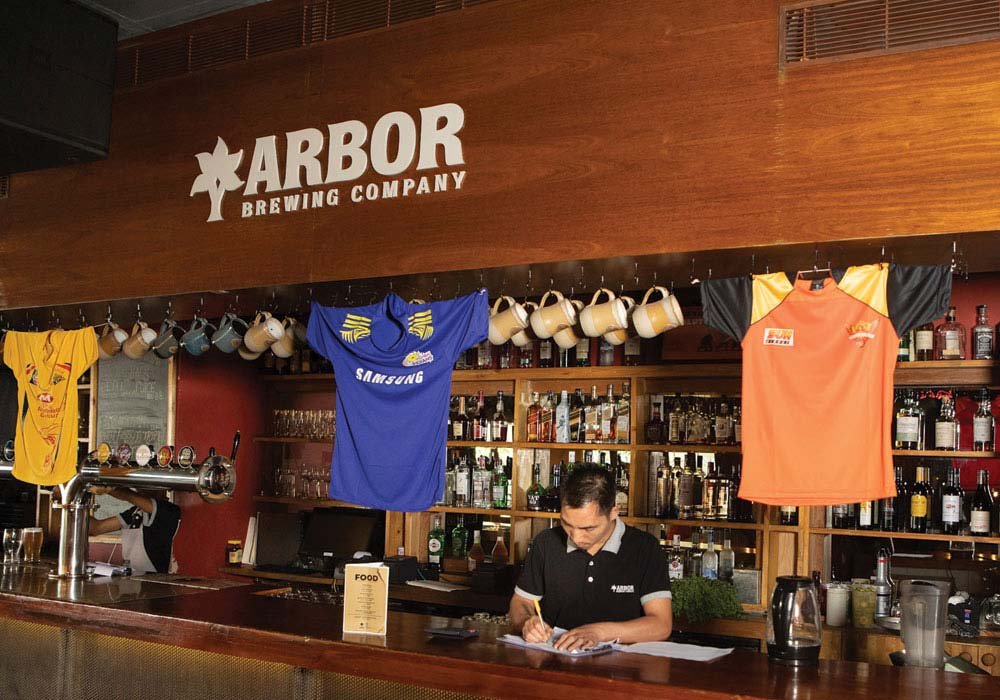 Authored by: Govind R & Sanjeev Tyagi
Images by: Rajesh Balay
Think, for a minute, of the traditional world of beer in India… what comes to your mind? Ordinary lagers, a few ales, large scale productions, made for the masses, low on taste-high on marketing, with catchy jingles to capture your imagination.
Unimpressed by the wines on offer, and not particularly thrilled by the drab beers, there was little to look forward to. Until one fine sunny afternoon, my friends and I chanced upon this hole-in-the-wall bar in downtown Singapore – the waitress (god bless her!) introduced us to Stone Ruination IPA – the first sip was a whole new revelation. The slogan on the bottle read "A liquid poem to the glory of the hop"! It was piney, fruity, immensely complex, bitter, malty and hard to characterize. And thus began my love affair with this world of IPAs.
Over the years, I have had the fortune of trying out most of the new craft breweries that have opened up in Bangalore.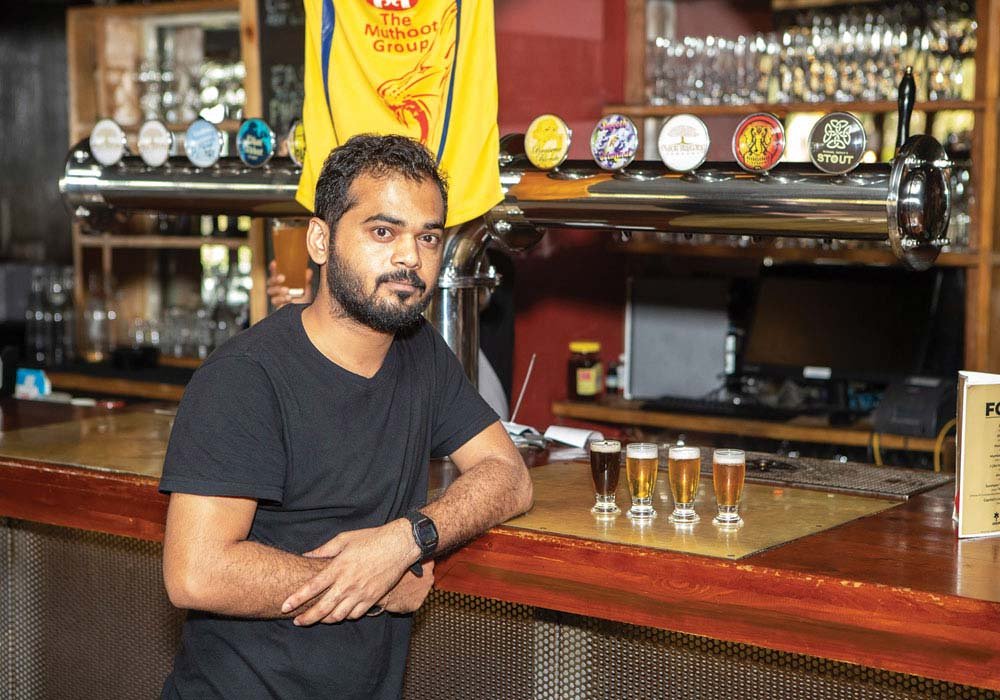 A few have always impressed with their consistency and quality. In this article, I will talk about our experience on a glorious summer weekend when we went to three of our favourite breweries. What is an IPA: Pale Ales are pale, amber-gold coloured beers that were first made in England around 1700 using pale English malts. IPA or India Pale Ale was a heavily hopped variant developed for the colonists in India to last long ship journeys. Hop is a traditional ingredient of beer from flower of the hop plant that gives fruity aromas and acts as a preservative. Heavy hopping and higher alcohol strength characterizes an IPA. In recent times, US brew masters have been championing the IPA revolution, exploring new techniques and hop varietals and producing incredible
sub-genres of this style.
Stop One: Arbor Brewing Company, Central Bangalore
We pack our photographic equipment and head to Arbor Brewing Company. Our excitement builds as we enter the brewery and brew-master Arjun greets us. He talks about his experience and inspiration since completing his post graduate degree in brew-science from Pune. He was initially mentored by Oliver, a German brew-master. He brewed his first great IPA at Arbor working with chief brew-master Hollis from Michigan, and he explains the nuances of the German and American traditions.
They have 4 types of hoppy ales on tap today. We love "Beach Shack" – a very floral, fruity session IPA with medium bitterness. "Raging Elephant" is their bolder IPA with bigger malts, hops and bitterness. It does not take a super refined critic to appreciate the goodness on offer and it reminds us of the initial love that started with Stone Ruination. Piney, floral, fruity, orange, citrus flavours are easy to notice.
We try "Betel Juice" which is an innovative Indian take on hoppy beer, brewed with generous additions of Betel leaves, lemon grass and Citra hops. He explains the art and science of brewing, continuous innovation and the attention to detail that characterize these brews.
We thank Arjun and drive to Red Rhino.

Stop Two: Red Rhino, Whitefield, Bangalore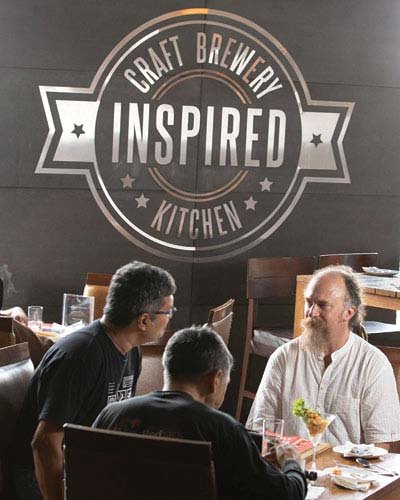 Dan is the chief brew master at Red Rhino who also runs a brewery in Santa Cruz, California. He works closely with Nikhil the head brew-master at Red Rhino (also a graduate of the same Pune University as Arjun). He introduces us to the 3 hoppy beer styles on offer today.
We start with their India Pale Lager (named in honour of the IPL season underway). It is a hoppy lager beer made with special English hops and is a crisp gentle introduction to hoppy beer. Next, we try the bold west coast IPA made with various American hops. and the fruity, piney, malty aromas along with the bold bitterness reminds us of why we love this style. We go on to try the New England IPA which has a hazy light golden appearance. It is soft on the palate and greets us with a burst of orange, pineapple and fruity flavours with a slightly bitter finish. "Embrace the haze, enjoy the craze" as the slogan goes for New England Style IPA's, this sub-genre has been getting very popular over the last few years.
Dan talks about how Bangalore is taking a lead in India on quality craft beers. In all these breweries, the owners are passionate beer drinkers and the brew-masters have a lot of freedom. Dan explains how he is planning to collaborate with the brew master at Windmills to brew a new style. It is heartening to see this sense of collaboration and innovation. There are around 9000 craft breweries in the US today versus 500 in India, he says. He talks about an 8 fold increase in hop content in the newer IPAs and how brew masters are making bigger IPAs to satisfy customer demand.

Stop Three: Windmills Craftworks, Whitefield Bangalore
We meet Cal Ryan, their chief brew-master. Cal's interest in beer started long ago when he tasted a bottle of German wheat beer (hefe-weissen). He went on to home brewing and subsequently shifted to a career in brewing.
They have 3 hoppy beers on tap today. We first try their Amber Ale which is a hoppy variant of the traditional American Red Ale. We try their Brut IPA, which is a newly emerging style from California. Cal says that it is California's answer to the New England IPAs and it is brewed with a special technique to remove all residual sugars. We are glad to taste another wonderful IPA variant. We go on to try their Double IPA (DIPA) which is a bolder, hoppy, malty version of the traditional IPA.
Cal talks about the innovations at Windmills and mentions a Stout beer they brewed with Cardamom, coconut and ginger that brings memories of a ladoo. He explains how the craft beer industry is very vibrant in Bangalore and reminds him of San Diego in its formative days.
Ambrosia was the venerated drink of the gods, we feel a perfectly crafted IPA can give mortals a glimpse of the same. It is heartening to see this passion with these Bangalore breweries, as they strive for perfection in their craft. The challenges are many: quality of water, power supply, costs and delays in procuring imported ingredients, small scale etc. As the Bangalore market matures with many more beer geeks, hop-heads and eager consumers, we are confident that the day is not too far when we will have a highly celebrated "Indian" Namma IPA.
About the Contributors:
Govind R is a beer geek who also works as a Software Executive building product involving Data Analytics. He was introduced to craft beer in his early career years in the United States. He is an ardent hop-head fascinated by IPA style beers and is slowly getting into sour beers."
Sanjeev Tyagi is yet another tech guy who discovered his love for beers rather late in his drinking career. With a special affection towards IPAs, he lets the "hoppier, the better" mantra guide his selection of beers.
Rajesh Balay – Rajesh is a Technologist based out of Bangalore. He has lived and travelled across US and Europe – never missing an opportunity to taste good local craft beer. He also enjoys photography and travel.