Inside PMV Group's Malting Plants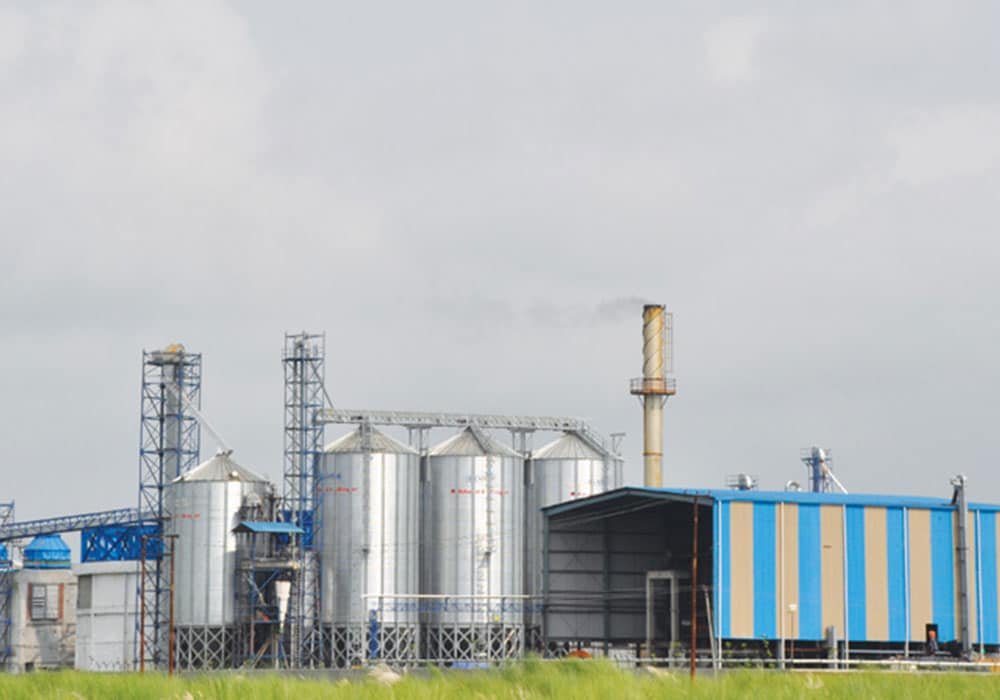 PMV Group –The Home of Good Malt
The PMV Group's journey dates back to 1970, with the inception of its first malting plant under the aegis of The Malt Company (India) Pvt. Ltd. at Khandsa Road, Gurgaon, which, today, is the oldest malting plant and commands a respectable status among its buyers and suppliers. Various companies are closely held and owned by the Jains, a reputed business family from Northern India. Using state of the art technologies, a motivated team, and an impressive infrastructure has paid dividends for the group. PMV is a well-trusted brand among all the liquor, health foods, confectionery, and pharmaceutical industries. The company, besides catering to the needs of the domestic industry, is also exporting its produce to nearly 32 countries all over the world. It is a recognized Star Export House by the Government of India and has a string of happy customers such as GSK, UB Group, Heineken, AB InBev, Carlsberg, Molson Coors, Mondelez, Nestle, Mahou, Diageo and more, which stand as proof of the group's success.
The Craft Brewing Industry and PMV
Craft beers and microbreweries are niche concepts in India but have been growing since the past few years and are now beginning to take shape in many parts of the country. This is an emerging trend that is certainly attracting middle class Indians, particularly in tier-one and tier-two cities and in urban areas. Today, building a microbrewery brand and sustaining it is very challenging in India. However, if one can sustain it, the growth is immense. The innovation craft and micro brewers are responsible for is truly unbelievable. To stay ahead of the competition, new flavours and styles of beers are being brewed each quarter.
With the changing trends and in order to meet the growing demand of craft brewers, PMV Group has started delivering Malt products as per the exact requirements of craft and micro breweries, which were earlier importing Malt for craft and micro beer from overseas. To accomplish this, the PMV group has a well-equipped research laboratory along with in-house malting and brewing support, which focus on the development of new products. PMV believes in procuring the best suitable barley for their products from the regions of Rajasthan, Haryana, Uttar Pradesh, and Uttarakhand. Their specialty malts have garnered widespread attention and acceptance as the perfect substitute for imported German and Belgian malts. With these specialty malts, the beer brewing industry has seen a huge growth in its craft and premium beers sector in the country.
In 2017, PMV was awarded the Silver Award in the Global Brewing Supply Awards at the RMI Analytics Conference held in Vienna on 22nd March 2017. This award was presented to the PMV Group for being the largest Indian malting company and for being a leading supplier of premium malts to all major Breweries and Distilleries.
PMV prides itself on the wide variety of products it manufactures, ranging from Grain Malt (palest to the darkest), Specialty Malts, Liquid Malt Extract, Dried Malt Extract, Roasted Malts, Nutritional Powders and much more. There are also several varieties of malts which can be customized according to individual needs of the brewers. You can download the PMV product range brochure from their site, http://www.pmvmaltings.com/
Understanding Malt and the Malting Process with PMV
The process of malting involves grains, usually barley, which undergoes the processes of cleaning, grading, soaking under water, germination, and then stopping germination with heat.
Malt is used in the making of alcoholic drinks such as beer and whisky and non-alcoholic products such as malt based foods.
PMV's team of maltsters and brewers – consisting of qualified trained professionals – continuously work towards innovating, researching, and developing new products for the brewing industry. Over the years, with the changing trends and to meet the growing demand of craft brewers, the Group has progressed to innovate and deliver the malt products as per the exact requirements of craft breweries, which were earlier importing malt from overseas.
Traditionally, only 6-row domestic barley was used for malting. But over time, different varieties have been developed for better quality malt and for making a great brew. The team has developed different varieties of malts using Indian six and two row Barley, European, and Argentinian Barley. Over the last few years, the PMV team has understood the needs of and limitations experienced by craft brewers while using base malts and has accordingly undertaken research to develop the capabilities required to manufacture various specialty malts such as Lager, Pilsner, Munich, Crystal, Roasted, Wheat and so on and so forth. Over the years, the Indian craft brewery segment has seen an immense growth, and this drives PMV to innovate and serve the market with the best quality malts at prices which are competitive in comparison to the global bench mark.
The Anatomy & Types of The Barley Grain
There are mainly two types of barley:
 Two Row Barley – has lower enzyme content, less protein, more starch, and a thinner husk than 6-row barley
Six Row Barley – has a higher enzyme content for converting starch into fermentable sugars, more protein, less starch, and a thicker husk than 2-row barley.
Why Use Malted Barley for Brewing?
The way major raw material inputs create the base of every product, malted barley provides the essential attributes that define beer, including its colour, flavour, texture, and eventually through fermentation, its alcohol content. When formulating the malted barley beer, the brewer should take each of these factors into consideration, in order to create great beer. Generally, raw barley gets converted into malted barley or malt to enhance the enzyme present in barley and to convert its starch into simple sugar. For this, raw barley has to undergo malting processes such as Steeping, Germination, Kilning, and Cleaning.
High quality barley is a prerequisite for the creation of exceptional malt. The barley kernel is a complex organism with a distinct anatomy. Barley is composed of a protective shell (husk), an embryo, and energy reserves in the form of starchy endosperm. These various parts contribute to the final product differently during the mashing and brewing process. The quality of beer is ultimately dependent on the quality of the barley. In the same vein, the phrase "No Barley, No Beer" could be revised to "Know Barley, Know Beer".
Malted barley contains a high protein content, which is required for yeast nutrition during fermentation. Malted barley needs to contribute starches, enzymes that can deconstruct these starches into fermentable sugars, free amino nitrogen (FAN), trace minerals and vitamins. All of these are necessary to create a wort capable of nourishing yeast, as it does the job of transforming sugars into alcohol during fermentation. A higher temperature during the process of kilning results in obtaining speciality malts, which are used by craft brewers to get flavoured beer. Brewers use a variety of different malts such as roasted malt, dark malt, crystal malt, pilsner malt, pale ale malt, and more, to create distinctive, balanced and flavourful beers. Malt can also be toasty, sweet, burnt, and husky in flavour. Generally, the rich, aromatic flavour of malt is considered the typical 'malt' flavour.

The process of Pre-cleaning and grading is illustrated below:

Malting Process:
Step 1: Pre-Cleaning and Grading: When barley arrives at a malting plant, it is rapidly pre-cleaned to remove gross impurities before it is passed to the storage silos. Precleaning consists of a rough sieving process combined with aspiration of the grain stream with a flow of air. In this stage, items such as leaves, straw, stones, barley awns, and other light material are removed and are uniformly sieved after grading.
Step 2: Steeping: The purpose of steeping is to evenly hydrate the endosperm in the raw barley kernel. Steeping raises the moisture content of the grain from approximately 12% to 41% which further helps promote germination. The steeping process typically lasts 20-30 hours depending on the moisture content going into steep and the weather conditions.
Step 3: Germination: After steeping, the kernels are spread out on a false bottom "bed" so that the grains can comfortably sprout. The germinating grain is aerated continuously by blowers. The malt's protein modification and enzyme content are set over the next two to four days as the grain's rootlets develop. The longer the germination period, the more highly modified is the malt. During germination, the moisture content in the barley increases from 41% to roughly 45.5% (+/- 0.5%) due to sparging given in intervals for proper modification. When this procedure is complete, dry turning is done after every 10-12 hours to avoid the matting of barley. Post germination, pre-kilned barley is called "green malt".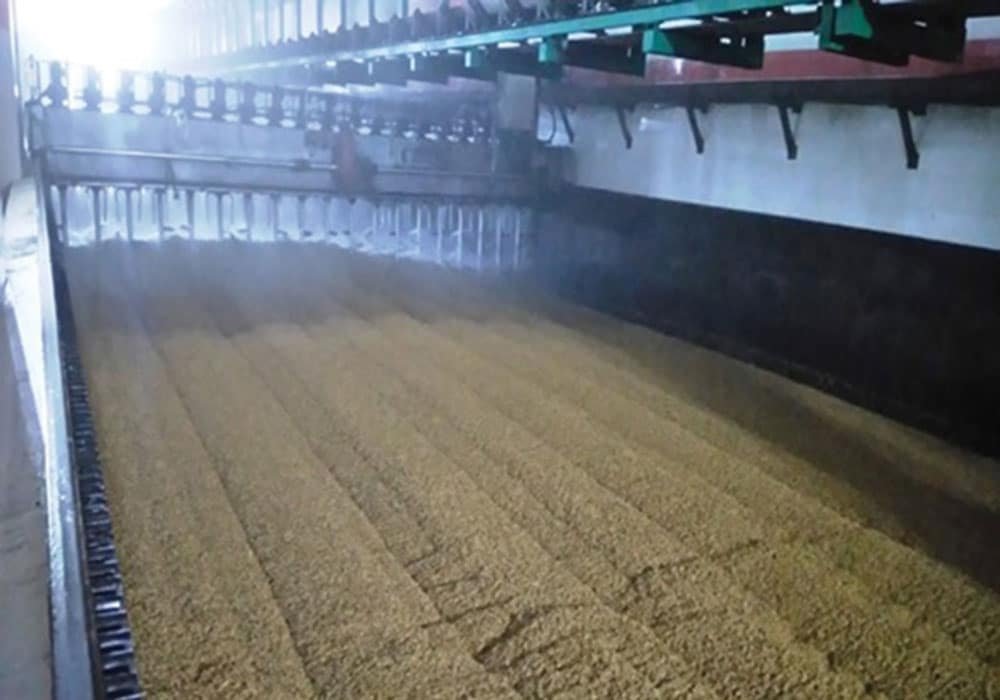 Step 4: Kilning: The moist, sprouted malt – or "green malt" – is then moved to the kiln to dry. This step arrests further modification of the kernel. The main goal is to dry the malt as much as possible at lower temperatures (around 50-60°C) which helps preserve the enzymes in the malt. The first drying period typically takes about 18-20 hours. The second drying period which typically last about 8-10 hours, is at a slightly higher temperature (around 65-75°C). A third and final "curing" process occurs over the next 4-6 hours at approximately 80-86°C. The curing process influences the malt taste, aroma (DMS) and stability. The malt style determines the temperature and length of the kilning.
Step 5: Cleaning: After kilning, the malt is transferred to storage silos via cleaning and grading machine where hulls and sprouts are removed from the malt. At the time of dispatch, Malt is moved from storage silos to the malt screeners and separators. It is then packed in standard bag packaging and is dispatched.
Quality Control and Testing
PMV believes in providing the best quality and output. Our manufacturing facilities are equipped with a full-fledged laboratory where our technically qualified food processing experts carry out various testing and product development activities.
Before dispatching the malt to breweries and microbreweries, various quality checks are performed in the in-house laboratory, such as – Moisture Testing, Saccharification Time, Rate of Filtration, Sieve Analysis, Diastatic Power, Total Nitrogen Content and so many more. To ensure these tests are conducted in the most precise manner, the PMV in-house laboratories are equipped with instruments and equipments like – Buhler Mill, Spectrophotometer, BOD Incubators, Micro-Malting Machine, Friabilimeter, Sortimat, Mashing Bath etc.
PMV's Presence In Microbreweries In India
PMV's specialty malts have garnered widespread attention and acceptance as they are the perfect substitutes for the imported German and Belgian malts. With these specialty malts, the beer brewing industry has seen a huge growth in its craft and beer manufacturing sector in the country.
The PMV Group's core values of being consistent and assuring quality and world class packaging, help them maintain the same standards among their esteemed customers. Other factors like cost effectiveness, scalability and logistical reach facilitate a strong connection with the craft brewing industry across the country. Today, the PMV Group supplies to more than 50% of the microbreweries across India, Bhutan, and neighboring countries. They have a strong presence in the North India market and are supplying different varieties of malts to microbreweries across Gurgaon, Chandigarh, Amritsar, Ludhiana, and Jalandhar.
In the southern region, they hold a fairly decent share but are facing the issue of transport delays and higher costs. To curtail these issues, they have established a warehouse in Bangalore to fulfil the requirements of microbreweries in Bangalore, Mumbai, Goa, Vizag, and Hyderabad by providing faster deliveries and quick availability of malt. This initiative will also help them provide the best quality malts at better prices.