Indulge in a Slice of Bangalore Brew Works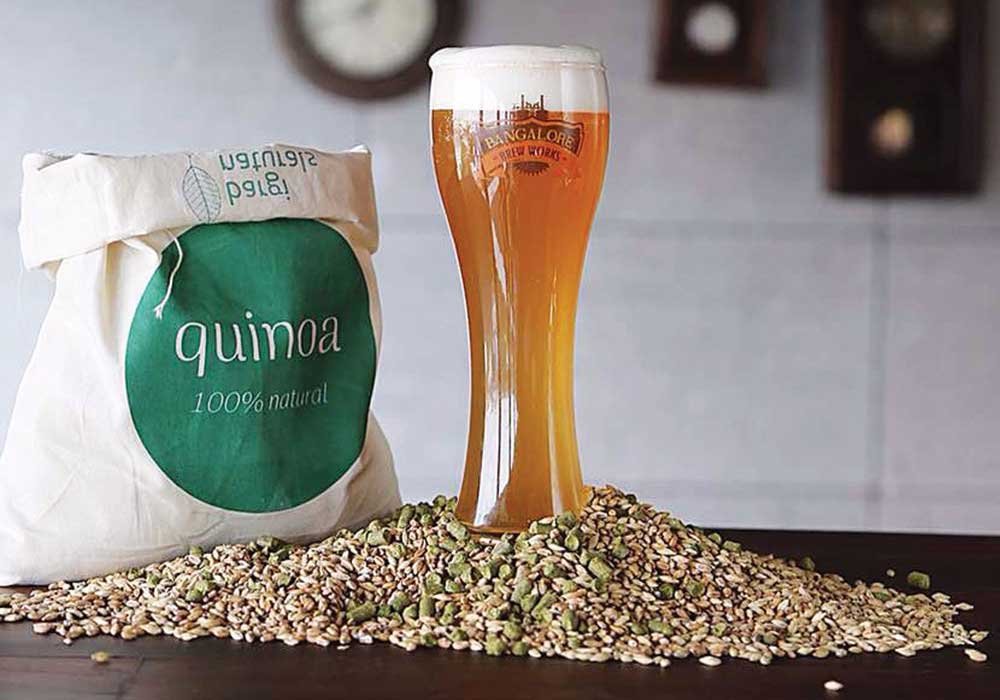 The quinoa used to make this beer is from a special grain in Ananthpur, Andhra Pradesh. This beer has a special property of potassium unlike the usual beers that have sodium. Bangalore Brew Works wanted to bust the myth that beer always causes a big belly and hence created and came up with a beer that has the best of health grains with more of fibre and less carbohydrate.
Recently boarding the Pan-Asian Bandwagon with her latest venture – Kazé (pronounced Kazay) a Japanese themed fine-dining Sake & Sushi Bar, Sakshi Sagaraju is a known name in India's F&B industry and joined India's craft beer markets in 2014 with Bangalore Brew Works. Located on the 10th floor of Prestige Towers in the heart of the city's business centre (Residency road), Bangalore Brew Works Brasserie & Brewery. Renowned for their Friday Night Live featuring upcoming artists & bands, and their scrumptious Sunday Brunches, BBW is constantly in the spotlight for pushing the boundaries. Bangalore Brew Works is a full-service restaurant and microbrewery with an upscale yet casual atmosphere. Serving what their Executive Chef calls "Twisted G-local Cuisine," BBW offers an array of artisan baked breads, shared plates and wood-fired specialties along with handcrafted beer. Gorgeous gravel stacked walls and a warm interior set the mood for an innovative culinary experience.
This issue of Brewer World, we speak with Sakshi Sagaraju – Co-Founder and Director, Bangalore Brew Works about their brews, brunches, and being the one of the only brewpubs to tease our palates with Special Quinoa beer.
Where did the owner's passion for craft beer started?
Sakshi and Ugendar Sagaraju, co-owners conjured up the big idea for Bangalore Brew Works while traveling through Europe. They noticed they were immersed in a craft beer culture where people take their time to enjoy quality beer just as much as they enjoy talking to the people around them. Owners of a popular nightclub in the city, this was a great way to stay in touch with their passion of entertainment and beers.
What is the concept behind the brewery?
BBW is a rustic brasserie that makes most of the lovely Bangalore weather! An open-air terrace brewery, in the heart of the city, that serves delicious comfort food in a relaxed and informal environment. Started in December 2014, Bangalore Brew Works Brasserie & Brewery was born for the love of fresh beer. The idyllic setting, a mix of fresh beers, a menu inspired by local produce, passionate and beer- loving staff and a family friendly atmosphere make it a great hangout. Bangalore Brew Works is the place to expand your knowledge and taste for craft style beers. We also believe that craft beers play a central role in the kitchen and are very passionate about using our brews to match the items on our menu.

Talk to us about your brew master? What is the current beer portfolio on tap? Which is your fastest-selling beer?
We are attempting to bring a new culture to beer, so prevalent abroad but only just gaining ground in Bangalore, that beer can be a product of huge flavour and depth, crafted specifically to be paired with different foods and indulge the senses. With beer we encourage everyone to drink widely and drink well; drink less but drink better! Our beers are unique to us and are divided into 4 yearround beers Belgian Wheat, German Pilsner Lager, Indian Pale Ale and Irish Dry Stout. We also take pride in executing seasonal beers which bring fun into beer drinking. Some unique blends have been the Quinoa, Sugarcane, green chili, mango and Ragi beer.
The man responsible for the all the magic is the recognised, Dr. Cariapa. A M.Sc graduate with a PH.D in Fermentation Technology from the institute of Chemical Technology, Prague, Czech Republic, Dr. Cariapa has been part of setting-up breweries from ground-up. Working with brands like London Pilsner Lager Beer, he commissioned a brewery of 150,000 hl per annum capacity and established the Pilsner style as a leading quality beer in the Maharashtra Markets. Fortunate to be a recipient of the first international Mondes selection Gold Medal for Quality Beer from Belgium, Europe. He has also produced beers for supermarkets like TESCOS, Marks & Spencers, Sainsburys etc in the U.K. Dr. Cariappa was responsible for maintaining Quality Control and Standards for all ten breweries under SABMiller operations in India, from the start to finish process of all brands. With over a decade in the brewing field he has been fortunate enough to work with brands like Haywards 5000 Super Strong beer, Foster's Lager Beer, and Castle Lager Beer to name a few. He has also been active in setting up and brewing some of the most amazing craft beer in Bangalore .
How has the market responded to your establishment? How do you engage with your customers?
Since we have been in the market for 4 years+ now the response has been mixed and great. We are the ONLY terrace brewery located in CBD Bangalore with a city scape view that has itself created and element of curiosity and thus the desire of visiting such a brewery. Through the years we have also been able to see many loyal customers who are in love with the place, ambiance and the beer. Our Quinoa beer has gained immense traction as we are one of the only few to sell it on tap in Bangalore. We saw quite a bit of footfalls after the release of the Quinoa beer since it is a healthy variant and is to a large extent completely gluten free. Our servers are very engaging with the guests who come in making an effort to suggest them something that they would enjoy based on their preference of light bodied, medium bodied or strong flavoured.

How did you come up with the concept of making Gluten-Free beer? What's the response from people who've tried the same?
The idea of serving and creating a Gluten Free beer came to Sakshi when she suffered from an allergy which came to her whenever she ate or drank anything with gluten content in it. It was then that Dr. Cariapa had one of his friends who were coming down from the U.S get a bottled Quinoa beer for Sakshi to taste. After Sakshi tried Gluten free beer she was amazed and decided that this was one variant of beer that just needed to be brewed in BBW and thus was how Quinoa beer came into existence at BBW in August 2016. The response from people on the same has been amazing as people today are leaning towards leading a healthy lifestyle and substituting unhealthy bites with healthy bites. Quinoa beer's existence did create curiosity and excitement in the Bangalore chapter as this beer is high in Fibre and low in Carbs.
What is your Gluten-free beer made from? Where do you source materials required? Is the procedure of brewing this beer challenging in comparison to your other brews?
BBW is one of the only breweries in India to brew a Special Quinoa beer. The quinoa used to make this beer is from a special grain in Ananthpur, Andhra Pradesh. This beer has a special property of potassium unlike the usual beers that have sodium. Bangalore Brew Works wanted to bust the myth that beer always causes a big belly and hence created and came up with a beer that has the best of health grains with more of fibre and less carbohydrate. A special and unique mashing technique is used as quinoa being a high fibre grain needs to be treated very differently.
India is currently witnessing the expansion of beer markets, what are your thoughts on the same?
I won't largely be able to comment on the overall growth in India with respect to the beer market. However, within the Bangalore market there is huge growth in demand from beer connoisseurs, who don't mind paying a premium, hence, it's no surprise that importers and local brewers alike have flooded the market with multiple beer brands and bar formats of micro-breweries are propping up in every neighbourhood.
What is the one thing you would tell people who visit your brewery?
Great Beers (in several sizes and variants) served by knowledgeable servers in a comfortable atmosphere giving you the best experience of Bangalore – the pub city!