How is the Global Beer Industry becoming more sustainable?
Barry Summers
Marketing Manager, Petainer
Sustainability is a hot topic at the moment, with businesses of all types and in every corner of the globe striving to improve their practices and attempt to make up for some of the damage caused.
The beer industry may be one of the oldest industries in the world, but that does not mean it cannot address its problems and seek to improve its sustainability practices. In recent times, modern innovations, strategies and social enterprises have emerged to tackle the problems within.
From small breweries making ground-breaking efforts with their approaches to waste and packaging, businesses providing novel solutions to old problems. Discussing the several ways in which the businesses involved in the beer industry are tackling the world's sustainability issues, in addressable areas such as packaging, water, food waste and energy consumption.
Recycling and Packaging
Plastics have, in recent years, become a highly politicised issue, with campaigners all over the world letting us know of the devastating effects it has on the planet and the pollution it causes. This has rightfully caused many well-known brands to address their packaging issues and start setting stringent targets going forward. Recycling initiates within the beer industry include having a scheme in place for consumers to return empty containers, therefore reducing the sheer volume of beer bottles, cans and other packaging methods going to waste, which, if not properly recycled, will end up in a landfill.
As such, many breweries are making use of sustainable packaging technology, such as environmentally-friendly PET kegs, which cuts costly return logistics and reduces the carbon footprint, since kegs are easily recycled once empty.
If we do not begin to take environmental issues seriously and attempt to adjust old habits, it may negatively impact the way in which our key ingredients – hops and barley – are grown, as well as the quality and availability of water. All of these elements are indispensable for making beer products, which means climate change has the ability to affect brewers of all sizes.
This helps minimizes the energy and water consumption required within standard keg washing processes. Companies like Petainer provide these solutions.
The most innovative breweries in the game are taking their eco-conscious efforts a step further. For instance, Florida's Saltwater Brewery has created biodegradable, edible rings for six-packs of their beer, which are made from wheat and barley, and disintegrate when in contact with the seawater. Their aim is to help reduce the devastating effect that plastic packaging has on ocean pollution and marine life. Moreover, the wheat and barley used when making the rings is that which is left over during their beer brewing process, ensuring it is going to admirable use.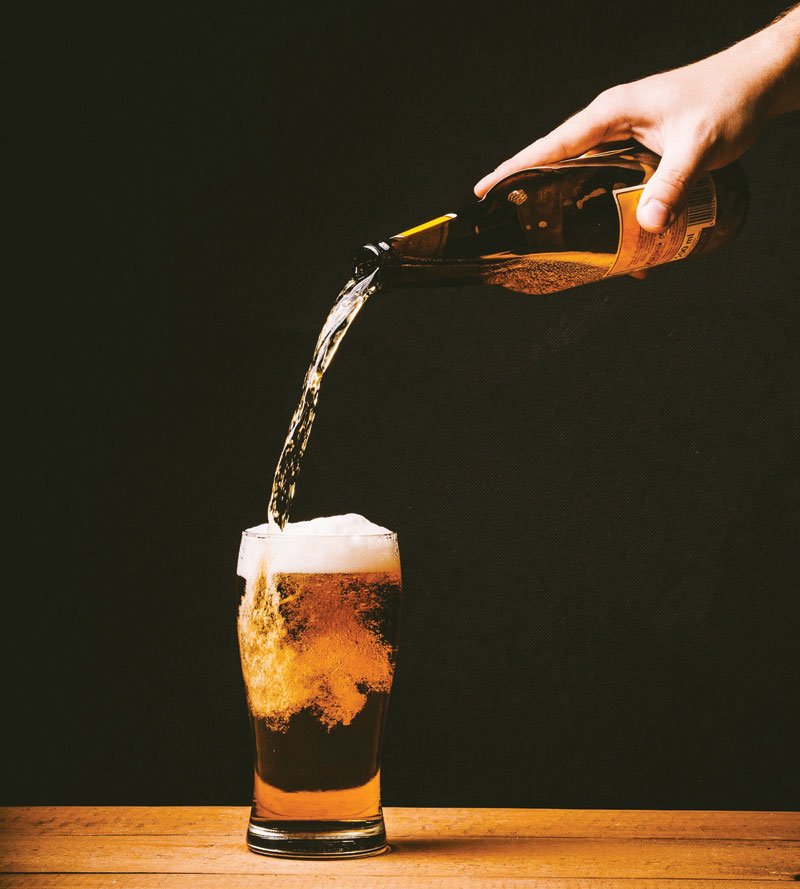 The beer giants at Carlsberg have also recently announced their venture into sustainability, by partnering up with EcoXpac, a packaging company in Denmark, and two local design studios; CP+B Copenhagen and Kilo, to create a sustainable "Green Fiber" beer bottle, made from wood fibre. These fibres will come from responsible sources, where the trees used to harvest them are to be re-planted at the same rate. The green bottles are also designed to degrade into an environmentally-friendly, non-harmful substance when they are discarded.
Innovations like these are sure to disrupt the industry and certainly help in changing the way we all think about packaging.
Water
One of the biggest environmental (and economic) issues affecting breweries is the consumption of water, including the disposal and management of wastewater.
Water is, of course, a key ingredient in the beer brewing process, which means its wastage needs to be taken seriously. Thankfully, many breweries have started coming up with new, innovative solutions to help address the problem.
In Australia, the Bluetongue Brewery has its own water recovery plant, specifically designed to help reduce the use of new, fresh water by half, whilst also supplying the brewery with renewable energy sources. In the United States, Michigan's Bell's Brewery have fitted a system which decreases the amount of water being wasted from 56L per minute, to just 7L per minute – clearly a huge reduction. This helps to save the brewery more than nine million liters of water per year, greatly improving their filling operations, reducing costs, and helping the environment in the meantime.
The immense cost savings which can be made from becoming more resource-efficient should be a driving factor in itself for brewers of all sizes.
Energy
Renewable energy is becoming increasingly popular, with many breweries deciding to alter their operations and processes in order to improve their energy usage. Not only is this good for the environment, but it also positively impacts the individual breweries' overall bottom line.
In a new sustainability drive titled "Together towards Zero", beer giant Carlsberg has pledged to decarbonize all its breweries by the year 2030, as well as outlining its intention to switch to 100% renewable electricity in all of its breweries by 2022.
Likewise, popular US brewery, Brooklyn Brewery, has been particularly instrumental in refining energy consumption processes, by switching to wind energy alternatives, as well as several other improvements.
Solar energy in the brewing world has also become more prevalent in recent times, with the likes of the Californian Sierra Nevada Chico Brewery having installed their own solar panels to self-generate electricity.
Moreover, world-famous Irish stout brand, Guinness, has led the way in sustainability design, having been awarded the platinum Leadership in Energy and Environmental Design (LEED) certification in 2014 for their No.4 Brewhouse in Ireland. This award is used to determine how environmentally-friendly a building's design, construction, operations and maintenance are.
Food waste
Believe it or not, food waste has many practical uses within the beer industry, which can be seen in several modern examples.
Taking a truly inventive approach to tackling food waste, Toast Ale uses surplus bread to replace the one-third of the barley which is used in a standard brew. This British brewer then donates all the profits made to Feedback, a charity which aims to decrease food waste by 50% by 2025.
In similar fashions, Pieper Beer makes use of left-over potatoes, whereas Northern Monk uses excess brioche, pears and croissants in the brewing process.
Food waste can also be utilized at the end of the brewing process, which is evident in companies like ReGrained, which uses breweries' expended grain to make cereal bars, and Hewn, which creates bread loaves using this grain.
There really are a whole heap of creative ways to make use of food resources, either during or after the brewing process.
Striving to do better
If we do not begin to take environmental issues seriously and attempt to adjust old habits, it may negatively impact the way in which our key ingredients – hops and barley – are grown, as well as the quality and availability of water. All of these elements are indispensable for making beer products, which means climate change has the ability to affect brewers of all sizes.
However, brewers both big and small, as well as other businesses within the beer industry, are seeking new ways to tackle the key challenges faced, by coming up with innovative, sustainable solutions, thereby setting a precedent for many others to follow.
From recycling and packaging, through to water, food waste and energy consumption, there are so many areas in which we can make improvements.
The beer industry is evidently trying hard to tackle the problems created – we can only hope that other industries take note and begin making progress with their sustainability initiatives.
This article was provided by Petainer, the global leader in sustainable PET kegs.