Homegrown Band Godless Collaborates With Hyderabad's Over The Moon: Drops India's First Metal Doppelbock!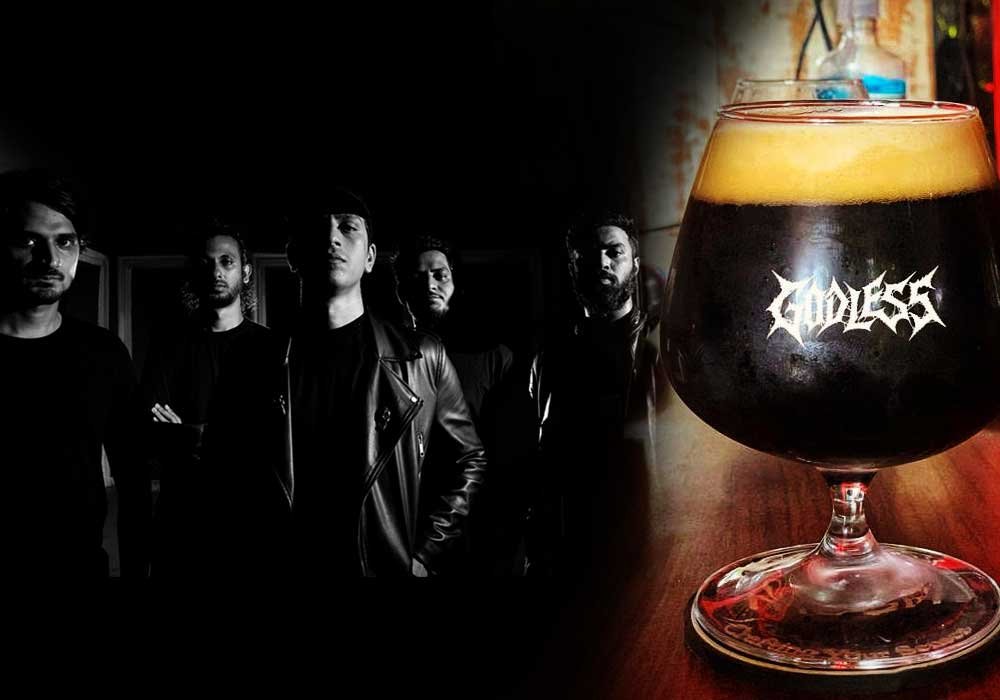 What pairs well with beer? Many would suggest pizza, straight up.  Some might even suggest a squeeze of lime. Researchers on the other hand claim that music can help elevate your beer-drinking experience to a whole new level.
For instance, beers with high alcohol content that are strong and loaded with an extra punch of bitterness are full of complexities and therefore, are naturally complemented by songs that are darker and dissonant. There's no denying that distinct adrenalin rush of jumping into a mosh pit against the backdrop of heavy aural aggression. But there's also something to be said for the experience of taking a gulp of a heavy, full-bodied beer while you sway to grindcore, thrusting the Devil's Horns into the air as you let the flavours and music wash over you (fun fact: Metallica, in their early days dubbed their drinking alter egos "Alcoholica").
Now, the folks at Hyderabad-based death/thrash metal band Godless – Abbas Razvi, Kaushal LS, Aniket Yadav, Moiz Mustafa and Ravi Nidarmarthy have found their catharsis in their very own branded beer, a collab Doppelbock with Hyderabad's premiere craft brewery, Over The Moon.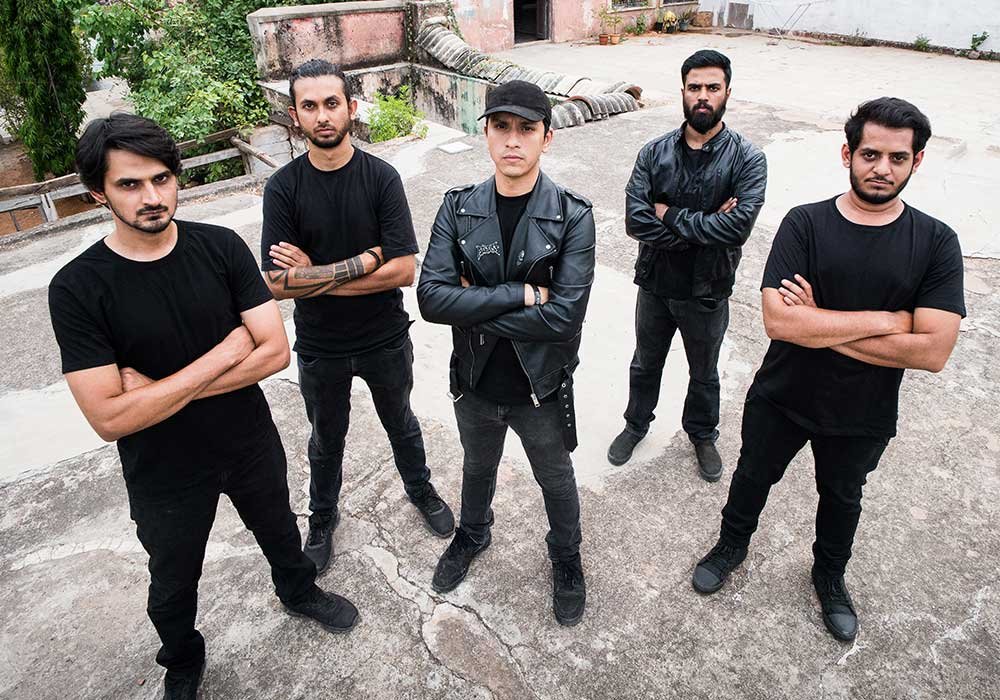 They say learning to go with the flow is sometimes the best thing for success.
Godless wasn't formed with a pre-set goal of writing and playing a specific genre and found its style along the way – and similarly, the beer too, was born out of serendipity with no prior planning as such.
"Initially, we got together and rehearsed for over six months and kept writing and discarding music. Then we finally wrote our first song called 'Infest,' and we felt like we found what we were looking for musically," says Abbas Razvi, band bassist.
"We're not too big on labelling out music as a particular genre. We just write what comes naturally to us through our influences, and it just happened to be an amalgamation of death metal and thrash metal." – Abbas Razvi, Bassist, Godless
The Godless Doppelbock has a similar story, kind of.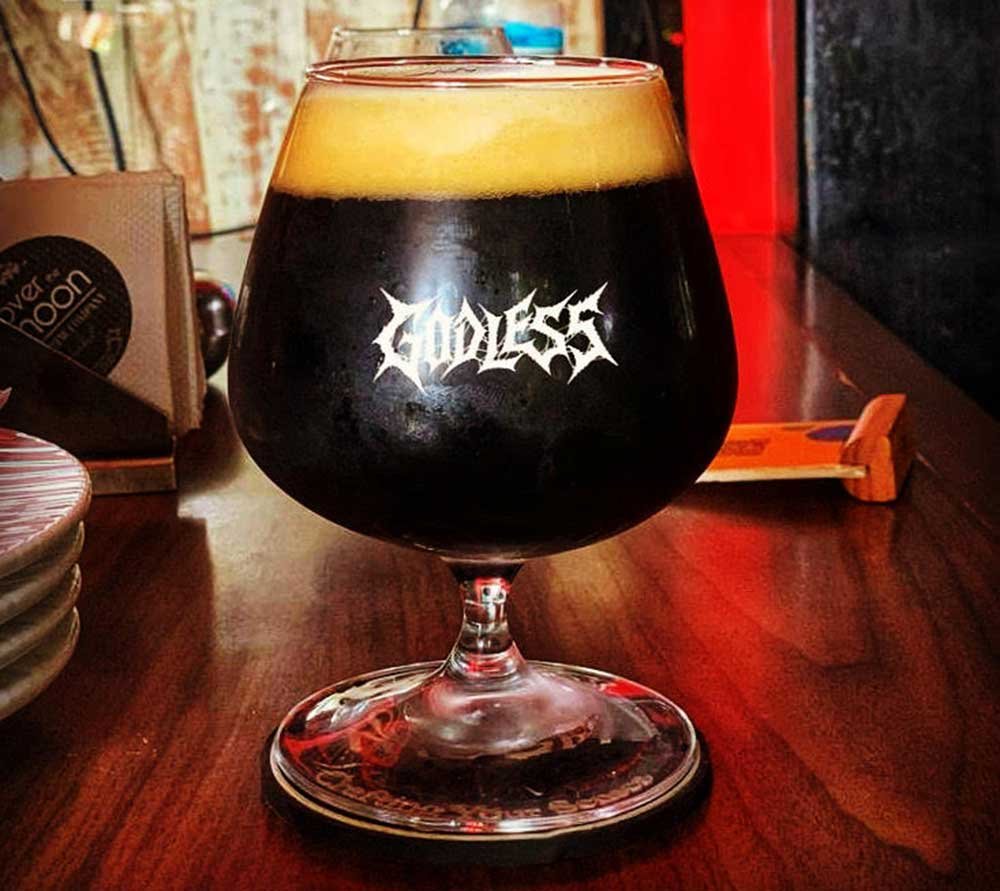 "We never really thought of what we liked about beer specifically, until just now," says Abbas. "There are so many types of beer, so there's always one that suits the situation or the drinker's mood. Honestly, while we did think it would be cool to have our own beer, we never imagined it would actually happen. And then suddenly, over a span of a few weeks, during some discussions with the band and Over The Moon's brewer, Napoleon – we realised we might just be on our way to make our very own branded beer."
But why a Doppelbock?
Turns out, the Godless members are all fans of a good stout. "But Hyderabad already seems to have a few great stout beers, so during our discussions with Napolean, we decided that we wanted to have something dark with a medium to full body, but not a stout," explains Abbas. "We narrowed down our options and finally went with a Doppelbock. We discussed options regarding the flavour profile, and this one had a light toasty flavour with hints of chocolate. After tasting it early on, we felt that some hazelnut would enhance the flavour and balance out the notes, so we made some tweaks to the recipe till we were happy with the final product."
Collaborations are often a result of growing consumer demand for craft beer or simply the passion for making great-tasting beer. For this collab, it was a mix of both. "I guess from Over The Moon's point of view, it would be due to the growing consumer demand for craft beer, but from our side, it's purely because of our passion for beer. We just love beer and wanted to make something we'd like drinking ourselves. We've always wanted to have our very own beer named after our band that involved our own planning and work. This beer is definitely a product of that."
"We love beer and having our name associated with one still seems surreal. We had a small launch event where we invited friends and fans, and the response we got was great. The feedback from the pub has been great too, which is awesome." – Abbas Razvi, Bassist, Godless
Is the Godless Doppelbock expected to be available in other cities? Are there more beers/collabs in the pipeline?
"There's no active plan for that as of now. We've been getting messages from all across the country from people who wanted to try the beer. Unfortunately, we can't really bottle this beer and send it across the country," explains Abbas. "We designed some GODLESS DOPPELBOCK merchandise, so that's the closest people have been able to get to experience our beer. That demand we saw from fans actually gave us the idea of collaborating with more breweries across the country and doing something similar to what we did with Over The Moon. We haven't really spoken to anyone, but we would definitely like to do something further down the line with microbreweries in other cities."
Brewer World Exclusive