German Malters to the Globe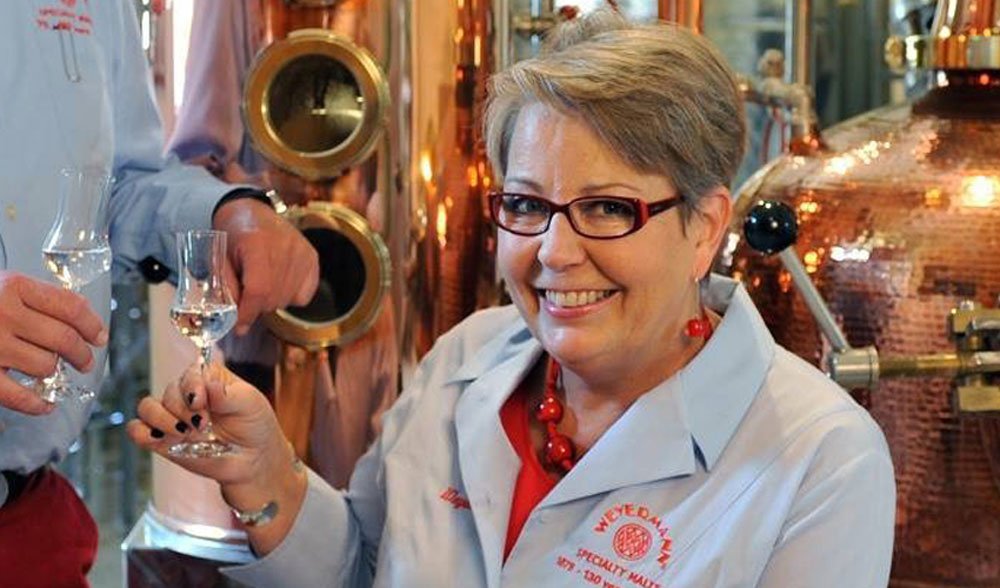 Sabine Weyermann
For a brand that took birth about a hundred and thirty seven years ago, Weyermann malts have constantly moved with the industry's changes and innovations, leveraging the developments for their own growth globally.
It's interesting to know that at its inception, Weyermann Malts, set up by Johann Baptist and called "Mich. Weyermann's malt coffee factory," produced malt coffee and some other varieties of fruit coffee in a small roasting drum under a tarpaulin! It has come a long way since then, with business acumen of his generations, the hard work and innovations that have brought the company to a global leadership position today.

Led by Johann's fourth generation, the current Board of Weyermann – Sabine Weyermann and Thomas Kraus-Weyermann, the brand's journey has been an interesting one.

BW in conversation with Sabine Weyermann
Weyermann® is an old and established brand. How do you take this legacy into the future?
Sabine Weyermann (SW): We spend a lot of effort on maintaining our registered trademarks around the world. In addition, we are revitalizing old brands such as the Weyermann® Bamberger Hofbräu®, an old Bamberg blond lager. On the malt side, we are currently creating brand awareness for several new varieties, including a line of Eraclea malts. Our curator of the Weyermann® historical collection and archives is passionate about keeping history alive in books, on Facebook, and in programs offered by the Weyermann® Academy. Franziska Weyermann grew up in the historical villa on the company grounds, surrounded by old brownstone buildings that have been designated a protected national historical monument. She will take our legacy into the future.
How do you approach the business side of malting?
SW: Malting is, of course, our core business. Even more so, it is also our passion, which has been a guiding motivation in our family for four generations. We share this passion with the company's family of employees, as well as with our worldwide family of distribution partners and customers. It's wonderful to watch our family grow. I love being an academically trained brew engineer, a beer sommelière, and a malt merchant. We grow constantly together with our customers.
In your view, what are the secrets of good beer making?
SW: At the top of the list, I would rank a passion for brewing. It must be in your genes! We also discovered that great raw materials of consistent quality help a great deal in making good beer. Timely deliveries of these raw materials in the right quantities are also essential. Customers trust our experienced export team and our local distribution partners around the world.
What are the process steps required to turning out top-quality products?
SW: There are three pillars that we consider essential for Weyermann® quality and service today.
First, our partners value the sustainability and dependability aspects of our raw materials: We have implemented long-term plans with more than 500 regional contract farmers. They cultivate the key grains exclusively for our malts, while adhering to all pertinent food safety requirements. This is because our customers expect food safety, full transparency, and exceptional quality from the raw materials they purchase. Brewers know that if you want to produce great and unique beers, you need to start with great and unique malts…and these come from carefully selected grains. In addition, part of the excellent quality of our Weyermann® specialty malts comes from a proven six-stage cleaning process that is unique in the malting industry. Last but not least, we are especially proud of the roasting process we employ for our original Weyermann® caramel and specialty malts, which have a long brand history.
Second, we are always happy to share our cutting-edge knowledge and many years of experience. Our team has in-depth malt and beer competence.We have 18 brew experts on staff who are ready to advise our customers in such areas as recipe formulation and optimizing brewing processes, as well as managing taste, aroma, color, and foam stability of their beers. Among our 190 staff members, some 50 of them hold diplomas or advanced degrees as professional brewers, maltsters, brew masters, or brew engineers. To stay on top of global developments, we are constantly experimenting in our Weyermann® pilot brewery with the full range of our malts. This allows us to test the process characteristics of our malts in practice.
Third, as a family business, we build honest and dependable friendships with our business partners. Satisfied customers are most important to us. We listen to our customers' wishes, which helps us to constantly improve quality and diversity of our products. Our customers can easily identify original Weyermann® malts through the uniform red-and-yellow design of our packaging. When a bag says Weyermann® on the outside, you can be sure of the quality on the inside, and you can always count on flexible and dependable deliveries on time. We drive innovation in our plants, are keenly interested in protecting the environment, and enjoy sharing our passion for beer. These are the values that connect us with our customers.
These three pillars form a value chain that results in excellent end products. Weyermann® specialty malts thus represent unique raw materials that ensure the success of our customers.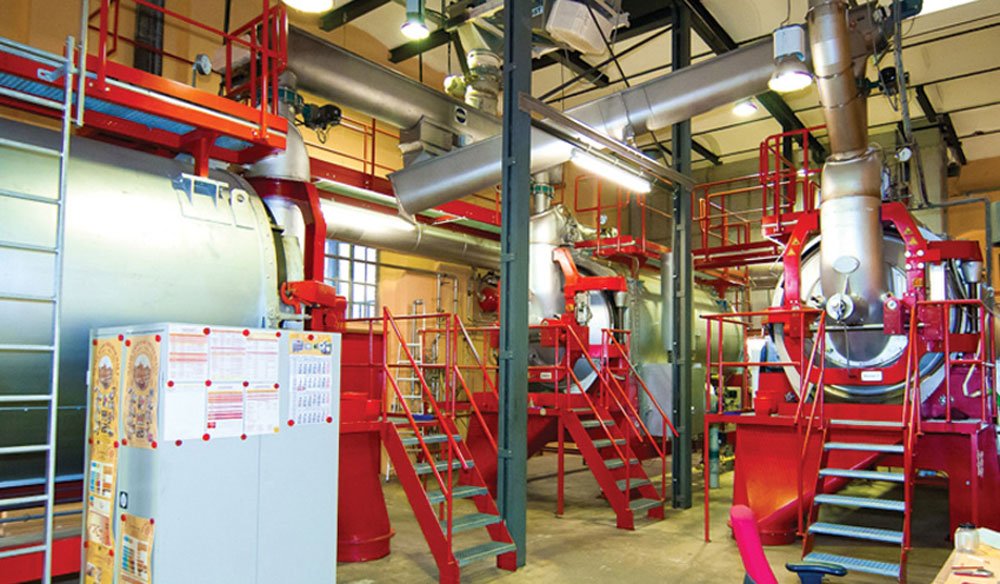 What role does the heating and roasting process used at Weyermann® play in the quality of the finished beer?
SW: The secret resides in the type of drums we use for both roasting and caramelization. If you want to produce homogeneous caramel and roasted malts, only a roasting drum will do. It ensures that each and every grain comes out the same. In addition, we rely on well-trained employees with lots of experience and know-how to use this special technology.
Uniform and well-controlled temperatures throughout the entire batch are essential for obtaining a uniform saccharification at 70°C and a homogeneous caramelization at 130°C and above. Depending on the type of caramel malt, we may increase the temperature up to 200°C.
To make caramel malt, we transfer the green malt directly from the germinating box into the drum. To make roasted malt, we transfer kilned malt to the drum and roast it there evenly at temperatures up to 250°C. In this process, we create the typical roast aromas that are reminiscent of bitter chocolate. Brewers can rely on color consistency and typical caramel flavors of Weyermann® specialty malts. This makes the brewing process easier and more predictable, and thus ensures optimal beer quality.
Talking about quality, how do you see the positioning of the Weyermann® identity in the industry?
SW: My husband Thomas Kraus-Weyermann and I try our best to personify the corporate philosophy of our company. Its key values are quality, reliability, and trust. Our unique variety of base, caramel, and roasted malts have made Weyermann® a world market leader in the specialty malt segment. Customers in 135 countries now identify the Weyermann® corporate identity with our red-and-yellow corporate logo.
Weyermann® has a significant presence in the rapidly growing beer market of India. What are your plans specifically for this country?
SW: It is our goal to get beer drinkers in India excited about traditional Bavarian beer styles, as well as new craft beers. We want to inspire brewers to create their own unique beer recipes. We support our local distribution partners in India and help them grow. Since 2008, Weyermann® executives have visited Indian trade shows personally and have invited the leaders in the Indian brewing industry to come to Bamberg to experience the Weyermann® world. We encourage them to enjoy traditional Franconian smoked beer, as well as to participate in seminars for distribution partners and brewers.
We have been the pioneers in the Indian market and want to develop it further by making available our special skills, long-term experience, and flexibility so that we can satisfy the wishes of local brewers.
What keeps Weyermann® ahead of the competition?
SW: We remain curious about new aromas and keep trying to create memorable beers. Every question posed by our brewers helps us to think, to mature, and to develop further. This is how we came up with innovative tools that make the brewing process easier. The Weyermann® Malt Aroma Wheel®, for instance, is one of them. It even has become a scientific project. We measure our own success in the success of our clients.
We share knowledge and ideas with our worldwide network. During our travels, we sometimes notice different solutions. Often we can bring the competence of our well-trained experts into the breweries. At home, in Germany, we are proud of the Weyermann® pilot brewery, which is a high-tech jewel in a historic building. To stay ahead of the competition, most importantly, we have created an innovative work environment for our steadily expanding staff.