Four Hong Kong Students Are Taking On Global Food Crisis By Turning Bread Scraps Into 'Breer'
Every day, Hong Kong tosses out 3,600 tonnes of food waste. To give you an idea: that's equivalent to 250 double-decker buses. The city's bakery chain giants like A1 and Maxim's along with supermarkets like ParknShop collectively   dump 1,692 tonnes of surplus bread and scraps into Hong Kong's landfills while more than one million people are subject to extreme poverty, struggling to afford nutritious food.
According to Anushka Purohit, Naman Tekriwal, Deevansh Gupta and Suyash Mohan, four students at the Hong Kong University of Science and Technology (HKUST), the landfill capacity in Hong Kong is expected to be completely exhausted by the end of this year.
"Food wastage happens all around the world, but especially in Hong Kong, it is a result of culture. In Hong Kong, bread is consumed in the early hours of the day, with people purchasing bread for breakfast. Towards the later end of the day, bread sales decrease. Moreover, Hong Kongers are huge on sandwiches, and sandwiches require the nice middle part of bread loaves, not the ends. No one fancies the ends, so it all ends up in the trash. On the scale at which Hong Kong consumes this bread, these bread ends result in a large part of the bread wastage." – Anushka Purohit, Co-founder, Breer
There are existing mechanisms for saving this bread – such as donating it to the undernourished. But because of stringent quality restrictions on the collections, these mechanisms too, fail to offer a good solution. "Most of the time, this bread is left out for sale, and collected at the end of the day, so it isn't fresh anymore, and therefore cannot be collected. Other organizations, though not as strict, have limited storage space," says Anushka.
To fight the devastating impact of the global food waste crisis, Anushka, Naman, Deevansh and Suyash decided to put all their prize money earned from a social innovation challenge into the making of a beer that would be brewed from surplus, leftover and waste bread. "When we won that competition at Enactus, we took it as a sign from the universe and we reached out to breweries the very next day. A week later, we were booked in for a 20L brew," says Naman.
They're calling it Breer – a name born out of the combination of the words 'beer' and 'bread'. "It initially came up as a joke," explains Naman, "but then it stuck! It was short, catchy and easy, so we went with it."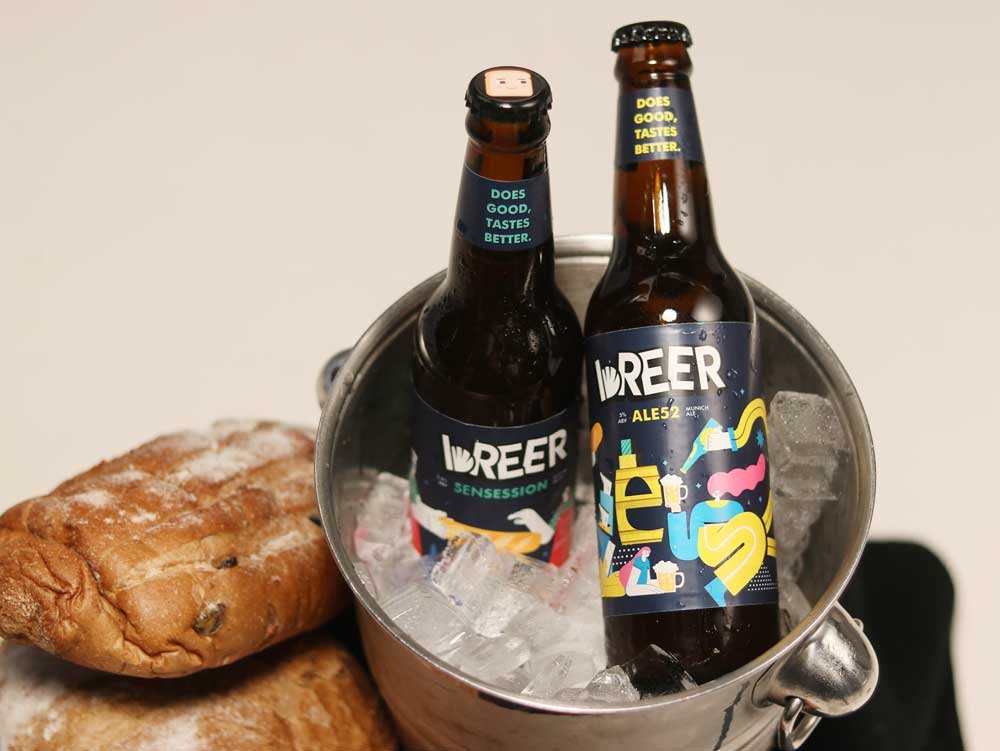 Breer's co-founders work with neighbourhood bakeries and retail outlets to collect leftover bread which would've otherwise ended up in landfills. With a helping hand from exclusively trained volunteers from local high schools, the team of 4 then has this bread delivered to their bread dump – a storage facility that houses up to 80 kgs of bread at a time. Breweries are then commissioned to dry, crush, steep, mash, drain and boil this bread before adding in the hops and fermenting it to create 'Breer' – upcycled beer created from bread scraps.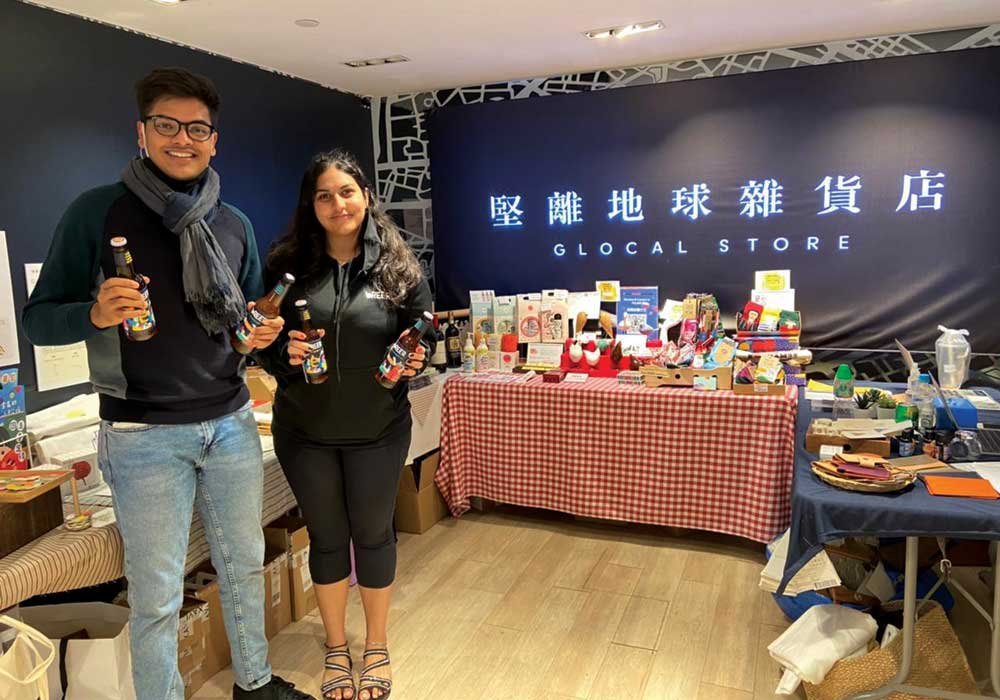 "The night before we went to the brewery to try our recipe was nerve-wracking, exciting and exhilarating. We didn't know what to expect and yet, at the same time, had so many expectations," says Deevansh. "Our pilot batch was named "Responsibly", so that when every other alcohol brand promotes their products, they have to add a disclaimer of "Drink Responsibly", so they're promoting us! The entire process from start to finish was memorable – this was the first time we got to get our hands dirty in a brewery, got to see our product, and of course, got to taste it! The most memorable moment, collectively for us, as a team during this journey was holding a bottle of a product we could truly call our own."
Breer will also come with its own app which is currently a work-in-progress. "While the beta version is available on the PlayStore at the moment, it has limited functionality," explains Suyash. "In the future, we aim to make the app an important part of our supply chain to help manage logistics, demand and supply between bakeries, breweries and distribution partners. It will also have a drinkers' community, loyalty programmes, a unique sustainability scorecard and of course our very own shop with beers and merchandise."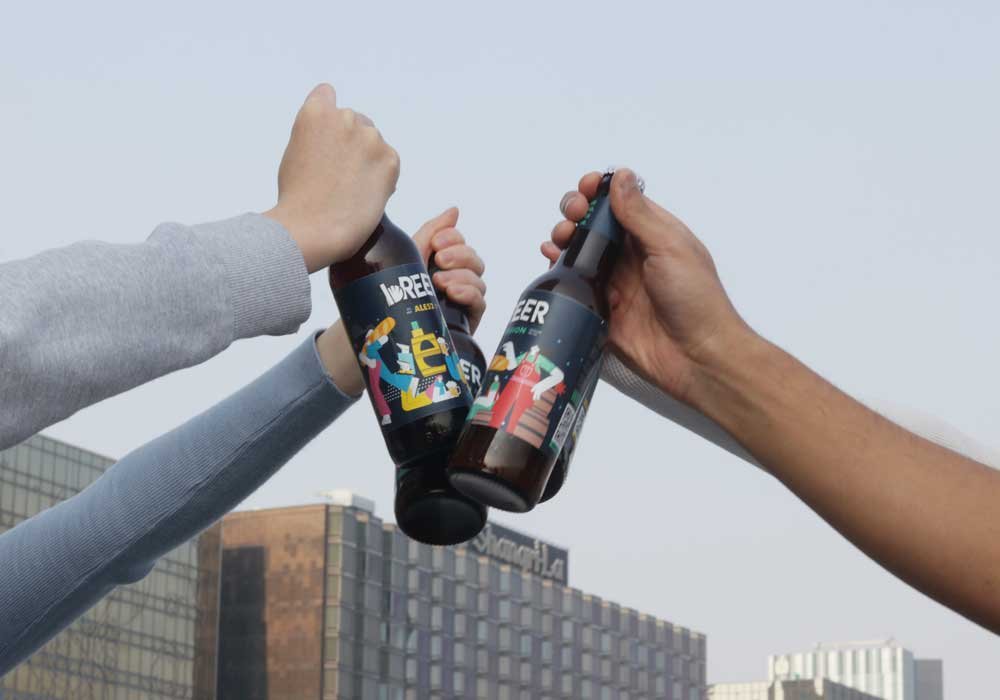 Breer's first two products are a Munich Ale and a New England Session IPA, both of which they are currently piloting. Ale52 is an intensely deep, grainy beer with 5 percent ABV that's made with dark rye bread. The Sensession, on the other hand, is an easier, all-day drinking beer with a creamy mouthfeel caused by the addition of lactose. The Sensession is brewed using Mediterranean Toast and comes at an ABV of 3.6 percent!
The brand can currently be found at a zero-waste store called Edgar. The team of four aims to spread Breer's presence to every online store and bottle shop and is currently preparing for a launch with Pizza Hut and KFC in early April. Bottles and draft-selling at popular bars and restaurants in Hong Kong is the next big dream for Breer. Expanding the product line is also in the cards, so the brand is expected to have new varieties in the future.

What was the biggest challenge the founding team of Breer faced?
"The most notable one for us was transitioning from a project to a business. As four young college students – taking on these real-world responsibilities and making business decisions was tough, but this was made much easier due to the fact that we're all such close friends. We are always there to support one another, and divide every job amongst ourselves.
Another caveat in the development of our business was the onset of the COVID-19 pandemic. With bars and restaurants being closed, and the F&B industry facing so many challenges, it has been difficult to get through doors and expand our distribution network. But this has also implicitly been a great boon, because local breweries have had the idle capacity and resources to help us with contract brewing during this phase."

Breer is certainly a craft beer in its own right. Why go the craft beer route though?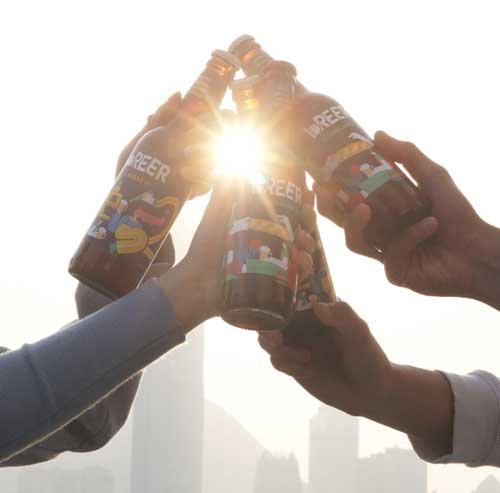 "As a team, we all believe that craft beer has a richer and better taste, possessing a more distinct taste profile. We also believe that the craft beer trend is shifting the brewing landscape in fast-forward mode across the world, triggering innovation, creativity and deeper thinking into the brewing of beer," says Anushka. "But as individuals, each one of us is attracted to a different aspect of craft beer. "I, for instance, love the fact that brewing craft beer stimulates the local economy and so aptly reflects different cultures. Deevansh, on the other hand, is primarily interested in the aesthetic around craft beers – how they are packaged and marketed, how they are given such out-of-the-box names and marketed so well!
Suyash likes craft beer the most because of the sheer scope of variety it offers a beer lover, that goes far beyond the common lager beers sold by commercial brewers. In Hong Kong, there are hundreds of delicious craft beers with every craft brewery striving to create a unique blend of ingredients. Meanwhile, Naman is particularly interested in the ingenuity around craft beer and how breweries can experiment with different and even unorthodox ingredients and turn them into tasty beer."
But what sets Breer apart from the rest in the market is that it normalises sustainable drinking. "We want to show the world that doing good for the planet does not require crazy change – one can also make simple, mindful choices when it comes to their everyday lifestyle habits – even something like drinking beer. Every product must have a purpose," says Anushka.
"The ultimate purpose of Breer is to pioneer the concept of food and beverage upcycling and develop an ecosystem of upcycling innovation. We aim to create a positive social and climate impact by making the best use of wasted resources – with an end goal of taking the mission to a global level. Which is why at Breer, we say that our products taste good, but do better." Anushka Purohit, Co-founder, Breer.
And that's the story of Breer, a beer born out of a love for not just beer, but bread too. With all four members of the Breer's founding team being avid beer and food lovers, it seemed only natural for them to fuse their love for both – and make the world realise the importance of the same. But more importantly, Breer was born to change the world by slashing global food crisis, one pint…er…loaf (or should we say both?) at a time!
Brewer World Exclusive