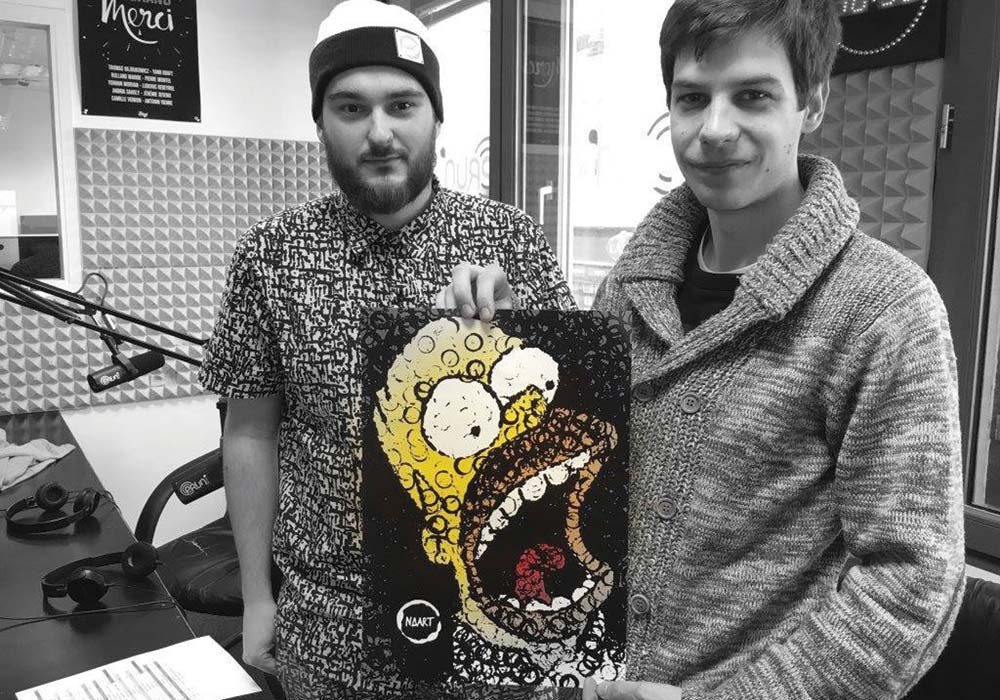 Nicolas Thollot-Arsac & Alexandre Caillarec
Artists & Owners, NAART
NAART is a duo of artists and scenographers who excel in the art of handling beer. Nicolas Thollot-Arsac and Alexandre Caillarec are the geniuses behind the concept. Since the invention of painting with a beer bottle, they have abandoned the brush. The technique (reminiscent of pointillism): once dipped in paint, the neck of the beer bottle serves to make small round pixels and trace certain outlines. The pellet is useful for larger formats to make "filling". BW in a rapid-fire interview with Caillarec.
What is the idea/concept behind NAART?
The idea is very simple-how does one use a beer bottle as a painting tool?  We paint portraits, impressions, fauvism, abstract and other subject on canvas like 'pointillism' with our beer bottle. We put the bottle into acryl and then we start to paint.
When did you begin? And how did you come up with the concept of the name of your business?
We became friends and started painting together back in 2014. We started NAART in 2015 and it has since become our priority and favourite hobby. NAART is the acronym of our names – Nicolas Thollot-Arsac, and Alexandre Caillarec along with the word 'art'.
Please tell us what influenced you to start the company.
We wanted to introduce a cool concept never seen before and we are motivated to show our art all over the world. And it's worked so far! We've had numerous shows across France, some of them in collaboration with museums and others for street art fairs. There has definitely been a great response, because people are contacting us to write our story or commission us for work.
Where do you draw your inspiration from?
From things we like – music, movies, and people in our life are a huge source of inspiration. We create all originals and that is reflected in our art. We want to grow by showing our art across the globe. Beer is a good thing for the world as it brings so many kinds of people together. Precisely why we want to use that in order to give new feelings/emotions.
Talk to us about yourself and background?
We're two friends who met at a famous Parisian school of art. Nicolas is 24 and I am 25 from Lyon and Paris respectively. If we could describe ourselves in three words it would be – foodies, beer enthusiasts, artists. We are down to earth, simple and fun-loving people, who are trying to establish ourselves and communicate through art.

How have people reacted to your work? How was the show at DrinkTech Munich?
People have been interested in our technique and the final outcome. We've received great feedback from the masses. Museums have invited us to work on collaborative art exhibitions. Our main source of recognition is by participating in street/community fairs. People are excited by what we do – they drink a beer with us and put their bottle in acryl paint and even try to paint with us. We've created some memorable moments since opening NAART. Art needs to be a perpetual surprise in order to create emotions.
Why beer bottles?
Well, we've been drinking beers for a long time now and it's safe to say we had piled up a lot in the corner of the house. One night, we noticed these bottles placed next to an acryl and everything just clicked. It was a revelation for us. The rest as they say, is history.