Discover & Support Local Breweries Through BREWERIES By Brewer World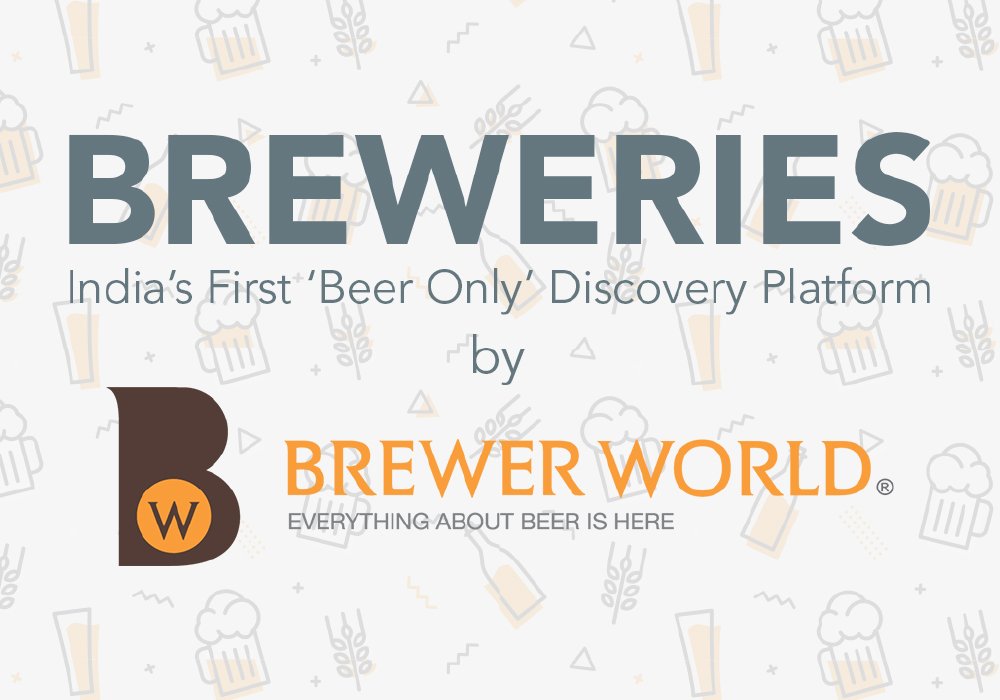 From big beer brands to domestic bottled brands to imports – the urban Indian is increasingly leaning more towards beer as their drink of choice. But one can't help notice that soft spot many beer lovers have in their heart for locally brewed craft beer.
In just a decade, India has seen at least two hundred microbreweries mushrooming across cities. Each of these offer a diverse range of beer styles and flavours made with the choicest selection of ingredients. Many of them try to incorporate the most innovative and ecologically sound brewing techniques as well.
But with the coronavirus outbreak, lots of local microbreweries have been left facing uncertain futures. While many of them are open today, most are operating within strict restrictions in the midst of rising maintenance costs.
With so many breweries being first and foremost concerned about their staff and flattening the curve – as beer lovers, we must continue supporting their business as much as possible.
Whether we continue to practice social distancing from the safety of our homes or whether we are just looking to stop by for a quick pint – pandemic or no pandemic, we all still crave craft.
But while the internet helps in exploring new neighbourhood watering holes to try – it may not necessarily be easy to find what beers are served on tap at these places. This is especially so if you're a true beer lover at heart and are serious about what you drink. There's nothing more disappointing than finding out that the microbrewery you are visiting has run out of their best-selling IPA that you were eyeing, or has discontinued their seasonal special. Information like that is helpful to have at hand, even more so when you know you can only afford limited outdoor movement.
Enter BREWERIES, India's First PAN-India Brewery Discovery Platform by Brewer World
With beer being a universally loved drink that can be enjoyed by people of all age groups (above the legal age of drinking of course!), regardless of gender, it seemed unfair that there wasn't a single platform that allowed beer lovers to track their favourite craft beers in and around the area and where they are being served.
This dilemma led Brewer World, India's first and only media platform for the beer and brewing industry to come up with the ultimate solution. Introducing the country's first PAN-India Brewery Discovery Platform called 'BREWERIES'! By registering on BREWERIES, beer lovers can now find where their favourite beer is being served in roughly just three clicks of a button.  With this initiative, Brewer World gives its readers the option to look up breweries by state and zone. Users can not only find out what breweries are serving the beers they want but also discover new places and styles quickly and easily!
BREWERIES Features for Craft Beer Consumers
BREWERIES will eventually have every single Indian brewery and microbrewery listed. The platform also comes with helpful features to enable users to make quick decisions.
It's quick: BREWERIES focuses only on beer. It is easy to use and super informative. Expect exclusive access to information on microbrewery beer menus without the clutter!
It's easy: BREWERIES comes with a set of useful filters such as Beer Types, Location, Offers and Ratings. This makes it so much more convenient for users to navigate through the overwhelming world of craft beers!
Expert notes: New to craft beer and don't know where to begin? No problem! BREWERIES takes care to mention what goes into each beer recipe along with pointers on mouthfeel, flavour and aroma along with useful notes on ABV and IBU. That way, you can make an informed decision each time you order a beer at a microbrewery! Not only that, BREWERIES also has a 'Brewer's Recommendation' corner. This feature will serve as a guide to a particular brewery's best-selling beers. It doesn't get easier than that!
Helpful testimonials: Loved the stout at a certain microbrewery? Give it a thumbs up and let others know! BREWERIES lets its users rate their favourite beers and tell others what they liked the best. This 'community review forum' of sorts makes it even easier to zero down on what beer or microbrewery to try!
Exclusive offers: Avail special deals offered by your favourite local microbreweries, only on BREWERIES. You can redeem them for exciting beer experiences in 48 hours!
How Microbreweries Benefit By Signing Up On BREWERIES
With its 'beer discovery' platform in place, Brewer World brings beer lovers closer to every microbrewery's star offering: its beer. Today, India has many platforms that give consumers information on culinary and dining experiences. India is one of the fastest-growing alcohol markets in the world with huge scope for beer business. And yet, there still isn't one single forum that lets local breweries talk about their wonderful beers.
BREWERIES by Brewer World allows microbreweries to get listed absolutely free of cost. All of Brewer World's readers are hardcore beer lovers. This helps Indian microbreweries who sign up with BREWERIES to position their beers better. This way they can target the right information about their beer offerings to the right audience for better reach and better business! Whether it's a new beer on tap or a whole new range of experimental brews- it now only takes a click for breweries to communicate the same to both existing and potential audiences.
Brewer World's 'Beer Only' Discovery Platform, "Breweries" is currently web app-based only. While we await feedback on our new project, there are tonnes of new features to be introduced in the next phase! Register now with us on www.brewer-world.com/breweries to start reviewing and rating your favourite beers
Remember to follow us @brewerworld on Instagram for more updates on everything about beer!