Crafters, Mumbai's Second Microbrewery, Debuts A Swanky New Growler Station Today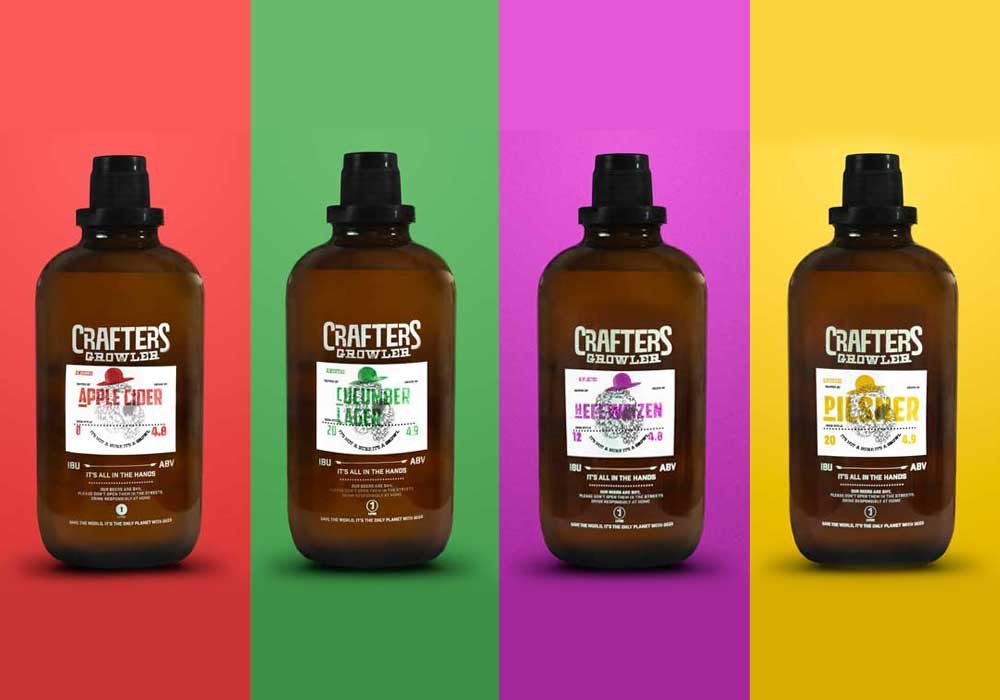 For a long time, Indians have enjoyed drinking their craft beer in different ways – from single pints at a bar to cracking open bottles on our rooftops, to knocking back cans during picnics and cookouts. And when Maharashtra became the first state to go permanent with growlers, beer drinkers all over the country, not just in the state, couldn't wait to buy their own so they may take advantage of this landmark decision.
Long considered as the go-to vessel globally for imbibing beer at its freshest best – growlers in India are increasingly gaining popularity as they're really the simplest way for beer-lovers to enjoy fresh craft beer from the comfort (and safety) of their homes. Now, Mumbai's second microbrewery – Crafters, widely acknowledged for its penchant for brewing the unexpected and experimenting with flavors and ingredients that leave people in awe –  has added a new growler station today where customers can now fill up airtight containers with their favourite craft beers on tap, to go!
We hit up Vipul Hirani, CEO and Managing Director of Crafters to tell us a little bit about his love for brewing and serving one-of-a-kind beers, the addition of the new growler station and what beers to expect!
1. Please tell us a little bit about your love for beer and how it all started. What inspired you to get into the business of brewing and serving great beer?
Like most people, beer was the first alcohol-containing drink I had. What made it even more special was the fact that my dad bought it for me. My real love for beer was developed in 2013 when I was in London on secondment while working at JP Morgan. Most of my per diem was spent on drinking beer. While I didn't get to taste any craft beer, the sheer variety of commercial beer available was also overwhelming. Hence, when I decided to quit my job in 2015 I was 100 percent sure I wanted to do something related to the beer business.
2. When you were planning to open your own microbrewery, what were the three main things you wanted to give beer lovers?
The three main things that I always wished to give beer lovers were access to world-class beer at affordable prices, innovative beer styles and a commitment to not cutting corners in the brewing process.
3. Between 2016 and now, would you say the palate of beer lovers in Mumbai has evolved? Please elaborate.
I would say people are now open to trying new styles of beer and new local ingredients which they have heard about. I don't think it's a new phenomenon. For example, we were considered to be brave when the Dark Lager was the second beer that we launched. However, once the perception of dark beers changed, people became much more accepting of the style. I know many people who come to Crafters today only to drink the dark lager!
4. Maharashtra has been the worst-hit state in India in terms of the COVID-19 pandemic. How has this affected the beer business for you over the last few months?
The first few months (Mar, Apr, May and June) were very tough as there was no revenue. However, thanks to the excise department and Maharashtra government's progressive decisions, the craft beer industry in this state got a new life because of the Growler policy. The response to Growlers has been great from the audience and we hope to build on that positive response.

5. Please tell us a little bit about the new growler station. When did you decide on this and how long did it take to finish the complete set-up?
We started looking for a space as soon as the growler policy was announced. It took us time and effort to find the right location that fit into our budgets. We started work on the outlet at the start of August. Obviously, things will be easier for the second outlet as we now have an SOP in place when it comes to setting up a new outlet.
 6. What do customers need to know about ordering beers via the Crafters growler station?
 Growlers need to be refrigerated within two hours of pick-up from the outlet. We recommend keeping them refrigerated for a minimum of 2 hours before opening them. Once opened the beer in the growler needs to be finished right away otherwise the beer might go flat. Since we are using glass growlers, we recommend the consumer to wash it with soap water immediately after consumption if they plan to return the growler to us on their next visit.
7. What are the beers that will be available for takeaway?
We are starting off with 7 styles: Hefeweizen, the Pilsner, the cucumber Lager, the Lemon Myrtle Lager, the Marzen (Oktoberfest Lager), dark lager and an Apple Cider.
The Hefe has always been a crowd-pleaser, while the Cucumber Lager has been one of our most appreciated beers since it was first introduced during the summer of 2018 and is actually perfect for the current weather conditions. The Marzen is a limited batch that we make only once a year for the Oktoberfest. In addition to this, we are also launching the apple cider for the first time and expect a very good response to that as well.