Ciro Trade Private Ltd launches BRUNONIA in Bangalore
Brunonia Weizen (wheat beer) – has a special brewing composition: more than 50% wheat malt, other valuable special malts and white beer yeast. Everyone loves it for its fruity taste.
With the brand name and the design of the can we would like to  express the close historical connection of beer to our home town Braunschweig. Brunonia is the patron of Braunschweig and steers the horses and chariot of the quadriga. Brandenburg Gate statue – Built between 1788 and 1791 by Prussian King Frederick William II as a key entry point to the city of Berlin, Brandenburg Gate was topped off with a statue known as the "Quadriga," which depicted a statue of the goddess of victory driving a chariot pulled by four horses.
Hofbraeuhaus Wolters – German brewing tradition since 1672.
Hofbrauhaus Wolters was founded in 1672. The company is one of northern Germany's oldest breweries. Since its founding, the Wolters brewery has been dedicated to making beer that meets Germany high-quality requirements for the art of brewing. In recognition of the very high quality of all of the beers made by Hofbraeuhaus Wolters, in 1882 the Duke of Brunswick awarded the company the title of 'Brewers of the Ducal Court'.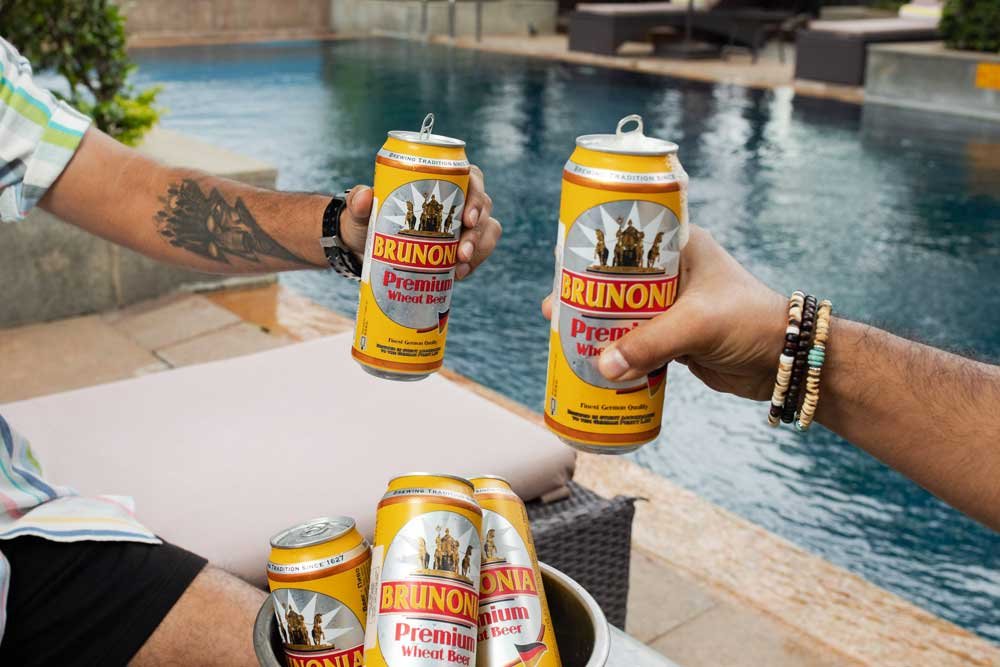 Today Hofbraeuhaus Wolters is one of the most modern breweries in northern Germany. The latest technologies, highly qualified brewers and the use of the very finest ingredients form the foundation for the high-quality standards Wolters products uphold. It goes without saying that Hofbraeuhaus Wolters crafts beers exclusively in accordance with the German Purity Law of 1516, which is the country's oldest food regulation. Wolters beers are brewed using secret, proprietary recipes. All of the ingredients come from Germany without exception, and are free of environmental pollution. The purest waters of the Harz are exclusively used for brewing. The Harz is the biggest mountain range in northern Germany. Water from the Harz is of the best quality, free of interfering minerals and optimally suited for producing extraordinary beers. No maize, rice, acids, other chemicals are allowed in our beer. Only Barley malt, natural water, hops and yeast. Hofbraeuhaus Wolters is the only brewery in northern Germany that uses this excellent water for beermaking.
All ingredients are subject to stringent quality control from their origin on down to their use in production. Hofbraeuhaus Wolters is certified in compliance with the rigorous IFS (international food standard) quality criteria. The quality and taste of Wolters products distinguish them as among Germany's best beers. In its home region Wolters is by far the market leader, ahead of all its competitors.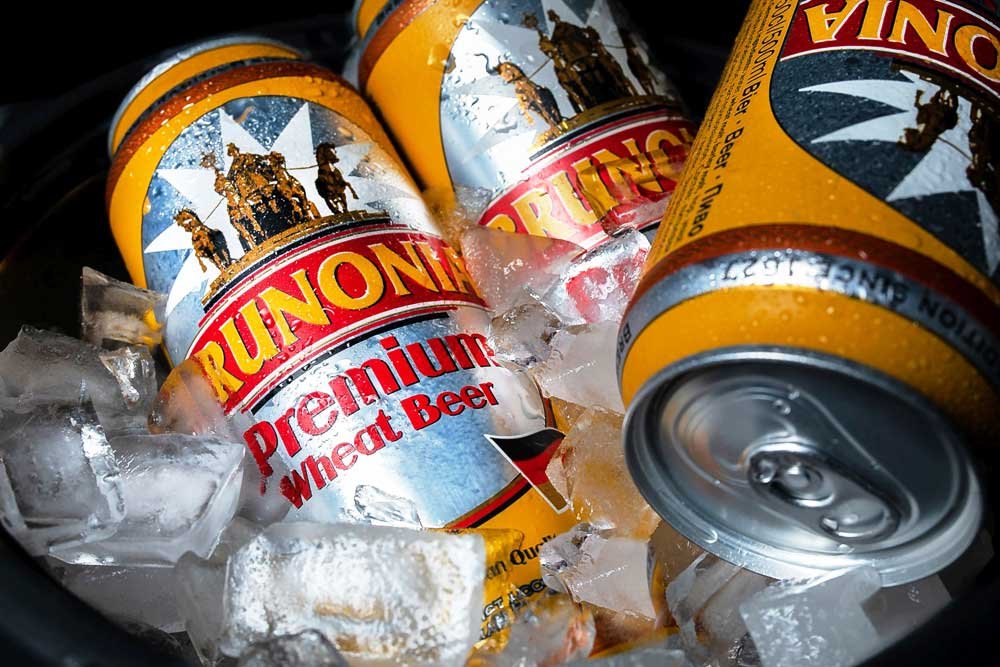 German Purity Law
German purity law mention- The Reinheitsgebot (German pronunciation: [ˈʁaɪnhaɪtsɡəboːt], literally "purity order"), is a series of regulations limiting the ingredients in beer in Germany and the states of the former Holy Roman Empire. The best-known version of the law was adopted in Bavaria in 1516, but similar regulations predate the Bavarian order, and modern regulations also significantly differ from the 1516 Bavarian version.
Stamp issued in 1983 celebrating the history of the Reinheitsgebot, and also commemorating its 450th anniversary
CIRO plans to bring down the Lager and Black Pilsner variant to the Indian markets by summer 2021.
CIRO Trade Private Limited
We would like to introduce ourselves as an Indo – German company. Our team of directors hail from India and Germany, hence offering one of the best collaborations of both worlds. Ciro is primarily known as an importer of alcoholic and non-alcoholic beverages.
We import an eclectic assortment of Beer, Sparkling Wine, Red Wine, White Wine, and plan on  Premium Gin and Vodka under 8 distinct brands from some of the best regions in Germany.
Apart from importing beverages, we also handle an Events Vertical that plays a key role in promoting our brands. As an Indo-German company, we hope to bring in elements of both fun and culture through our products, which is sure to find its way through elite circles.
Drinking culture in India has evolved over the years and is now a part of socialising with friends and family, rather more of a stress buster for the millennials of this generation. With more and more millennials being open to new cultures and experiences, we aim to offer a lot more than just a regular selection of beverages.
Our Vision
CIRO aims at being a company that's inclusive with a fresh modern outlook towards the Indian liquor industry. We also believe in giving back to society by supporting social welfare organizations. With not many women running importing companies, we would like to set a successful benchmark for many to come. As an Indo-German company we would like to bring in rich cultural festivities, quality produce available across the country satisfying various taste buds with memories for our customers to cherish forever be it any occasion, celebration or just a casual drinks.
Our Mission
Our team at CIRO works on bringing down premium quality alcoholic & nonalcoholic beverages like Beer brands called Barre & Wolters each offering Wheat, Pilsner, Lager, finest varieties of wines from J. Oppmann, Brimoncourt Champagne from France, Gin, Vodka and herbal liqueur from the EU that cater to various tastes of our prospects ranging from the iGen or Gen Z to Gen X.
Our Team
Kiran Hemdev ( Chief Finance Officer and Compliance Head) has over 36 years of rich and diverse experience in Imports & exports, from running her own factory to heading business for Gokaldas Exports in Chennai, Kiran oversees Operations & Legal for the Company. Kiran also helps Roshni with Distribution & right placement of Brands and product. Working in imports & exports aids Kiran in understanding market dynamics, key players and competition. Her experience plays a key role in decision making and identifying the right markets.
Identifying the teams strengths and motivating them to push their boundaries is embedded in her approach to leadership. Kiran makes sure all Brands get utmost importance and maintain a happy work environment where both the Team & Brands feel inclusive and heard. Her motto is DYJ – Do your job and the rest will fall in place. Kiran aims at building a company that supports and promotes women to work in the Alco-bev industry. She believes every woman must be financially independent as a priority in today's time.
In her spare time at home, Kiran loves to cook for her family and entertain them at home. She also loves exploring places with rich Indian heritage and culture. Kiran also assists NGOs that support the special abled & old people.
Roshni K Hemdev, (Managing Director – Business),  is someone who is passionate about Branding, hence, started her journey with PR. She also ran an English Monthly Tabloid which shot some A-Listers from Bollywood & Kollywood. Her interest in branding helped develop successful PR strategies for national & international brands that were entering the southern market. With the boom in luxury retail, Roshni has was an integral part of launch plans with luxury brands like – Louis Vuitton, Jimmy Choo, Coach, Canali, Hugo Boss to name a few. From when she ran her tabloid, she had a strong inclination towards styling. This has continued till date and still works with Kollywood actors & sports personalities.
The constant need to adapt & learn helped her master managerial skills, as well as the execution of events from start to finish. With more than 9 years of experience on-ground & successful digital media launch has made Roshni multifaceted with experience that helps her role as Director.
Roshni has completed her MBA in Marketing & Advertising & also has a PG Diploma in Mass Communications. She engages herself in reading, cooking for friends and spending quality time with friends and family when at home. She loves the ocean and exploring new cities & cultures. She also loves to support NGO's that help stray animals, orphans.
Christian Garrelt Saathoff Christian lived, studied and worked in India and Germany and is proud of being exposed to both cultures. He is an easy-going, fun-loving and enigmatic individual who went on to become the founder of CG-S in 2017. CG-S is the German part of the company and has been running remarkably well under personalised caretaking by Christian. He aims at building trade relations between Europe and India.
He travels frequently between both countries as he considers his work as a lifestyle he has chosen and grown fond of over the years. His leisure hours are spent either with his family and friends,  having a chilled drink at a beachside, going kite-surfing, or simply enjoying the snow while snowboarding. Social service is an integral part of the Christian lifestyle where he believes in giving back.