Brewer World Introduces India's First 'Beer Only' Discovery Platform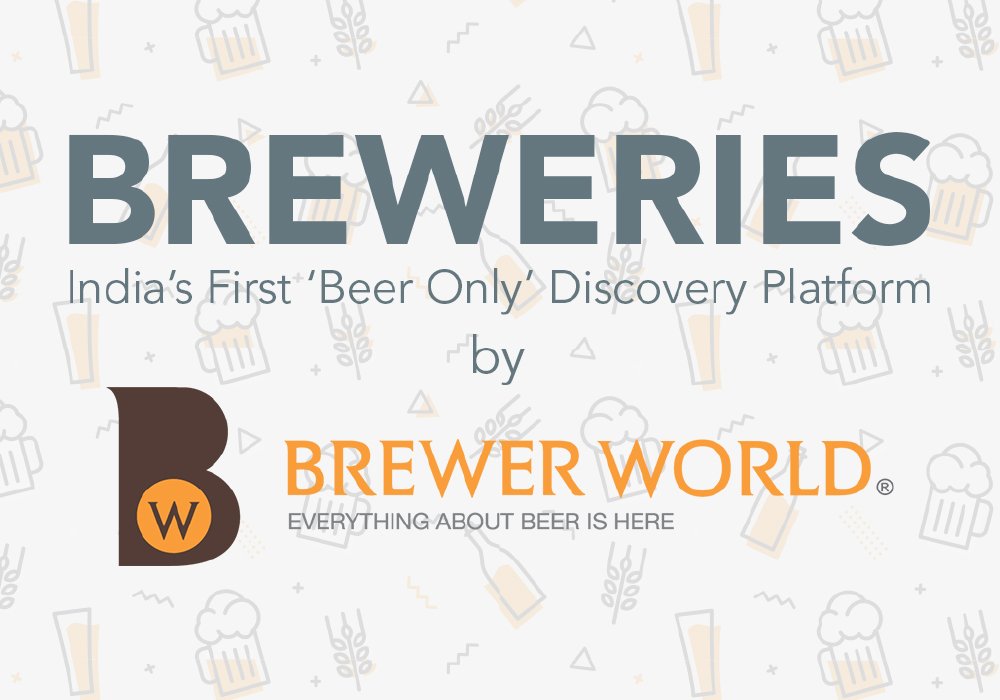 One of the greatest things about the craft beer scene is the sheer, ginormous variety of options you can enjoy. Whether it's a brewpub down the street, a microbrewery that's getting a lot of buzz, or a nano brewery that just opened, there is always a new craft brewery to try, and we want to make finding those places easy.
Since its inception, Brewer World has always put the beer industry first. Over the last two years, we have worked tirelessly to build a tightly-knit, authentic community of beer-loving consumers, brewers, brands, business owners, investors and allied industry partners. Whether it's a new style being brewed, a new brewery being opened, or a new brand being launched – we have stood by the solemn promise we make to our readers and patrons: that they will find everything about beer here on our platform.
However, there was one thing that our platform, or any other for that matter, couldn't help with: helping one track their favourite beers and finding out the places nearby that serve them.
That is, until now.
Beer is such a fun, casual drink that's equally enjoyed by the young and old alike and has so many styles to offer. So how unfair is it that one can't find a quick way to track where their favourite beer styles are being served? This burning question has led Brewer World to come up with the ultimate solution: the country's first PAN-India Brewery Discovery Platform called 'Breweries' –  where you can now find where your favourite beer is being served in roughly just three clicks of a button!
With this initiative, Brewer World now gives its readers the option to search breweries by state and zone – where people can not only find out what breweries are serving the beers they want, but also discover new styles and flavours quickly and easily!
Here's a complete lowdown of what to expect from our all-new Discovery Platform:
Every single brewery and microbrewery of this country will be listed on this platform. We are kicking off by listing only those breweries who are currently doing takeaways.
(If you are a brewery/craft brewery doing takeaways, you can reach out and get yourself listed for absolutely free!)
Because Brewer World focuses only on beer, our discovery platform is designed to give you all the information you need about beer only. Our detailed listing will tell you all the beers you can find in breweries in your neighbourhood, city or state – along with what to expect from them.
Take advantage of our platform's helpful filters such as Beer Types, Location, Offers, Ratings that make it easier for you to zero in on one brewery or one beer
Finding it hard to make a decision? We've got you! Our platform also includes a brewer's recommendation to help you make the best choice!
Curious to know what others are saying about the beers in a certain brewery? Our Brewery Discovery Platform also lets beer drinkers vote for their favourite beers so you can make an informed decision, each time, every time! Likewise, if you've liked the IPA at a particular place, feel free to give it a thumbs up and let others know what you loved about it!
Avail exclusive offers and deals with your favourite local microbreweries, only on our listings platform and redeem them for exciting beer experiences in 48 hours!
Want to know more about the brewery/ microbrewery? Our Discovery Platform will also give you tonnes of news, stories and updates related to the place of your choice so you can know every detail even before you set foot into the actual venue!
With this initiative, Brewer World not only ensures that nothing comes in the way of beer drinkers and their favourite beers but also gives craft breweries a chance to talk about the star of their offerings: their beer. Today in 2020, India has numerous platforms that give consumers detailed information about culinary or dining atmosphere experiences. But when it comes to microbreweries and craft breweries – there's only one game-changer: beer. With all of Brewer World's readers being hardcore beer lovers, breweries in India can now position their beers better and target the right information about their beer offerings to the right audience for better reach and better business!
This way, Brewer World ensures no stone is left unturned when it comes to bridging the gap between beer enthusiasts and their favourite breweries and beers – proving once again to our readers that everything about beer, is indeed on our platform!
Brewer World's 'Beer Only' Discovery Platform, "Breweries" is currently web app-based only. While we await feedback on our new project, there are tonnes of new features to be introduced in the next phase! Register now with us on  www.brewer-world.com/breweries to start reviewing and rating your favourite beers!