Take A Trip Down Memory Lane With Goa Brewing Co.'s Breakfast Cereal Stout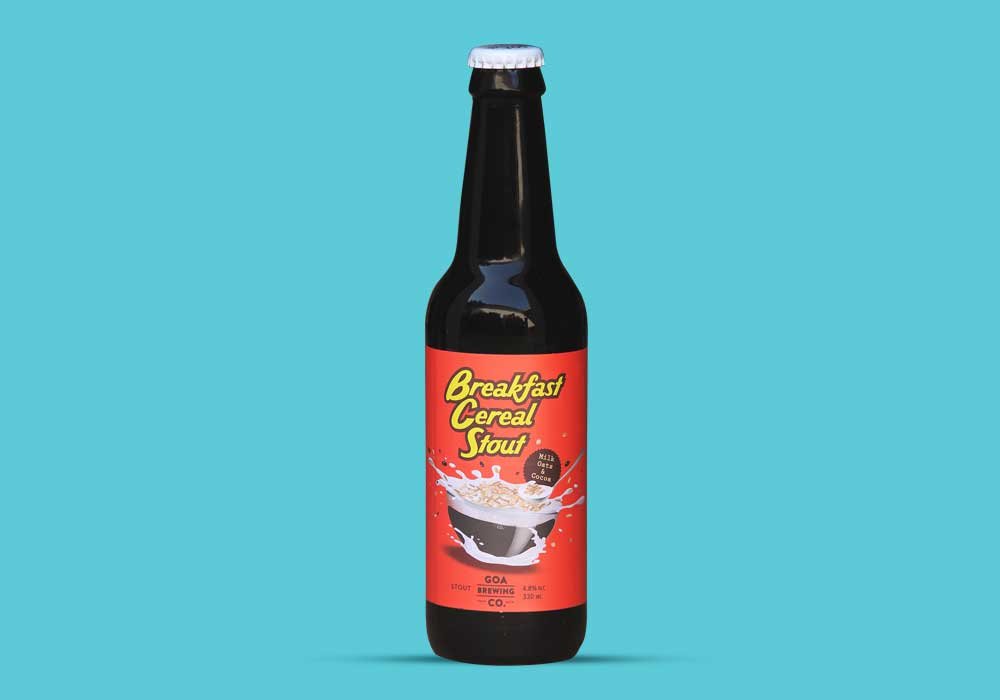 Leaving aside health facts about metabolism and weight loss and what not, what foods we choose to start our day with is an important decision not to be trifled with.
Some people, like the early British, believed beer to be one of the founding fathers of breakfast. Fermented from cereal grains, replete with calories, beer is filling, satisfying and let's not forget, it makes us happy — an important consideration at any time of day.
You know what else fits that description aptly? Breakfast cereal. As children, it's what made getting out of beds a little easier: knowing there's a bowl of colourful, crunchy, sugary cereal waiting to be drenched in milk as we watch our favourite cartoon shows. It's what made breakfast not just the most important meal of the day, but also the happiest.
Now call it coincidence, but we've noticed craft beer brewers across the world, increasingly turning to breakfast for brewing inspiration. Cereal, jam, peanut butter and jelly – apparently nothing is off limits.
Indian craft beer/cereal lovers: let your inner six-year-olds rejoice! Goa Brewing Co. is serving nostalgia in a bottle with their all new Breakfast Cereal Stout. We reached out to them to get the details for you: read on to know more.

In your opinion, what are "non-conformist" beers and how do they stand out from the rest?
For us at Goa Brewing Co., "non-conformist" means that we don't necessarily stick to set recipes and brewing guidelines. This allows us to innovate, experiment and play around with our brewing equipment, which in turn, allows us to brew unique-flavoured, great-tasting beers that are loved and appreciated by our core customers.
As a brand that is known for its steadfast fondness for non-conformist beers, what are the challenges you face in this business and how do you tackle these?
Our main focus is to push our beer styles and expression. Our core challenge is that of timing. Experimentation takes place regularly at Goa Brewing Co. and sometimes, even though the brews are exceptional, we think they are too far out. So at the moment, there's a big gap that exists between our rapid rate of experimentations and the rate at which our beers are being released in the market.
We've been able to tackle this challenge by fixing a core category of seasonal and specialty beers in small batches, like the Eight Finger Eddie and of course, our Breakfast Cereal Stout.
We're sure you had a wide range of flavours and styles you could've launched, and yet, you chose a breakfast cereal-flavoured beer. Why?
We personally encourage everyone to try having beer during breakfast while holidaying in Goa! In fact, we wanted to challenge the notion that there is a set time to consume beer, so much that we made a breakfast flavour-infused beer that's also extremely sessionable.
Also, since this was also to be our first stout, we wanted to take a different approach. That also meant using a different grain bill. After plenty of brainstorming and multiple trials, we settled on breakfast cereals like rice puffs, cornflakes and oats to make up the base of this beer.
This was also a good opportunity for us to invoke a sense of nostalgia for our consumers. The ones having grown up in the late 80s and 90s have a strong flavour memory with these cereals.
Tell us a little bit about the ingredients that go into the making of this beer. Where and how do you source them?
Rice puffs, oats and cornflakes – these are the key ingredients that we use for our in-house 'Breakfast Cereal mix'. The star ingredient, however, is really the cocoa nibs that we source all the way from the foothills of the Anamalais. Milk sugar is added at the last stage to achieve those creamy, smooth notes.
Tell us more about the ingredient, cocoa that was used to brew this beer. How were you able to harness its intense flavour to the point of perfection?
We source our cocoa nibs locally from Regal Plantations, known to be one of the first sustainable bean-to-bar growers in India. The pure flavour of cocoa in our beer is entirely because of its high quality.
Furthermore, our experiments also showed that the size of the nibs had a lot to do with the intensity of the flavour imparted. For instance, large-sized nibs contributed less intense flavours. Smaller nibs, on the other hand, imparted higher acidity and tannins. We worked closely with Karthikeyan Palaniswamy from Regal Plantations to collect just the right size of nibs that would give us the flavour we wanted.
In the end, a cold extraction and mid-sized nibs worked best for us to achieve that rich cocoa flavour, sans the bitterness and the acidity.

Please describe the overall mouthfeel of this beer. What cuisine/ food would you personally recommend pairing this beer with?
The overall mouthfeel of our Breakfast Cereal Stout is smooth and creamy. The thick body of the beer comes from the combination of lactose and oatmeal. Because our stout has such intensely rich, toasty cocoa notes, it's an excellent beer on its own. With its well-balanced taste and aroma, one can consume this beer practically any time of the day, as many times they want. And if you want to take your experience up a notch, don't be afraid to pair it with "comfort foods" like a robust English breakfast, a really satisfying sandwich, or better yet: a scoop of ice cream!
Most people are of the opinion that stouts are great for winters. What do you think?
Yes, with their full bodies and intensely roasty, malty aromas, stouts are usually considered ideal for winters, especially if they have a high ABV (which means they're likely to warm you up faster). In India, however, we do not have such extreme winters like in the west, so we don't necessarily need stouts with such high alcohol levels. And that's why, we decided to brew an ABV-friendly stout that isn't too heavy on the system, yet, retains the intensity of its flavours. At 4.5 percent ABV, our Breakfast Cereal Stout is just as perfect for a warm, summer's day by the beach as it is satisfying for the winters, when the temperatures are relatively lower.
Could you tell us a little bit about what went into designing the label for this bottle?
The overall design for our Breakfast Cereal Stout has been inspired by design elements reminiscent of a classic 90s breakfast cereal box. Details like the exaggerated splashing of milk, the chunks of cereal and the quintessential breakfast bowl are some visuals we wanted to highlight to make the label of our Breakfast Cereal Stout bottle look like one of those iconic cereal boxes.
How would you describe The Breakfast Cereal Stout?
Our Breakfast Cereal Stout is a time machine. Its flavours are meant to transport you to those magical days of your childhood, where your day began with a bowl of your favourite cereal.