Bira 91 Launches 'Imagined in India' Limited Release Beers
Bira 91, world's fastest growing premium beer company, launched 'Imagined in India', a portfolio of four new limited-release beers – Bollywood IPA, Kokum Sour, Brown Ale, and Mango Lassi Ale – crafted with indigenous ingredients to tickle the Indian taste buds. 'Imagined in India' is inspired by the raw creativity of today's India led by emerging artists, entrepreneurs, and start-ups combined with the cradle of flavours that find a home here.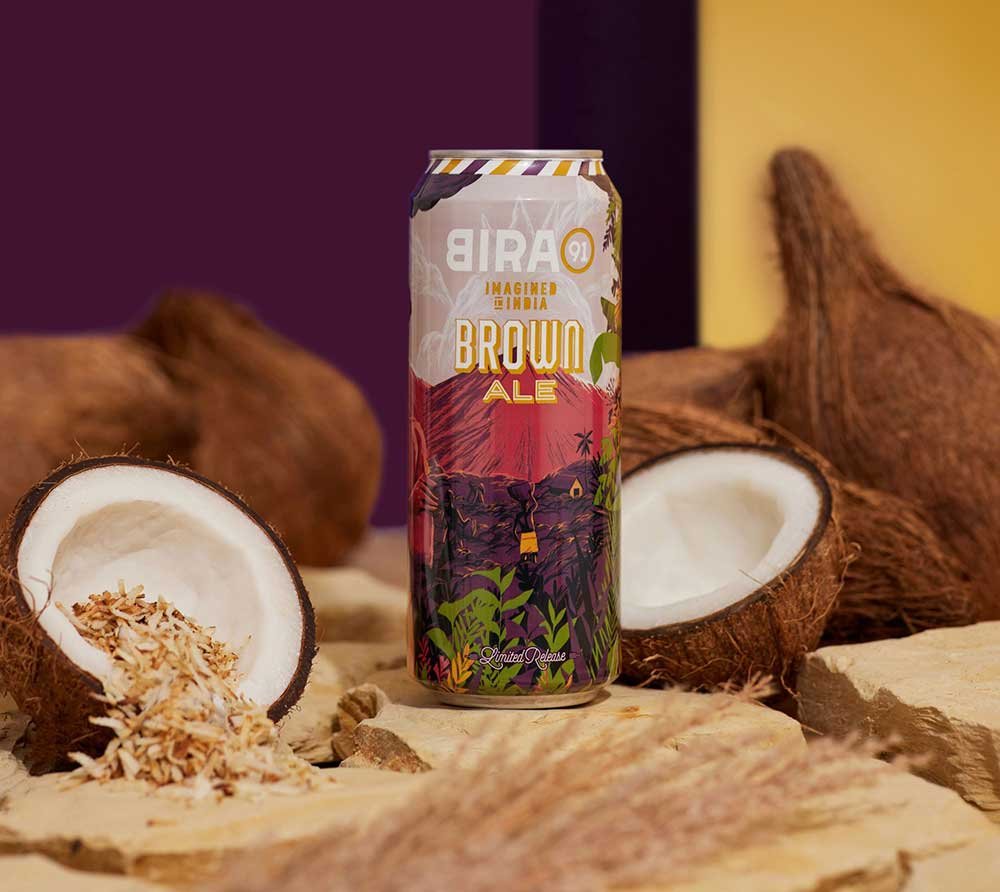 The Bollywood IPA variant is a total blockbuster – loud, flavourful, and vibrant with a tropical twist, inspired by West Coast IPAs that were born in California. Whereas, Kokum Sour complements the Indian summer by combining the traditional ingredient from the Konkan Coast and the affinity of the Indian palette towards sour flavours and the best sour beers of the world. On the other hand, Brown Ale is a blend of English Nut Brown Ale and the Antwerpian Amber with strong notes of Coconut and Vanilla. And finally, Mango Lassi Ale is an experimental summer essential that merges Bira 91's flagship Wheat Ale and a milkshake beer into one flavourful bomb.
Commenting on the launch,  Ankur Jain, Founder and CEO, Bira 91 said "For this generation of consumers, beer means flavour, and we deliver on that promise. 'Imagined in India' is an attempt to bring together the many flavours of India and its creative energy fuelled by emerging artists, entrepreneurs, and start-ups. Each beer is brewed with unusual ingredients – local and seasonal – which makes them unique and bursting with flavour. Experimental. Creative. Flavourful. Limited – each of these flavours – Bollywood IPA, Kokum Sour, Brown Ale, and Mango Lassi Ale is sure to elevate the beer experience of Indian consumers."
He further added, "Each of these flavours originated at the Bira 91 Limited-release Taproom at Koramangala, Bengaluru, where they received tremendous consumer love and affinity. The flavours were voted as the top-ranked choices by beer lovers, which inspired us to bring them to consumers across the country."
To bring alive the flavours, Bira 91 has collaborated with Kulture Co., a curated platform spearheading the new wave of Indian Graphic Art across borders. The brand onboarded contemporary Indian artists from the Kulture Lab – artists who are breaking the mould and taking modern India to new frontiers – to conceptualise and design the packaging of the four new flavours. Channelizing their art and creativity on a new canvas, artists Ranganath Krishnamani, Osheen Siva, M. Sajid and Prince Lunawara showcase a vibrant palette of local stories around shared identities painted onto these beer cans, paying homage, and narrating the story of our home country.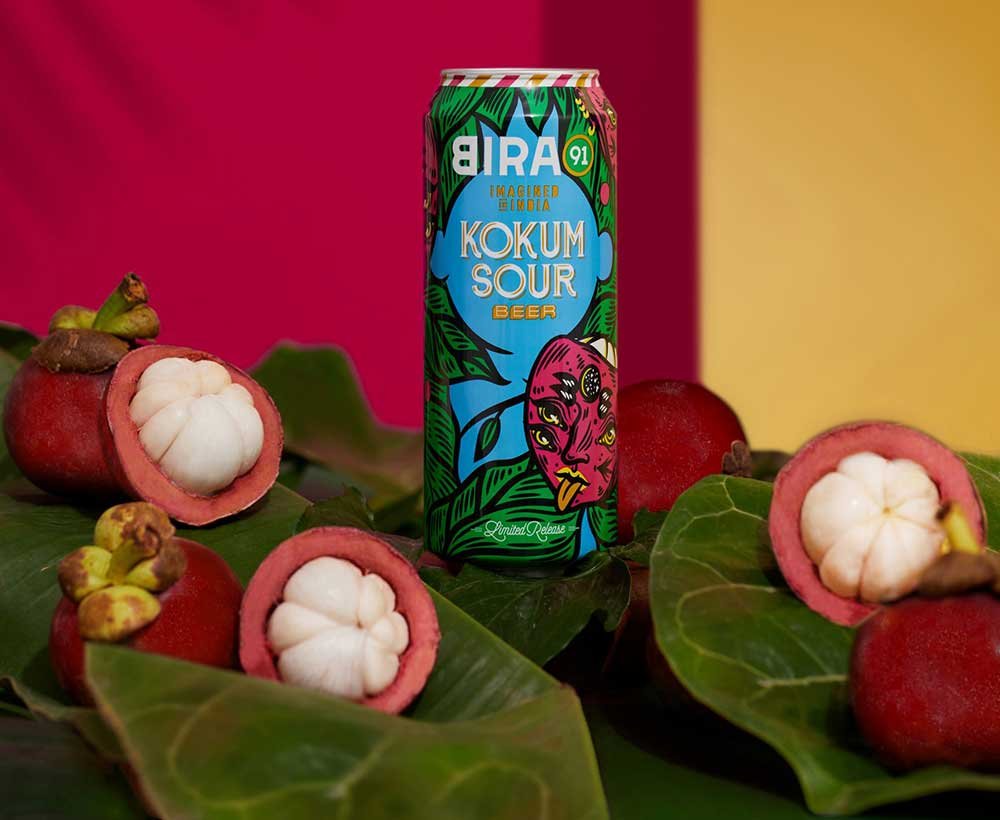 Sharing the idea behind designing the packaging of Bollywood IPA, artist Ranganath Krishnamani said, "Conceptualising the packaging of a flavour so bold and dynamic, that it takes you to the heart of Mumbai, where all things Bollywood originated, was truly exhilarating. Incorporating the charming art deco cinemas in Colaba, the iconic 'kaali-peeli' cabs, and the vintage colour scheme was the perfect way to capture Bollywood on a can."
Designer of the Kokum Sour packaging, Osheen Siva, shared insights on the thoughts behind the masterpiece and said, "Kokum is a tangy flavour, us Indians have developed a taste for since childhood. To depict a taste so loved yet so new to the beer industry was exciting. I conceptualised it to be something offbeat and loud. For me, the can had to give consumers an idea of what they were picking up from the rack when indulging in a Bira 91 Kokum Sour Beer."
Designer of the Brown Ale packaging, M Sajid shared insights on the thoughts too, he said "Imagined In India to me is being authentic, raw and connected to our roots. Capturing the taste of Brown Ale that recognizes, uplifts and celebrates diverse communities of India and having the essence reflected in the artwork on the packaging was a great experience."
Prince Lunawara, who creatively illustrated the Mango Lassi Ale can said, "India loves mangoes and merging the flavour with beer is as creative as it can get. Through the can, my idea was to celebrate this creativity and the beauty of India's flavours."
The 'Imagined in India' limited release beers will be available in 330ml bottles and 500ml cans across Delhi, Mumbai, Bengaluru, and Pune.
A refreshingly modern beer brand, Imagined in India, Bira 91 aspires to bring flavourful beers to the new world. As one of the fastest growing brands in the world, Bira 91 has built a diverse portfolio of award-winning beers, one for every occasion, and aims to drive the global shift in beer towards more colour and flavour. Bira 91 is now enjoyed in over 500 towns and cities spread across 15 countries and brews its beers across four breweries in India. Bira 91 has its flagship taproom in Bangalore, where it releases one new experimental beer every week, paired with its curry-shop menu. Bira 91 also offers branded merchandise across categories such as glassware, apparel, and gifts, to make every day a lot more playful. Established in 2015, Bira 91 is driven by a dynamic team of over 550 passionate beer lovers and is backed by Sequoia Capital India, Sofina of Belgium, and Kirin Holding of Japan.