This Father's Day, Biergarten's Partner Nikhil Wahi Reminisces Over Moments Shared With His Hefeweizen-Loving Dad
Father's day is a timeless tradition to celebrate fatherhood, and the bond between a father and his children. Sharing a pint with one's father is perhaps a more modern tradition which is also catching on in India. Brewer World is in conversation with Nikhil Wahi, partner at Biergarten Brewery & Kitchen, Bangalore, talking about the relationship he has with Anil Wahi, his father. Read on to find out what Akash Hirebet learnt while chatting with Nikhil.
"My dad lives in Delhi, so it's not so often we get the chance to catch up over a beer", says Nikhil. Between him and his dad, they do try to visit each other occasionally, and do sit over a beer and chat. In fact, when Anil visits Bangalore, he loves to sip on the Hefeweizen at Biergarten and chat with Nikhil. Their catch ups over a pint are usually impromptu whenever they are in the same location. While they chat about home, the business, and to health, they also talk about everything under the sun. "Off late though, my dad has been telling me to get married" quips Nikhil with an amused look.
Upon asking if having beers with his dad led him to choose to get into the craft beer business, Nikhil says "Actually it's the other way around. I've always loved beer, and have gone through the phase of drinking beer on the sly when out with friends. Once we opened Biergarten in Whitefield, dad realized that drinking beer is an integral part of my life and job, and we started chatting and hanging out over pints." He also mentions that his father has stood behind him when it came to choosing his career path in the business of craft beer.
While drinking is often seen as taboo, over the years, Nikhil has realized things are changing in Bangalore. "People are well-travelled, broad minded and educated" he says, noting that while the taboo has not completely disappeared, there are plenty of guests who drop into the brewpub with their parents and are comfortable having a drink with them.
To close out our chat, Nikhil says "I'd like my dad to know that I love him, and look up to him. I want him to stay happy, healthy and am really looking forward to catching up over a pint once this pandemic blows over."
While bars and brewpubs are not currently allowed to serve alcohol in view of the pandemic, there are several retail options these days. This father's day, grab a pint with your dad, and raise a toast to him.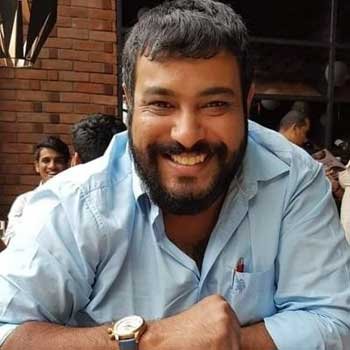 Guest Writer: Akash Hirebet
Guest writer profile: As a lover of craft beer, Akash Hirebet started researching the alcobev a little more, and found that he quite enjoyed learning about it. Under the pen-name "Beerabet", Akash continues to document the different kinds of beers he discovers and tastes. He also offers various services and consultation with regard to craft beer, food, events, etc. Follow Akash at @beerabet and discover the best of craft beer!