"Beer Is Art" In South Africa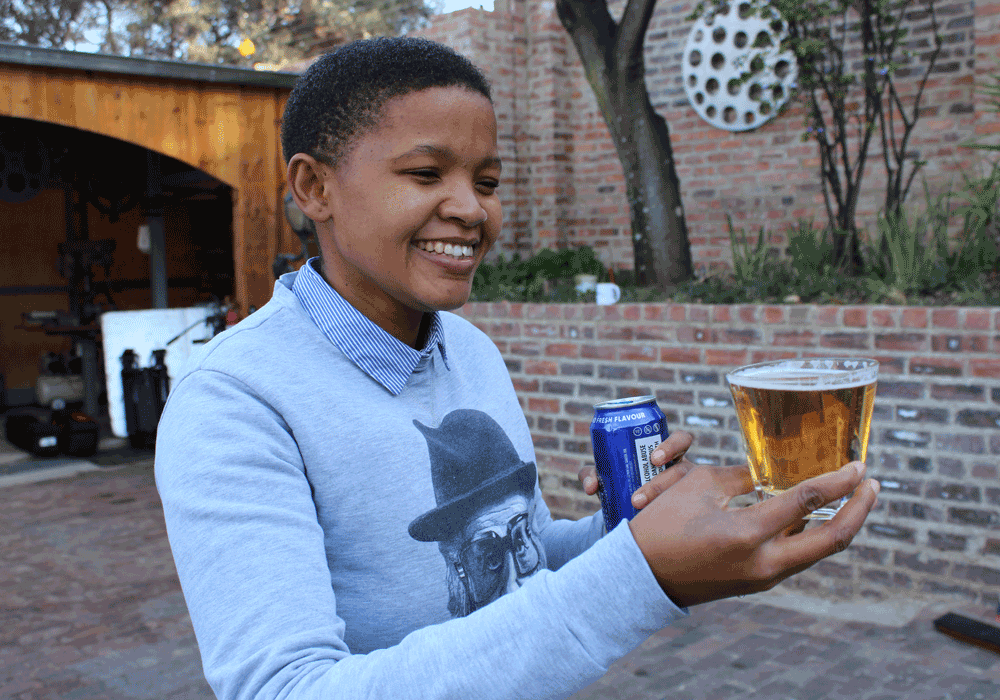 Obakeng Malope is a filmmaker and a brewer from South Africa who has launched a campaign called "Beer is Art". Beer is art, teaches the unemployed youth of South Africa to turn beer into a career. The program helps them in starting their own breweries and beer brands. They also give them cicerone training which includes beer tasting and smelling. Obakeng is a filmmaker who shoots films and sells them to national and international broadcasting cooperations. Obakeng Malope has also been the judge for the South African Music Awards 2021 and the South African Film and Television Awards. Obakeng Malope, founder of Maalkop Trading and Projects proves true to the saying "You educate a woman, you educate a community".  She is also a brewer today because a few other influential women in the brewing industry educated her about beer and more. She grew up seeing her grandmother making Umqombothi. Brewer World got an opportunity to speak to her and below are the excerpts…
Tell us about yourself
I am a filmmaker and a brewer in South Africa. I started as a documentary filmmaker and my  Public Service Announcement (PSA) won an award and I am pretty famous here.  I was a  board member of a  filming association and also was on the jury for the South African  Film and  Television awards twice. I also worked on the first-ever South African Film  Summit. As a part of my job, I got to travel to many countries and learn about their food and drinks. Then I realized that Beer is my passion. Now, I am a brewer, and one day I dream of owning a brewery.
You work in film production, how did you get into brewing beer?
Beer is a calling and for me as an African, beer is spiritual.  we do not know why we are so very passionate about it sometimes but we love brewing it because our forefathers did it and when we are creating it, it makes us feel closer to them. The business part of it is a cherry on the top.
I have always had a passion for brewing beer. It was so unexplainable because beer is a man's thing it seemed. I used to watch YouTube videos for making beer and trust me, these videos inspired me. I just decided one day to go to a brewery and request to intern with them. They recommended I go study a short course. I saw a Facebook advertisement for a brewing course, I applied, I got in, I finished it, the 100 cicerone certification program by  Black  Beer Chick  USA. Road to 100 took 100 black females who wanted to get into the beer industry. I was with the Americans and Canadians training for the Cicerone Certification Program. Since then I visited breweries and learned by looking at the process.
What is the beer scene like in South Africa?
There is a huge boom in craft beer in South Africa, and one may wonder why. Humans are driven to create. You cannot always expect people to cook for you sometimes you want to do it for yourself. I compare it to pizza,  you can buy mass-produced pizza from big organizations,  and once you taste real quality pizza you will know that you have eaten pizza.  Craft beer is like that.
Many people taste craft beer and say wow I have never tasted something like this. We are now introducing ales,  wheat beer, and blondes here. South Africa has always had a  beer-drinking culture, the sales of beer outweigh the sales of wine. With the inception of craft beer we now have a beer society, one can go to and expect a range of craft beers on their menu and beer pairing menus. We all love that craft beer tasting tray where you get to taste different craft beers the restaurant provides.
We have jumped on the craft beer trend probably 30 years later than the USA. But, we are advanced in terms of  Africa. We are where the USA  was in the '70s.
I go by this expression:
The late beer writer  Michael Jackson was fond of  Shocking people in 1990s Europe by saying that the  United States was the best place on the planet to drink beer.  He was right. And there continue to be more styles,  more choices,  and more beers bursting with flavor and personality in the  United States than anywhere else.  It wasn't always so.   By the mid-1970s, there were pitifully few  American beers worth drinking.  The lack of living beer tradition worth preserving left them free to build a  new beer culture from scratch. A new generation of  American brewers took to the task with passion and imagination.  Within a  few short decades,  their efforts have put craft beer at the forefront of desirability, the share of mind,  and flat-out coolness,  if not in total market share. In South Africa, the brewers have made all the mistakes and they come with knowledge now.   Craft beer is not a cheap industry to get into. Starting a brewery here you need money,  you need to love what you are doing because it takes  10-16  hours of your day.  Without love, your passion will disappear quickly, which will show in your product.
View this post on Instagram
Tell us about women and brewing in South Africa.
Women have always been brewers of beer here in South Africa. I was born in a rural village in the Northwest Province called Jericho. I grew up seeing my grandmother making "Bojalwa ba Setswana" meaning our Setswana traditional beer. Some cultures call it Umqombothi. Every language every culture has a name for it. But the process is the same.  We drink it at funerals, ancestral rituals, weddings, and parties. Now, this culture is slowly getting eroded. This beer is the beer of choice when communicating with the ancestors during traditional rituals. Men are not permitted according to our culture to be in the making of this traditional beer.
In the craft beer industry, it is a few of us women of color who are here working hard carrying that tradition from our grandmothers forward.
Umqombothi, is a traditional South African beer
What is Umqombothi?
Umqombothi is a traditional South African beer brewed using malted sorghum, maize meal, and water. You mix the malted sorghum and maize meal with water and leave it to sour. It can be overnight.
When you taste the mixture it will be sour. You cook the mixture to make it to be a porish. When it is cooled down you add more water to make it runny. Leave it to ferment and sieve out the liquid and leave out the brown grain.
How do you plan to encourage women and youngsters to get into brewing?
I came up with a campaign called Beer is Art. Beer is Art teaches the unemployed youth to turn beer into a career which will cover brewing, licensing, starting your brewery, and cicerone certification. The campaign teaches that beer is not something you just drink, it is the art. We respect this industry as it sustains us. This campaign will get the youth and women in a classroom environment and teach them. I am also inspired by India where the brewers are using ingredients and spices they source locally for example Nilgiri tea is sourced from women tea farmers, this creates a supply chain and women empowerment. We are also working with Chatty Girija the founder of Cheers Chatty Podcast in India and an Indian brewer Ankur Napa. Chatty will teach them how to become podcasters if they want to go in that direction and Ankur will teach them about brewing Indian beer to inspire them.

Why do you feel brewing is a good industry for people to get into?
We relate beer brewing to the drawings that were left on the cave walls by the  Khoisan. The Khoisan drew paintings in caves to tell the story of how they lived, and what happened so that the next generation can read the stories that they left for them and get to know who they were and know their roots. Beer is telling a story,  the beer that we make now is not the beer that people will be making in the next 200 years. Our beers will be a reference for them.  They will learn about the aromas that we prefer and the tastes that we prefer. Some of the natural resources that we are using now will be extinct or would have evolved. They will read the stories that we have left for them and learn what kind of people we were, what our likes and dislikes were and the barley hops we used to harvest and the water quality that is influencing our beer.  We are creating a history which is why we should get in the industry, we are reclaiming the spaces that already belonged to us, and we are leaving a legacy behind. And we become entrepreneurs with beer; beer is a tool to become financially independent and remove poverty from the society.
Have you visited India? Or traveled outside your country for beer?
I have not been to India, I am hoping to visit soon. I have been in France twice to La Rochelle and Cannes, the United Kingdom, Switzerland, the Netherlands, Amsterdam, and Rotterdam. Canada and Namibia when I was a filmmaker. I traveled to film festivals but I would always visit pubs for food and beer. The most interesting beer-drinking culture is in the United Kingdom. Beer is everywhere.
When you brew, do you use Indian spices? Tell us about the same.
The reason for me I am reaching out to India is that I want to build connections that will help me get samples or import Indian spices, herbs, and fruits. I would like to use Sitaphal, Anand Mool/Indian Sarsaparilla, Mangosteen from South East Asia, and also Bajra in the beers I brew.
How do you plan to use the medium of films to speak about beers or spread awareness about employment in the industry?
Documentary filmmaking is a powerful medium of expression. We will make documentary films to profile brewers, breweries, and their beers. It will be used to advocate the rights of brewers and illuminate the myths about beer.