Triumph Hop Rocket: Bangaloreans Rave About Aurum Brew Works' Newest Beer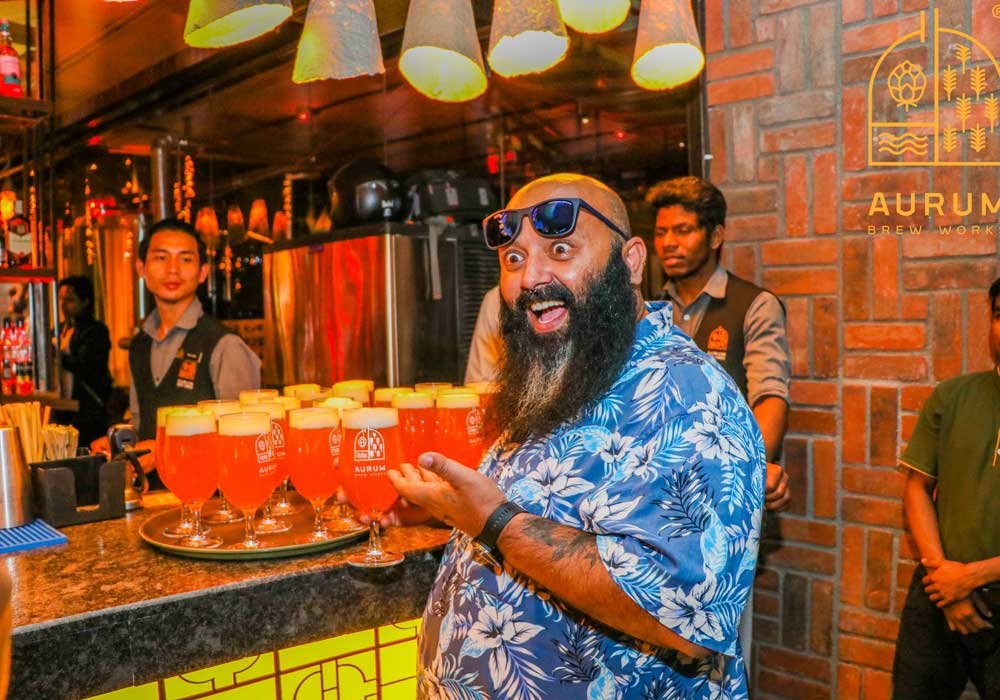 Last month, Aurum Brew Works, in collaboration with BrewNation and Beer Chronicles launched a mind boggling, the Triumph Hop Rocket.
Brewed from a new variety of a high-yielding aroma hop, which coincidentally happens to be nicknamed "Triumph" after the brand of motorcycle, the beer is a basic pale ale with a delicious citrusy-apricot, stone fruit-like flavour and the mildest hint of bubblegum.
Said Dinesh Arora, director of Aurum Brew Works: "The Triumph Hop Rocket is undoubtedly, one of the best of many such craft beers' that Aurum has introduced over the last 10 months. The launch of this exciting beer was a super success thanks to the participation of our loyal customers."
With ales in their mugs and huge smiles across their faces, 50+ beer aficionados kicked off the evening to launch the passionately brewed craft beer – the first-ever beer in Asia to have been brewed by the all-new Triumph hops.
Here's what some of Aurum's favourite customers had to say about the beer:
Rohit Chawla, Punjab
"These days with so many breweries coming in, beers have many more flavour options based on the style: be it IPA, wheat beer, or stout. I generally go for wheat beer. They have Maya beer here in Aurum, but the one that has launched today – the 'Triumph Hop Rocket', I'd like to call this one a real beer. When you think of beer you like a certain amount of bitterness and you get some kind of kick knowing that it comes from the hops used in this beer. The flavours complement the style really well too. I like Maya and Sunflower, but on a hot sunny day, I will pick the Triumph Hop Rocket for sure."
Santosh Srinivas, Founder of Mypad
"I'm a big fan of Aurum and its ambience. I come here every other Thursday to chill out and today I'm happy to have witnessed the launch of the Triumph Hop Rocket. It's a very refreshing beer and definitely different from others available out there . At very first sip, it tastes so good and refreshing! Bangaloreans constantly have this craving to explore new beer flavours – and I think they're definitely going to love this one!"
Lionel Cardoza, Goa
"This is my first time in Aurum and I think it's a very impressive microbrewery. I'm actually a regular beer drinker so in comparison to all the beers I've had in the past, the Triumph Hop Rocket really rank high, especially as far as craft beer is concerned. What I like about it: the fact that it's a full-bodied beer, also the fact that it's very strong and has some character. It's got an undertone, smoky flavour and overtones of this fruity flavour; I just can't put a finger on what the fruity flavour is. It's like a masculine drink but definitely gives you a buzz that's not usually something you expect from a beer. I'm used to drinking average light beers and low-calorie type beers, but this one is mostly like a lager – quite enriching and full of flavour. Every sip hits your palate with different notes. I'm very impressed with it, definitely looking forward to trying more of it!"
"We also take this opportunity to thank brewmaster George Jacob from the Beer Chronicles for brewing such an amazing beer, and to Ankit Sethi of Brew Nation for introducing us at Aurum to the Triumph hop for the first time in Asia," Dinesh, Director of Aurum said happily. "We are looking forward to many more such collab brews! Prost!"
The Triumph Hop Rocket will be available for a limited time at Aurum Brew Works. Go try it out and let us know what you think of it!