8 American Pride Beers That Celebrate the LGBTQIA+ Community
Pride celebrations take place throughout the year. So why does June get to be special?
The catalyst of the Gay Liberation Movement – the Stonewall Uprising, took place on June 28th, 1969. In the wee hours of the morning on this day, the police raided a popular gay bar in West Village, New York City called The Stonewall Inn.
This was nothing out of the ordinary at that time. However, on that particular Friday evening, loyal patrons of that bar fought back, initiating the Stonewall Riots that lasted for days.
The bar was declared a historic landmark by New York in 2015. Later, it was named a national monument by President Barack Obama in 2016.
This June marks the 51st anniversary of the first Pride parade that took place in 1970, a year after the riots. As the global LGBTQIA+ community unites to celebrate the spirit of pride, some of America's best microbreweries are known to mark the occasion by releasing their own colourful versions of pride beer!
Here's a round-up of 8 such beers in 2021!
1. Friends of Dorothy
Brewery: The Virginia Beer Company (VBC)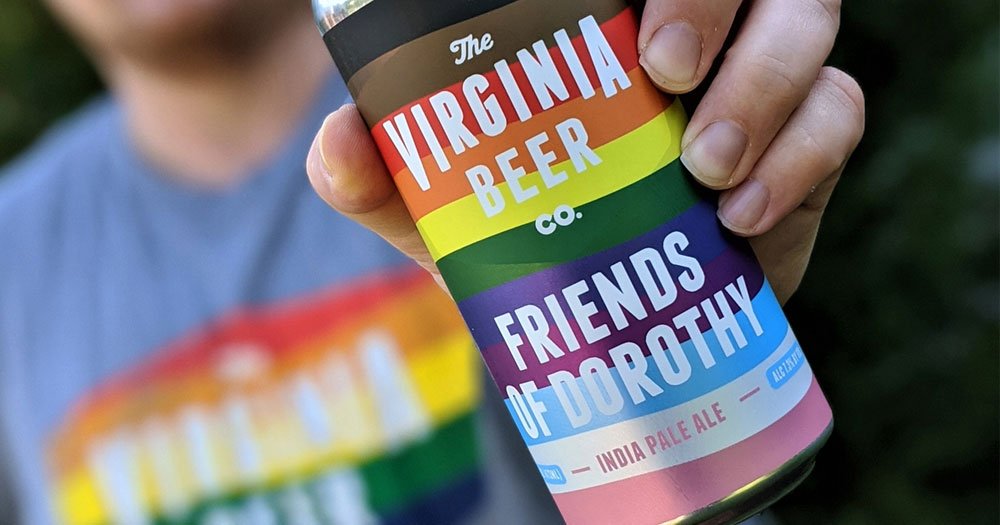 This beautiful, bright beer is a dry-hopped IPA that comes at 7.3% ABV. Interestingly, the recipe involves a wide range of rotating hops to put on display flavours from around the world uniting as one!
The name 'Friend of Dorothy' itself has several vibrant backstories. It's a phrase that that has been recorded as far back as World War II – when homosexuality was illegal – and was a subtle way for gay men to signal to each other their true homosexuality. Some argue that the origin of the phrase 'Friend of Dorothy' can be attributed to Dorothy Parker – a 20th-century writer, socialite and political activist who was known for welcoming many queer people into her social circles. Upon her death, she left her property to Martin Luther King Jr. The most widely accepted reference source is, however, the Oz books and of course, the movie The Wizard of Oz itself. With songs like "Somewhere Over The Rainbow" waxing eloquent about finding a place where one can truly belong and call 'home', it's no wonder that it resonated with so many people from the queer community!
2. Love Conquers Ale
Brewery: Samuel Adams x New Belgium Brewing
First brewed in 2017, Love Conquers Ale was originally conceptualised as a Blackberry Basil Lime Gose by coworkers of the well-reputed Samuel Adams Boston Brewery for a Pride celebration at the brewery. This year in 2021, to mark New Belgium's leadership on LGBTQ+ equity and advocacy, Samuel Adams collaborated with New Belgium Brewing Company to "share the love".
Brewed with Samuel Adams two-row pale malt blend and white wheat, this fruited gose comes in a hue that varies from light purple to pink and is characterised by bright fruit notes of blackberry and lime. The beer comes at an ABV of 4.9% and achieves just the right balance of tart and salty and is delightfully refreshing on the palate.
3. PRIDE Watermelon Wheat
Brewery: Braxton Brewing Co.

According to some sources, this summery American Wheat beer released by Braxton Brewing Co., a Northern Kentucky brewery is brewed with more than 2,200 pounds of fresh, pureed watermelon. It's a light-bodied beer brewed using only two malts – pilsner and wheat. The 6.3 percent-ABV beer finishes dry, and leaves behind a juicy flavour and aroma of freshly cut watermelon!
 4. Gay IPA
Brewery: Marz Community Brewing Co.
Brewed with Strata, El Dorado and Citra hops – Marz Community Brewing's Gay IPA is a double dry-hopped but easy-to-drink hazy IPA that's brewed with lactose for an incredibly silky-smooth, but soft mouthfeel. The unique blend of hops used in this recipe releases a tropical burst of flavour reminiscent of ripe apricot, papaya and pineapple. A distinct aroma of tangerine and lime teases the nose while the lactose adds an irresistible sweetness that you can't get enough of! The beer comes at an ABV of 6.7%.
5. Sparkleberry
Brewery: Bell's Brewery
Originally brewed in 2014 for the Kalamazoo Pride, a gathering that brings together an estimated 8,000+ people of all ages, genders, sexual orientations, and racial identities from Southwest Michigan and beyond to celebrate LGBTQ+ Pride –
this Belgian-style tripel ale also bagged a bronze at the Great American Beer Festival in the same year. Described as "slightly tart, dry and spicy"- this beer is brewed with raspberries and has a ruby red hue! Watch out for the alcoholic content in this beer, for it stands at an ABV of 9%!
6. Pride Y'all
Brewery: West Sixth Brewing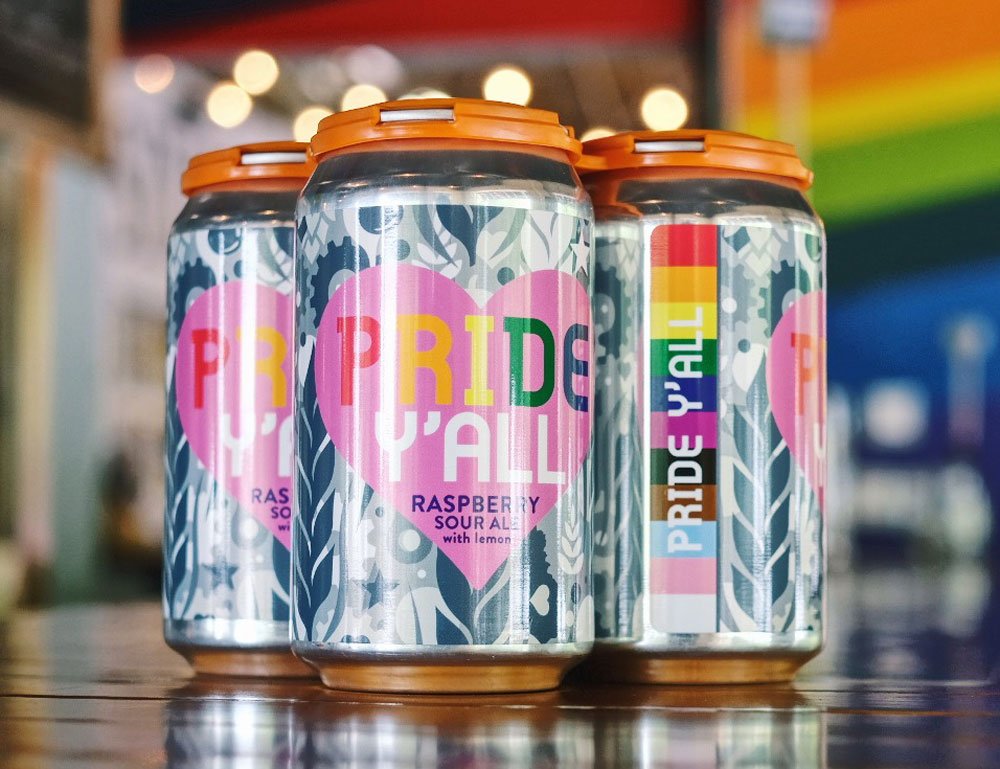 First brewed in 2019 for the Lexington Pride, this Kentucky brewery just announced that they will be re-releasing their Pride Month beer – Pride Ya'll, a Raspberry Sour Ale brewed with lemon, vanilla and lactose!
7. The Stonewall Inn IPA
Brewery: Brooklyn Brewery x The Stonewall Inn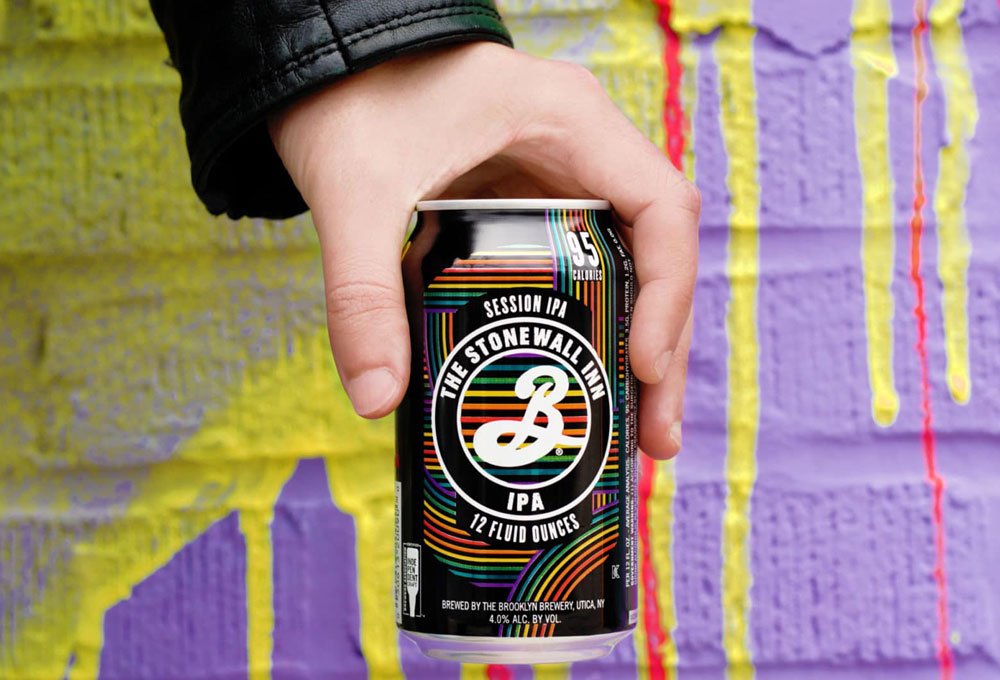 Described by its makers as a "fearless IPA", The Stonewall Inn IPA is a collaboration between Brooklyn Brewery and none other than The Stonewall Inn! This Citra-hopped session IPA has a "hint of grapefruit and citrus peel on the nose" and finishes crisp, yet mellow. It pours light copper to light gold with a moderate white head.
8. Rainbow Wall
Brewery: Athletic Brewing Co.
This one is for non-alcoholic queer beer lovers. This blood-orange, non-alcoholic, slightly hazy IPA released by one of America's leading manufacturers of non-alcoholic craft beers is described as a "refreshing, citrus-forward beer" that's perfect to enjoy after a long hike. The brand collaborated with Alex Johnson – a professional climber, World Cup Gold medallist and LGBTQI+ activist. Brewed with blood orange puree, the beer stands at an ABV of less than 0.5% and has a "tropical orange fruitiness with a soft, subtle mouthfeel". Rainbow Wall has been noted to have higher-than-usual carbonation with a clean, crisp and super zesty finish!