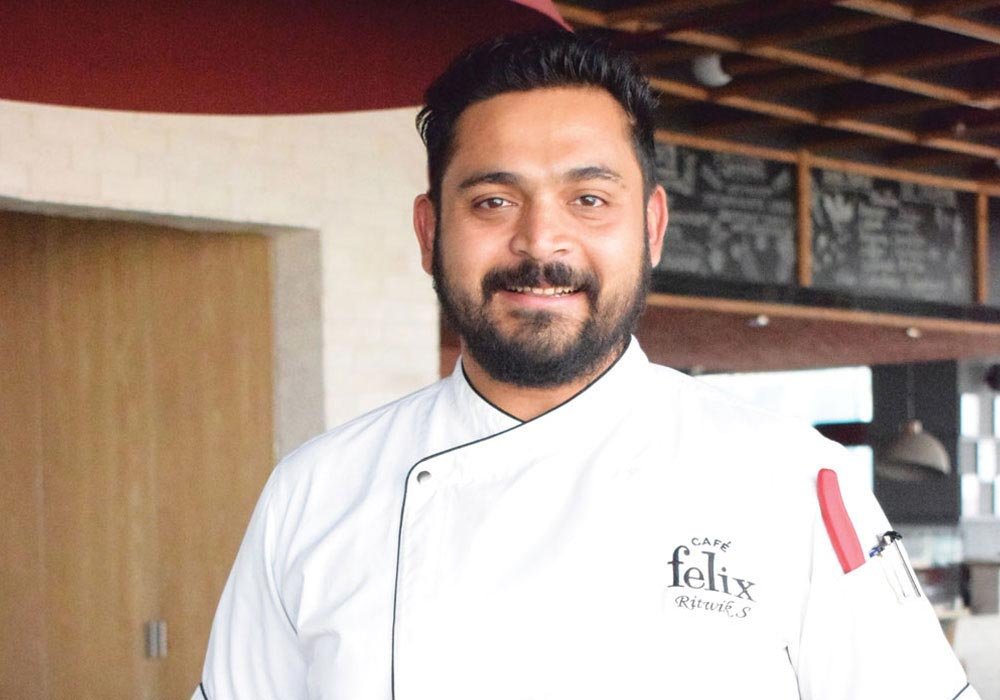 Chef Ritwik Sarkar
Executive Chef at Café Felix
An alumnus from the International Institute of Hotel Management, Kolkata, Chef Ritwik started his career with the Taj Group of Hotels as a management trainee in 2008. During his 2 years as a trainee, he worked across Taj Palace and The Taj Mahal Hotel, Delhi, Taj Mahal Palace, Mumbai and the Taj Residency, Bangalore. After successfully completing his training in 2010, he moved to Taj Bengal as a senior Chef De Partie and within a year, went on to work at Taj Lands' End Mumbai as a Junior Sous Chef at The Chambers that gave him the opportunity to cook for the likes of Ratan Tata, that he says was a once in a lifetime experience. In 2014, Chef Ritwik decided to take a step forward and left the hotel industry to join deGustibus hospitality that launched the iconic fine-dine standalone restaurant Indigo in Mumbai. He started as a Sous Chef and later earned his stripes to be the Chef De Cuisine for Indigo Delicatessen, Cyber Hub Gurgaon. In 2017, Chef joined former director at deGustibus Hospitality, Rishad Nathani's Breadbox Hospitality to head the kitchen of Café Felix in Bangalore since it's opening in May 2017. As Chef de Cuisine, he ensures a consistently great comfort food menu along with conceptualising monthly seasonal menus offering guests something new every time!
Being a Bengali, it seemed like a natural progression for him to choose to be a Chef but interestingly, he was initially more inclined to becoming a pilot. He was inspired to take up Hotel Management by his foodie family and the vast Bengali cuisine that he explored during his experiments while cooking with his mother. Moving along, Chef Jayendu Chakraborti – Head Culinary Arts at IIHM encouraged him to live his passion. During this age, he says "my palate & my identity were taking shape as a Chef. This was the time I learned the difference between sweet, sour, salty and spicy."
He believes in the words of the famous Chef Thomas Keller 'A recipe has no soul, you as the cook must bring soul to the recipe'. An avid traveller, Chef Ritwik loves to explore new destinations, adventure trekking and photography. He is also a trained tabla player and an ardent dog lover.
Different beers pair well with different foods, so it's important to learn the taste differences. Beer can be divided into two main groups: ales and lagers. Ale, the original beer, is brewed in a way that results in fruity, earthy flavors. Lagers make use of more modern brewing systems to be lighter and drier. Each type of beer has a distinctly different flavor that pairs well with certain foods.
While some recipes call specifically for beer, many recipes that call for wine can be prepared with a brew – they'll come out with a maltier, toasty flavor. Just like wine, you should never cook with a beer that you wouldn't drink. If you don't like the flavor, chances are it won't appeal to you on a plate.
Why cook with beer?
Beer adds a rich, earthy flavor to soups and stews that makes them taste like they've been simmering for hours. Beers with a sweet or nutty taste can add depth to desserts. And don't worry about getting drunk – virtually all of the alcohol evaporates during the cooking process.
Different ways Beer can be used:
For batter
Beer batter shouldn't be reserved for fish – use it to coat onion rings, calamari or tempura too.It works like sparkling water to carbonate the mix, helping to make it more crisp, light and airy.
Fish & beer
You might be inclined to presume hearty beer works better with red meat, but not so – can be easily made with a lager to create a smoky glaze for barbecued fish. You may marinate the fish with your favorite herbs and spices, mirepoix, fennel etc and add beer while braising or roasting the same.
In soups
Beer can also be used in a beer and onion soup. The key to the onion soup recipe is letting the onions cook down for ages – up to 40 minutes – to bring out the sweetness, which is given a boost when the glug of beer boils down to a rich, dark nectar. Serve with the traditional toasts given an Anglo twist with nutty cheese
Beer & cheese
Beer and cheese: you'd be hard pushed to find better partners. The winning combo allows you to give cheese on toast some serious snaps by creating a rarebit mix – a kind of turbo cheese on toast with an almighty punch. Combine spring onion, beer, butter, egg and breadcrumbs in a pan, and then chill the delicious potion until set. To serve, pile it high onto crumpets or toast and grill until the rarebit mix renders down to a molten, oozy mass.
For braising
We love lentils for their flavor absorption factor, but we'd never thought of combining them with beer until I paired it with a lamb stew recipe for one of the wine dinners I did earlier. I used wheat beer in this side dish of puy lentils with shallots, lamb stock and thyme. The dish is designed to be served with lamb and lentil stew.
Dips
Beer can be fantastically matched to make some awesome dips for small plates or bar bites too. Cheese and beer dips, ranch with a beer dip can make some sumptuous combination with the bar bites. Beer has a very beautiful effect on the batter made for fried fish. It works like sparkling water to carbonate the mix, helping to make it more crisp, light and airy.
Prep time: 20minutes | Cooking time: 15 minutes
The batter
110ml beer | 70gm flour | 10gm corn flour | 5gm pepper | Salt to taste
Procedure
Take all the dry ingredients (flour, corn flour, black pepper and salt) together in a bowl and mix the chilled beer gradually with a whisk till it becomes smooth. Should be of coating consistency, enough to coat the back of the spoon.
For Fish And Chips:
150gm Asian sea bass (cleaned) | 1 lemon | 3gm crushed pepper | 30ml malt vinegar
100gm French fries | Salt to taste
Procedure
Marinate the fish with salt, crushed pepper and lime juice.
Make sure the fish fillet does not have excess water on it as it will prevent the batter to coat the fish. You may dab it with kitchen tissue if required.
Now, dip the fish into the batter, let the excess flow out and slowly immerse in hot oil (around 150*C) holding it from one end. Hold the fish and keep immersing slowly till you have reached almost the end. Be careful not to touch the hot oil & do not drop the fish in the oil at once, will stick at the bottom.
Fry equally on both the sides, continuously pouring hot oil on top of the fish with the help of a slotted ladle. Approximately 4-5 mins each side. When golden brown, remove the fish from the oil and keep on an absorbent paper to soak excess oil.
For Tartar Sauce:
30gm mayonnaise | 10gm gherkin
10gm cocktail onion | 5gm jalapeno
5gm parsley
Procedure
Chop the gherkins, cocktail onion, jalapeno and parsley & mix with mayonnaise. Adjust the seasoning with salt, crushed pepper and lemon (if required) and store.
Assembly: Serve hot with hot fries, tartar sauce and malt vinegar on side.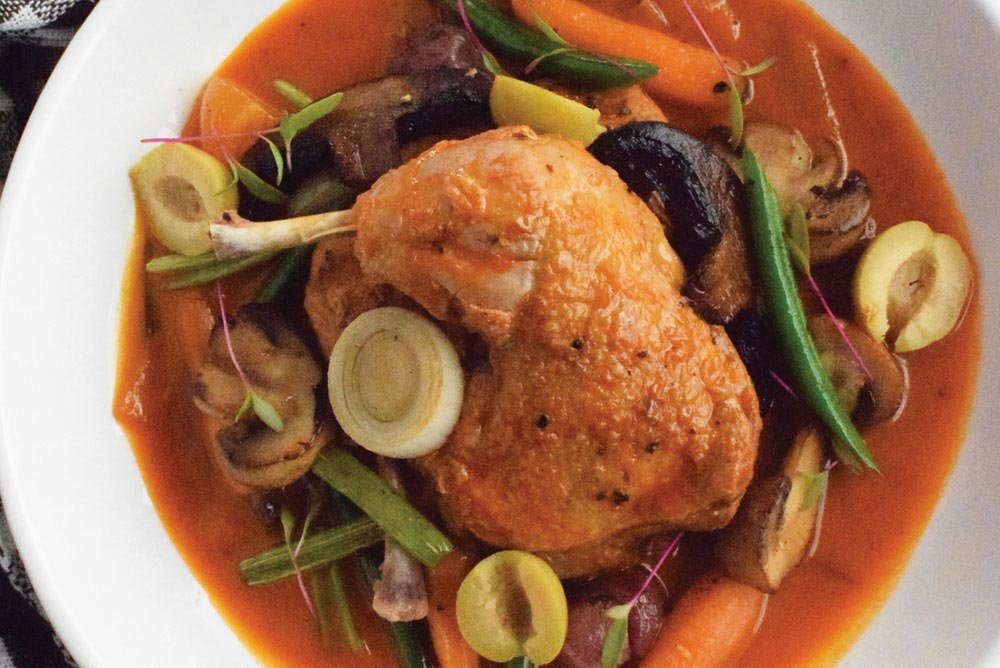 Chicken Cacciatore
Prep time: 20 minutes
Cooking time: 35 minutes
Ingredients
250gm Chicken thigh and drumstick
20ml Olive oil | 25gm Onions diced
25gm Leak roundels | 25gm Celery diced | 25gm Carrot diced | 15gm Ceps | 08gm Garlic cloves | 25gm Button mushroom | 50gm Tomato |
150ml Beer | 02 sprigs Rosemary |
02 sprigs Thyme | 100ml Chicken stock
20gm Tomato paste | 05gm Black pepper | 02 pc Bay leaf | 02 sprigs Oregano | 05-07 leaves Basil |
04 pc Green Queen Olives | Few buds Capers
Procedure
Marinate the chicken with salt and crushed pepper evenly. You may marinate for 15mins and that's enough as you don't want moisture loss.
Take a heavy bottom casserole and heat it to medium high. Sear the chicken skin side down and continue till it browns on both the sides. Remove the chicken in a bowl and let it sit.
Do not throw the juices that will be released while it rests, it has immense flavour in it.
Now put the same pan on a medium flame. Add the mushrooms (ceps & button mushroom) and caramelize them evenly to get a nice earthy and robust flavour. Once it starts to get a nice golden brown colour add crushed garlic, bay leaf, peppercorns, carrot, celery, leeks & onion in the same order.
Add fresh rosemary, thyme sprigs to the pan and cook for a while to release their flavours. Once the vegetables have become translucent deglaze the pan with beer. Scrub the bottom with your spatula to get the maximum flavour.
Then add diced fresh tomatoes and tomato paste. Once the beer has reduced by 1/3rd, add chicken stock.
Now bring back the seared chicken and the juices back into the pan and give a nice stir. Cover and let it cook for approximately 20 minutes on a low flame. Check the chicken, once cooked finish with chopped capers, green queen olives cut into halves, fresh basil leaves and oregano.
Assembly
Serve in a bowl, garnished with herbs and a buttered maska pav(bread) on the side.