Abhinav Jindal, Founder & CEO of Kimaya Himalayan Beverages on Running Successful Operations at Kimaya Himalayan Beverages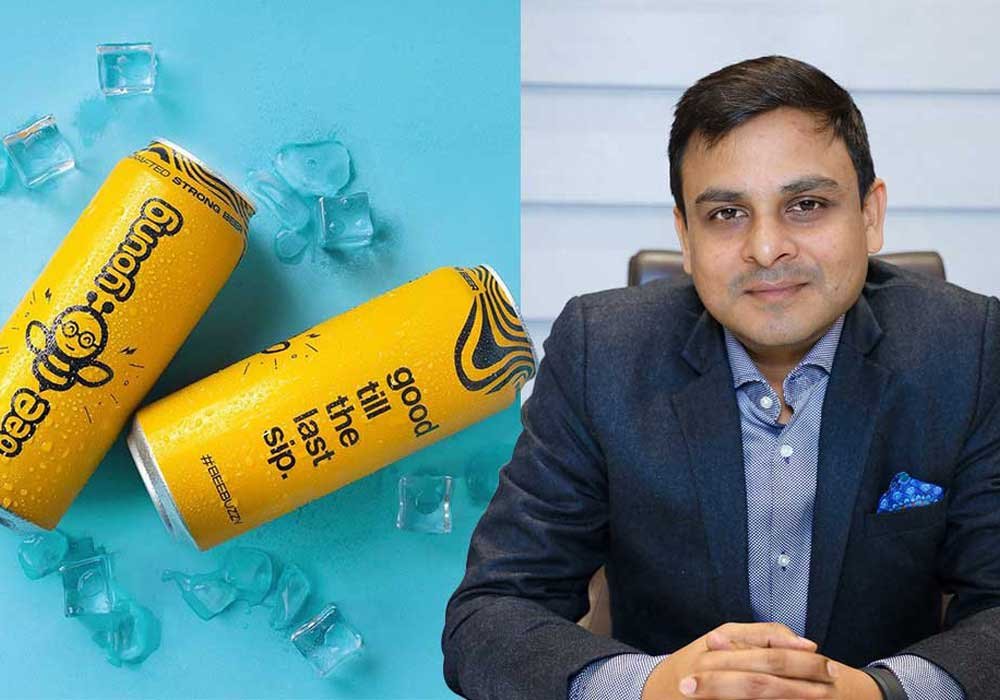 Abhinav Jindal in Conversation with Brewer World, The First and Only Beer & Brewing Media Platform in India.
With more than 18 years of experience in the business of management consulting, Abhinav Jindal, CEO and Founder of Kimaya Himalayan Beverages LLP, a startup that made its debut with beautifully crafted, home-grown, barley-based beer brand, BeeYoung, shares his views on the upcoming key global craft beer trends and discusses the significance of marketing and brand storytelling.
Hi Abhinav, how do you think consumer preference has changed over the years or post-pandemic?
Consumer behavior is ever-evolving and we as a brand also adapt to the needs of consumers. The Covid-19 pandemic had a profound impact on people and led them to reassess their needs and priorities. We, as a brand, have observed changes in individual consumption habits, drinking preferences, sales and distribution channels and consumers' perspectives on future patterns of alcohol consumption. Craft beer is becoming popular across the country and the market has grown a lot in recent years.
What according to you are the key challenges microbreweries are currently facing in India?
Entrepreneurship seems to be filled with never-ending obstacles. There is a lack of support systems for the alcoholic beverage industry in the country. The primary issues faced by the beer industry are an increase in stringent, onerous government regulations and license procurement as the license cost varies depending on the state and scale of operation. In addition, inadequate infrastructure and the rising costs of raw materials are key challenges for microbreweries. Furthermore, there are no different parameters for registration fees, it is unfair to expect microbreweries to pay the same amount as big companies.
How do you think beer sales and production gets affected in winter, especially in India?
It is a myth that beer is only a summer drink. The consumption pattern has changed with time and beer has become the preferred party drink, especially among youngsters. Of course, there is a slight decrease in sales and production because the preference shifts to hard drinks such as whisky and rum. There are some people, who do not like to have hard drinks, thus they prefer beers with more ABV content which are heavier and darker to add warmth and flavors. Moreover, people from cold countries such as Ireland, the UK, Denmark, Germany, Austria, Poland, and many more prefer to drink beer at room temperature as it provides warmth to the body. BeeYoung, with an ABV of 7.2% delivers a perfect malty flavor and is 'good till the last sip' even at room temperature.
What is your take on Premiumise brews?
The industry felt the inclination towards 'trade up' for more mid-range premium brews during the pandemic. Indian audiences are opening to more complex flavors in the craft beer market rather than succumbing to the age-old, traditional flavors. There has also been a favorable change towards preferring higher IBU beers which was earlier witnessed with audiences abroad. The experimentation with styles and variants that make the brew premium along with quality packaging is the way to go as we move forward. The key players have now started placing their bets on the premium range that seems to be preferred amongst younger beer lovers, especially in metro cities.
What are the upcoming key global craft beer trends you foresee for the year 2022- 2023?
The Indian craft beer industry tends to grow at a magnificent pace. The microbrewery space continues to bloom and its popularity is likely to increase further. With this, we can see a lot of varieties and flavors added to craft beers and can further expect more experimentation in terms of brewing processes, especially in pilsner and lager spaces. Low or no-alcohol beers are going to ace the market as consumers are becoming conscious about their health and the segment is growing massively. With the slow popularity of ciders and seltzers, this category could be the next big thing for the Alco-beverage industry. Also, D2C is a way forward in the beer industry by acquiring cafes and through other interventions such as microbreweries, taprooms and more.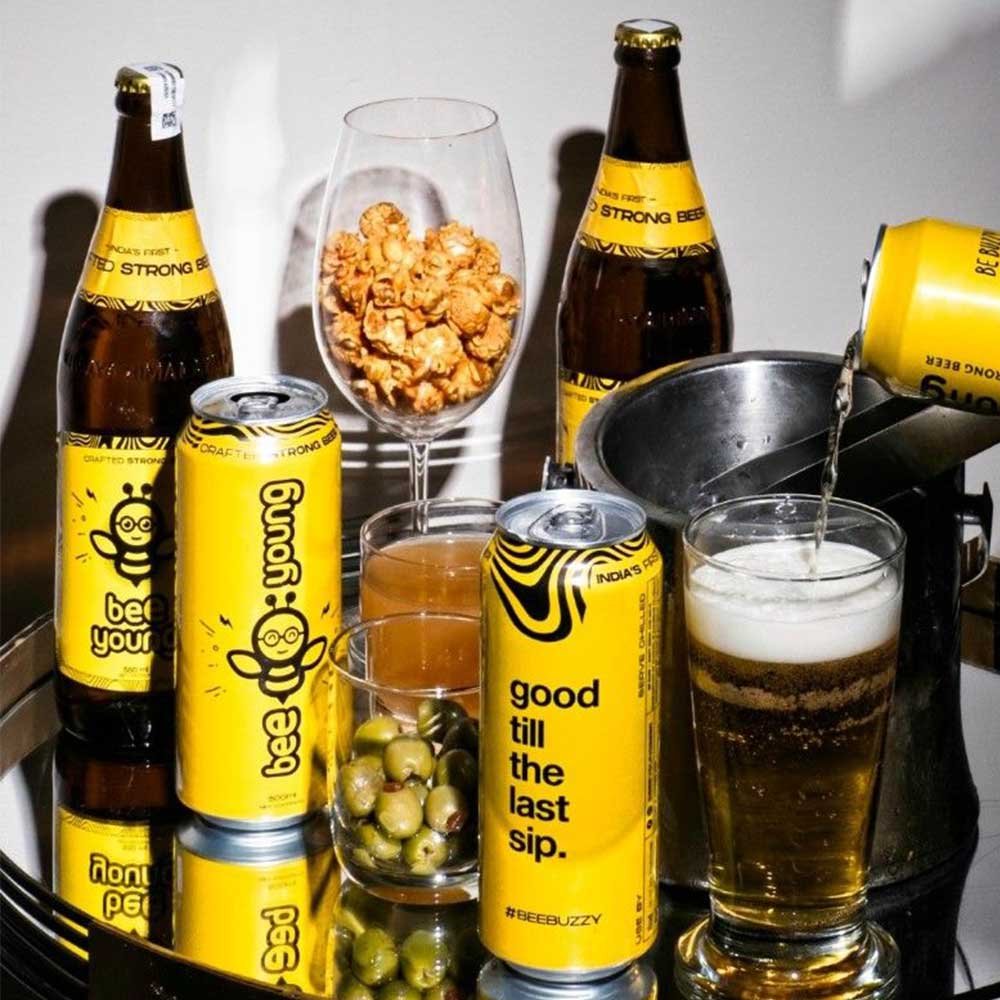 How are you leveraging e-commerce for your brand?
The e-commerce portals work wonders to order liquor online directly through the website without the involvement of retailers or distributors. This helps us to build a strong hold on customers and share exclusive offers with them. With the D2C sector booming, we believe in building connections with our customers. At our website(www.beeyoung.co.in), we retail BeeYoung merchandise for consumers which includes apparel, accessories, bar, and service ware.
How important in your opinion is marketing and brand storytelling? Are there any key strategies that you employ that are working well for you?
Brand storytelling is important as it helps to establish a relationship with customers and allows the building of more authentic connections. And BeeYoung is a story of youth – A vibrant brand that takes you to your youthful self where life had no bars & a time where everyday is a carnival. A sip of BeeYoung transports you to this feeling and time. We communicate with our target audience through social media and on ground activities. Running different campaigns, social media giveaways, and events helps us to connect with our audience.
Initially, we started the retail business with minimal and controlled sampling to gain feedback. With planned marketing outreach, we got the opportunity to participate in events such as Horn OK Please, Eat Love Party, Food for Thought, Beered Up fest and Toast-Wine & Beer Festival, enabling us to sample the product to a larger audience. More and more sampling to the target audience was the initial focus before we gained momentum on the sales in cities where we have our distribution. The perfect taste and buzz of the product kept the audience hooked. We are also working on strengthening brand relations with the expat community as BeeYoung recently sponsored the FIFA World Cup Finals 2022 screening of the French Embassy. Moreover, various high-voltage campaigns are consistently running on our social media platforms, helping us promote the brand narrative, and populate collaborations with industry faces/influencers. These collaborations (engaging reels/ fun videos with product integration) have helped garner traction, and build brand identity and consumer loyalty. The cocktail mixing by experts, comics, dancers, and festive reels has performed considerably well and has been well accepted by the audiences.
Our recent campaign #nochillisthenewchill incorporates ideas and collaborations to bust the myth that beer is only a summer drink and being a strong craft brew, the consumption of beer/BeeYoung is ideal for winters too.
What according to you is the future of the Indian Craft Beer market, and how do you see the market growth in the next 5 years?
The future of the Indian craft beer market is really promising. Craft beer popularity is increasing with time, resulting in the emergence of new microbreweries across the country. Also, we can expect more variants to come up in the market. The growth of craft beer is likely to rise further and the incessant enthusiasm to develop new recipes & experiment taste profiles is going to drive more attention to craft beers.
With Award-winning Beers, you have already created BeeYoung as drinks of choice for Indian winters. Are there any upcoming releases at Kimaya Himalayan Beverages or any plans for expansion? 
The team is working on a few other variants, one of which is soon to hit the market. We are working on expanding the brand to other states as well, especially the south, which we shall disclose soon.
Lastly, what are your thoughts on the Beer-Whiskey Nexus?
Given the fondness for whiskey consumers in the country, the key players in the craft beer industry also should look for ways to target whisky drinkers through variants that complement whisky such as barrel-aged beer and ales in different styles. The brews that go with whiskey cocktails will appeal to whiskey drinkers in the country.