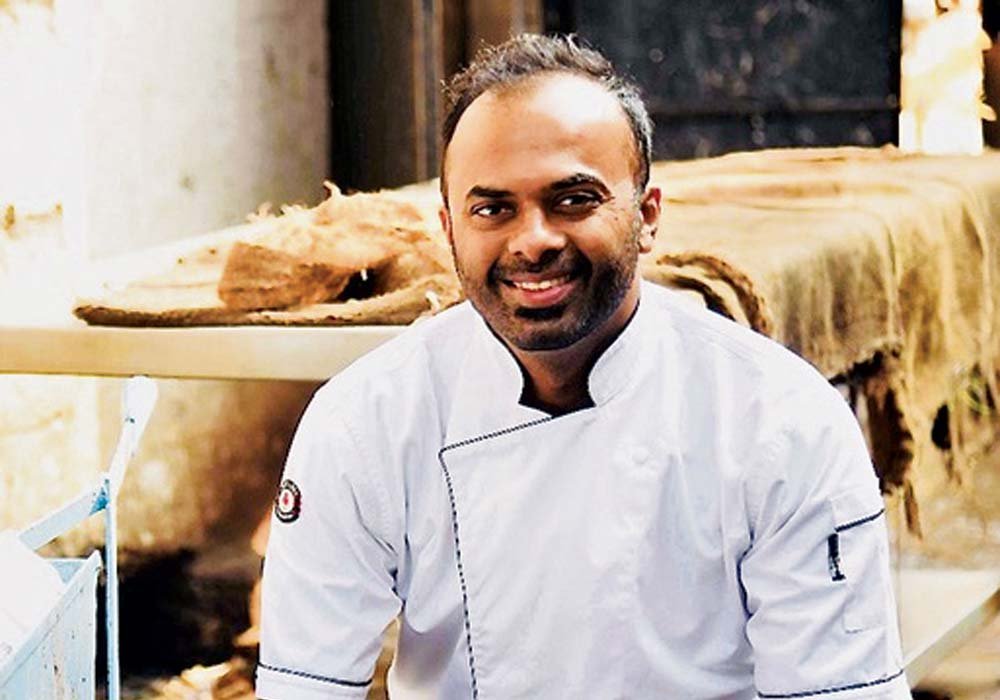 Science of Pairing Beer & Food
Chef Sebastian Simon
a Melbourne based culinary consultant is also a Masterchef and chief instructor at the prestigious Le Cordon Blue, Melbourne, Australia
The human eye plays an important role in creating a positive perception of colour, aroma and this influences our idea of food flavour and a potential beer match. Sensory analysis takes us past this first response, examining how the food's properties stimulate each of our senses through –
Appearance
Sight, Hearing & Touch
Flavour
Smell & Taste
Aroma
Smell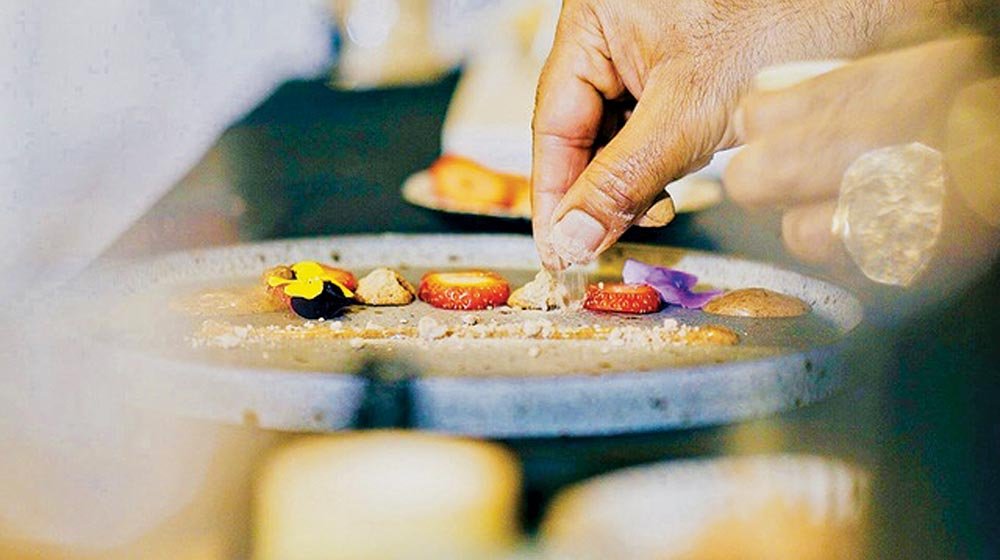 All this before we've even swallowed a spoonful!
The culinary world has completely evolved to having an acceptance of pairing beer with everything from greasy, finger licking fast-food to lip smacking fine cuisine. While matching beer & food it is critical not to outdo each other but be the perfect partners by complementing each other.
Begin with either a specific beer or food, then seek the ideal partner. In all my beer pairing menus I try to stay true to these 4 key components in my pairing process.
Let the Strength Be Equal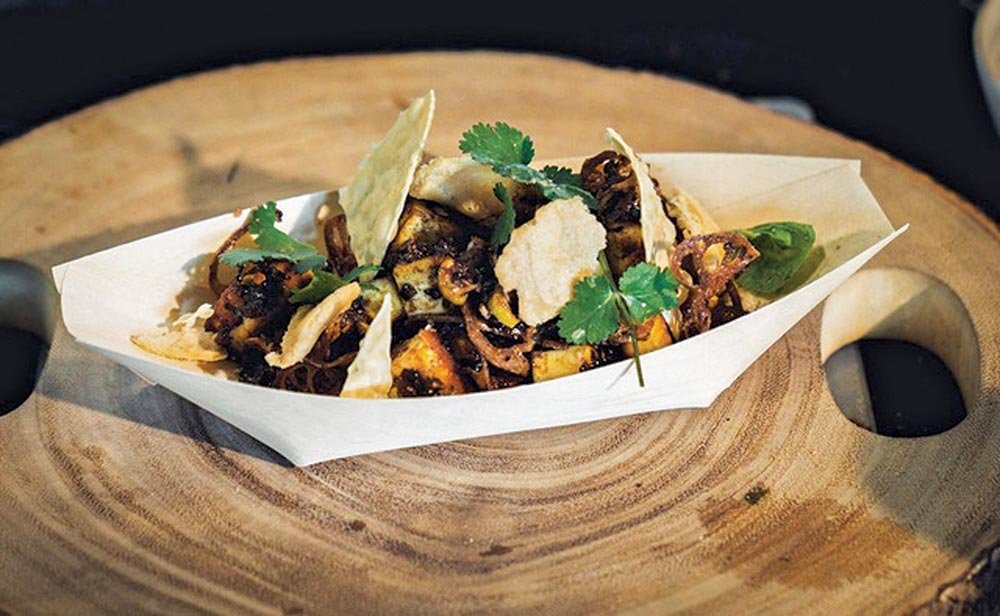 Delicate dishes work best with delicate beers, and flavoured foods demand assertive, robust beers. As a chef, I have seen the intensity of flavour is not a single factor but a sum total of the taste experience. This is where the perfect beer nirvana is attained. Beer involves alcoholic strength, malt character, hop bitterness, sweetness, richness, roasting notes and more. In food, richness, sweetness, cooking methods, spicing, texture and complexity all play a role.
Let the Choir Sing in Harmony
Combinations often work best when they share some common flavour trait or elements of aroma. The nutty caramel flavours of an amber ale span the middle ground between malt-forward and hoppy beers with a medium body and dry finish, making them flavoured enough to be consumed on its own, but subtle enough to pair with food such as a toffee cinnamon banana pie recipe. Take the Golden ale, with its inviting golden tones and a tantalising, tropical aroma paired with poached king prawns with a cocktail sauce – it takes your taste buds on a vibrant flavour voyage.
Carbonation Equals Spice
Certain inert qualities of food and beer talk with each other in specific, predictable ways. Taking advantage of these interactions ensured the food & beer will balance each other. These are specific connections, different from the intensity-matching mentioned above. Foods that have a lot of sweetness or fatty richness (or both) can be matched by various elements in beer, like – hops bitterness, sweetness, roasted/toasted malt or alcohol. Carbonation is also effective at cutting richness. Malty sweetness cools the heat, so if you're leaning to a hoppy beer with spicy food, ensure it has plenty of malt as well.
Craft Beer is about Pushing the Boundaries
The modern-day chef has realised there is a real need for fresh, clean and simple ingredients. Just like craft beer speaking for itself, the food must also be a part of the foundation. Great food produced at its optimum, make a food & beer pairing phenomenal.
In conclusion, I think from a chef's vantage point, I am very grateful to the modern-day brewery. I have been able to train my senses to comprehend the nuances of finding the ideal beer & food matching. It is never perfected, but when we create, we create memories. That's what food & beer is all about!
Well seasoned for a reason
(About Chef Sebastian Simon)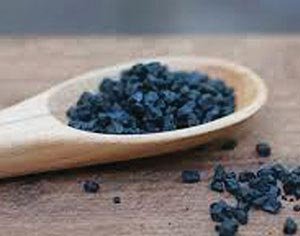 Cooking has been Chef Sebastian joy & passion since 1996. He immersed himself in a cuisine & culture that believed cooking came from the heart. Having served over 16 years in kitchen operations and progressing into an executive chef/chef-de-cuisine role for the past 8 years, Chef Sebastian felt the need to forge a path of teaching and mentoring young chefs in his brigade and consult in various sectors of the food industry. Besides this, Sebastian is also a culinary instructor and consultant at Le Cordon Bleu, Melbourne.
In 2015, Lavasalt Artisan infused salts was created, solely as a passion to elevate flavours and mouthfeel. Sebastian believes with the right amount of seasoning, food begins to speak to the senses in incredible ways. As chef Sebastian has always believed in creating flavours that have a long lasting sensory experience; these salts have been made in small batches with care and a deep sense of respect for the creative skills he has learnt over the years.
Lavasalt consultancy currently helps businesses improve their offerings with menu ideas, costing, designs & vendor management. Other areas include recipe management, modern techniques and cooking fundamentals.
---
Beer & food: summer ale, with paneer, lotus steam & sundried mango,street spices & achaar oil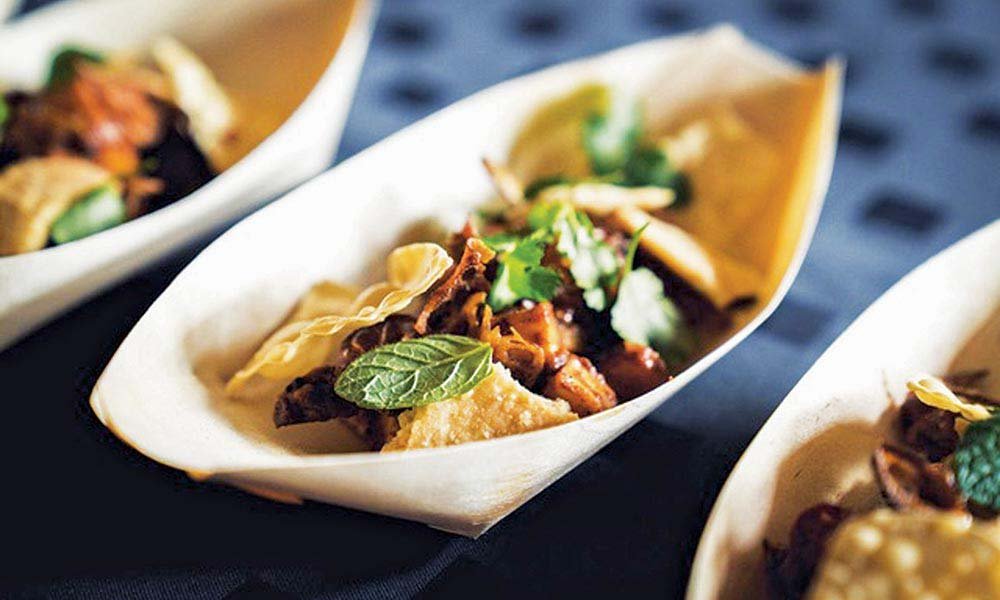 Appearance – Pale gold, thick white foam
Aroma – Smells like summer, fruity & floral, reminiscent of passionfruit & melon
Flavour – Fruity up front, finishes crisp & dry
My reason for this pairing is the sourness of the mango along with the tamarind, cuts through with a tropical crispy citrusy infused ale. There is also a low bitterness as the hop content in not very high, hence complementing auxiliary flavours rather than overpowering it.
Paneer, lotus stem & sun-dried mango (Serves 3)
Paneer Mix
200 gm paneer – cut into 2cmX3cm
½ tsp garam masala
½ tsp salt
1 tsp dry mango powder (amchur)
4 split & seeded green chillies
2 tsp oil
¼ tsp black mustard seeds
¼ tsp cumin seeds
¼ tsp fenugreek seeds
1 tsp dried crushed red chillies
1 tsp lemon juice
Method:
Sprinkle garam masala, salt, mango powder over the paneer and set aside.
Heat oil, toss in onion, mustard, cumin & fenugreek seeds. Stir in red chilli & fry for 1 minute
Add green chillies & capsicum, stir & fry for 2-3 minutes before adding the paneer to the pan.
Stir gently to heat, add lemon juice to season.
Lotus Chips (serves 2)
30 gm Lotus root (cleaned)
Peanut oil for brushing
5 gm dry mango powder
Sea salt seasoning
Method:
Prepare lotus root & place on tray. Bake for 20 minutes until golden brown.
Add a generous sprinkle of dry mango powder and sea salt.
Raw Dry Mango
50 gm raw mango (washed dry)
30 gm rock salt for drying
Method:
Pluck about one kilo of mangoes or buy in bulk during season. Make sure they're fresh.
Cut raw mangoes into large slices/pieces (6cmX6cm).
Wash, clean and dry a large glass/plastic jar, fill with the mango pieces and add all of the 30 gm of rock salt on top. Close the lid and shake well to allow the salt to settle and cover the pieces.
Keep the mango filled jar in full sunlight for three days. The salt in the jar will absorb the water from the mango. Shake the jar 2-3 times a day to ensure salt is distributed evenly.
Do not keep it in the sun for more than three days. Take out the mango pieces and keep them on a clean cotton cloth and dry them for another three days under the sun, rotate the pieces to dry them uniformly. You can reuse the liquid to cure another batch of mangoes.
After three days, the mango pieces need to be kept in the open for air-drying. This takes up to 10 days.
After air-drying your mango pieces thy are now ready for long-time storage. The pieces are soft, salty and sour; and can be eaten raw as well. They can be stored in an air-tight jar for about a year, and used in cooking
The Final Finishing
1 cup prepared paneer mix
30 gm baked lotus chips
30 gm sun-dried mango
1 tsp Achaar Oil
1 tsp chaat spices
20 ml tamarind sauce
Method:
Add oil to large non-stick frying pan.
Heat oil to 170˚C over medium-high heat
Carefully toss the paneer, lotus steam and dry mango (in this order)
Toss and add achaar oil, chaat spice and tamarind
Garnish with coriander sprigs & mint leaves
---
Wheat beer with crisp soft-shell crab, smoked pineapple salsa, lemon basil, with a red onion slaw and a garlic & lemon chili mayo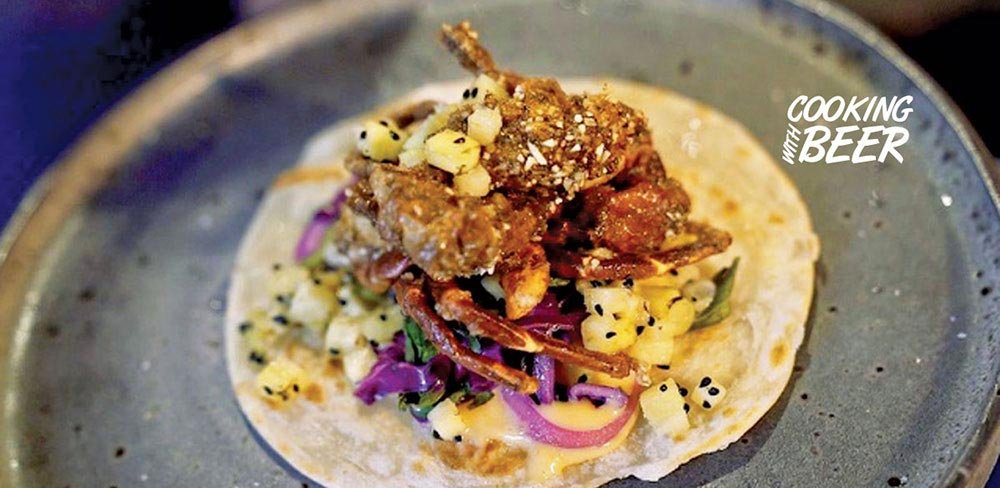 Appearance – Highly carbonated with a cloudy appearance, lightly hopped with tettanger hop flowers
Aroma – A 'banana' like aroma which is created by the flavoured yeast used at higher fermentation temperatures
Flavour – A tart finish on the palate caused by the high-percentage of wheat malt in the grain bill. The creamy white head & aromatics of the beer pays compliment to Moorish flavours like a crispy soft-shell crab
My reasoning for this pairing is that higher fermentation adds a powerful edge to the bold flavours of the crab. The creamy notes of the beer bring out the zesty zing of the salsa & slaw. This beer also can wash down fired foods & adds an incredible mouthfeel due to the high carbonation.
For the Soft-Shell crab (serves 1)
120 gm-140 gm of soft-shell crab
25 gm roasted ground rice
20 gm tapioca flour
5 gm lemon zest
5 gm Cajun powder
5 gm hickory barbeque salt
Vegetable oil for frying
Method:
Mix the roasted ground rice, cajun spice powder, tapioca flour & hickory barbeque salt, lemon zest & lemon pepper evenly and keep on a flat tray ready for coating
To prepare the crab:
Remove the helmet of the crab and set aside to dry
Dredge the crab into the flour mix and keep aside. Recoat again before frying
For the Smoked Pineapple Salsa
100 gm diced fresh pineapple
5 gm raw sugar
5 gm chili flakes
5 gm grated ginger
10 gm spring onions
5 gm onion seeds
4 mint leaves
1 lime zest & juice
10 ml coconut rum
Method:
Combine the components into the bowl
Using a smoking gun, smoke the salsa for 5 minutes and close tightly
Keep closed until serving the finished dish
For the Red Onion Slaw
50gm red cabbage, thinly shredded
1 small red onion, thinly sliced
Handful of fresh mint & cilantro leaves, finely chopped
1 green thai bird chili
15 ml/1 tablespoon lemon juice
Salt to taste
Method:
In a large bowl combine the red cabbage, red onion, herbs, chilies and lemon juice. Season with a big pinch of salt and massage to soften slightly
Taste and season with more lime or salt. Serve immediately once mixed
For the Garlic lime – Chili mayo (serves 2)
160 ml sunflower oil
1 egg yolk
5 ml white wine vinegar
5 gm salt
1 small clove of garlic, grated
10 ml Sriracha
5 ml lime juice
Method:
Blend the egg yolk with the white wine vinegar and salt
Gradually emulsify in the oil until a thick mayonnaise is formed
Add the grated garlic, lime juice & sriracha
Leave in the fridge until needed
Assembly of the Soft-Shell Crab
Deep fry the dredged crab at 200˚C
Grill the paratha until warm & soft
Smear (roughly) 10ml of the mayonnaise over the paratha
Place 10g of the smoked pineapple salsa down the middle of the paratha
Next place a generous amount of the Red Onion slaw and finally add the crab in the centre and roll
---
Feral Smoked Porter with Callebaut Chocolate Ferris Wheel, Smoked Vanilla Salt Infused Praline Ice Cream
Appearance – Nice spotty, soapy lacing clings around the glass
Aromas – Aromas of big chocolate, cocoa, coffee, wood smoke, caramel toasted dark bread, light nuttiness, light pepper, light vanilla char, slight hints of dark fruit. Great balance and complexity of dark/roast/bready/smoked malt and light moderate earthy hop notes with great strength
Flavour – Light-medium carbonation and medium body with a very smooth, moderately creamy and light chalky balanced mouth-feel. Alcohol is very well hidden with minimal warming present after the finish.
My reason for this pairing, the Callebaut chocolate used in the recipe contains over 55% cocoa solids & makes a porter an ideal pairing. A smoked porter is quite smooth, rich & a little bit cuddly. This brew has a very gentle bitterness that combines the iconic milk chocolate malt with accented mocha notes; true to the porter style. If you prefer a fuller bodied beer, this is a great way to end a decadent dessert with the smoky finish of the feral porter.
Ferris Wheel (Serves 20)
¾ cup plain flour
¼ cup rice flour
1 cup medium thick coconut milk
1 egg (beaten)
4 tsp sugar
1 tsp Sebastian's vanilla salt (Lavasalt)
½ tsp black sesame seeds
½ tsp onion seeds
Oil (for deep frying)
Method:
In a bowl add flour, rice flour, egg, coconut milk, sugar and salt. Mix till smooth, ensure there are no lumps
Add sesame & onion seeds while bringing the dough together. Transfer the batter into a small, deep bowl for easier frying
Once the oil is hot, dip the heated mould into the batter. Make sure you dip only 3/4 of the mould into the batter, otherwise the batter may stick to the mould.
After dipping ¾ of the mould into the batter, immediately dip the mould in the hot oil and shake a little to release the batter. Repeat the same process of dipping the mould into oil before the batter for the rest
Flip the ferris wheel using a slotted spoon and cook till both sides turn brown Ferris Wheel Mousse Filling
75 gm Callebaut dark chocolate nibs
1 tsp Sebastian's vanilla salt flakes
2 large eggs
25 gm caster sugar
75 ml double cream
60 ml porter (reduced by half)
½ tsp unsweetened cocoa
Method:
Place the dark chocolate and half of the smoked vanilla salt in a heat proof bowl and set it over a pan of simmering water. Make sure the water doesn't touch the base of the bowl
Leave it to melt slowly, stirring occasionally. Meanwhile separate your eggs into one bowl with yolks and one with the whites
Add the sugar to the bowl of yolks and whisk until the sugar dissolves and the consistency is smooth & silky
Whisk the egg whites with the remaining salt, until they form soft peaks – you should be able to hold the bowl over your head without it falling on your head!
In a third bowl, beat the 75 ml of cream until slightly thick & creamier
Once the chocolate has melted, carefully lift the bowl out of the water pan and set aside. Ensure you do not get any water into the chocolate
Add 25ml of your porter beer & cocoa powder into the bowl of yolks and mix well. Tip in the cream and mix again
Then fold through the melted chocolate until it results in a bright chocolate colour arising out of being well combined
Finish by tipping in the egg whites and then keep folding from the outside-in (a figure 8) until the mix is smooth and evenly coloured
Place in a pipping bag and refrigerate for an hour
To Assemble:
Carefully pipe the mousse into the honey comb spaces of the ferris wheel and place back inside the fridge
Praline Vanilla Ice-Cream
For the Praline –
15 ml water
50 gm caster sugar
30 gm toasted almonds
Almond oil (a few drops)
Method:
Place water and sugar in a pan and bring it to boil. This helps dissolve the sugar slowly
Continue to cook the sugar till it starts turning a light caramel colour
Wash down the sides of the pan periodically with a clean pastry brush dipped in water, this prevents the sugar from crystallising
Add the toasted almonds, mix well and then pour the mixture onto a marble slab that is slightly greased with almond oil
Allow the praline to become cold and then break it into pieces with the back of your knife
Place the pieces into a food processor and grind into a fine granular texture.
Set aside to fold into the ice-cream
For the Ice-Cream
220 gm double cream
65 gm sugar
3 egg yolks
75 ml cream
½ vanilla bean scrapped & added to mix for praline
Method:
Heat milk, cream and vanilla together in a pot
Mix yolks & sugar into another bowl, add the hot milk into the bowl, stirring continuously to not cook the eggs. Then add it back in the pot on low heat and mix continuously
Cook until the mix coats the back of the spoon. Do not over-cook or the mix will curdle. Maximum temperature should be 80˚C
Then place on ice bath at 10˚C, before adding it to the ice-cream churner.
Once the ice-cream is three fourths ready, add the praline and churn to completion
---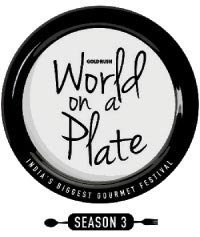 "World On a Plate", is India's biggest and most anticipated International food festival. It features some of the most influential chefs in the culinary world and gives professional chefs an opportunity to compete and show their culinary skills to an audience and a diversified panel of international judges.