A Luscious Collaboration Between Brewdog and Paul and Mike – Flavourful Mango IPA Beer and 64% Rich Dark Chocolate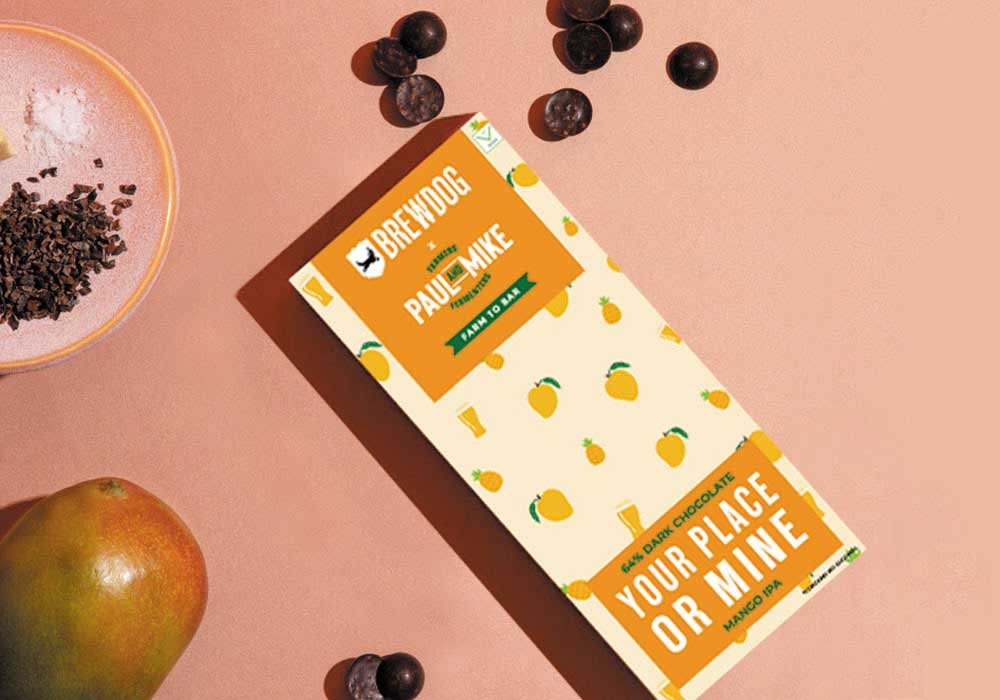 What happens when two innovative F&B brands come together to celebrate two most indulgent items – beer and chocolates? BrewDog India and Paul And Mike have come up with a unique Mango IPA beer-inspired chocolate! It is a luscious collaboration of flavourful mango IPA beer and 64% rich dark chocolate.  
Enjoy a burst of tropical deliciousness with every bite. The chocolate is a sensual mix of the hoppy flavours of BrewDog Mango IPA – Your Place or Mine, which has a delectable bouquet of fresh mangoes that transport you to the tropics. 
This unique chocolate bar is made with the finest cocoa beans carefully fermented, dried, aged, and roasted to ensure the rich flavour of dark chocolate. It is infused with two hops – Mosaic and Citra and boasts a lovely nose of fresh mangoes. Freeze-dried chunks of Alphonso are added to the final mix to bring more flavour and texture to the bar. The result is a decadent celebration of mango, chocolate, and beer in the best possible way.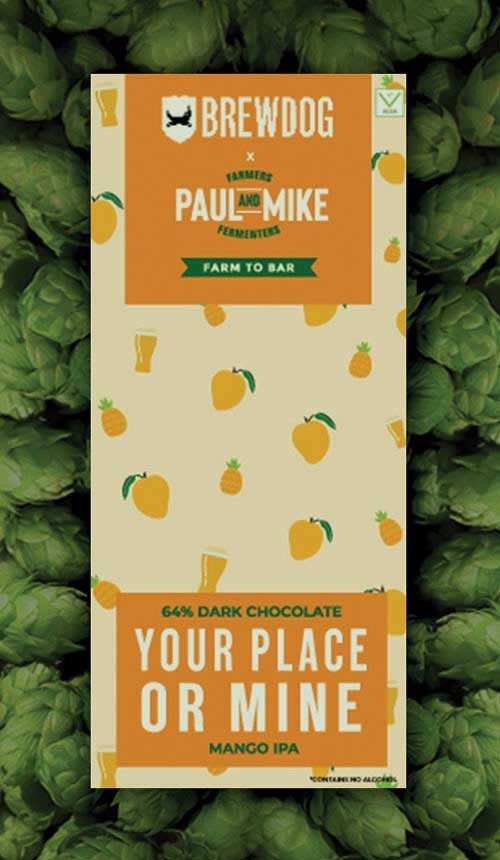 Karan Jain, CEO of BrewDog India (Aloha International Brewpub) said, "We are always on the lookout for unique experiences. Our collaboration with Paul And Mike brings out one of our most popular IPAs in a chocolate bar! Rich and smooth dark chocolate with the hoppy notes of the beer and chunks of mango is the ultimate indulgence. After months of trial and experiments, we are excited about the final chocolate. I must admit, it's my guilty indulgence!"
Commenting on the collaboration, Vikas Temani, Founder and Business Head, of Paul And Mike said, "Fermentation and flavour creativity are what ties BrewDog and Paul And Mike together. To replicate "Your place or mine" beer with its tropical fruit notes into chocolate was a real challenge. But our R&D team along with the master brewers at BrewDog finally nailed the flavour profile. It is truly a one-of-its-kind "beer in a bar of chocolate" experience that we can proudly stand behind."
Your Place or Mine BrewDog Chocolates are priced at INR 250/- and are available for sale exclusively at all BrewDog bars in India. 
BrewDog is the world's fastest-growing draught beer brand and has a significant share internationally. It is just beginning in India and so far the brand has seen encouraging growth. BrewDog is a maverick brand that has grown through amazing products as well as extraordinary groundbreaking marketing. It has a lion consumer base and the response of the Indian market so far is extremely encouraging for the plans. The brand has recently signed to open 25 pubs in the country. Internationally BrewDog has made waves in the last decade, with over 130,000 crowdfunded shareholders, 5 breweries on 3 continents, and distribution to over 80 markets. BrewDog recently won the Best Microbrewery/ Taproom Award of the year at the 30 Best Bars India Awards held in Delhi/NCR in 2023. 30 Best Bars India is a nation-wide initiative taken up by Tulleeho and MW magazine.