A Little Extra in the Ordinary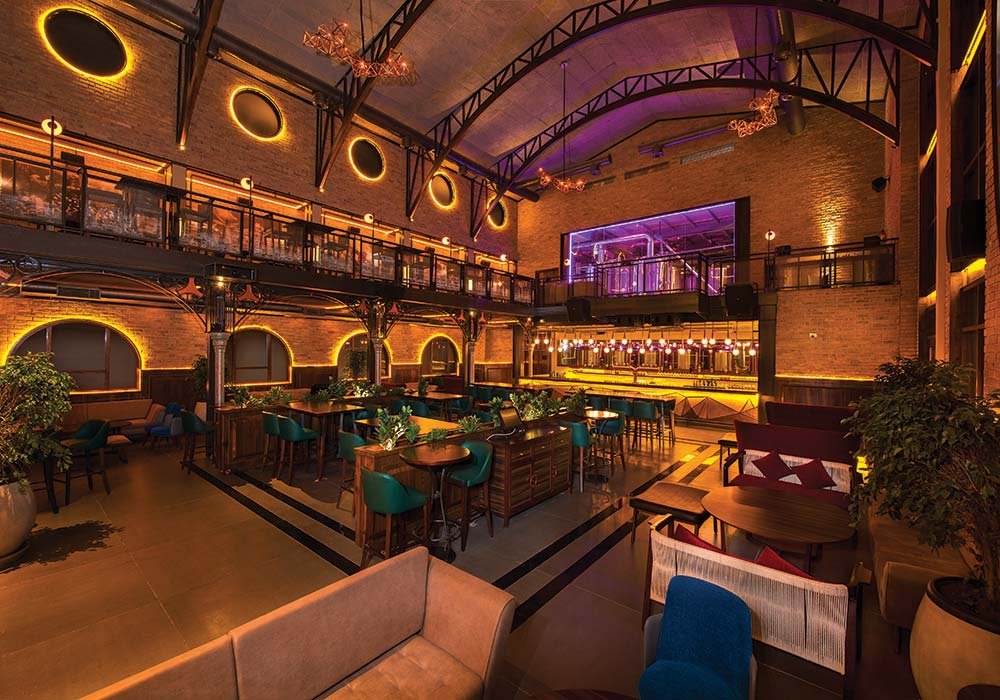 Rekhansh Karamchandani
Owner, XOOX BrewMill
When XOOX Brewmill opened their doors to beer enthusiasts of Bangalore, they teased palates with their revolutionised beer styles and curated food offerings from modern India. Promising customer something 'Xtra' in the value of 'Ordinary', Rekhansh Karamchandani is the founder & managing director of this exquisite brewery. An Alumni of BrewLab UK, Karamchandani is accredited with a certificate in Practical Brewing & professional qualifications for Wine Fundamentals from the Sommelier's  Guild UK. Defined as a next generation restaurateur, Rekhansh Karamchandani  in conversation with Sneha Nair about  his latest offerings to the FnB world.
You chose craft beer as your business proposition. What was the inspiration or business motive to get into craft beer?
XOOX is a product of love, passion and hard-work. Envisioned to be one of the top breweries in India. As a brewer and a proud Bangalorean, I know the love of the city for Beer. With a mindset of offering customers unpopular unique beer styles apart from the regular affair and being qualified as a hospitality graduate, my penchant for exquisite dining experiences further added value to materialise a beer venture, and hence XOOX was born.
What is the concept behind XOOX Brewmill? What could one expect on their first visit to XOOX?
XOOX (pronounced Zooks) is a "live craft brewing space" in the heart of Koramangala, Bangalore. The brand aims to introduce craft beer styles with cuisines that complement global standards. Spread across 15,000 sq. ft over three floors, XOOX promises to be a live entertainment hub with regular performances on the cards. With a curated menu encompassing Modern Indian, Western and Oriental cuisine, global comfort food is what XOOX is looking to offer.
Rekhansh adds, "The 3P's, namely – People, Product & Passion" are the core elements of XOOX. We aim to change trends by continuously offering unique beer styles paired with an International menu, so-to-say good things are here to stay because offering a little 'Xtra' than the 'Ordinary' (XO) is our motto".
How important is it that your staff knows about the beer being served? Have you taken any measures to ensure this?
The team at XOOX is filled with passion, where every employee is trained to work smart rather than working hard. A complete know how of the beer manufacturing process, different styles available on tap, pairing ethics etc. is something that has been inculcated in them on an everyday basis to widen their learning horizon. Perhaps, the staff is motivated enough to discover and learn new things – which makes their weekly training sessions exciting rather than a monotonous lecture. Every staff is made to feel like a customer before he is put in front of the guest. Empathizing is one of the core values of the brand mission, hence learning is applicable and enhanced only by wearing the shoes of a customer, religiously.
How did you settle on the name? Is there a story behind it?
The name XOOX is a result of intensive brain-storming by team Hyphen & us. All things straight, we intended to provide consumers a little 'xtra' than the 'ordinary'-hence arriving at the term XO. For the purpose of symmetry, we added OX to the existing letters relabelling the term as XOOX. Going by the clock direction, the acronym stands for: X-xtra O-ordinary X-xperience O-only Brewmill-for the simple reason that we were refabricating a 35-year-old manufacturing unit into a modern-day brewery – so the term brew mill justified the cause and purpose. The Vision of XOOX, a concept by Breaking Bread as follows – We aim to introduce innovative and challenging concepts in the Indian F&B industry that are an interpretation of contemporary culture and market demands, yet classic in delivering a fine hospitality experience to the discerning customer.
The interiors are phenomenal! Tell us about the theme, and what the interiors of the brewery represents?
XOOX is a modern-day tap-mill serving styles of beers that the market is yet to be accustomed to. Converting an old factory and a manufacturing unit into a brewery in a mill-like setting, XOOX Brewmill is an example of the adaptive reuse genre in architecture. Surrounded by trees, green landscaping meets decorative metal grills to create a stunning facade as you enter the space. There's not one but three floors of food & drinks clubbed with live entertainment to be experienced here. The ground floor invites you into a vast pillared corridor with exposed brick work. The seating areas are designed to provide a unique visual experience wherever you choose to park yourselves. The 3D Bar area on the ground floor is the star feature against a backdrop of brewing vats. High bar stools to low slung chairs and furniture in cane and wood along with planters segregate seating sections here. There is also an outdoor seating area with an amphitheatre, camper style benches and a wood fired oven for freshly baked breads. The first floor offers a clear view of the brewing vats with seats running along the walls and the railings to give you an undisturbed view of the ground floor happenings. Five circular back-lit windows and curated artworks are the focal point of this floor. This floor is also home to a DJ console and a live performance area, housing a capacity of 700 pax in a single go. Coming to the terrace area, there is cozy seating under green pergolas with bar stool style high seats, comfy sofas and deep seat chairs in tan, cane and wood. The flooring is a mix of parquet and wood panelling. There is a service bar to take care of all your needs on this level and you can also get a view of the floors below to be a part of the scene. Not to forget the USP of his floor, an exclusive Sushi bar is available to treat guests with delicacies to be paired with their perfectly brewed pint.
India is currently witnessing the expansion of beer markets, what are your thoughts on the same? How does XOOX stand out from the crowd?
India, and particularly Bangalore in the next two years is going to face stiff competition from multiple foreign and local craft labels that are seeing an unprecedented growth in the craft beer market. The city will soon reach a saturation point, where it will boil down to survival of the fittest. In this scenario, XOOX will stick to what its known for – Differentiation and Innovation, offering new beer styles, probably styles that the market has unheard of. Beer and Cheese pairing and Beers paired with Chocolates are some of the other exciting programmes that will be launched in 2019. Also, to make the consumer more involved, a training programme will be open to the avid enthusiasts who would like to be educated on how their pint comes to the glass – "Brewery to Table" is being conceptualised.
What advice would you give a beer-preneur intending to take your path?
Study your geographic market really well. In this time of cut-throat competition, customers are spoilt for choice, hence make sure you are driven by not one but several USP's to win brand loyalty. Also, if business numbers are your primary goal, think twice! There exists a plethora of other business opportunities that one can enter and succeed in, let the reason of your sole existence be justified and well conceptualised upon right from the initiation of your business plan.
Speaking with Brewmaster Vaibhav Anandrao Asharani

Talk to us about the current portfolio of beer's served at the XOOX?
Currently, we serve 8 beers on tap  not including are seasonal brews.
Our portfolio consists of an Apple Cider which is inspired from French cider making process making it fruity, sweet and pretentious crisp aftertaste.
Our Hefeweizen is a refreshing wheat beer with moderate fruity esters, spicy phenols and creamy fullness. We have a Belgian Wit with noticeable bready character, floral coriander and zesty orange.
Our take on Japanese beer with major proportion of rice and pale malt that makes it soft, dry and clean balanced hop bitterness results in Japanese Blonde Dry Ale. The Citrus IPA is loaded with citrus and fruity hoppy aroma, refreshing bitterness and sweetness from crystal malt to counter-balance hop bitterness. Influenced from old German smoked 'Rauch' beer, we have Smoked Amber Ale which has unique smokiness of beechwood, which resemble bacon.
Our Scotch Brown Ale is a classic version of the brown ale with dark malts, hints of caramel and alcohol warmthness.
Our Red Velvet Ale is a fusion between Irish red ale and Red velvet cake, deep red in colour, sweet bourbon & vanilla aroma and earthy characteristic from beetroot and English hops. And lastly, we have a Double IPA which is Intensely hoppy and aromatic with essence of pine, resin and floral hops aroma. Lean malt character with hint of alcohol.
How important is the concept of food pairing with beer?
Beer and Food paring is equally important in my opinion. In early days the beer market was predominantly dominated by one style which was commercially brewed inferior quality pilsner that lacked characteristics, different aroma and flavours but the craft beer scenario has changed now. Craft beers are getting more intense and complex with right food it can enhance your experience.

What would you rate as challenges that affect the production of good beers in India?
There are many to name few, the raw materials used for brewing good quality products are not available locally so we have to import and since most of the raw materials are highly perishable and susceptible so we have to manage cold chain which add on into the cost of brewing. Second would be the state government policies that limit us to brew beers below 8% abv so for me being a brewer have limitations in designing new products.
Your career has allowed you to brew in different regions of the country. What are your thoughts on customers taste preferences?
Currently wheat beers whether it's Belgian or German have dominated the craft beer market everywhere in India. Other than that folks from western part of India have preference for ciders and sessionable ales like Kölsch, Blonde and folks from southern part of India have fondness for IPA and stronger high abv beers like Scotch, Triple etc.
Anything in plan for the future? We continuously keep experimenting with different ingredients and beer styles. Its too early for me to say something but for sure we are working on fruit infused sour beer. It won't be as sour as Belgian counterparts but something for an Indian palate.