The much-awaited Mahou Maestra Wheat is finally here!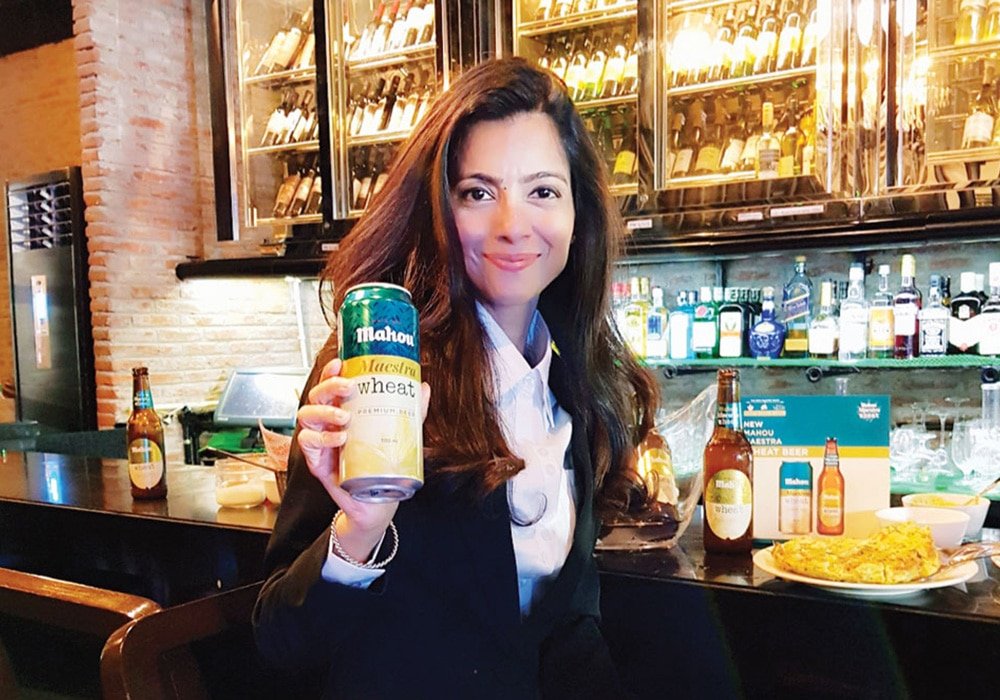 Of late, the Indian beer market has been witnessing the entry of quite a few premium label foreign brands, which gives a potential customer a wide array of options to choose from. In India, Mahou started off by forming a 50:50 joint venture with Rajasthan – based Arian Breweries in 2012. Later in 2015, the Spanish firm acquired the remaining stake to rename it Mahou India.
Additionally, the 100% family-owned beer maker had also announced that it was investing 18 million euros in the next four years in order to brew and sell only its high-end brands in the country.
Mahou Group entered the Indian market in August 2012. In 2014, taking a leap in the internationalization strategy, the firm established the first international subsidiary of Mahou Group, today known as Mahou India. Internationalisation is one of Mahou Group´s strategic cornerstones for the development of its business. The firm produces more than 70% of Spanish beer consumed worldwide, and has a presence in over 70 countries with a team of 3200 professionals.
Mahou Maestra Wheat
"We are delighted to introduce the first Spanish wheat beer- Mahou Maestra Wheat in India. Maestra stands for master in Spanish and we are sure that Mahou Maestra Wheat will delight the evolved consumers of today who are more informed – a master (maestra) in their lifestyle choices and are willing to embrace high-quality experiences. We are committed towards offering the highest quality at all times for our consumers and the launch of Mahou Maestra Wheat is yet another step in that direction", said Ramita Chaudhuri, Chief Marketer, Mahou India.
Mahou Maestra Wheat comes as a new premium product offering by Mahou India. The previous premium beers – Mahou 5 Star and Mahou Clásica have received a great response in the last three years. Mahou Maestra Wheat is being brewed in Bhiwadi, Rajasthan along with Mahou Clásica, Mahou 5 Star, Dare Devil and Dare Devil Royal Export.
This Belgian style wheat beer that comes with a golden colour & thick and creamy foam. Its principal character is a fruity aroma and a slight hint of hops along with a refreshing feeling and a touch of sweetness that creates a well – balanced sensation in the palate. Its tangy hints of Sevillian (Spanish) orange peel and the herbal spicy notes of the organic coriander from the Himalayas, make it delectable and easy to drink.
The signature recipe of Mahou Group – the yeast – further adds the uniqueness to its taste. It goes well with a variety of authentic tapas of Spain like patatas bravas, olives and croquettes or with Indian tapas such as tandoori, paneer tikka, and pakoras. Both Spanish and Indian tapas are an awesome combination with the orange aroma and the spicy hints of coriander.
Available in 330ml bottles (pints) as well as in 500ml (cans) in Rajasthan, Delhi/NCR, Goa and West Bengal. It will soon be launched in Bangalore.
"It is a major step towards promoting the Spanish beer culture in India. In Spain, beer is enjoyed in small glasses called "cañas" always accompanied by small bites of food called "tapas". We want to create the same culture here in India as well, said the Group.
#MahouMaestraMoments
About Mahou India
Mahou India is a 100% subsidiary of Spanish brewing major, Mahou Group, a Spanish-owned family company and market leader in Spain with a production share of 34%.
The firm's history dates back more than 127 years, beginning with the birth of Mahou in 1890. India is the first country for Mahou Group where it has a fully owned subsidiary outside of Spain. The company has its brewery located in Bhiwadi, Rajasthan and it is one of eleven breweries it operates in, eight of which are in Spain and two in USA. Mahou India is headquartered in Gurgaon, Haryana.
Mahou India´s portfolio is present currently in 14 states and includes five products – Mahou 5 Star, Mahou Clásica, Dare Devil Royal Export, Dare Devil and Mahou Maestra Wheat.
In 2016 Mahou Clásica won the Ambrosia – IndSpirit Award for Product of the Year in the mild beer category and in 2018 Mahou India won the Ambrosia-IndSpirit for Best Metal Can (Silver).