The Benefits of using German Technology in a Microbrewery Plant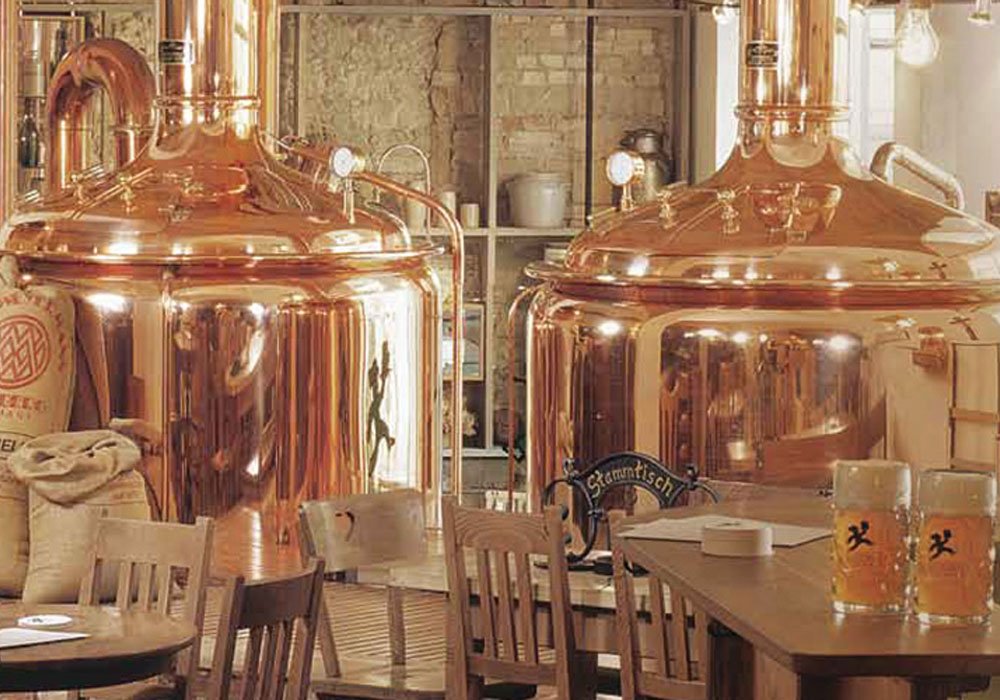 PRADEEP VERMA
KASPAR SCHULZ is German brew equipment engineering at its best, since 1677 AD. It can be safely considered as International Standard to setting up a brewery producing beer variants in the Craft Brewing segment.
Making beer is more than just giving the customer a beverage to slake their thirst! In brewpubs, patrons seek a satisfying experience: great beers in endless varieties and flavors, made in polished brew kettles they can see, and served fresh in a cozy atmosphere. In pub brewing, these are the ingredients of success.
Risks of using sub standard brewery equipment
Microbreweries mostly produce 'Virgin Beer' and usually dispense direct from the tanks to the customers' glass by way of tapping. Poor quality of plant and machinery also leads to "microbial
Infections" and 'Fungal Infections' that is presently very common in the Indian market. The connecting pipes should be Food Grade and of standards that can take 3 bar pressure. The lack of knowledge and understanding by the consumers is part of the process that is allowing all the above mentioned factors going unnoticed at this stage.
There are some standards that Kaspar Schulz offers in their equipment that will help Indian micro breweries retain their standards of beer produced.
Quality of insulation of Fermentation & Storage tanks vis-a-vis others
In general, there are differences regarding insulation thickness (less energy losses, less problems e.g. in case of power cut in India), cladding material thickness and finish (neatly ground and grinded/polished), performance and quality of tanks cooling zones (laser-welded large-surface templates for best cooling transfer rates and durability, no leaking even after years of operation. The machinery/systems operate without any problem for more than two decades.
The reason is that Schulz tanks have minimum insulation thickness. The CCT 5 hl insulation is 50 mm on the sides and full insulation on the skirt support, giving complete insulation from cladding to conical tank shell, while the CCT 10 hl insulation is 100 mm on sides and 100 mm on cone. The Dispensing tank has 10 hl insulation, 50 mm on sides and 50 mm on cone. Generally, this is not followed by other suppliers.
The filling is made by professionals and ensures there are no empty areas after filling with insulation material like PU foam or Perlites, resulting in the best available insulation. The tanks' outer cladding is made of stainless steel AISI 304 with material thickness approx. 2.5mm (sides) or 3.0mm (cone), neatly welded and with a carefully ground surface finish. This makes the tanks suitable for direct placement in restaurants and assures constant beer quality and freshness with higher shell life. The increased hygienic conditions assure less cleaning detergent costs.
Other aspects of Tank Quality
Stainless steel AISI 304 or AISI 316, giving advantage of no corrosion, highest durability, food save quality
Shadowless construction of manway doors for better hygiene
Easy CIP cleaning by special spray balls for better hygiene
Tanks are designed for 3 bar working overpressure for better versatility (suitable even for wheat beers and other high-carbonized beers)
Product pipes are bent, not welded, for better reduction of welding seams, offering hygienic and visual advantages
Tested and approved according to German TÜV
Superior aspects of brew house/wortline quality
Stainless steel AISI 304, AISI 321 or AISI 316TI (heat resistant) results in zero corrosion, ensures highest durability and offers food save quality
Insulation of brew kettles with 100 mm chloride-free material
Enhanced automatic operation systems based on Siemens S7 including visualization and multi-language option
Remote support for automatic system possible
Heating rates of total mash 0, 8 °C / min due to large size heating zones
Vapor condensation system to ensure no vapor smell in the restaurant
Gear drives with lifelong oil filling, no maintenance on shaft sealing needed for safe operation and low maintenance costs.
Finest finish polishing outside and inside, neatly welded, giving hygiene and visual advantages
Systems already feature a whirlpool, which is not offered by many low-cost suppliers!
Copper cladding is in arched design that retains real traditional shape of kettles (no simple straight sides)
Trapezoid milled false lauter bottom with more free space for faster lautering
Wort aeration for better aeration results of wort and faster fermenting and saving production time
The KASPAR SCHULZ Advantage in Brew System Fabrication
More than 330 years of experience in the manufacturing of high quality brew systems
Solid workmanship and design, top-of-the-line raw materials, and reliable heavy duty components
Innovative, cutting-edge brewing technologies for high yields and high quality beers
Safe operation and compliance with all applicable German and international Standards
Prepiped, pre-wired and pre-tested for easy shipping, rigging, installation,and start up
Customization from project planning to smooth implementation
Favorable amortization rates based on energy efficient, water conserving, eco-friendly operations
Advantages over Other Manufacturers
All the brew systems enable highest yields, are eco-friendly and energy-efficient in operation, and offer versatility and flexibility as well as better beer quality. As compared to the known North American, Canadian and Chinese brew systems, German equipment has significantly higher yields, and offers energy-efficient operations (energy consumption of a 5hl, German brew house is less than 2 liters oil per 100 liters of produced wort–compared to 3, 5 – 4, 5 l/hl consumption of a conventional brew house). It has low maintenance costs and durability (due to exclusive use of high-quality components and solid stainless steel manufacturing) and is suitable for all types of beers.
There is huge power requirement at all levels of brewing – in the Brew House, fermentation tanks, storage tanks, steam generator, air compressor, and the Glycol chiller. The 2.5-hl-system will require approx. 40 kW and the 5-hl-system will require approx. 60 kW including heating of a keg cleaner and depends on the simultaneous factor. These are connected loads, the consumption depends on the operation hours and the number of brews / annual capacity. The tanks don´t consume electric energy at all.
Insulation of piping plays a very important role in the quality of beer. The cold pipes are of Armaflex, PU foam with a thickness of minimum 40 mm and cladding of insulation with Aluminum or stainless steel sheets 0.8 mm, and they are screwed in.
The Hot Pipes that allow hot water, steam and help to condensate, are of mineral wool of thickness min. 50 mm and a cladding of insulation with Aluminum or stainless steel sheets of 0.8 mm. This helps to sustain the internal temperature of the tank, resulting in better quality beer.
A good example is the Kaspar Schulz Brew System Fabrication, with over 330 years of experience in the manufacturing of high-quality brew systems, in compliance with all applicable German and International Standards, offers all these advantages. It is pre-piped, pre-wired and pre-tested for easy shipping, rigging, installation, and start-up. Its offers favorable amortization rates based on energy-efficient, water-conserving, earth-friendly operations.
The profit of a brewpub is not determined by the investment costs–it mainly depends on the amount of beer produced and the sales revenue (or sales price) of the beer.
A higher investment cost will be amortized soon if the amount of beer sold is high and at a good price. A high quality German brewing system will amortize the investment faster by its lower energy consumption, higher yields (extract efficiency is approx. 80%-simple U.S. / Canadian / Chinese machines only have around 60% efficiency. Every time you brew you loose money by not using the raw material malt properly, and its reliable and durable components.
Most German equipment is tested and approved by German TÜV safety standards. This will ensure easy and safe operation when placed directly inside a restaurant. Moreover, German standards lead to lowest maintenance effort and to reliable operation, less repair and replacement.
Pradeep Verma,
Techno Commercial Associate
– Kaspar Schulz Gmbh
The first International Standard microbrewery was opened in India by Kaspar Schulz in Jan 2009, at Rockman's Beer Island in Ambience Mall – Gurgaon. The second in Bangalore – District 6 Pub Brewery & Kitchen in 2014.

We are proud that the oldest still existing Schulz brew house is at Bad Windsheim and approximately 163 years old!!! It was manufactured by our company just a few years after the opening of the first Indian railway line in the year 1853! It's certainly German technical superiority at its best!