Thanks for a Great Conference, Y'all!
From April 30 to May 3, craft brewers took center stage in Music City, as nearly 15,000 headed to Nashville for the largest Craft Brewers Conference (CBC) & BrewExpo America® to date.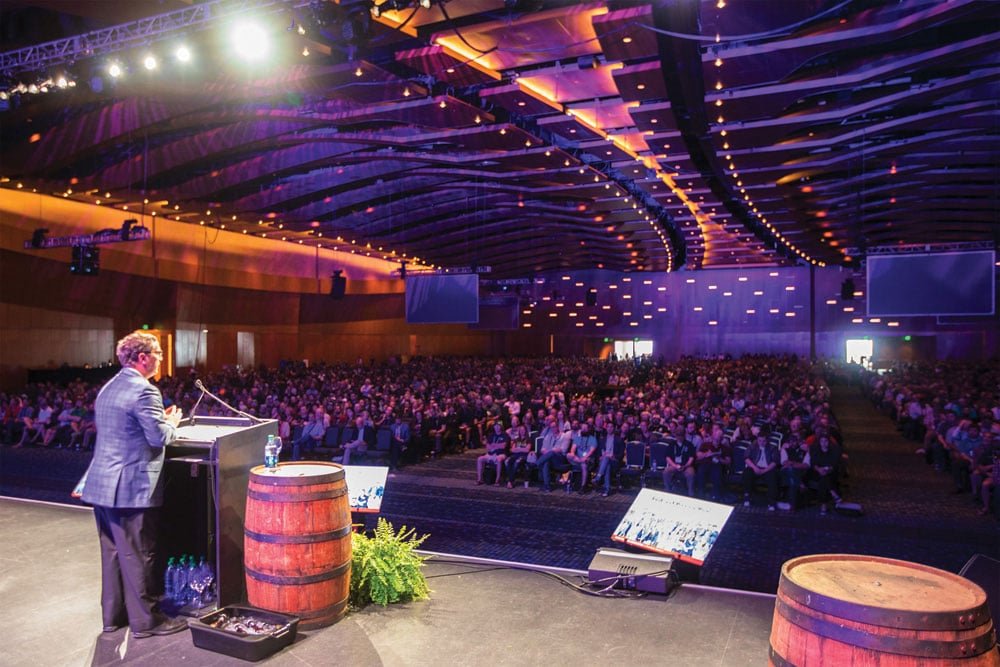 In its 35th year, this was the first time CBC was held in Nashville. The city is steeped in the same spirit of entrepreneurialism, artistry and creativity as independent craft brewers. Nashville's burgeoning craft brewing community greeted its brethren with quintessential southern hospitality.

Conference Highlights
Nearly 15,000 attendees (17 percent international)
Top 5 int'l countries: Canada, Germany, China, UK, Argentina
2,500+ breweries (16 percent international)
More than 20 percent of attending breweries under 2,500 bbls
726 exhibitors
353,000+ square feet of expo space
200+ speakers in 79 seminars across 12 educational tracks: brewery operations, brewpub marketing and management, export development, government affairs, leadership (new in 2018), packaging brewery marketing and management, quality, safety, selling craft beer, start-ups, sustainability and technical brewing.
Economic impact to Nashville: It is estimated that the 2018 Craft Brewers Conference & BrewExpo America and World Beer Cup® generated $14 million in direct spending in Nashville.
(Source: Event Impact Calculator by Tourism Economics & Destinations International)
2018 Brewers Association Award Recipients: Since 1987, the Brewers Association has recognized individuals who inspire, defend and innovate within the craft brewing industry to an
exceptional degree. These individuals, nominated by their peers, are presented with awards during the general session of the Craft Brewers Conference & BrewExpo America
F.X. Matt Defense of the Industry Award: Nancy Palmer, Georgia Craft Brewers Guild
Brewers Association Recognition Award: Charles Bamforth, UC Davis
Russell Schehrer Award for Innovation in Craft Brewing: Tomme Arthur, Port Brewing Co./The Lost Abbey
Craft Beer Wholesaler of the Year: Tryon Distributing, Charlotte, NC
Keynotes and seminars: Business visionary Paul Saginaw, co-owner and founding partner of Zingerman's shared the importance of creating and abiding by a company vision
while investing in your people and community. Entrepreneurial brewing icon Deborah Carey, founder and president of New Glarus Brewing Company, echoed the importance of engaging people and community, while offering her industry colleagues valuable lessons on producing high quality beer, working hard and opportunities for success in an increasingly competitive market place
CBC Symposium Beer: Each year the Brewers Association works closely with the local state guild to create the CBC Symposium Beer, which is shared with CBC attendees. Honouring the official state bird of Tennessee, the Tennessee Craft Brewers Guild collaborated to brew the Mockingbird Maibock. The beer was a traditional maibock, also known as helles bock or heller bock, made with imported German malt and hops, continuing the deep German brewing heritage in Nashville dating back to the mid 1800s
World Beer Cup: The largest competition to date, the awards were presented at the conclusion of CBC. Beers were judged during six sessions over a period of three days by an elite panel of 295 judges from 33 countries—72 percent of whom were from outside the United States. Judges evaluated 8,234 beers—a 25 percent increase in the number of entries from the 2016 World Beer Cup. Of the 2,515 participating breweries, 807 were from outside the United States
Save the Date
The 2019 edition of CBC will be held April 8-11 in Denver, Colorado,  home of the Great American Beer Festival and more than 70 breweries.