TapIO – The Disruption The Beer Industry Needs
While beer may be an ancient brew, an increasing number of breweries from around the world are beginning to realize that they could learn a thing or two from smart technology that allows a smoother brewery experience. For businesses, AI and IoT solutions can help maximize output, optimize labor, improve efficiency, and boost profits without compromising on quality. For the average beer consumer, this technology offers easier access and control of what he is drinking while reducing waiting time.
Think about it. What if breweries could automatically update and manage their inventory, based on drop-by-drop usage? What if a customer could skip the waiting line and pour himself a mug of his favorite brew with just the swipe of a card?
The beer-loving geeks working at InnovatorsBay Technologies Pvt. Ltd. found themselves asking similar questions while waiting for their drinks to arrive one evening. A few rough sketches later, TapIO, India's first "Smart Taps" system was born – a solution that aims at revolutionizing the F&B industry and enhancing customer experience. What's more, it's totally customizable!
Is this brilliant or unbelievable? Our editorial team finds out more.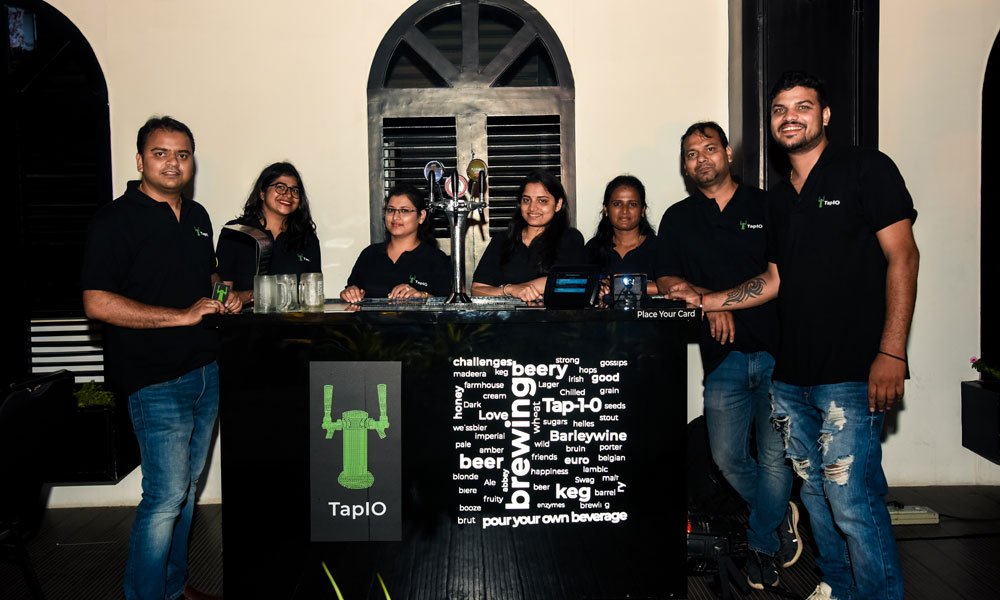 There are many ways artificial intelligence (AI) and machine learning can make our world more productive and effective. Recently, the beer and brewing industry has also been looking towards AI to enhance their output and improve their margins. How does TapIO fit into this space as far as the Indian beer and brewing market is concerned?
TapIO is a smart, disruptive, liquid-dispensing tap system that uses a blend of AI and IoT. This technology is particularly great for beer lovers; all they need to do is activate the taps by swiping a card or by sending a signal via an app. Think of it like a beer atm!
Tell us how you cracked the idea.
It all started with a long wait for beer. We had a really tiring work day and decided to unwind at a nearby microbrewery. We ended up waiting for quite a while before our drinks were served –
which got us thinking: what if we could just pour our own beer?
We drew out a rough diagram of the product on a paper napkin and brainstormed into the wee hours of the morning. Within a matter of days, we had all the product details designed and were ready with a dedicated team to bring this idea to life.
Could you help us understand the concept of Smart Taps a bit more in detail?
It's a simple system that can be directly connected to kegs and python pipes or even DT (direct transfer) tanks. The customer will be assigned a card that can be recharged up to the desired amount. TapIO also comes with a screen that displays all the relevant information about the various brews available. Once the customer reads all the information, all he needs to do is swipe the card on the smart card scanner. This activates the taps and the customer can pour out his own beer directly as opposed to hailing a waiter to place an order.
As long as the card is on the scanner, the taps remain activated. The AI-based software that runs in the background tracks every drop of beer that comes out of TapIO. It then converts this useful information into data that brewery owners can use to their advantage.
It's important to note that it's not completely necessary to have a recharge system. Clients can choose if they want the billing for the card to be done right at the end if that's more convenient for them. Personally, however, we'd recommend the usual recharge-and-pour method as it is more transparent and fun for the customers that way.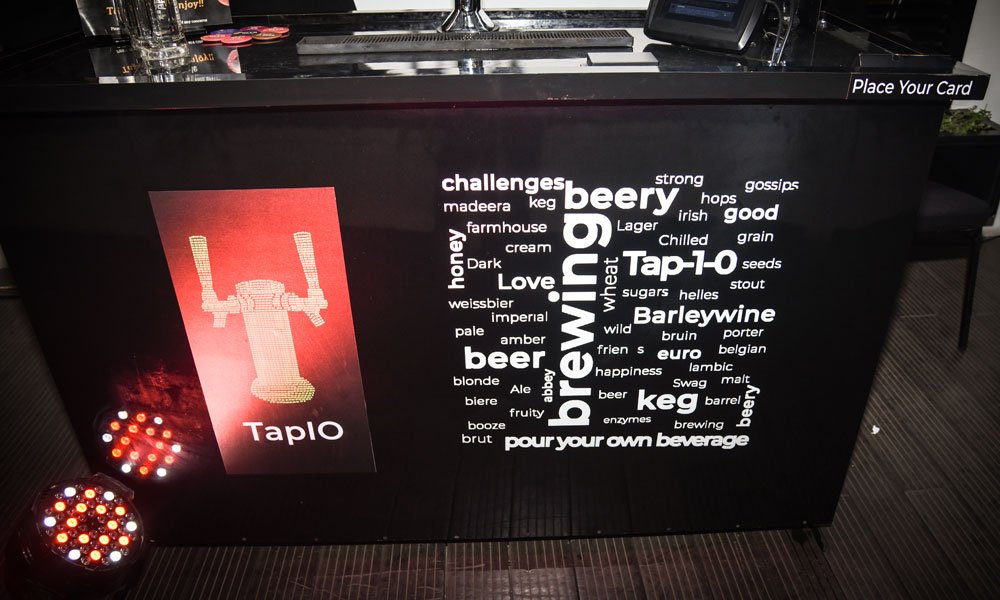 Give us a brief idea on how the whole TapIO infrastructure works.
TapIO is an AI product. The self-pour technology is controlled by an AI software that works on reinforcement learning. As mentioned earlier, every drop of beer that the tap dispenses gets converted into data. TapIO then uses this data to create custom reports that include customer and order details on a daily basis.
Brewery owners can access this data to run targeted marketing campaigns. Additionally, TapIO can also help streamline operations by matching supply and demand.
What goes into the setting up of this technology?
We work together with the client to plan out a model that's best suited to his business. From then onwards, we handle everything – right from assembling the hardware to the setting up the software.
Once the setup is complete, the platform will "auto discover" all the installed units, post which the brewery can configure its tables and beers to be served. The screen on TapIO gets updated in real time and is ready to be occupied by the customer. Simple!
Are there any variants?
Yes, certainly! Right now, there are three variants; each of these can be customized based on the ambience of the brewery/ pub:
Islander: a portable unit that can stand anywhere
Tap-on-Table: a unit that can be fixed on individual tables
Wall-Mount: a unit that can be fixed on a wall.
How does TapIO benefit breweries and pub owners/managers?
There are a number of ways our AI-based tap system can benefit brewery and pub owners:
It practically slashes your customer waiting time to zero, thus enhancing customer experience, boosting sales, and ensuring a better return on RoI
It reduces the overall lead time to serve customers, which in turn, helps to streamline operations
It reduces wastage of beer: and really, no one wants that!
It's simple, yet efficient design makes it a future-ready solution for the F&B industry, thereby ensuring quick installation and low maintenance
It offers instant access to actionable insights and consumable recommendations with the help of a proprietary algorithm that converts each drop of dispensed beer into data
It ensures a secure backing up of data into a highly scalable, multi-tenant big data storage
It can optimize and change the pricing for individual drinks in real time, depending on the current demand and supply. The milliliter-based pricing also helps track every drop that's poured!
It's platform-built POS system can also integrate with other POS systems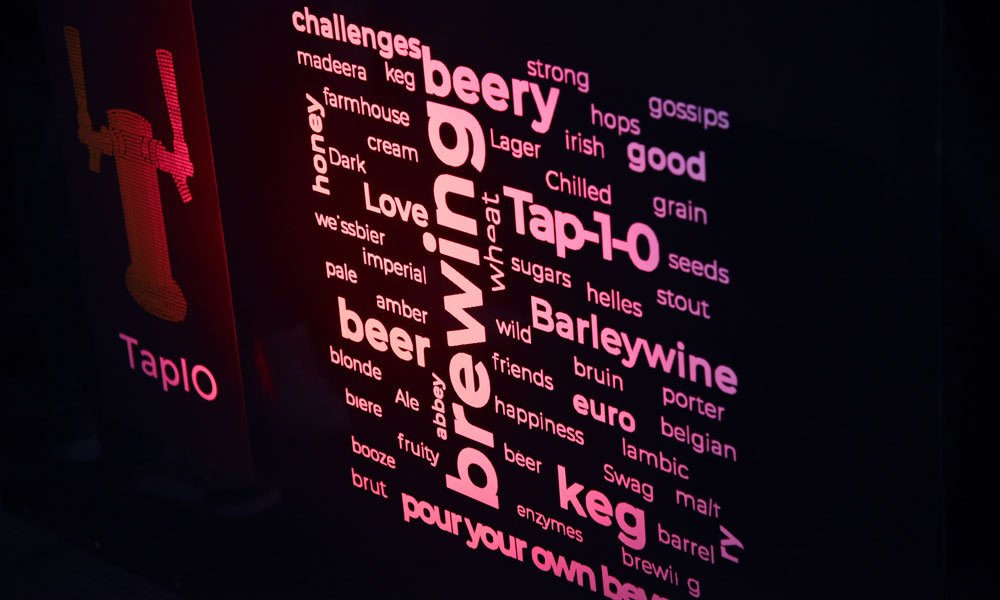 How do you see TapIO improving customer experience for pub/brewery visitors?
For customers, it's all about enhancing their experience at the brewery and helping them get to their orders faster. Every customer appreciates not being made to wait for their order and that's where TapIO comes in. Besides, it also helps maintain transparency and gives customers the added joy of pouring out their own beer.
With TapIO, we wanted to create a flawless experience for beer lovers that's not only quick and smart, but also keeps them well informed about what they are drinking and how much they are being charged for it.
Tell us about the launch event that took place at VR Mall. What were the highlights of this event?
TapIO was launched at Oktoberfest at The Whitefield Arms, VR Bengaluru. We pulled off the entire event in just 3 weeks and served all six beers that they have on the menu. Customers were given the TapIO card so they could recharge and test the platform out on their own. While they were allowed to sample and try everything, they had to pay only for the amount they poured out of the taps.
It was certainly a giant moment of pride – watching people pouring their own beer from TapIO and marveling at the experience!
In what cities is TapIO available?
For now, TapIO is focusing on Bengaluru. However, we have a lot of interest coming in from Mumbai and Pune, so we're pretty excited to see where that goes.
What's the future looking like for TapIO?
TapIO's vision is to help industries generate higher RoI by optimizing labor, inventory and wastage, to enable leaders to make quick and efficient decisions while enhancing the customer experience.
From aerated drinks and alcohol to water and non-alcoholic beverages, the possibilities are endless with TapIO and we would love to expand its applications to other fields as well.
We have a fantastic team that has built this product from scratch and so far, we're the only ones in India to offer this solution at a price that's far more economical as compared to similar foreign counterparts. So, for now, our future looks pretty solid, touch wood!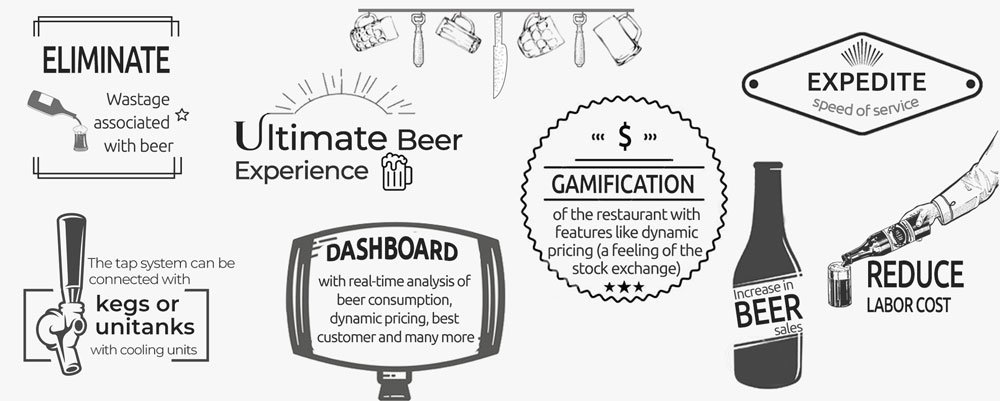 (Watch the launch of TapIO in Bengaluru's VR Mall here)