Stunning Design & Commercial Grade Performance
Parikshit Kakkar
Managing Director, Arcux Bar Zone
The importance of designing a versatile bar, is a profit centre. A well designed, efficient bar has the right equipment arranged to minimize bartender movement equalling more drinks per hour, which translates to higher profits. ABZI strive to be bar design experts by focusing on the bar as the engine that drives profitability. And no one knows this better than Arcux Bar Zone.
Founded in 2009, Arcux Bar Zone Impex Pvt. Ltd. (ABZI), a joint venture company, started by two dynamic partners Parikshit Kakkar and Piyush Tayal – young enthusiastic hotel management graduates in their mid-20s. Their sole concept was to provide the best bar solutions for Hotels and Restaurants. The company Arcux was one of the few companies which met the requirements of Bar Equipment's along with the required Consultation. Quality and Commitment are the two focal points the company cherishes on. Moreover, the exclusive bar designs provide the Bar Tender an essential comfortable space to work behind the bar with an added zeal. Having worked in F&B arena for over 5 years before starting this venture, Piyush Tayal adds, "Being from Hospitality Industry and working with Hotels, Restaurant and Bars in India and abroad, we understand how important it is to plan the equipment in way that the maximum output can be achieved considering happy operator and guests".
Arcux Team identifies how the bar will operate and create clear working zones for the bar staff enabling them to serve their customers in a planned and seamless operation. Arcux has brought 100 years of experience, development and technology to Indian market on larger scale. The company has successfully completed more than 100 projects in India, their designs reflected with their work with the Radisson Group (Agra), Taj Hotel (Mumbai & Begaum), IBIS Group of Hotels (Goa, Hyderabad, Kochi, Pune & Chennai) Arcux Bar Zone & Perlick India
Walk into nearly any establishment that serves beer these days and you are likely to find drought beer for sale. But these days you will also see fancy options like Nitro beers, highly Spritzy German Weissbier, and lightly carbonated English-style "cask" ales. Glassware varying from run of the mill pints to shapely half litres and diminutive snifters with every possible shape and size in between. We find draught tap so often that we assume it must be relatively simple to keep and serve beer this way. But behind the simple flick of a handle that sends beer streaming into our glass at the bar, you will find systems that require precise design, exact operating condition, and careful, regular maintenance to ensure the proper flow of highly-quality beer. Arcux Bar Zone is presently an exclusive distributor for Brands like Perlick Corporation.
Who is Perlick?
Family owned since 1917 and headquartered in Milwaukee, Wisconsin, Perlick Corporation is dedicated to providing innovative, quality customizable food and beverage storage and serving solutions. Perlick is a national manufacturing leader in commercial bar and beverage systems, residential undercounter refrigeration and brewery fittings. Perlick's commercial line includes custom bar and beverage and refrigeration equipment, innovative under bar items, industry-leading beverage dispensing equipment and time-tested brewery fittings. Our products optimize energy use and increase durability to help customers maximize the profitability of their beverage service operations. Perlick's award-winning, luxury residential product line features indoor and outdoor undercounter refrigerators, wine reserves, freezers, freezer and refrigerator drawers, ice makers, and beer dispensers.
Long Draft Beer Dispensing Systems From Perlick
Glycol-Cooled beer dispensing systems, capable of delivering draft beer long distances are gaining in popularity. The systems are reliable, serve a great tasting beer, and are reducing the cost, headaches and waste usually associated with long draw beer dispensing.
Trunk Housing with Copper Coolant Lines
Perlick's exclusive trunk housings are an easy choice. The only manufacturer that vapor seals the beverage lines in direct contact with pure copper coolant lines for the length of the housing. Nothing outperforms copper for thermal conductivity, ensuring your beer stays at its optimal temperature all the way to the tap
Pure copper coolant lines are more efficient than plastic lines, so your Power Pak won't have to work as hard, which saves you money
Beer lines are made from a proprietary barrier tubing that seals in CO2 and keeps air out to preserve product integrity and taste
Power Pak's – We know how to chill:
The Power Pak is the heart of your beer system. That's why we've designed ours to be easy to use and maintain. Durable all stainless-steel construction ensures a long life and maximum return on your up-front equipment costs
Dispensing beer remotely at the correct temperature requires a way to keep the beer cold on its way from the keg to the tap. Too cold, and you compromise taste. Too warm, and you're left pouring foam—and money—down the drain. That's why Perlick offers a wide variety of power Pak sizes and configurations to keep your beer at its perfect temperature and more money in your pocket
Because every situation is unique, we offer five different horsepower options for your Power Pak—in both air-cooled and water-cooled configurations. Selecting the right size Power Pak saves on your equipment and energy costs, delivering only the power you need. Plus, Perlick Power Pak's are the only chillers that feature all stainless-steel construction for worry-free performance over time
"
Glycol Cooled Modular Wall Mount Dispenser
Features seamless head in any length up to 96" (32 faucets) with faucets located on 3" centers. Beer and glycol leads may exit through the back or bottom. Accessory glass rinser can be added to each glass rack. Easy Installation system – Heavy duty 14 gauge mounting bracket with slotted hole mounts allows anchoring to multiple wall studs along the length of the dispensing head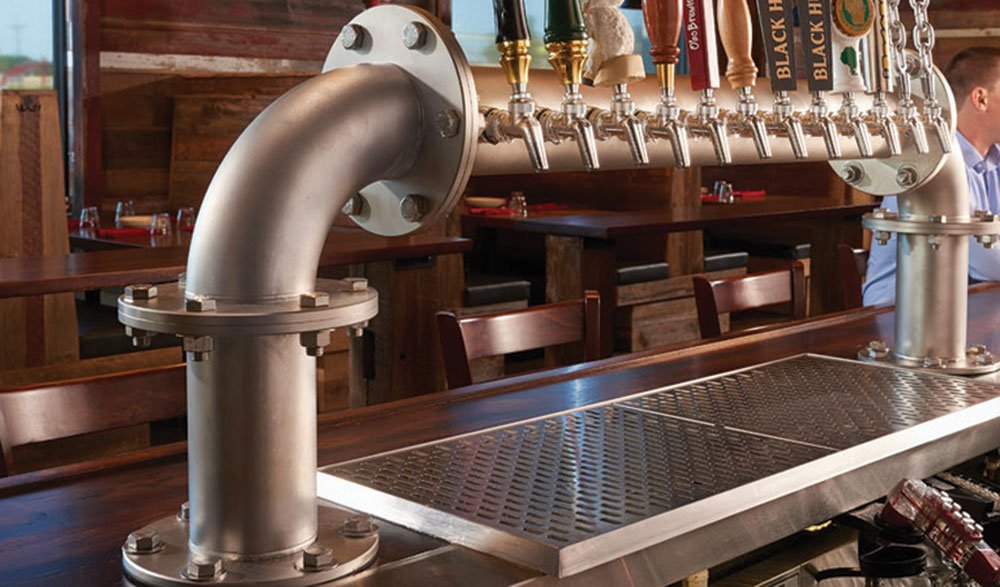 Brew Pipe Towers
Brew Pipe Towers are available as dual-base pass-thru or L-shaped model. Features all metal brushed stainless steel pipe for an industrial look
Direct Dispensers
Perlick direct draw dispensers are designed to take all the punishment full kegs can dish out. The reinforced door, super heavy-duty door sill and 2" foamed in place walls combine to create the most solid and durable direct draw cabinets available today
Direct Draw Dispensers:
Self-Contained Direct Draw refrigerators are available in 1-, 2-, 3- and 4-door models and can accommodate a variety of keg layouts to maximize your customers options for dispensing beer. Standard top, back and sides are stainless steel. Interior and base are galvanized. Optional beer dispensing kits in a variety of styles are available
Digital readout provides accurate temperature monitoring and easy fingertip control
A wide selection of styles in stainless steel or Tarnish Free Brass finishes with 1 to 6 faucets
Concessionaire Cabinet Dispensers
Portable Perlick Concessionaire Direct-Draw Cabinet Beer Dispensers are a staple at stadiums and large venues that host big events. The cabinet is fully portable and self-contained, storing a CO2 drum, regulator and liquid waste tank in an access area. Top, back, ends and drainer are stainless steel. Includes door locks, bumpers, casters and a side cabinet for storing a CO2 tank
Digital readout provides accurate temperature monitoring and easy fingertip control
Select from Draft Arms in 1, 2 and 3 faucet models and Tee Towers available in 2, 3, 4, 5 and 6 faucet models. Available in Stainless Steel and Tarnish Free Brass
Speaking with Managing Director of Arcux Bar Zone, Mr Parikshit Kakkar tells us about the changes he witnesses since the rise of craft beer in the country.
With the recent boom in the Indian Beer markets, has this affected your business in anyway? If yes, how?
Yes, it's been a positive reaction to our products. Beer is one of the most consumed beverages after water, it has always been favoured alcoholic beverage. Increase in demand has given the business opportunity to introduce more variety of beer. We have noticed change in demand from 2-3 taps beer dispensing to 25 plus taps beer dispensing systems in India. Last year we supplied beer dispensing solution to Buffalo wild wings (An American chain), where they have 24 taps installed in two outlets in Hyderabad and are planning for more.
How would you tackle the problem of infected/dirty draft lines to ensure quality beer?
We do provide after sale support for all our equipment's pan India. It is very important to regularly clean the beer lines, the combination of yeasts and microbes can multiply in keg lines, if not cleaned regularly they cause the line to become infected. While an infected line is usually not a health issue, it is a quality-control issue. Infected lines impart off-flavors on beer, such as vinegar, or even cause the beer to smell of rotten eggs. Needless to say, these are not qualities beer drinkers are seeking. There are other solids that can build up in keg lines. Known as "beer stone," these solids are harmless, but as they build up, they will flake off and then be served in a poured beer. While they are less impactful on the flavor of the beer, they are unappetizing when seen floating in a glass. Only regular line and draft cleaning can prevent such unsavory quality-control issues.
How has your tie up to become distributors of Perlick in India been? What does the future of your partnership look like?
It is such a great experience to be a part of world class brand, it's been almost 10 years since we started working with Perlick. We get involved with our customers in planning stages and help them draft the bar equipment to maximise their operational efficiency and to increase the dispensing speed with minimum efforts. We also offer to do the installation and look after the service support. So, it is indeed a complete bar solution. As we say together we build the world's most extraordinary bars.
Any last thoughts you'd like to share with us?
At Arcux, we're constantly following the growth of this industry to establish what revolutionary technology we can offer into the market. Beer is an amazingly versatile beverage, and has the scope to grow in this country.