Cheers to these Refreshing and Flavourful Brews on International Beer Day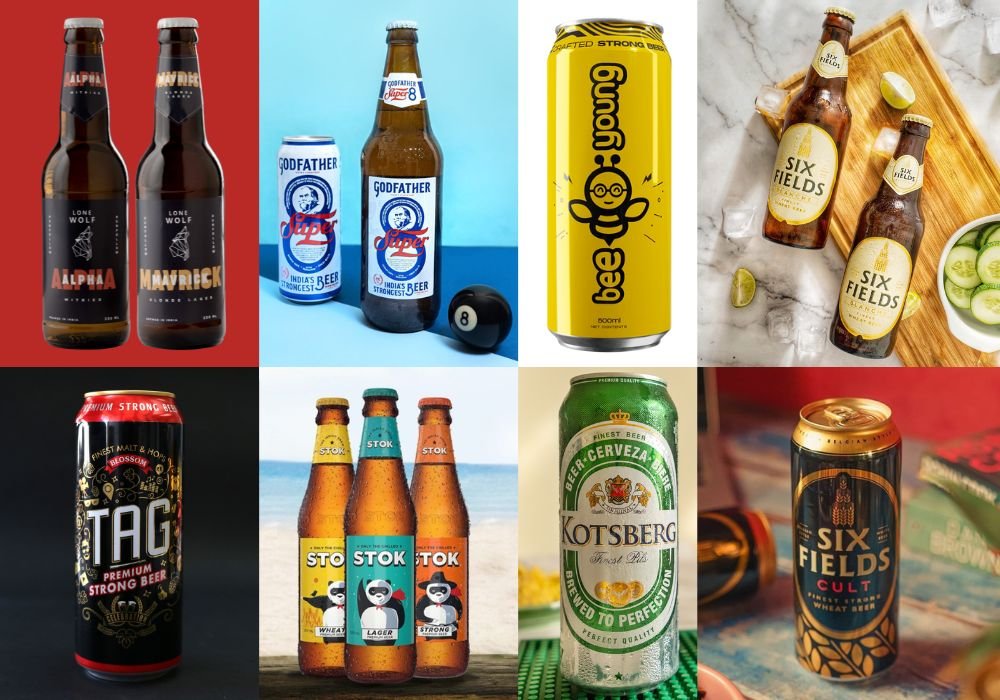 International Beer Day is all about celebrating the world's oldest and most beloved beverage. This global celebration is dedicated to honouring the rich history and culture surrounding beer and appreciating the craftsmanship and creativity of brewers worldwide.
International Beer Day aims to bring people together to enjoy a variety of beers, explore different styles, and recognize the contributions of brewers and beer lovers worldwide. Here's a list of beers you must try on International Beer Day.
Lone Wolf 
Lone Wolf, renowned for its dedication to pushing boundaries and testing norms, has recently launched a variety of beers to captivate your senses and inspire a sense of adventure. Onkara Beverages & Hospitality Pvt Ltd launched two new beer variants in the Indian market, Alpha and Mavrick. The beers launched last month, with the idea behind it being to introduce customers to more flavours and aromas via their expanding portfolio.
Lone Wolf Mavrick is a light and crisp, all-day 100% malt lager, while Lone Wolf Alpha is a Belgian Witbier, albeit with a twist – it will have the expected citrus and coriander flavours but is much lighter bodied than the usual Belgian wit biers, making it the first choice of beverage in the scorching summer. Both variants contain less than 5% ABV & will be launched in Delhi, Haryana, and Chandigarh. 
Godfather Super 8/Godfather Legendary
Godfather is one of the first few home-grown strong beers introduced by DeVANS Modern Breweries Ltd more than three decades ago and continues to be widely popular even today. Its latest variant Godfather Super 8, is presently the strongest beer in India with 8% ABV. One with an iconic stature and a slew of prestigious awards, Godfather Super 8 boasts notes of coriander and pale malt. It is made with the choicest Indian malts and German bitters, making it extremely popular among beer lovers. The long-brewing cycle of the beer leaves it with a smooth and refreshing taste to linger on. Godfather Legendary is another variant of beer offered by them with 7.2% abv.
Beeyoung Beer 
Beeyoung Beer from Kimaya Himalayan Beverage is created to exact international standards of taste, quality, and packaging, all while staying in sync with the more immediate local market and consumer. This barley-based homegrown brew delivers a crisp, clean, yet punchy sip every time in all social settings. Handpicked ingredients by our brewer, such as two-row barley from Argentina, lend it the perfect maltiness, while 10% sortex rice, yeast, and pure spring water from Bhakra Dam make up for refreshing flavours and smooth texture. It follows a finish accentuated by Columbus and Styrian Golding hops, gently bitter, lingering with a citrusy twist making it an ideal sip for a sultry day. With an ABV of 7.2%, BeeYoung is all set to premium the strong beer segments and establishes itself as India's first strong craft beer.
Six Fields Blanche
Six Fields Blanche is a premium, blanched Belgian-style wheat beer named after its six ingredients: wheat, oats, coriander seed, malted barley, bitter orange peels, and German hops. The beer has a light hue, is smooth, and is infused with orange and coriander, offering a delightful flavour and a refreshing sensation. The drink has a signature zesty taste, appealing texture, and unrivalled aroma with a 4.5% ABV.
TAG Beer 
TAG Beer is a symphony of flavours crafted for the modern palate. The beer is an embodiment of boldness and balance, bringing together the perfect blend of malty goodness and harmonious interplay of fruit and hop bitterness. Every sip is a journey of malty notes and assertive fruity aromas. The refreshing taste lingers after each sip. TAG has two variants in its portfolio TAG Premium Strong and Premium Lager Beer.
 STOK 
STOK is a flagship entity of Mount Everest Breweries Ltd that offers premium quality beer and encourages all beer lovers to "Live the Chill." The brand aims to provide the new-age customers with a break from their stressed life and get relaxed and happier by giving them a moment and reason to relax and chill.
Since its inception in 2019, STOK has made its presence felt in Madhya Pradesh, Meghalaya, Assam, Delhi, West Bengal, Kerala and Uttar Pradesh by selling over 5 lakh cases. The brand offers 3 flavours of beer to match the taste palate of its consumers:
STOK Strong: This bold yet smooth beer boasts a shiny golden colour and a delightful hint of spice that adds a subtly bitter taste to the brew. It's a perfect choice for those seeking a robust and flavorful brew.
STOK Lager: Experience a mildly bitter textured brew that strikes an impeccable balance between spiciness and fruitiness. It delivers a refreshing taste that pleases beer enthusiasts seeking relaxation and chill.
STOK Wheat: Indulge in creamy textures with a touch of sweetness and citrus. This beer offers a delightful, sweet, and tangy finish that is both satisfying and refreshing for beer connoisseurs looking for a specific taste of witbier.
Kotsberg Premium Pils
Experience the excellence of Kotsberg Premium Pils, a light, refreshing beer boasting a 4.5% ABV. This exceptional brew combines brewed barley, rice, and German hops to create a harmonious flavour profile. The malted barley contributes to the beer's inviting colour and delightful malty sweetness, while the inclusion of rice imparts a crisp and refreshing taste. Honoured with prestigious awards, this beer has garnered recognition for its quality and finesse.
Six Fields Cult
Another wheat beer from the house of DeVANS, this strong wheat beer has an ABV of 5.9%. The beer with a tangy twist has a lingering freshness from the orange peel. The beer with a sweet flavour and aromatic coriander is as Indian as it gets. It is available in cans, bottles and 5-litre kegs, giving you a feeling of drinking beer straight from the tap. It has also won a Silver Medal in the DubbleWit category at Brussels Bee Challenge.
Cheers!