Organics and Millets 2018 International Millet Fair Concludes on a High!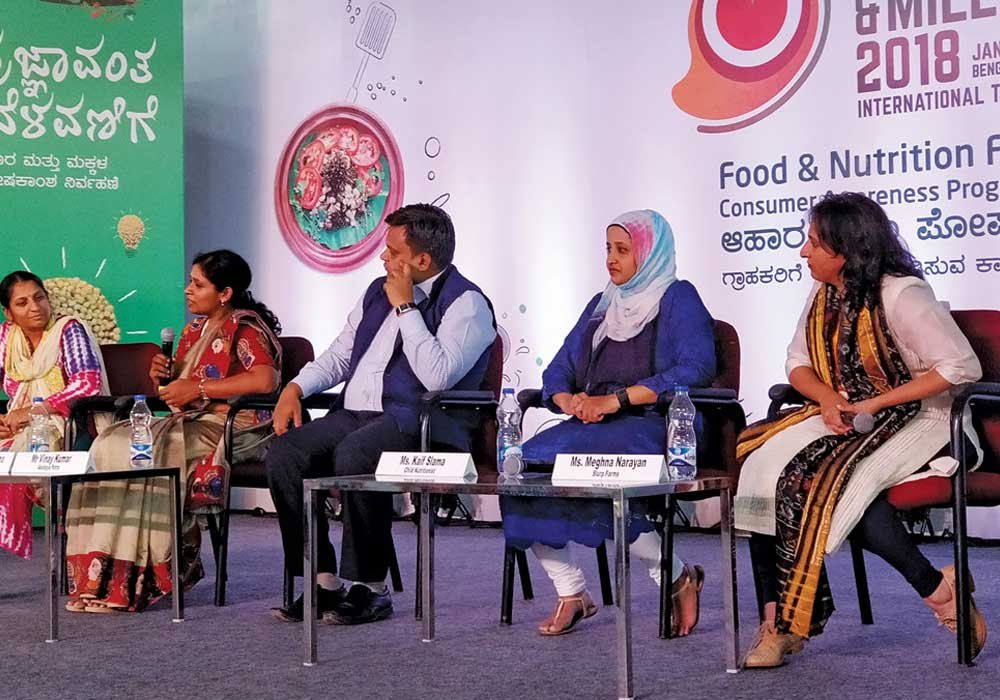 107 crore business generated over the three-day International Trade Fair – Organics and Millets 2018.
The International Trade Fair (ITF) 2018 came to a close with Shri. Krishna Byregowda delivering the final address. The three-day fair themed around 'Organics and Millets' was a huge success with a footfall of over 2.10 lakhs visitors. The fair was the perfect platform to connect local farmers with national and international markets and consumers under one roof. The follow-up to last year's National Trade Fair, ITF 2018, delivered concrete results in improving the conditions of farmers while also educating them on trade secrets and techniques to bolster growth and yield of millets and organic food crops. Addressing the future, Shri. Byregowda said: "The idea behind ITF is not promote millets alone, it is to promote sustainable lifestyle choices. With the ITF we have opened up the space for businesses to enter and grow in the market. There are a lot of stakeholders in this ecosystem including research institutes, academic facilities, businessmen and the government, the way forward depends on all the stakeholders. We all must be part of the solution and not the problem."
ITF was organized by the Dept. of Agriculture, Govt. of Karnataka with KAPPEC (Karnataka State Agricultural Produce Processing & Export Corporation) as co-organizer and ICCOA as the knowledge partner. Inaugurated by Shri. Siddaramaiah, Chief Minister (GoK) in the presence of Shri. Krishna Byre Gowda, Minister of Agriculture (GoK), also included several prominent figures from the Central and State govt., Ms. Laura, CEO of Organic Trade Association USA, Mr. Zhou Zhejiang, IFOAM Asia President and Ms. Jennifer Chang IFOAM Asia Vice-President and Shri. Sadanand Gowda, Minister of Statistics and Programme Implementation (GoI) who declared 2018 as "The Year of Millets".
CM Shri Siddaramaiah had this to add: "It is important for us to raise awareness and promote millets in daily diets due to its nutritional value and ease of cultivation. We are a dry agriculture state and over the last 17 years only 3 have had no draught. We are very excited to be taking this step and we hope to make millets part of the daily diet again."
India stands in pole position to lead the world in millet production and exports with the Karnataka Government at the forefront of promoting and consuming these next-gen smart foods. ITF promoted not just millets but also organic and sustainable agricultural practices. Shri. Byre Gowda had this to say, "Today we are conscious about the food we eat, its nutritional value, the impact on farmers and the environment to get food from farm to fork. With this conference we hope to bring about a change in dietary habits and promote a more sustainable future."
ITF had a 3,500 sq. ft. exhibition area with 357 stalls featuring national and international companies along with state governments in the organic agribusiness. International participants such as JRMT Global General Trading LLC from Dubai, FiBL from Switzerland, IFOAM Asia from South Korea along with buyers from USA, Germany, Uganda, China and Malaysia took part in the event. State partners included Andhra Pradesh, Telangana, Tamil Nadu, Uttarakhand, Haryana and Chhattisgarh. The event also featured renowned names from the private sector such as Phalada Agro Research Foundations Pvt. Ltd, Sresta Natural BioProducts Pvt. Ltd, Big Basket, ITC Ltd, Nature Bio-Foods Pvt Ltd, MRT Organic Green Products, Mehrotra Consumer Products P Ltd, Radico, Terra Firma Projects Pvt. Ltd., Mother India Organics and Naturals Pvt. Ltd., Akshayakalpa Farms & Foods Pvt Limited, Pro Nature Organic Foods (P) Ltd, Pristine Organics, Tractors and Farm Equipment Limited, Dhatu Organics and Natural Pvt. Ltd, Naturobell, Kottaram Agro Foods Pvt Ltd (to name a few).
A special farmers' workshop conducted in Kannada, was attended by 5,000 farmers who were taught farming techniques by experts in organic production. ITF benefited the farmers greatly as they became aware of multiple facets and conditions required within the organic production space. The workshop explained organic market trends, demands, organic certification process and importance, export potentials and more, all which greatly helped farmers understand the technical and commercial side of organic agribusiness.
A 30,000 sq. ft. organic food court, 'Khandavi,' was organized on all three days of the event. This played host to the "Food and Nutritional Forum" where conferences, competitions, workshops, demonstrative sessions and group discussions were held on organics and millets. 'Khandavi' also hosted nearly 25 restaurant outlets selling food made from organics and millets. The Organic Food Court offered visitors a chance to indulge their taste buds in a pure organic and millet diet that was well received by all attendees. Some of the renowned food court partners were Green Path, Dhatu, Bhoomika Millet Foods, Naturobell, Grameena Kutumba, Mother India farms, etc.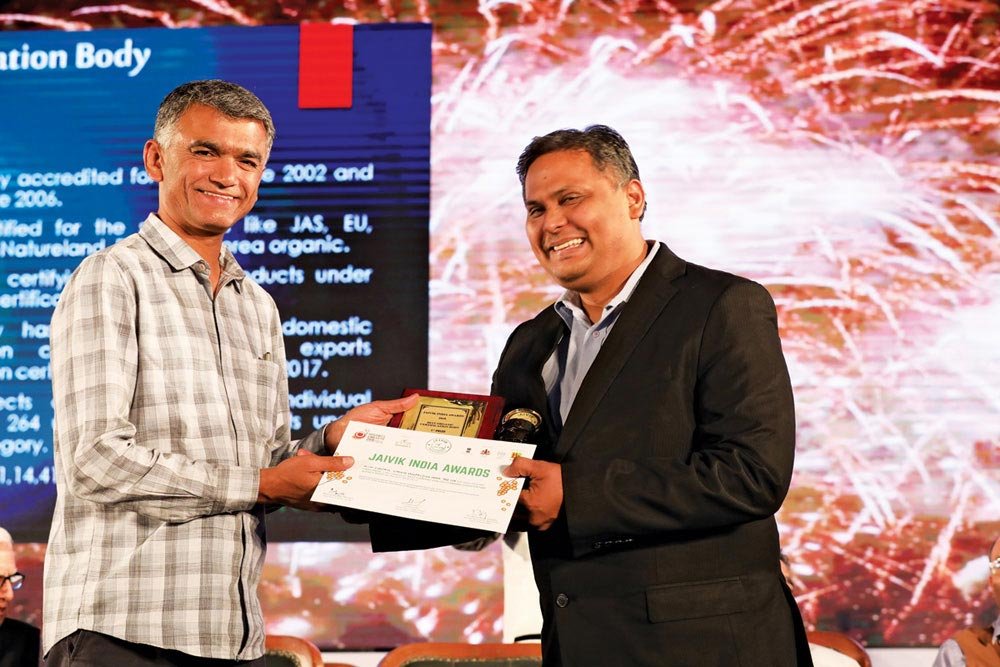 ITF hosted multiple international conferences in the two halls on all three days of the fair. The themes and discussions included "Nutri-Cereals – Good for Farmers, Environment and Consumers"; "Organics and Millets – Enhancing Farmers' Income through Organic Marketing"; and "Organic 3/0 – Organic Policy and its implementation." Discussions on R&D, supply chain, business, investment upscaling and awareness pertaining to millets were also included in the conferences. The conferences had 32 eminent international speakers and 46 prominent national speakers. The conference brought together farmers, startups in the organic agriculture space, farmer federations and other bodies in the agriproducts ecosystem. Over 500 delegates were present at these conferences, which acted as a unique knowledge spreading and learning platform by creating panels that included all the organic stakeholders, policy makers, government and non-government players.
The opening session of the conference was on the theme: "Enhancing Farmers Income through efficient marketing of Organic products and millets." The session was chaired by Director-General ICRISAT in the presence of Shri. Byre Gowda; Shri. Sompal Shastri, Former Union Agriculture Minister; and Dr. Zhejiang. Other prominent sessions included: 'Organic 3.0' which focused on bringing organic food products out of the current niche and into the mainstream market; 'Global Organic Markets' presided by APEDA which deliberated strategies for increasing India's exports of organic products; 'Organic Research' conducted by FiBL, Switzerland (World's Leading Research Institute for Organic Agriculture) covering the current status of Organic Research and results of the experimental system comparison trials on organic production.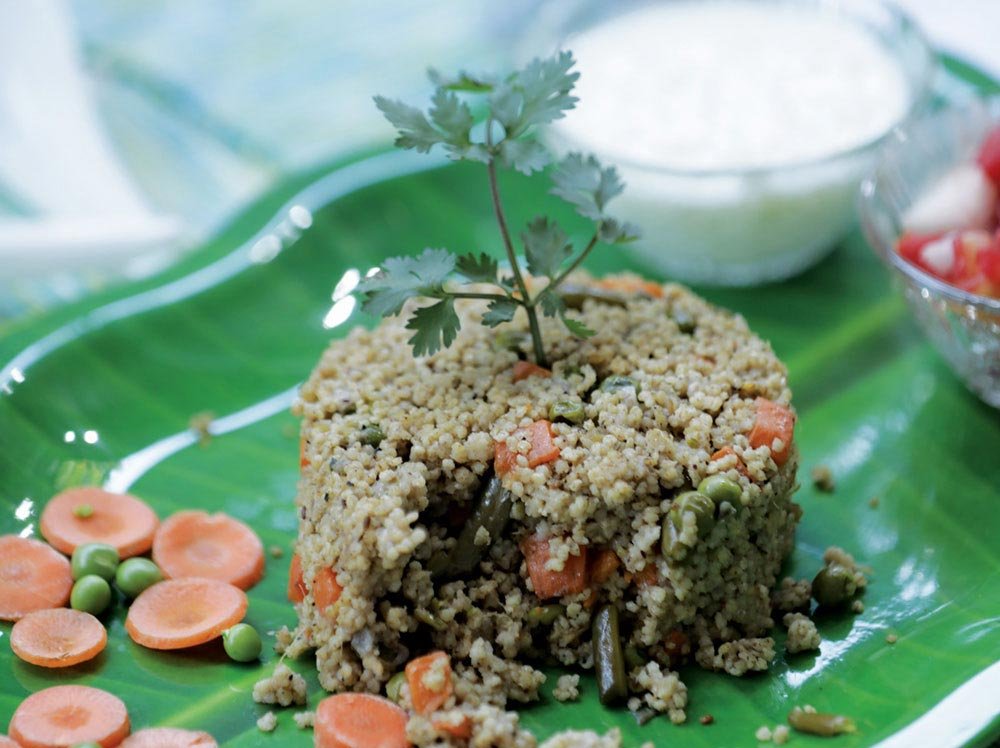 Over 15 international buyers and trade association from USA, Canada, South Korea, China, UAE, Malaysia, Switzerland, Uganda to name a few and 50 domestic buyers took part in the meeting with suppliers and organic farmer federations. The total business generated from the B2B meetings was worth Rs 27.69 crore. The event also hosted the first-of-its-kind award ceremony in the field of sustainable and organic agriculture named 'Jaivik Awards.' ICCOA in order to encourage organic stakeholders towards the growth of organic farming, promotion and business organized the first annual Jaivik Awards. A total of 21 awards were given for outstanding achievements across multiple categories to farmers, farmer organizations, state agencies and private organisations who have excelled in organic cultivation selected by a jury of prominent professionals from the industry.