Moonshine Meadery's Latest Creation Hibiscus Ginger Mead Redefines Mead Standards
~ Discover Moonshine Mead's extraordinary creation, Hibiscus Ginger Mead, exclusively available in Mumbai and Pune. A fusion of hibiscus and ginger, this mead promises an unparalleled taste adventure. ~
Moonshine Meadery, Asia and India's first meadery and pioneering mead producer, proudly presents its latest innovation – Hibiscus Ginger Mead. This unique mead, a fusion of hibiscus and ginger, promises a delightful taste adventure. Dried hibiscus flowers contribute their vibrant hue and delightful tartness to this mead. Ginger complements the hibiscus's tartness with its deep, earthy heat, resulting in a truly unique flavor combination.
The creation of Hibiscus Ginger Mead is a tale of experimentation and creativity. It all began when our production team added dried hibiscus to a small trial batch of mead and discovered its unique qualities. This experiment gave birth to a remarkable flavor, prompting the team to embark on a journey to craft a brand-new mead.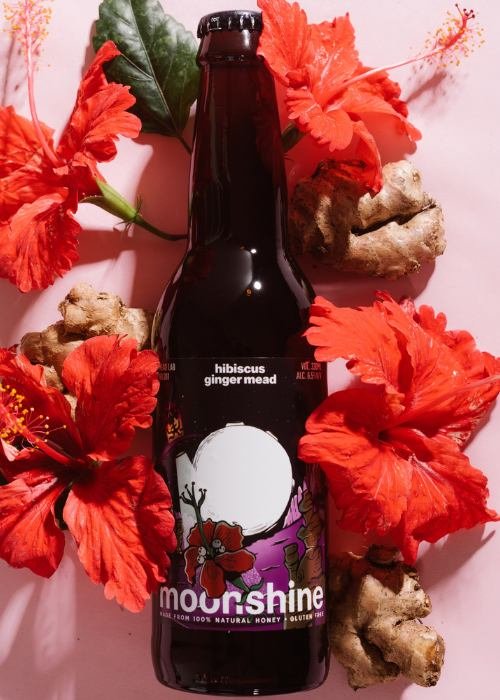 Moonshine Meadery continues its tradition of crafting innovative and exceptional meads with Hibiscus Ginger Mead. Co-founder Rohan Rehani commented, "In an era where beverage enthusiasts seek unique experiences, our Hibiscus Ginger Mead offers just that. It aligns perfectly with our vision – to craft meads that redefine the drinking experience."
Hibiscus Ginger Mead is a limited-edition offering, exclusively available in Mumbai and Pune. This exceptional mead, priced at Rs. 199/-
About Moonshine Meadery :
Established in 2018, Moonshine Meadery is India's first meadery, reviving the ancient alcoholic beverage known as Mead in refreshing modern avatars. Made by fermenting pure honey with various fruits and spices, Moonshine's meads offer 100% natural and flavorful beverages. Beyond the great taste, for each pint of Moonshine you enjoy, approximately 3 lakh flowers have been pollinated by bees to produce the honey used in crafting this delightful mead. This demonstrates our dedication to both beekeeping and essential pollination.

Moonshine constantly innovates and experiments with a range of ingredients—like multifloral honey, acacia honey, coffee beans, guavas, apples, chillies, kaffir lime, and much more—to offer a diverse spread of fresh meads that suit different tastes. While Moonshine's spectrum of flagship meads—Apple Mead, Traditional Mead and Coffee Mead—are available around the year, the brand also offers seasonal meads known as the MeadLABs. These include Salted Kokum Mead, Mango Chilli Mead, Grilled Pineapple mead, Guava Chilli Mead,, amongst several others. In addition to meads, Moonshine Meadery Moonshine Meadery also introduced The Moonshine Honey Project in 2020, through which they offer customers honey in its purest form, sourced directly from beekeepers across the country. Slowly carving a niche for itself in the Indian and Asian alco-bev sector at large, Moonshine is currently available in Maharashtra, Karnataka,  Rajasthan, Goa, Himachal Pradesh,and Haryana.