Changing The Craft Beer Scene in Nashik with Topchi Handcrafted Beers
Topchi is a boutique microbrewery co-founded by Jay Patil and Abhishek with a passion for serving artisan ales to locals and visitors. Topchi, like the wine industry, hopes to foster a culture that emphasizes on the expansion and growth of local communities. The idea is to work with local artists, non-profit organizations, and anyone who can assist them in giving back to the community.
In the interview with Brewer World, Jay and Abhishek, Co-founders of Topchi Brewing, talk about when they decided to enter the beer space, the challenges they encountered, and the role of e-commerce in marketing a brand. They also share their views on the importance of marketing and brand storytelling.
Hey, Jay and Abhishek, When did you decide to enter the beer space?
Jay: I used to work in IT consulting in the US, which required me to travel to different states for work and beer being my choice of beverage, I was intrigued by the options offered. Curiosity got the better of me, and I started going to microbreweries and was amazed by the taste and quality of the beers made. I further got curious and figured out how to do these myself due to many homebrew stores and the supporting community around homebrewing. When I had to go back home to India, I thought of doing this professionally, so I applied to a number of schools and was very lucky to get admission to the American Brewers Guild, post that I worked in a microbrewery and got hands-on experience in every aspect of brewing.
Abhishek: I come from a Winemaking background and have been in this field for almost two decades now. I studied Oenology and worked for 8 years in New Zealand, I got to try a bunch of local beers, but when I moved to California, the beers blew my mind. I have always been experimenting and making different fruit wines, rice wines and different styles of Alco-beverages, but got into brewing seriously when I got a chance to work in a local brewery in Mumbai. The decision to do it professionally was a bit challenging at first, but the market trends and frequency at which you can brew instead of depending on the annual grape harvest made me take the plunge. The other Alco-beverages are still in the back of my mind and we'll hopefully add them to the portfolio once we are all set on the brewing front.  
As the founders of Topchi Brewing, What does a typical day at work look like for you?
We just got the place up and running, but it's been more than four years in the making and the COVID timeframe set us back in many ways, along with the usual issues of the start-up. Between both of us, we are running between Licensing offices and supply stores for last-minute fixes. We have been brewing for a few months now on the bigger setup, trying to experiment on our home brew setup, which we can scale if it checks all the boxes. We also have a taproom on the premises and plan on setting up outdoor space as a beer garden, so we are juggling between finishing the place, brewing and developing our brand image.

What challenges did you encounter initially in the industry? How did you overcome them?
In the Alcoholic beverage sector, there are a bunch of preconceived notions and mindsets that we had to fight first. The microbrewery industry is a decade old, and with wineries existing for more than twenty years, the ecosystem is still relatively new. On the contrary, there is a great camaraderie in microbreweries, and everyone involved was just a phone call away whenever we ran into any issue.
Locally, we had issues in getting premises as no one wanted to associate with alcohol manufacturing, which eventually resulted in us getting our land. It set us back by a few years as we now had to build the premises, get related permissions and later take them to state excise to get a manufacturing license. The rules are updated now and then, and pivoting our business plan and budget as per them, is the biggest challenge now. Also, we are bootstrapped, so playing catch up with all the dues has been a struggle too. Despite all this, we have had constant support from every growing local craft beer lover who are now our brand ambassadors.
You decided to start a brewery in the wine capital of India, Nashik, Can you tell us about your beers? What sets them apart from the rest of the beers in the market? 
We are located just on the outskirts of the city and will be catering to the locals and numerous visitors coming here for wines. We are currently sticking to basic styles, to begin with, and have Belgian wit and Oatmeal Stout as our flagship beers. We have made Cream ale, Pale ale and Amber ale which have received positive feedback. Taking advantage of local resources, our Rice Saison has been the highlight, and we have sold out our pilot batch immediately. We are waiting for the next harvest of wine grapes to get into hybrid ales, spontaneous and mixed fermentation, barrel-aged beers and a bunch of other things where we can take advantage of being in wine territory. Also, it helps to have a winemaker at the helm and be equipped with local wine brain trust to get the best of both worlds. That's something to look out for in the coming days from Topchi.
When are you planning to launch your beers in the market? 
We have been in the Nashik market since 2018 as we were contract brewing elsewhere, but in COVID had to stop the operations completely. We gave a shot when Growler laws came into being but again stopped due to dependency on restaurants to pack and sell beer so just ceased all operations till we have our own space. We have been selling through the tasting room and giving tours of breweries for the last few months now and received positive feedback on everything that we have made. We have 15 taps dispensing and growler filling setup which will have all our beers, guest meads and wines and eventually coffee as well. Being the pioneers in the craft beer scene of Nasik, we want to keep our efforts to strengthen the brand locally and invite everyone to our Biergarten to drink the beers as fresh as they can be.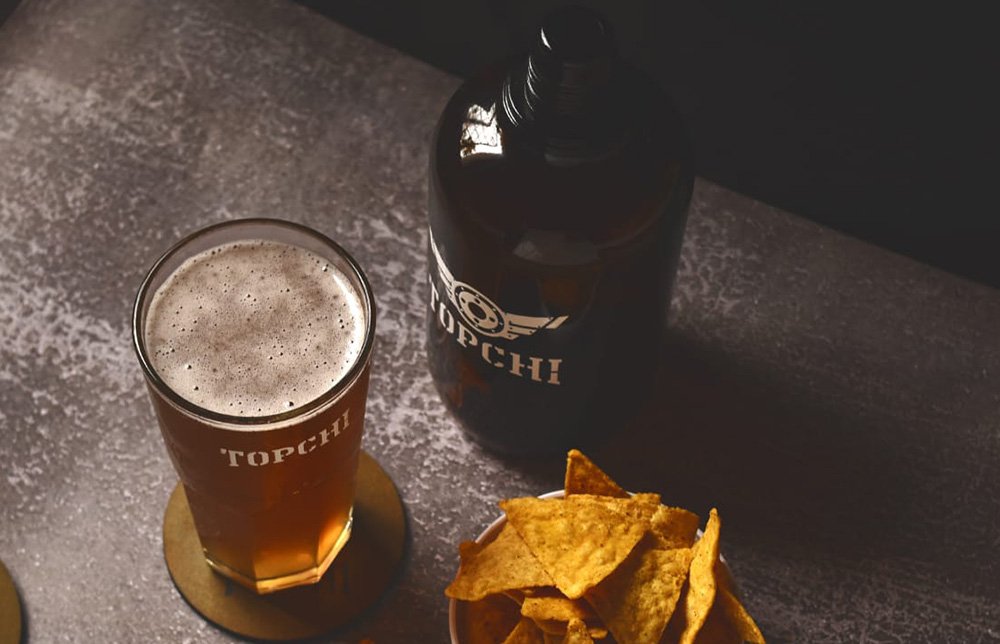 How important in your opinion is marketing and brand storytelling?
We value marketing and brand storytelling a lot and don't mind borrowing a leaf from local success stories which partially led to Nashik being the Wine capital of India. Storytelling is important for the brand image out there so that we can justify the efforts of everyone involved in getting the beer into customers' hands. We want to do it organically though and grow through word of mouth alongwith social media, as conventional marketing is not an option for the Alco-beverage space.  
What do you think about the growth of the craft beer market in India? What are the upcoming key global craft beer trends you foresee for the year 2023?
The craft beer market is just getting started as the numbers are reflecting that we haven't made even a dent in the revenue share of the overall beer market. It would be unheard of people to flock to craft beer festivals a few years back but now Tapped in Maharashtra and various Oktoberfest events throughout the country seem to be pulling a lot of people. Even Nashik had over six craft beer brands participating in the beer festival which more than a thousand people attended. Globally it seems like there might be a surge back to traditional beer style as you can do only so many pastry stouts and edible glitter stuff. Seltzer is also helping add sales to the brewery although it is not beer. India is still catching up on craft beers and currently making good beer and creating a solid customer base should be a priority rather than running behind trends and bigger volumes. 
Do you think e-commerce plays a major role in marketing of a brand? 
E-commerce plays an important role, and the breweries in Maharashtra were excited when deliveries were open for a while during and post-COVID. With regular packaging not being an option in our state, the Growlers were a relief but letting them be sold and delivered through e-commerce will help the bottom line.
Which is your go-to beer in the market right now and why?
We live in Nashik, so we have to travel to Pune or Mumbai for our favorite beers. We get a few imports in town, but they don't travel well, and we always recommend folks to drink local rather than these beers, as it's almost a gamble to get good beer out of them. We like locally made Cerena mead, and our go-to craft beer varies seasonally from the portfolio of Bombay Duck Brewing, Great State Ale works, Yavasura and Pune Beer Farm. We rarely enjoy a glass without analyzing it first but are surprised and inspired by everything they have been pulling off.
What do you do when you are not working? 
For the past few years, there has seldom been a moment when we were not working. We often find ourselves catching up on what's happening in the industry as there is not much exposure in our corner of the woods. We are very big on coffee, and if it's not a beer, you'll see us experimenting with a cold brew in a French press, a regular cup  a joe in a Moka pot or numerous probabilities of AeroPress recipes.