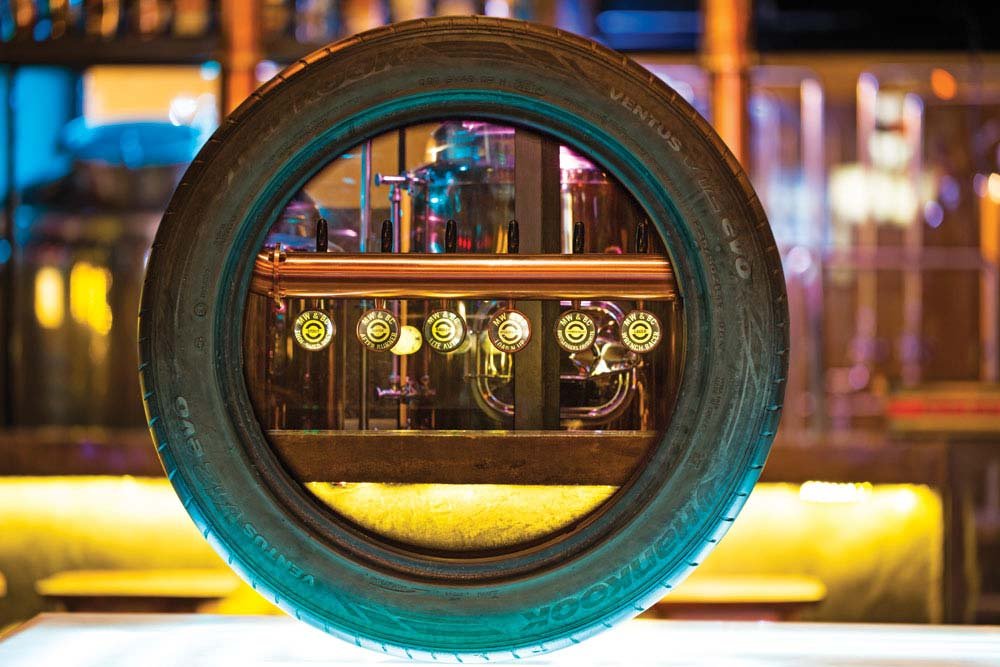 Sudhir Ahuja
Owner, Motor Works & Brewing Company
Welcome to Motor Works & Brewing Company bridging a long-standing and intrinsic relationship between motors and beers. An adrenalin rush, a deep-rooted emotional link between sipping a cold brew to driving your favourite car or riding a bike. Research shows that people with an adventurous spirit tend to have a strong liking to beer, and beer is something that has an intrinsic value of entertainment as does biking.
Sudhir Ahuja has an MBA in Marketing & Research and a Post graduate in Management from S.P. Jain Institute of Management Research, Bombay. He believes in the age old adage that says, "Logic will take you from A to B but creativity and imagination will take you everywhere". An ardent believer of this, he adds, "My actions have always been propelled with creativity and innovative ideas, leading to blending them with out- of-the-box thinking. That would fuel the future of F&B in India". Kolkata is largely a beer and whisky market, where beer is almost all year round, attracting people of all ages, drinking patterns from afternoon to night. So this market has the highest reach spread across maximum age groups with the largest dining time span. Creativity being our forte, we decided that it's time we get innovative and introduce first of it's kind recipes of interesting beers. For example – the Motor Works and Brewing Company's Motor Fuel*, the Green Chilly Beer is unique as it comes with a tangy rimming of Jal jeera Masala and lemon slice, balancing the chilly effect of the beer".
Brewer World in conversation with Sudhir Ahuja on his latest venture into the beer markets with – Motor Works Brewing Company.
Recently opening, what are your thoughts on the rising beer markets in Kolkata, & customer preferences?
Statistically speaking, today club & pub goers are stepping out at least 60% more than they did 6 years ago. Today's clients are well versed with beers, kinds of beers available as they are well travelled, well exposed and social media savvy. The brewery market is good with people wanting to experiment with their beverages. More so as the drinking patterns have evolved with the youth.
The most preferred alcoholic beverage is beer due to the low alcoholic percentage being a LAB. Also being a LAB there is a high percentage of women consumers who find beer more as a refreshing beverage and less as an alcoholic drink.
We have introduced interesting beers which cater to all kinds of crowds. The highest selling Motor Fuel is the classic Summer Radler – It's tangy, refreshing and it's the perfect alcoholic lemonade you can get in the city. Then we have the classics Belgian and German Wheat varieties. The new introduction this summer is the Chilly beer, and for the ones who like something darker.
The yummiest beer of all is the Apple Cider made fresh from apple extracts from Himachal, being a Cider it boasts of health benefits being the only gluten free beer.
The beer market has been growing increasingly due to the following factors – Increase in the youth population, higher disposable income and to reduce work stress, we've noticed an increase in footfall during off peak hours, rising preference of consumers for LAB and customers getting health conscious. Earlier drinking was mostly restricted to the evenings, but these days with Brunches and Sundowners, the consumption of beer as an afternoon drink has shot up.

What is the concept behind Motor Works & Brewing Company?
At the Motor Works and Brewing Company world, you will find everything to be a blend of motor and steel. Sitting in Motor Works and Brewing Company is like sipping beer in an urbane industrial plant watching a play. Adding drama to the ambience and making the experience interactive, one can see the brewing process take place in front of them and has the opportunity to interact with the brewer, watch them in action and get the fragrant aroma of fresh beer brewing. The entire setting – the background, the little elements of cutlery tags and the MWBC toolkits are enacting a part, a role. All these elements come together to curate something unique. They unfold the mystique, the magic of the MWBC industrial set up. The MWBC play encompasses all the senses of sight, touch, smell and hearing! The tastes and the feel of the place will leave a long lasting impression and linger with you long after you leave.
Opening a microbrewery in Kolkata has been on the anvil for a while. A microbrewery by nature fits itself into many moulds – casual, party, drinking hole after work and more. Wanting to
take our experience level up a few notches, the microbrewery gave us the opportunity to work with our ambience and introduce new experiences to the city. For example, the Pour Your Own Beer table – you can book it and choose 2 varieties of beers and pour the same yourself. It's unique, it's new and it's something our crowd is already loving. We are also one of the few microbreweries in India that has an open microbrewery as a part of its bar. One of the most difficult engineered brewery with its tanks placed horizontally on top of each other, having a top beer dispensing system. Easy has never come easy to us – so we chose the innovative and different path ways. Making the experience unique and interesting.
Going back to the first question we have through our 6 years of operation seen that Kolkata is largely a beer and whisky market, where beer is almost a round the year drink attracting people of all ages, drinking patterns from afternoon to night. It's a big market with the potential to reach people from the working sector to business owners to large MnCs. The appetite for beers has been growing, be it for a casual night out, a company team outing or a party. With this market scenario, opening a micro brewery with a difference was the next logical step for us. Bringing our creativity to the table with the ambience, the motor fuels we offer and the curated food menu, we were sure of acceptance in the market.

How did you settle on the name? Is there a story behind it?
Motor Works = The enormous food truck which forms the live kitchen for the brewery and this exotic outlet is always ready to move, is always on the go! Brewing Company = The Open Brewery which is a part of the bar and customers can see the brewing action live.
We bring to the forefront, two opposite actions, two drastically different concepts – static yet dynamic. As you walk into MWBC, it obviously has a static atmosphere blended beautifully together with the dynamic. The MWBC Food Truck that has a live kitchen and can be seen in motion along with the brewery action, we bring alive the dynamic in a static place. One will feel everything is animated and in motion, thriving and full of life.
With MWBC, there's also two strong concepts that are interrelated, have a deep correlation and both offer you an intrinsic rush of adrenalin. As you walk into Motor Works and Brewing Company, you will see all things related to motors in the interiors. We feel that beers and motors have a strong relationship, which we wanted to highlight. Motor Works and Brewing Company intrigues your senses differently, building a deep relationship between motors and beers. An adrenalin rush, a deep rooted emotional link, which comes from sipping a cold brew to driving your favourite car or riding a bike. Research shows that people with an adventurous spirit tend to have a strong liking to beer and beer is something that has an extrinsic value in entertainment as does biking. Hence, we decided to combine the two emotions and bring them together. Something very raw, very exciting and very enriching to the core human senses.
Talk to us about the interior & design of Motor Works – Where did your inspiration come from?
The interiors of MWBC comes with the name of our brand – Motor Works; the entire brewery is a made of copper tanks with stainless steel fittings. Motor works mean metal, therefore the entire decor has heavy usage of metal. The mezzanine is made of chequered plate. The Food truck is a huge 16 feet machine made of stainless steel and wood with graffiti on both sides.
Welcome to the Motor Works and Brewing world where you will find everything to a blend of motor and steel. Walk on the gray-black floors to enter the microbrewery (approximately
5000 square feet with a mezzanine). With floor to ceiling windows, the sun seeps in throughout the day making it bright and sunny. The nooks and corners are filled with antique bottle openers, vintage cars and road signs found on various travels, nationally and internationally. Some are from the Kolkata lanes adding colour and quirk to the space. The tables are a mix of crankshafts and table tops are flattened tyres. There are numerous things which stand out – the metal clockwork, hangings from the ceilings, a motor bike parked inside the premise and a half cycle table top.
The interiors at Motor Works and Brewing Company is the new form of a raw look, of the industrial look – it's the polished industrial look. My inspiration for the interiors came from all things motors
– the colours, the elements used are all motors related. I also kept the place open with floor to ceiling windows, letting the sunshine seep in
Other features include – Kegs cut out as Men's urinals, 2 motor walls where we have miniature cars hanging on the walls, each table has a tool kits (the Utility box for every table are kept along with a cutlery holder). The light fittings are the roadside carts, The DJ console is 2 huge beer barrels.
India is currently witnessing the expansion of beer markets, what are your thoughts on the same?
The beer market in India is at its growth stage with major companies in the market looking for further expansion by introducing of new products and by strengthening their distribution network.
The market has been growing majorly due to the increase in number of youth population, higher disposable income, rising preference of consumers for low alcohol beverages and others. Such as increasing in drinking patterns during afternoons – like sundowner parties and brunches. Drinking in bars is fast becoming a social phenomenon in cities such as Delhi, Mumbai and Bangalore and with emergence of craft beers, the growth in beer consumption increased rapidly. Besides the rising number of pubs and bars, another factor which increased beer consumption was increase in premium modern trade and on-premise outlets in metropolitan cities which increased the range of product availability and improved the retail environment. Some state governments, for instance Maharashtra, Uttar Pradesh and Kerala, offer separate licenses for beer and wine sale further boosting growth prospects for the industry.
What is the future for Motor Works?
Motor Works along with a brewery plant has also installed a kegging line and is equipped with a license to sell to other licensed outlets in the state. For which we have a framework of beer dispensing unit setup, which we would like to explore in the near future. So that the best motor fuels can reach different parts of the state through different bars and restaurants, in that way we ensure your favourite fuel now comes closer to you.
Also since we have a huge exotic food truck in place – we are looking at doing catering for parties, where we can drive this amazing piece of art and service at least 800 to 1000 person's buffet spread. So we are looking at putting our footprint into the Outdoor Catering segment. We can take this huge F&B outlet on the move to various events / shows / outdoor exhibitions too. It can also serve as an exotic bar setup in any given outdoor location.
We are also planning to start a Trucker Meal in a cup for the IT crowd for lunch where we plan to park the truck in different locations in the area which happens to be the hub of IT companies and sell a set meal in a cup for Rs.99/-. Like a Daal Makhni with a Chilly paratha and Papad and pickle in a cup.
Once the brand gets established, we shall definitely look at the franchise model of expanding in Tier II cities, so that we can make these innovative and interesting beer cocktails readily available to other parts of the country.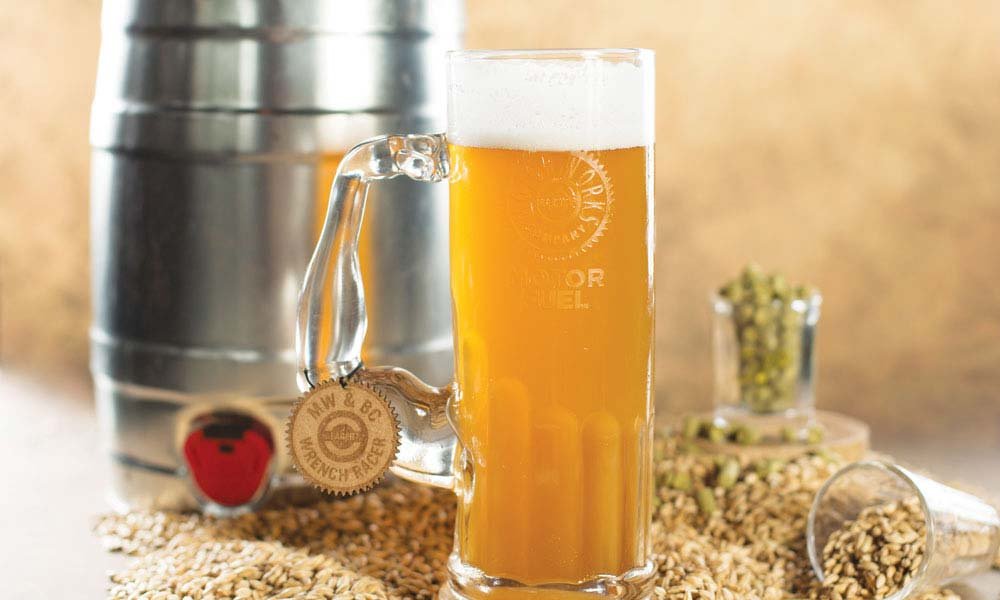 What advice would you give a beer-preneur intending to take your path?
Setting up a brewery is an industrial set up, with a good amount of capital, and its a science to make / manufacture beer. With the market emerging there are many Micro Breweries coming up, is not a reason to open a micro brewery. One should study the regional laws, taxations of the land, the different duties levied and then see how feasible it is to produce beer – as its not difficult to procure and set up a brewery but quite a task to make quality beer and price it just right making it a successful profit making model, given the kind of competition around. Beer-Preneurs when you take a step forward make sure you take two steps behind to be thorough with what your getting into.
Speaking to brewmaster Sayantan Mukherjee.
Spending more than 9 years in the commercial sector as a brewer, Sayantan Mukherjee is nothing less than an encyclopaedia, having completed his graduation in Biotechnology from Bangalore University, his post-graduation Periyar University, Salem, and an M.Phil in Biotechnology from Bharathidasan University, Tamil Nadu. Recently joining the Motor Works & Brewing Company, Sayantan talks to us about the beer portfolio & consumer preferences in Kolkata.
Talk to us about the Beer Portfolio at Motor Works.
As a Brewmaster, I need to keep myself updated with the market demand and focus to explore new recipes from time to time. After discussion with the management I tried to understand their desire and vision about this project.
I understood they want a balance between some orthodox beers along with some new exotic experiment which has not been done anywhere before.
We focussed to brew and pour the maximum number of beers on tap in West Bengal. Post a lot of Research & Development, I came up with a variety of brews. Post discussion and tastings, the final lot was selected. The main challenge we faced was to make our guests understand about the new recipes on offer and to properly educate them . With the common beers like German Wheat, Belgian Wheat, Premium Lager and Chocolate Stout we introduced new styles like refreshing Lemon Radler, Green Chili beer, American IPA. The Apple cider has a very distinct taste and was received very well amongst our guests.
What are your thoughts on customers taste preferences in Kolkata?
In Kolkata customers have a sweet palate as compared to Bangalore and Pune. So we kept that in mind while designing a recipe. At the same time people here prefer beers with a heavy body, mouth-fulness with moderate alcohol and smoothness with high drinkability.
At the same time some guests want to experience and experiment with our innovative brews which are not available anywhere in West Bengal. We got a very positive response to our sweet and tangy Lemon Cider – A fusion between Lemonade and beer, as well as for the apple cider.
How do you decide on new beers to brew? What style is the most fun to brew?
There are some criteria when one designs any new recipe based on (of course) the local palate .The beer should not be very harsh, needs to be easy to drink and have a rich aftertaste. It should have palate fullness and bitterness as per the market demand. Some beers are seasonal. Some fruit base beers are designed in that way as per the availability. There are some seasonal winter herbal beers to make the consumer feel warmer. Some Oktoberfest beer, some refreshing summer beers. So these are part of the activity and the brewmaster has to be innovative and maintain and follow the industry standards always. For a Brewmaster as all the beers are his /her brain child with same effort and dedication, cant discriminate between any particular type of brew. Only the thing is that one has to be passionate with his/her brew. Still then some experimental beer are giving so called excitement after it gets success and give you the result as you expect.
The most fun to brew beers are the seasonal beers which we are experimenting with smaller lots, fresh watermelon beer – is the latest which we are introducing this month end – making it fresh fruity and still the fun of having a nice frothy beer. The next 2 coming up and experimented are – Mango and Strawberry , all of them are our seasons pick – fruity light with a character which would replace mocktails fresh lime and other juices for a different experience of drinking, targeting all groups and perfect for the summers. It's a must try !!!!!
What are your plans for Motor Works? What can we expect from the future of beers at the brewery?
To make Motor Works popular not only in West Bengal but even outside of this state. That's why giving some new experimental beers on tap along with other common varieties of beer. Taking zero tolerance in compromise, maintaining standards and always trying to work with perfection, that may be a benchmark for others. Future of the microbrewery is very bright and guests have an option apart from the conventional beer now a days and such an experimental beers are being available day by day. Guests always want something new apart from prototype. Microbreweries and craft breweries are fulfilling that segment.
Future plan is that Motor Works always believes in being a creative and differentiated brewery – being adventurous and being fun experimental and being the only brewery to keep introducing a new beer every season – the latest this month added is Chilly beer, which we do a kal jeera rimming and serve with Lemon wedge, next three months we are ready with our experiment of perfect summer recipes for fruity beers – which will serve to be targeting the customers of Breezers, energy drinks and other light beverages, so the fun of fresh fruits with a little bit of alcohol blend.
Watermelon , strawberry and Mango in the pipeline.
With Oktoberfest and Pujas we have another set of fresh interesting brews planned, keep watching our space for some experimental brewing .
Beers as a segment is growing, so with our kegging line we are definitely looking at reaching different parts of the state with Motor Fuels, for this we have the licence required and a legging line functional as well, just waiting for the government to get their rules in place, so we can start marketing our beers.
First state and then different parts of the country, taking both our brands ahead to different cities, it will be a great feature, where brands from this side of the country also going national. This is in the pipeline.