In tribute to Great Beer, Inspired food & Excellent Company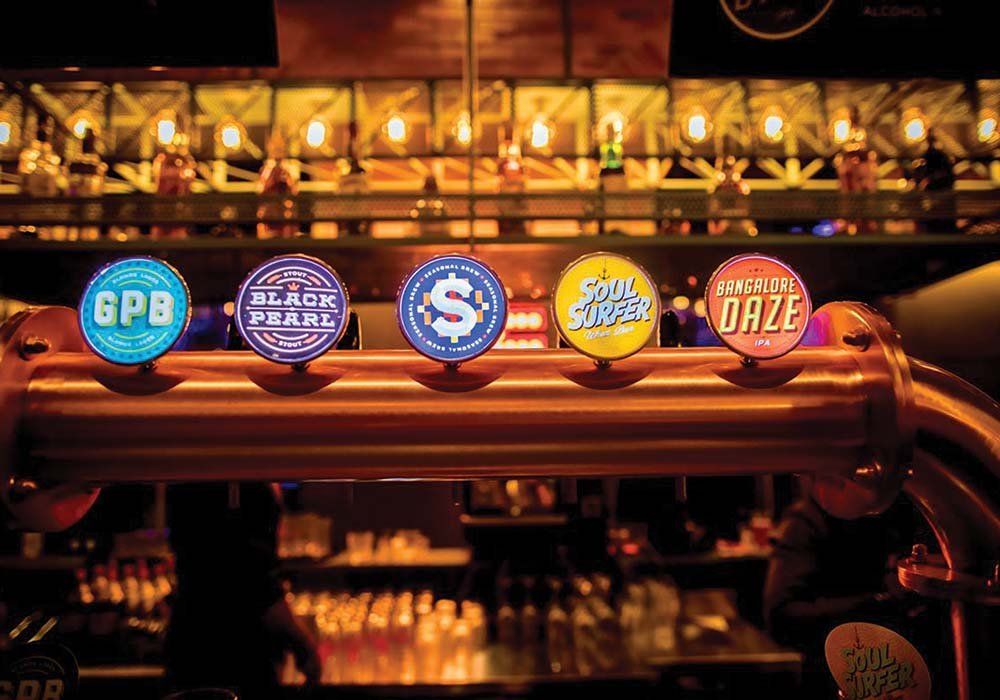 Dan Satterthwaite
Brew Master, Red Rhino
Beer has been around before you and me and is a constantly surpassing expectations of what four basic ingredients can create. Your first sip of that cold frothy golden brew is an explosion of effervescent flavour causing instant gratification like never before! Treat yourself to a scenic view of Whitefield's Skyline from the comfort of the open-air terrace seating at Red Rhino Craft Brewery & Kitchen. Tantalise your taste buds from their menu featuring an eclectic mix of Asian, North Indian, South Indian, Mediterranean, and Continental fare, with some really good bar nibbles. Serving four regular brews plus one seasonal brew on tap, indulge in the Bangalore Daze – an IPA highlighting the prefect blend of citrus hops & pale ale malts. Or the Black Pearl – a silky smooth body enhanced with the combination of chocolate, coffee, caramel & lactose creating the perfect Stout, or the Soul Surfer, a modern twist on the traditional Hefeweizen with notes of orange and coriander, and finally the GPB a lager beer with a modern spin.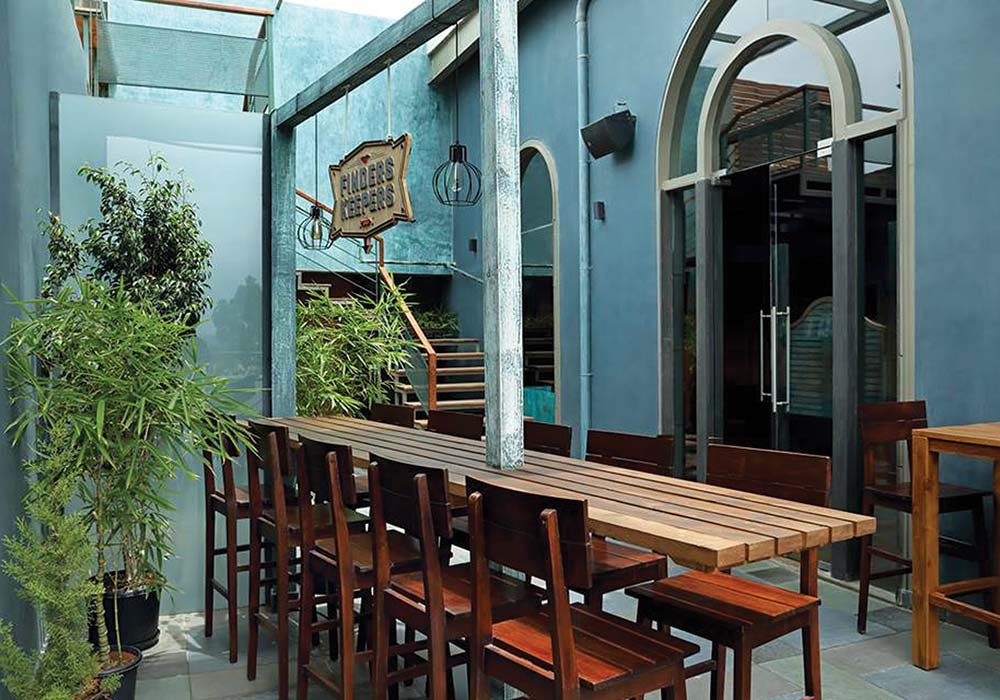 Owners Kishore and Rachana Pallamreddy along with culinary celebrity, Chef Abhijit Saha introduced the contemporary styled brewery with a rustic touch and an 'inspired kitchen'! BW in conversation with Kishore Pallamreddy about Red Rhino.

What is the concept behind Red Rhino? How/Why did you decide on opening a brewery in Whitefield?
When we returned to India, my wife Rachana & I decided to cultivate our love for craft beer and share it with the people of Bangalore. Tying up with renowned Chef Saha, we recognised the potential in opening a microbrewery and we are determined to create an end-to-end experience for everyone who visits Red Rhino.
At the time, Whitefield was entire township with unlimited possibilities. The demographic of people is what really inspired us to set up Red Rhino in Whitefield. The people are diverse, from the IT Crowd, Families, the millennial party goers and the young individuals looking for a place to just unwind.
Today, Red Rhino, is surrounded by 4000+ dwellings, IT Companies & the Up Town Square location, it was a no-brainer!

How did you settle on the name? Talk to us about the identity of Red Rhino?
Given our US exposure, we observed that a lot of breweries were names after animals, creating unique identities for what each brewery stands for. The Rhino is a powerful animal, they represent perseverance. Today, Rhinos are a critically endangered species, making them exclusive. Those characteristics coincide perfectly with what Red Rhino stands for.
On a very personal level, the acronym – RR – also represents a family owner restaurant. In a way it's kind of a tribute to our family heritage.
With Chef Abhijit Saha at the helm of the Red Rhino kitchen, talk to us about the importance of food pairing & beer? Is the importance reflected in the menu Chef Abhijit Saha is Red Rhino's patron chef & partner. With over 26-years of experience, his award-winning restaurants include – Caperberry, Fava, Café Cassia & Saha signature Indian Restaurant & Bar in Singapore.
At Red Rhino, Chef Saha has created a truly inspired global menu, aimed at providing patrons with an exquisite dining experience. Each dish on the menu has been carefully created keeping in mind the wide variety of beers ranging from Pilsner and Stout to Larger and IPA that could be paired with the dish. With an array of dishes that range from kebab platters, dimsums, and mezze to pastas, risottos, and pizzas, and traditional palate pleasers like Nellore Chepala Pulusu, Coorg Pork Curry, and the Dum Biriyani, and no trip is complete without indulging in baked expresso cheesecake with vanilla & almond sauce.
Talk to us about the interior & design of Red Rhino – Where did your inspiration come from?
The idea behind the design of Red Rhino is aimed at being a conversation starter! And what a conversation it has been!! We wanted to have multiple levels so we could accommodate all demographics Whitefield has to offer and have enough space between these groups to comfortably enjoy the ambience.
Red Rhino is a traditional microbrewery with a slightly rustic touch. The décor showcases engraved book covers, quirky posters from film mania & popular sitcoms. Throughout the area, the walls echo with eccentric quotes one can relate to or at least have a good laugh over!
The restaurant also features an elevated stage to host live music nights, stand-up comedians, and other international & local sensations. In tribute to our life abroad, there's a private dining space named aptly – Studio 54.
India is currently witnessing the expansion of beer markets, what are your thoughts on the same?
Craft beer is a sensational wave that everybody is eager to experiment with. India is still at its nascent stage of the Craft Beer journey, but it has been an interesting one so far, and we can't wait for what's next.
With a country as diverse as India, there is a noticeable gap when it comes to rural regions, the preferred thirst-quencher is 'Strong Beer', and the craft beer craze hasn't extended to these areas.
Today, there is a lot of possibilities & opportunities for the 'small beer' guys. From taprooms, to craft on bottle, there is a significant opportunity for beer patrons & business men. The growth of this industry also depends on the mutual support & assistance of government polices & departments.
What are the future plans for Red Rhino?
Red Rhino is currently pursuing 'Craft Beer on Draft' project – we plan to distribute craft beer to be sold as draft on Tap houses! across the south India.
What advice would you give a beer-preneur intending to take your path?
Understand & research the industry before investing in it. Concentrate on bringing awareness in India on craft and draft beers and do not compromise on quality!
With over 20 years of brewing experience from America, to Japan and now India, Dan Satterwaite is the Brewmaster you want to have if your opening a brewery. Equipped with a degree from Siebel Institute, this brewer's journey has been a fascinating one!
Why did you decide to become a brewer?
I was very fond of math and science but chose a degree in Cultural Anthropology. Brewing quenched my interest in chemistry and Biology as well as rewarded me with amazing beers that I could not yet get legally. My hobby turned into an obsession and I dedicated my career to learning as much as I could about Craft Beer.
After I graduated with an International Diploma in Brewing Technology from the World Brewing Academy in Munich, Germany, I pushed hard to become one of the first American interns in Germany. There was not a program yet for that in 2002, but I befriended a professor and he found me a brewery and a brewmaster that would take me in. I was an intern for 6 months at Brauerei Wilhelm Ketterer and then they hired me full time for another year. It was a great honour to learn how to make traditional lagers on a 120 hectolitre copper kettle, open fermentation, and natural krausen carbonation. I truly made friends for life and developed a strong passion for lagers and hefeweizens. I feel that German beers are the perfect presentation of classical beer craftsmanship. It is from this base that I develop all of my new creations.
Talk to us about the Beer Portfolio at Red Rhino.
We currently serve –
Bangalore Daze:
The perfect blend of citrus hops and pale ale malts combined to create this well-balanced, crisp and delicious IPA. Each sip gives rise to the delicate flavours of pine and honey that is sure to leave you wanting more.
GPB:
This lager beer is a modern twist on the traditional 'Pilsner' styled brew. Balancing the flavours of this delicate beer is truly an art unto itself. The distinctive flavour of hops and malt give way to a crisp, yet slightly dry beer.
Black Pearl:
The silky, smooth, almost seductive feel of this dark beer, enhanced with a heady combination of chocolate, coffee, caramel and lactose gives rise to the perfect blend of this mildly sweet stout. This complex combination packs quite a punch of flavours.
Soul Surfer:
This modern Hefewissen is brimming with flavour to sooth the soul. A heavy bodied hazy citrus nectar combined with notes of orange peel and coriander giving way to the perfect balance of mild bitterness and light sweetness. The ideal beer for a summer day
Your career has allowed you to brew in different regions of the country. What are your thoughts on customers taste preferences?
I have brewed in different areas of the USA, Germany, India and Japan. For each region, my ultimate goal has always been to create a beer that compliments the local regional cuisine and the community preferences. For Example, Northern California loves fresh fragrant forest parks filled with sage, pine, redwood, and cedar. That woodsy spice is a popular flavour of our pale ales and IPA's. Texas is hot and dry and is perfect weather for a light lager. Indian cuisine is so spicy and full of flavour combinations, a hefeweizen is a perfect beverage to have with Northern tandoor and savoury Biryani. Japan cuisine is much more than sushi, and their rich broths and soy sauce-based marinades go very well with a hoppy IPA. Ultimately, the regional cuisine should call out for a unique beer to add depth and liquid satisfaction to a meal.
I have been working with a few breweries worldwide in their pursuit of fresh, local beer. Each country has it's own special approach that appears in their beers.
I recently was in Tokyo, Japan and the discipline and finesse that the Japanese express in their food and their lives really comes through in their beer as well.
All of their flavours are clearly designed and developed to be subtle and strong and balanced all at the same time.
Tell is something about NUBO?
New Bohemia Brewing Co, NUBO for short, is my personal brewery in Santa Cruz, CA. I have always wanted a place to design and create beers any way
I want. After three and a half years, I have brewed more than 50 different beer styles at NUBO. I have experimented with fruits, spices, honey, wood, and even green tea to make beers of character.
I continue to develop beer styles there and present them in my modern tasting room for my guests to enjoy and reflect upon. NUBO is a brand that intends to transcend time and place, bridging the worlds of Classical Europe with Modern America. It is a Temple of Lagers and Hefeweizens. I aspire to bring my beers across the world.
Talk to us about your experience working as a brewMaster?
A Brewmaster is much more than a brewer. In simple terms, beer is only made with four ingredients with one being water. Brewers are required to follow a recipe exactly. Brewmasters are there to know what to do if things don't go as planned. The Brewmaster should be able to solve difficult situations as they arise swiftly and professionally to allow brewers to continue to brew recipes precisely how they were meant to be brewed. Brewmasters are recipe builders, yes, but they are also capable of repairs, remodels, brewhouse efficiencies, quality control, employee training, promotions and outreach as well as performing all the jobs in the brewery if necessary.
How has the Red Rhino experience been?
Working with Red Rhino is excitingly fast and refreshing focused on quality and inspiration. I was provided an excellent brewing team and a brewery capable of multiple brewing styles to design my first beer. I chose a modern IPA called a Juicy IPA. Not quite developed as a familiar style in India, it is taking America by storm and has shown itself to be a beer of intensity and exceptional quality. Freedom Fuel was my first new beer at Red Rhino, specially brewed to celebrate India Independence Day. I filled the brew kettle to the brim with modern hops and subsequently infused an even larger load of the freshest hops we can find post fermentation. It was a hop grenade of the greatest proportions. The feedback has been exciting and well received. I feel that it pairs wonderfully with the amazing flavours of Chef Saha's Inspired Menu at Red Rhino. I have many more special beers to develop for Bengaluru. Be on the look-out for new beers coming each month or perhaps even more often.

What are the brewing and art of craft beer drinking trends worldwide?
The latest trends call for the freshest beers. This is perfect for a brewery such as Red Rhino where tanks of beers are consumed within two weeks. The modern beer consumer is demanding the latest hop additions and the most exciting new beer brewing techniques. Be on the lookout for Milkshake IPA, Pastry Stouts, Salty Gose's, Mixed Fermentation fruit beers, and many more. The brewers of these extreme beers are also enormous fans of the traditional Pilsner. I would not be surprised of craft lagers come back strong after such a push to be different than the mega international bland beers of the greater beer market. An exceptional Pilsner should have a strong and fresh malt backbone and a fresh and full flavour hop charge that will excite your taste buds and quench your thirst all at once. Beer is for celebration! The world is welcoming quality over quantity.
What would you rate as challenges that affect the production of good beers in India?
India has many challenges to brewing beers exactly how they were meant to be brewed in places such as Germany, England or the USA. Some of the largest challenges are raw material sourcing and quality. The delivery methods of fresh raw materials is difficult due to the the infrastructure of Indian ports, roads, and refrigeration. Also, good quality technical equipment is difficult to procure and maintain here as the support services for specific brewery equipment is very very small.
How do you attempt to ameliorate the problem of increasing production while maintaining a real flavourful, individualistic beer?
My job as a Brewmaster is to maintain the highest quality product during growth. Red Rhino Batch size is currently 1000 litres per batch. To maintain our high level of quality and to increase production,
I would only need to add more 1000 litre tanks. We could expand by three or four-fold without any difficulties or risk of compromise on quality.
What are your thoughts on the rising beer markets in India? And your thoughts on the future of these markets?
The fast-growing beer market in India is only at risk of damage from within. Sometimes when too many players come online too fast, quality suffers. A poorly crafted microbrewed beer is dangerous to everyone in a growing market. I would support more collaboration with organizations such as CBAI to promote quality. The demand for Craft Beer in India has plenty of room to grow. For those who find pleasure in craft beer, the satisfaction is in the taste and the experience more than the good old-fashioned buzz. Quality over quantity will draw new groups to Craft beer such as women and wine drinkers, and The Whisky Class.
How do you decide on new beers to brew? What style is the most fun to brew?
New beer styles should inspire our customers to come out and experience a new flavour combination. Currently, IPA's are really exciting with so many new hops becoming available. Beers with fresh fruit and spice are a great way to create a seasonal product. For me, the beers that are the most fun to brew are lagers. They are more technical and can create more delicate flavours from their cold fermentations which result in very smooth tasting beers.
If there were a beer that you could brew with no regards to cost or production or sales, what would it be and why?
I would brew with honey. Honey is a local sugar source that can provide flavours of the region. It is highly fermentable and thus I could brew a beer to a very high starting gravity. The aromas of wildflowers would dominate, and the beer could be aged for one or two years to be enjoyed like a fine port or dessert wine.
What are your plans for Red Rhino? What can we expect from the future of beers at the brewery?
My Plans for Red Rhino are to create a world class beer list that pushes the flavour and quality profiles of all our beer styles. I am always striving to make our beer better from batch to batch.
An apprenticeship in brewing really never ends. Bangalore can expect a greater variety of hop selection in our IPA's and Double IPA's, more Belgian Abbey style ales, new lagers such as Imperial Pilsners and Chocolate Schwarzbiers, and a seasonal twist on our most popular Hefeweizen with blends of pineapple, passionfruit, and musumbi making some cameo appearances.