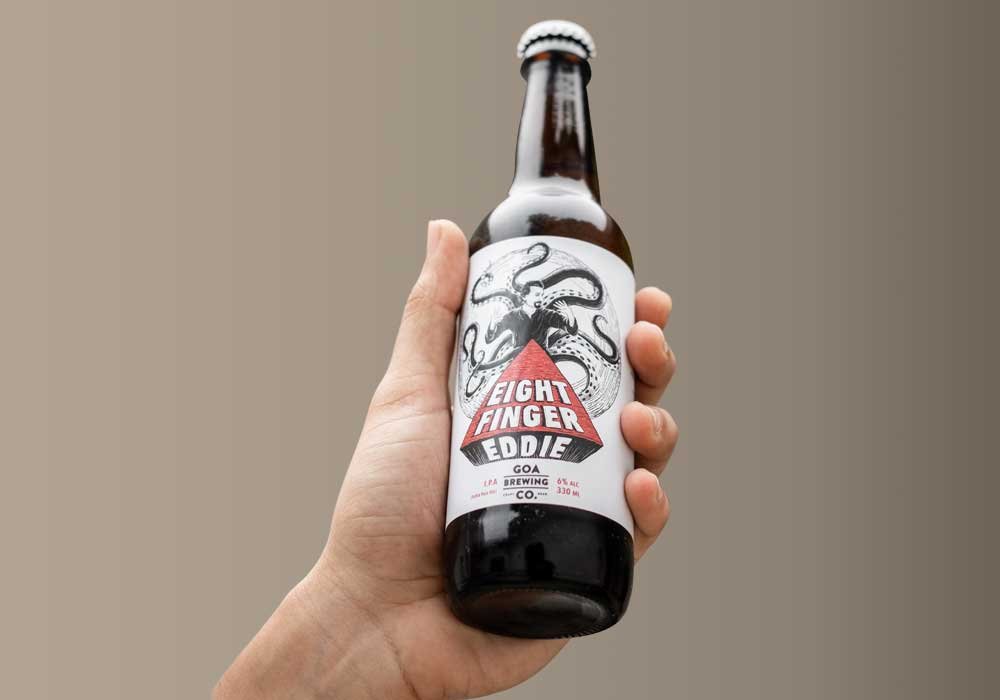 Suraj Shenai
Founder & CEO, Goa Brewing Company
If you've been in Goa recently, it's hard to miss their quirky branding stocked on the shelves of bars, restaurants and lounges. The dynamic duo-Suraj Shenai & Dr.Ashtavinayak Paradh – packed their love for a good beer into what is lovingly known as Goa Brewing Company. Founder, Suraj Shenai isn't a new face amongst India's Craft Beer Industry. Equipped with a B.A.Sc in Hotel Administration & Management, Shenai spent over seven years as a marketing manager with Pernod Ricard & two with the UB Group. Dr.Ashtavinayak Paradh is an evolutionary example of a vibrant brewer. From lecturing at VSI Pune, is now the Co-Founder & Chief Brewer at Goa Brewing Company.
Why did you decide to start Goa Brewing Company?
A few years back on a trip to the States, I happened to try the Goose IPA and I was blown away by the aroma and flavours. I realized that back home we had been drinking watered down lagers. The next three weeks passed visiting multiple breweries.
I returned to India to search for a brewer who shared the same level of passion. Then I met Ash who, after doing a PhD in Brewing in the UK, had come back to India to teach Brewing. We hit it off and began brewing on the weekends in a homebrew kit and then scaled it up in a nano brewery. We realized that all the commercial breweries were massive and designed to brew watered down lagers and the end result was a compromised product. That changed everything.
I'd maxed out my credit card by then and I decided to set up a brewery in Goa, my hometown, and began pitching to venture funds. All we had was an ice-box with the beers we'd been working on for a year, and a business plan. I made pitch presentations in person to over 30 odd funds which took 8-9 months before DSG and Saama Capital said 'Hey, we love the idea and beers!' And there you go!"
Talk to us about your current portfolio of beer? (Names & Styles, if there's a story behind them?)
Our First Non-Conformist brew is called Eight Finger Eddie.
Brewed with Malted Barley, Oats, hops, and our labs yeast strain and laced with notes of tropical fruits, this is a double dry hopped oat cream IPA.
The beer has a soft mouth feel and a creamy finish with moderate bitterness along with a refreshing aftertaste.
Dedicated as a throwback to the 60's hippie movement, Eight Finger Eddie was a famous hippie who is credited for putting Goa on the world map.
Goa Brewing Company has some fantastic creatives, from labels, to the name of the beer. Could you talk to us about it and the team responsible?
We love collaborating with artists that are as individualistic and non-conformist as our beers. Each beer that comes out of Goa Brewing Co. is a result of hours and hours of experimental batches and perfecting a recipe. We reach out to artists whose style of expression resonates with the beer that the bottle holds. For Eight Finger Eddie, we reached out to Kunel from Animal who seemed like the perfect choice keeping in mind the values of Eight Finger Eddie, the free spiritedness of hippies who started the hippie revolution and loved Goa for what it was. We consistently reach out to local emerging artists as well as established names if their individualistic style matches the profile of the beer. When we created the recipe for the IPA (Eight Finger Eddie), we experimented a lot and added our own touch to it, we wanted to collaborate on the label art with an individual who goes beyond the norms to create something that's truly unique and represents a part of them and Kunel Gaur and Animal, seemed like the perfect choice for EFE and we were delighted with the end result.
How successful is the concept of producing craft beer of a small batch production, on a large scale?
Goa Brewing Co. is a sweet spot between large scale and small scale. Which is why it took two years to design this setup and also make it work within the limitations that arose because of the heritage property, to give us the flexibility to experiment in our fermentation lab which is the backbone of our brewery where we homebrew small batches experiment with yeast strains and different ingredient combinations.
What is special about the ingredients which are used to produce your craft beers?
The malts in our beer are the best German and Austrian malt which lend the beer its malty backbone and the desired colour. Additionally, the beer is heavily dry hopped with premium hops from Yakima Chief Valley. For our homebrews, we sourced Gondhoraj lemons from West Bengal, Sancho peppers from Japan, and locally procured Pineapples for the Saison.
How has the market received your brews? Was there a reason on selecting Goa as main base?
Launched in September 2018, Eight Finger Eddie is available exclusively in the top 200 restaurants, bars, and supermarkets across Goa. The beer is supplied directly using refrigerated vans to ensure highest quality.
Since its launch Eddie has been rated as the best Indian Craft beer and has developed a cult like following. The beer often gets stocked out as soon as it is supplied at supermarkets leading to customers stocking up and carrying the beer to other states.
The most frequent question on social handles and craft beer communities is when we are planning to launch the beer in Bangalore, Mumbai and Delhi?

Dr. Ashtavinayak Paradh
Co-Founder & Chief Brewer, Goa Brewing Company
What are some of the challenges you face on a daily basis with the brewery? (Logistics & distribution or licensing or sourcing viable product)
We operate out of an 18th century Goan heritage house – its the best work environment to drive inspiration as the architectural aesthetic and the attention to detail is hard to find in today's structures, However it's not best suited space for a typical brewery, as we end up doing a lot more physical work, but then again the heavy lifting and breaking a sweat is what makes craft brewing so much fulfilling and gives a feeling of working with your hands plus a good workout.
As craft beer in bottle seems to be your business priority, where does craft beer on tap figure in your business plan?
The focus here at Goa Brewing Co. is to create a draught quality beer in a bottle and ensure that the freshness of the beer remains intact which we achieve by delivering in a cold van and getting the restaurant and retail staff trained and educated in how to maintain the freshness of the beer.
What are your plans to launch new craft beer variants and expand your brand's footprint?
It's a constant discussion at the brewery about the next beer that we should scale up. We constantly experiment with seasonal ingredients so definitely the upcoming beer will be a seasonal! we have also developed a 30 barrel cellar facility have started experimenting with barrel-aging in a tropical climate with minimal cooling, here we have our fingers crossed on the kind of flavours that will develop in the barrel.
What advice would you give to a greenhorn beer-preneur intending to take your path so that he/she could easily overcome the hurdles which you might have found as a constraint to your progress?
Focus on the product, you must have a very deep-rooted passion to brew the best possible beer you can. Slowly try to develop your own style of brewing which will set you apart from the rest of the clutter and also give you a lot of confidence!