Every great design begins with an even better story
Kunel Gaur
Founder & Creative Director, Animal
Kunel Gaur is the founder creative director at Animal, an independent creative agency working out of New Delhi and New York. Kunel is an award-winning advertising/design creative – with an overall experience of 13 years in Advertising, Graphic Design, Illustration, Films and Online. He started his career as a graphic designer with Mudra DDB working on sign design and guidelines for Delhi Metro, moving into web design for brands like American Express and HBO. He then moved to advertising full time working on brands likeThe Times of India, Nokia, Pepsico, Airtel, Audi India, Fritolay, Audi India amongst others, working through agencies like JWT, Saatchi & Saatchi and Wieden + Kennedy. During his agency experience he won several Indian and international awards for his work on Nokia, Pepsi, National Geographic Channel amongst others. In 2014, he founded Animal, working for brands like Google, Microsoft, Housing.com, adidas Originals, NDTV Gadgets, National Geographic Channel, Flipkart and Snapdeal amongst others.
With young urban-dwellers playing witness to a colourful display of craft beer brands stocked upon the shelves of their favourite restaurants, clubs and liquor stores, it won't take more than a sip to realise there's a lot that goes into a craft beer. From quirky brand mascots to wacky illustration creative names and intriguing merchandise, beer brands are going above and beyond to create brand identities. Goa's second brewery, Goa Brewing Company, released an oat- cream India Pale Ale (IPA) named after Goa's best-known hippie in tribute to free-spiritedness called Eight Finger Eddie, which is creating waves through the state. Designed by Animal, an independent creative agency focussing on strategy in advertising & design. Working with brands to create identities, advertising, films, websites & content.
Sneha Nair in conversation with Kunel Gaur, Owner & Creative Director, Animal.
When and how did you start a career in design?
I started working as a graphic designer with Mudra DDB, creating strategies on sign design and guidelines for Delhi Metro in collaboration with London Underground. Very few people had hands on experience on Sign design at the time and so it gave me exposure to the environmental side of design which had a lot to do with material and application at such a large scale while being part of a large team.
Why did you start Animal? How did you go about the same? Tell us about a couple of your first experiences?
I started Animal to figure myself out. To see how far I can go in trying out the many things I wanted to dirty my hands with – starting with graphic design and advertising at it's core. The first few months was just about that. Some of our first pieces were gig-posters for Barsoom – a chic bar and lounge with an inter-galactic palette both in colour and food in Hauz Khas Village. Gradually we started working with startups and bigger brands to produce anything between branding and marketing to events and outdoor.
Being a part of the design, advertorial and branding space in India for the past 13 years, could you talk to us about how the panorama has changed in terms of how a brand address's its customers/target audiences?
In my view, these are the most interesting times for brands to voice themselves. More than ever, taking a stand, having an opinion and stirring conversations about what the brand/product believes in, is central to any brand strategy and going forward it is what will define the future.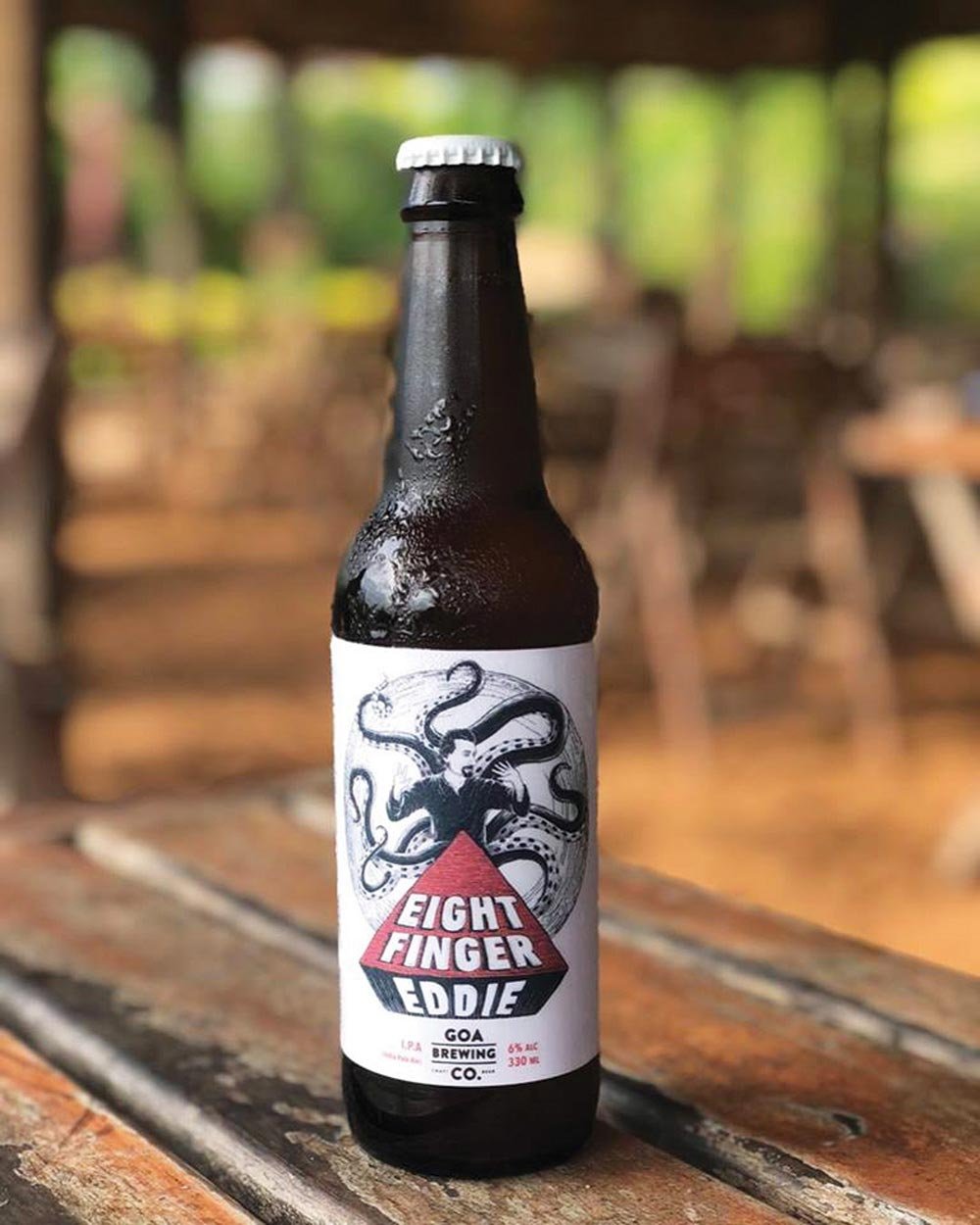 Goa Brewing Co – Eight Finger Eddie, is the first craft beer label Animal has worked with, what was your experience creating the campaign?
Craft beer is an emerging market and we've been lucky to get a chance to work with Goa Brewing Co. on such an inspiring and interesting story of Eight Finger Eddie. To read about the story of Eddie was in itself a learning experience.
What was the creative strategy behind Eight Finger Eddie's branding?
From get go we knew Eddie was going to be central to the design and everything must flow from there. We wanted to blend the design with the ideology with which GBC wanted to pursue the brand- keeping it very close to the folks from the creative world. Making sure art, and craft was at the centre of all communication.
What were the biggest challenges you faced while working on this campaign?
There are very few people in the world who would know about the story of Eddie because it was never publicised heavily. So we were worried about the success of the design knowing it might get mis-represented as either someone else or worse, no one in particular. But GBC is all about embracing risks and so we went with it.
How do you rate the success of Campaign?
We're so happy to see the design being received so well. It's always refreshing to see pictures of the bottle being posted on social media by people who visit Goa or other places Eddie is available at.
What made working on Eight Finger Eddie unique for you?
Before Eddie we had not worked on a liquor brand. This was our first experience on just not a beer, but a craft beer brand identity and packaging. Which means everything was new and unique about this project right from the start.
What metrics are important to you as a creative director?
That there are no metrics in the first place.
What would you identify as areas for a craft beer or beer brand should keep in mind while creating their branding strategy?
Responsibility, storytelling and pleasure. (In that order)
What are some of your favourite marketing campaigns? What makes them stand out?What are some of your favourite marketing campaigns? What makes them stand out?
The list is endless, but to name a few :
Go with the flaw, by Diesel-for it's grand shoutout to the human spirit
Honda Dream-for the story
Ancestry by Droga5-for the concept