Bira 91 Launches Tinder Inspired Limited Edition Strawberry Cream Ale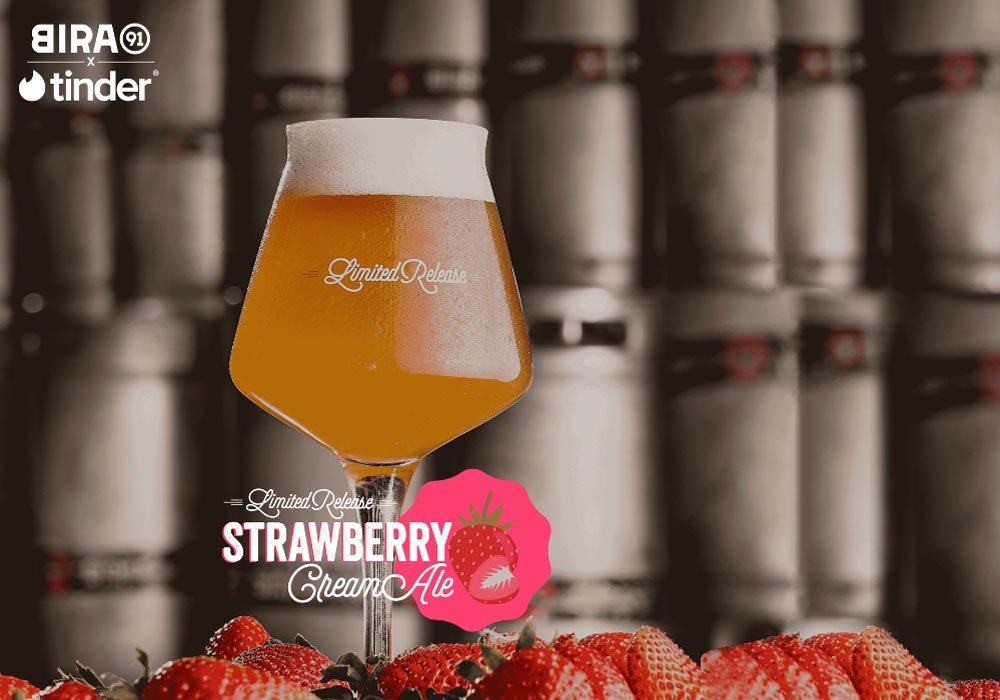 In time for the season of love, Bira 91, the world's fastest-growing premium beer brand, and Tinder, the world's most popular app for meeting new people, have come together to host an event to launch 'Strawberry Cream Ale' – a Valentine's Day special limited-release beer.
Bira 91's perfect beer to elevate Valentine's Day celebrations, Strawberry Cream Ale, has a delicate malty aroma and a creamy, sweet texture, infused with fresh strawberry puree
Available exclusively at Bira 91's Taprooms in Bangalore, the limited-release beer will be served on tap starting February 13, 2023
This unique deep gold-hued beer boasts a delicate malty aroma and a creamy, sweet texture that finishes smooth and clean. Infused with fresh strawberry puree, the bright fruity notes enhance both the aroma and flavor, making it the ideal choice to raise a glass and toast to the special occasion of Valentine's Day. The beer will be exclusively available, until stocks last, at Bira 91 Taprooms in Koramangala and The Bengaluru International Airport, India starting February 13, 2023.
According to Tinder's Year in Swipe Report, food and music are among the top 10 interests* for  members on the Tinder app. In fact, 81%** young daters say similar interests in food, checking out new restaurants and cafes is important while choosing someone to date. Sweetening Bira 91's launch of Strawberry Cream Ale, the two brands will co-host an immersive Valentine's Day event on the February 14, 2023, at Bira 91 Taprooms in Bangalore. The evening will present live music, a curated food pairing menu, and exclusive tastings with Bira 91's master brewers. Attendees, who must be over the age of 21 and who have purchased a ticket, will also be encouraged to mingle and forge new connections with like-minded folks at a Valentine's Day mixer for the ages!
Commenting on the co-hosted launch event collaboration, Deepak Sinha, Vice President, Marketing, Bira 91, said, "Our collaboration with Tinder is testament of two new-age brands coming together, bringing bespoke experiences to the youthful consumers of India. This Valentine's Day, you can literally sip on the taste of love with our new, fruity beer- Strawberry Cream Ale. At Bira 91, we always strive to provide consumers with unique flavors and continue to push the boundaries of innovation." 
Anukool Kumar, Head of Marketing, Tinder India, said, "At Tinder, we've seen young adults be incredibly intentional in both who they choose to date and how they choose to date. Moving over icebreakers, young adults have been looking for casual activities and shared experiences to get to know each other and make their first dates count. In fact, trying new things made it into the top 10 trending global Interests on Tinder. We are excited to collaborate with Bira 91 for this Tinder inspired fresh and flirty Strawberry Cream Ale as a perfect pairing for their Valentine's Day celebrations."
The 'Strawberry Cream Ale' will be launched*** in Bangalore on the 14th of February 2023. It will be poured exclusively at Bira 91 Taprooms in Koramangala and The Bengaluru International Airport, India. 
* Tinder internal Interests data: 1 Jan 2021 – 3 Oct 2021 VS 1 Jan 2022 – 3 Oct 2022
**Research conducted by One Poll – survey of 1,000 Indian young adults (18-25) across pan-India.
***Terms and conditions apply to the launch event.
About Bira 91: 
A refreshingly modern beer brand, imagined in India, Bira 91 aspires to bring flavorful beers to the new world. As one of the fastest growing brands in the world, Bira 91 has built a diverse portfolio of award-winning beers, one for every occasion, and aims to drive the global shift in beer towards more color and flavor. Bira 91 is now enjoyed in over 550 towns and cities spread across 18 countries and brews its beers across four breweries in India. Bira 91 has its flagship taproom in Bengaluru, where it releases one new experimental beer every week, paired with its curry-shop menu. Bira 91 also offers branded merchandise across categories such as glassware, apparel, and gifts, to make every day a lot more playful. Established in 2015, Bira 91 is driven by a dynamic team of over 600 passionate beer lovers and is backed by Sequoia Capital India, Sofina of Belgium, and Kirin Holding of Japan.    
Learn more at www.bira91.com and follow us on Twitter, Instagram, LinkedIn , and Facebook.  
About Tinder
Launched in 2012, Tinder is the world's most popular app for meeting new people and has been downloaded more than 530 million times.  The app is available in 190 countries and 45+ languages.  More than half of all members are 18-25 years old. In 2022, Tinder was named one of the World's Most Innovative Companies by Fast Company. Tinder is a registered trademark of Match Group, LLC.