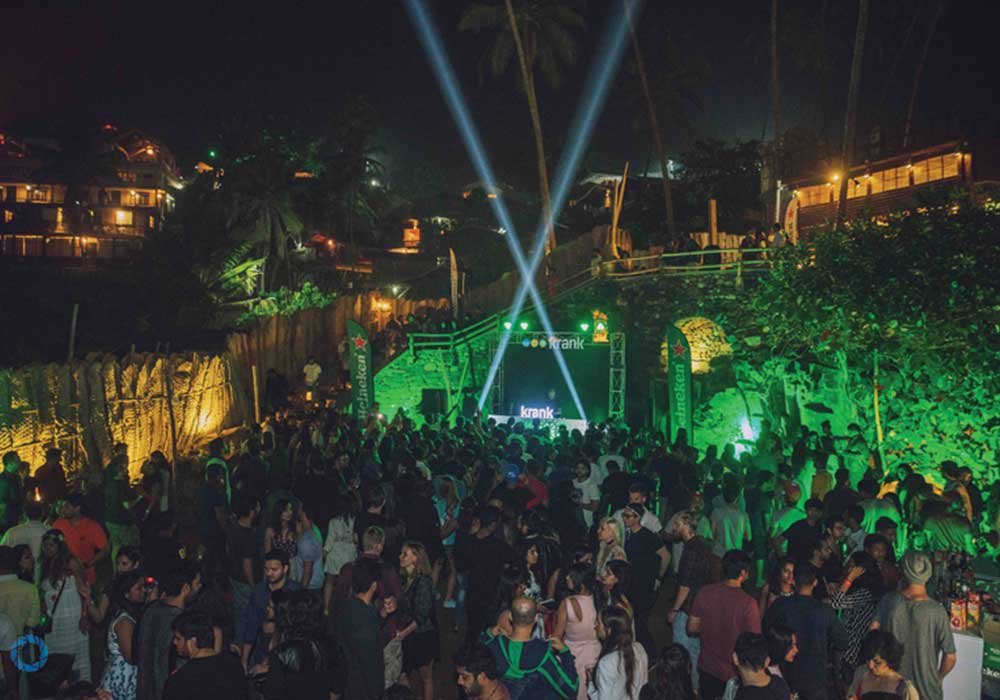 Beer is a lifestyle.  For the youth demographic, it's all about fun and spending happy time with friends and peers, whether it is in pubs or at outdoor party styled events. The two most essential things for a great party scene are- music and beer, and the Krank experience combines it beautifully!
The recently held 6th edition of the Krank Boutique Party Experience was an eagerly awaited event. Held at Goa on the 27th, 28th, 29th & 30th of December at the Chronicle Beach Club on North Goa's Vagator Beach, the event was organized by Indivibe Entertainment Pvt Ltd., a 10 year old event & entertainment marketing company. Indivibe is headed by Neeraj Joseph and Priyam Cornuit. It has built up event properties like the Krank Boutique Party Experience (with Heineken) and Final Wave (with Kingfisher) among other, over the years, growing these events into nation-wide known brands.
This party scene at Krank was set with Heineken – a premium beer brand, that offers something unique and different in taste and experience.
Says Neeraj Joseph, Director, Indivibe, "At Indivibe we closely work with UB Group, mostly Kingfisher and Heineken. There are also many other partners, but we know beer is the first prime factor to any party. You can organize a festival, a boutique party, a fashion show or even a small private party, and you can play with any combinations of drinks, but beer will always be the basic first requirement of any party."
While Krank has always been about combining a beautiful beach setting with a forward thinking House, Techno and Trance lineup, its focus is on targeting a niche audience that prefers this vibe. The experience is made more intense and exclusive over a mass multi-stage festival setup. Krank is somewhat of a counter-movement, striving to be different from the mainstream festival scene and offering more in terms of service, intimacy, space & artists you would not normally come across at the bigger festivals. "Indivibe is into promoting music," says Priyam,"but to do so we need support from brands with synergy. What's better than a combination of Beer and Music?"
The venue this year featured a multi-level beach setting, with an elevated VIP area, a separate restaurant area, an island bar right on the edge of the beach and a dance floor on the ground level. The overall effect was as if the entire venue was spiraling down towards the music. The dance floor featured a state-of-the-art setup with a beautiful intimate decor and atmosphere lit dance floors.
The artist lineup was the biggest till date and covered a variety of forward thinking /non-mainstream / underground music genres. Legendary Robert Babicz, Techno heavy-weight Christian Smith, Popular House Producer Betoko, Deep/Progressive Producer Martin Roth, Progress Trance Superstar Ritmo — were just a few names in the international & Indian music lineup. Among the underground artists in the lineup were Arjun Vagale, BLOT!, Kohra, Calm Chor & Jitter, and also names to watch out for in the future like Stelios Vassiloudis (Bedrock Records) & Nils Hoffmann (Get Physical).